14 Outdoor Tile Collections to Transform Your Patio With
Posted by Kate Spencer on Nov 14th 2019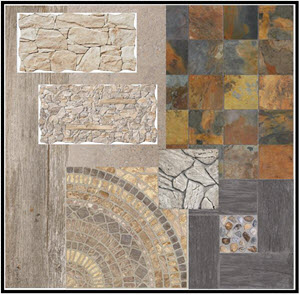 Now that your indoors is perfectly tiled, I bet you're ready to tackle the outdoors. Lucky for you, you have 14 outdoor tile collections to choose from at Tile Outlets of America!
These options are fabulous for decorating an outdoor space. Whether you're looking to tile your deck, the outdoor fireplace or create feature walls, you'll find designs worth checking out.
Check Out 14 Fabulous Outdoor Tile Collections!
What you'll notice with these outdoor tile selections is how textural and visually interesting they are. Here's the breakdown:
3 18x18 ceramic patio looks
2 24x24 large format outdoor patio tile selections
4 porcelain patio looks
3 interlocking patio tile options
1 large format stone look
1 outdoor tile plank in two colors
Three Patio Looks - Ceramics
Patio looks are either decorative in nature or have stones or pebble designs in the tiles. They are available in small and large formats, depending on the look you are trying to achieve. Some of these designs have texture added to address any safety concerns you have about the outdoors.
Terra Beige 18x18
Terra Beige 18x18 is a ceramic tile that creates a medallion design when four tiles are installed together. You can also install these in different directions to create other patterns you like.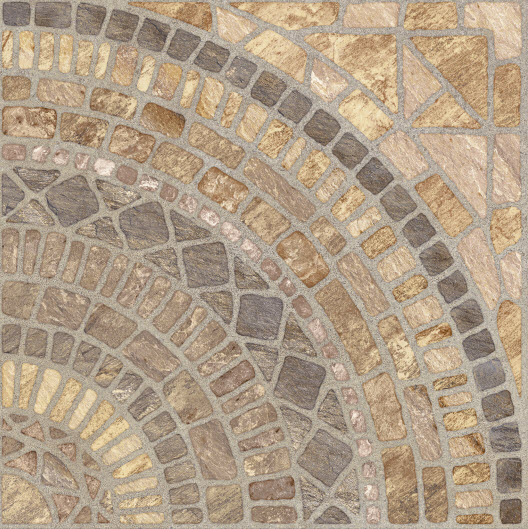 The colors are a rich beige/brown and have the look of a travertine medallion.
Below you see the full effect of the medallion pattern.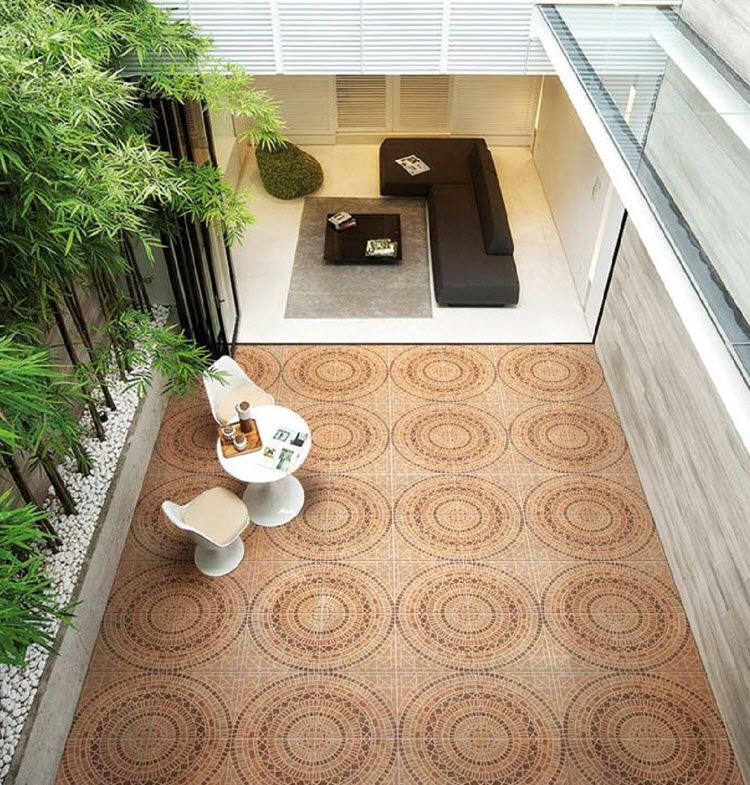 Gray Rocks 18x18
Gray Rocks 18x18 is a ceramic outdoor tile with texture. As you can see below, this tile gives you the appearance and feel of rocks.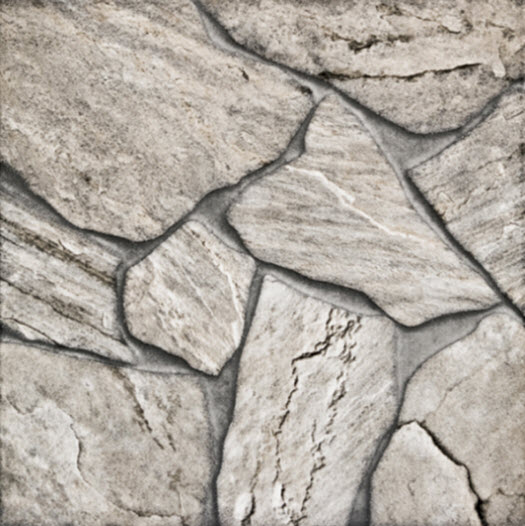 Coruna Multicolor 18x18
The Coruna Multicolor 18x18 combines wood and pebbles in one look. This design has a dark wood plank border with colorful pebbles in the middle.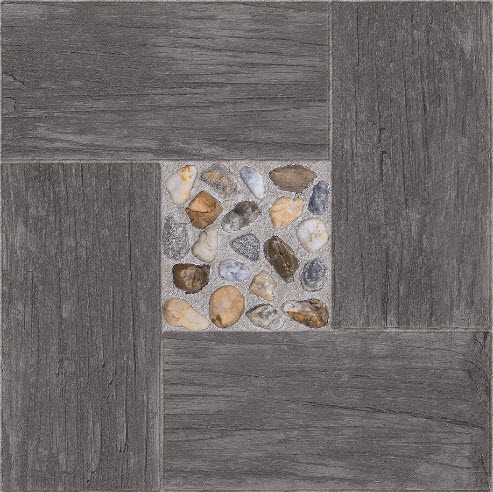 When you install them together you will get this fabulous look: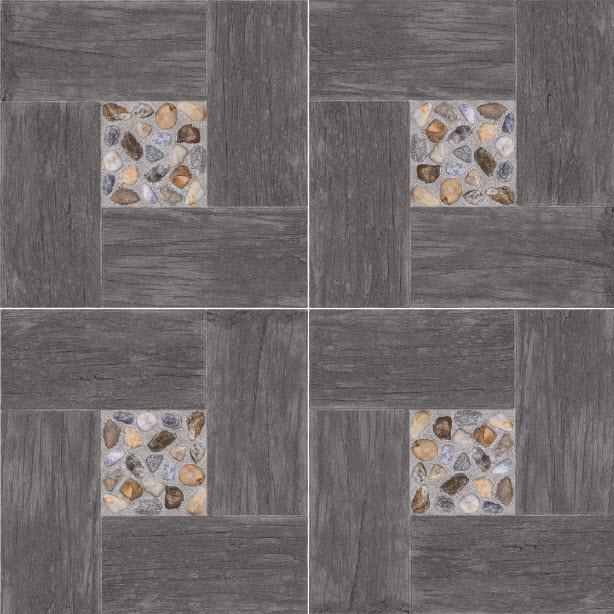 Larger Format Outdoor Patio Tile
In addition to the 18x18 formats, you will find even larger outdoor ceramic patio tiles.
Bunes Gris 24x24
The Bunes Gris 24x24 features a Versailles pattern in the design. As you can see, there are so many different faces to this tile that the pattern won't repeat on the floor.
This design mimics real stone and has a nice texture on the tile.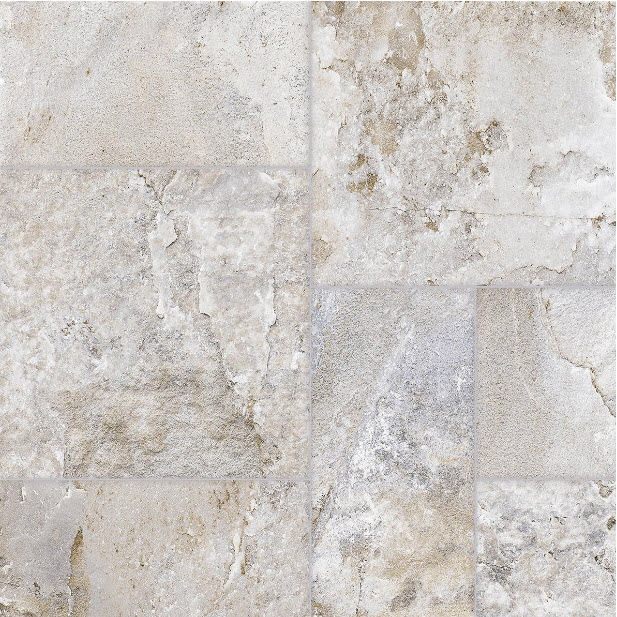 Jardim Grafite 24x24
The Jardim Grafite 24x24 is a black, gray and white decorative outdoor tile with an outdoor texture on the surface. Notice the floral quality to the pattern.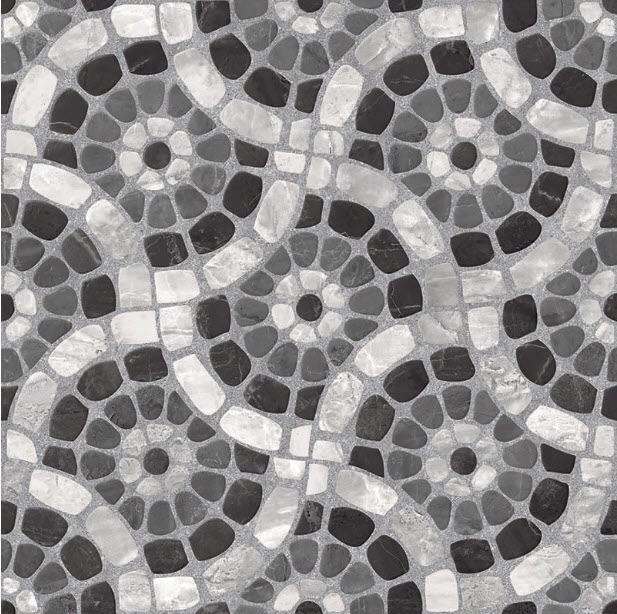 This tile can be used for the floor as well as wall designs.
Patio Looks – Porcelain
In addition to ceramic options, you'll find several porcelain ones for your outdoor space.
Flagstone 12x20 Format
Let's start with Flagstone 12x20 outdoor tile.
In the Flagstone series, you have two different colors to chose from - Multicolor and Autumn. Both have texture although one is more subtle than the other.
Flagstone Multicolor 12x20 has a grip feature on the tile. The range picture will show you the intense color variation and the many characteristics of this tile.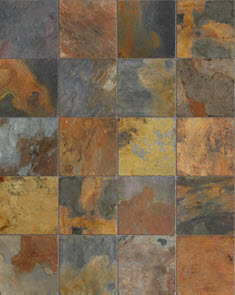 Although this item is only stocked in the 12x20 format, you can always special order the other sizes if you want to create the design shown in the picture below.
Note that you can also purchase Flagstone Multicolor 2x2 mosaics if you want to incorporate those in your design.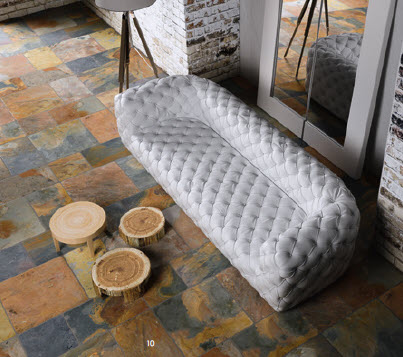 Flagstone Autumn 12x20 is more muted in tone, however, it features similar pattern variation.
The Flagstone Autumn comes with a regular finish so you can use this inside and outside for your space.
Similarly to Multicolor, you will also find Flagstone Autumn 2x2 mosaics if you want to incorporate those in your design.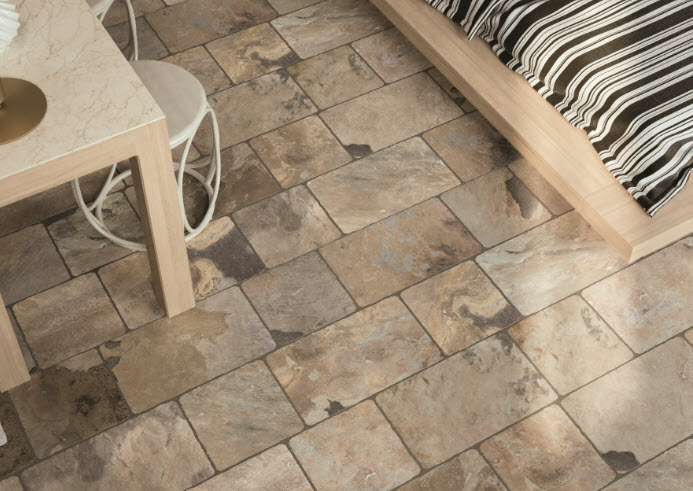 Colosseum Navona Beige 13x13
Although Colosseum Navona Beige 13x13 is smaller in format, it features a nice multi-pattern design in the tile. These different faces make this outdoor tile layout unique.
Here you see Colosseum Navona Beige 13x13 in an outdoor patio installation.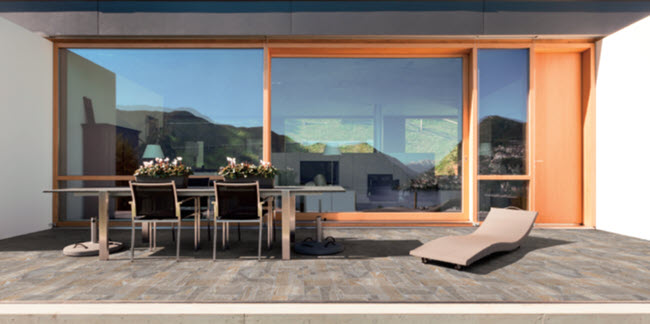 Antiche Abbazie Thoronet Grip 12x12 Porcelain Tile
The Antiche Abbazie Thoronet Grip 12x12 comes in two different finishes. You can have a smooth finish for inside and grip for the outside.
This is a terracotta look with light to dark color tones. Notice the range of tones from the nine tiles below.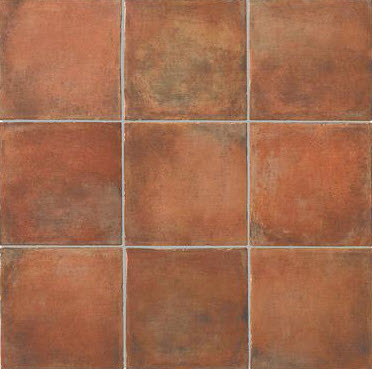 Muro Di Siena Vals 12x24
The Muro Di Siena Vals 12x24 is another great outdoor look in greys.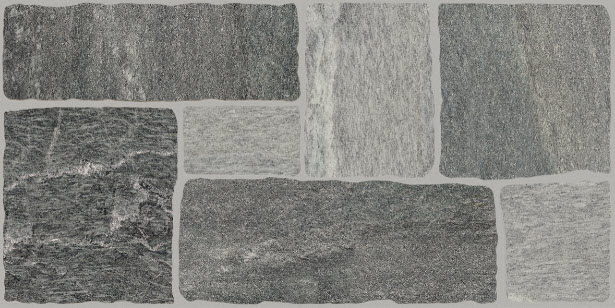 This is a large pebble look tile with multiple designs to create the look and feel of a pebbled walkway. This look is fabulous for the floor as well as the wall.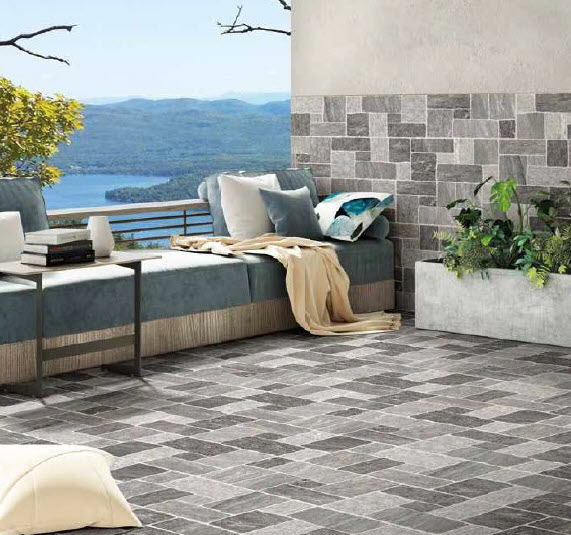 Interlocking Patio Tiles in Porcelain
Interlocking patio tiles are unique because when you install them, it's impossible to realize they are actually separate tiles.
Let's check out these three available interlocking looks:
Teide Sand Interlock 13x26
The Teide Sand Interlock is available in 13x26 format. It has a nice texture and can be used on floors and walls.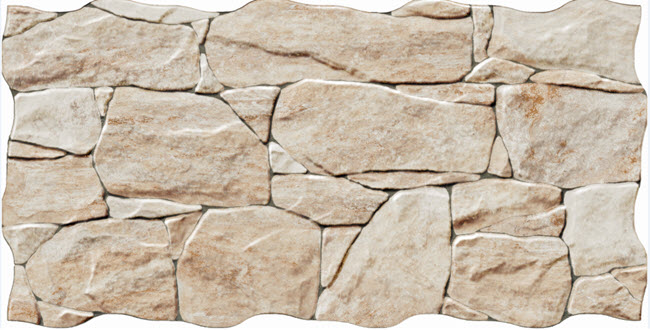 This tile can be interlocked anywhere on the design, so there is no wrong way to interlock.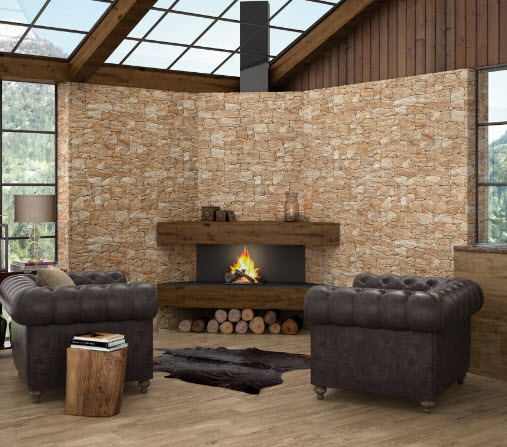 Tundra Rustico 12x12
The Tundra Rustico 12x12 is an interlocking tile. As you can see from the image below, each piece is different.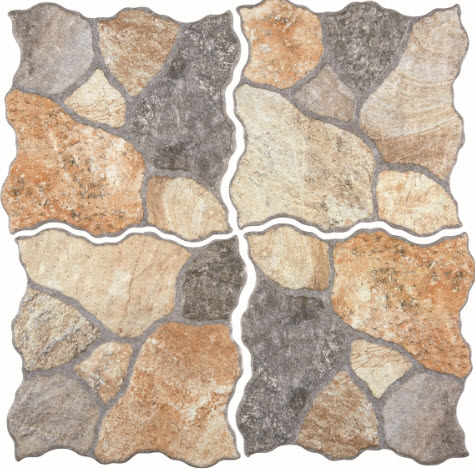 The end result is a natural pattern with no repeat.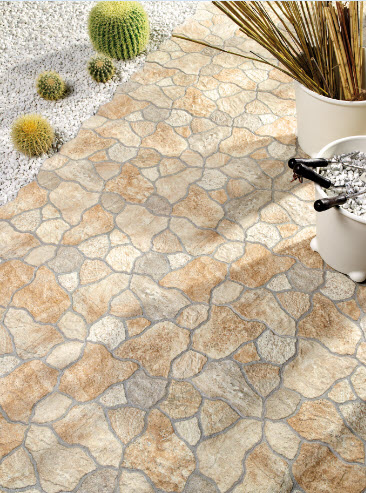 Castle Beige Interlocking 12x24
The Castle Beige Interlocking 12x24 combines the look of pebbles and wood. This tile can be interlocked anywhere on the tile.
You can use this on both walls and floors.
Here is an installation from the Fort Myers store with Castle Beige on the top and Grava Gris (see below) on the bottom.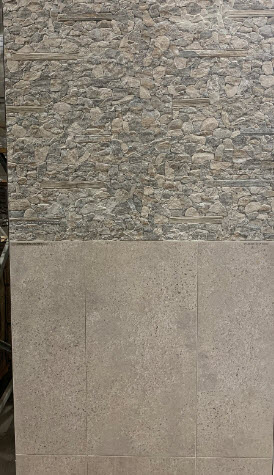 Large Format Porcelain Stone Look
Grava Gris 18x36
The Grava Gris 18x36 shown above at the bottom of the picture is next.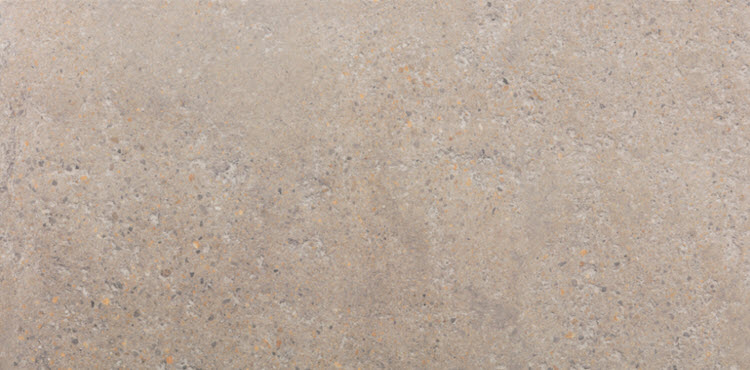 This tile has a limestone appearance and is great for a pool deck as well.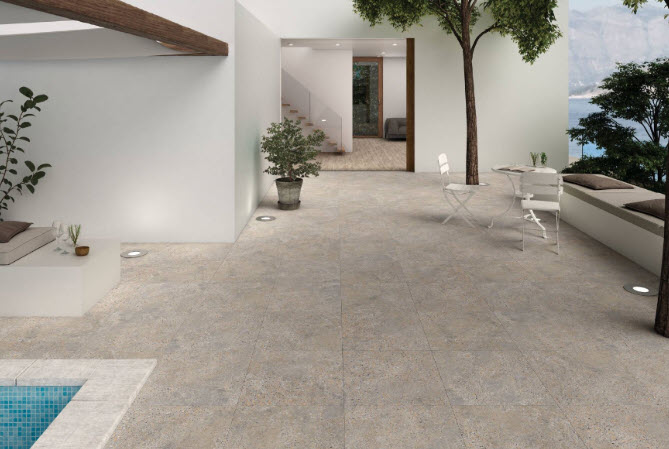 Outdoor Planks: The Lumber Series
When you're tiling the outdoors, you're not limited to stone-inspired looks. In fact, you might want to consider wood plank looks.
Here are two planks from the Lumber Series that can be great for the outdoors.
Lumber White 6x26
The Lumber series features the look of a wood plank with actual nail heads in the design.

The Lumber White 6x26 is a cool white color.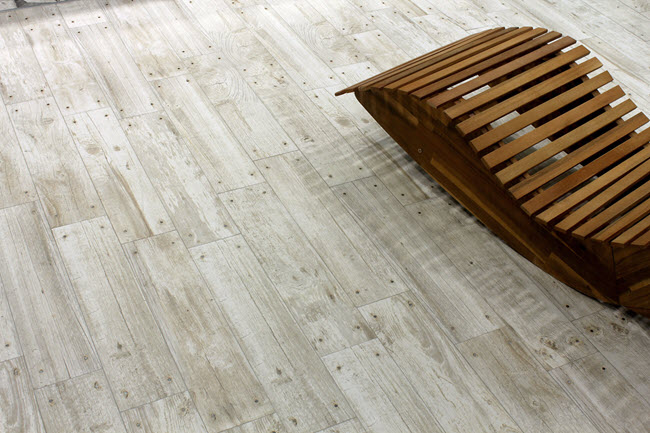 Lumber Grey 6x26
The Lumber Grey 6x26 is darker in color; look closely in the corners and you will see the nail heads.

Here it is installed.
Other Outdoor Tile Planks
You may also want to check out products such as Begala Wood Tile Planks in four colors that feature the IN/OUT technology. This allows you to go from the inside to the outside with just one texture that is soft, smooth and easy to clean, perfect for any floor tile, with high anti-slip performances. Here are some key elements:
Fast and easy cleaning, with no additional maintenance
Various sizes and aesthetics finishes for infinite types of preferences without changes from indoor to outdoor or wet and humid areas
Anti-slip with a soft and pleasant texture
No special laying
Resists ice, chemicals
Characteristics remain unchanged in time
>> See 24 Wood Planks in Tile and Luxury Vinyl Tile
Find These Outdoor Tile Collections at Tile Outlets of America!
We hope we've inspired you enough that you want to come to explore these decorative tile collection in person.
Remember, though, that you can use many tiles for your outdoor spaces. You aren't limited to the items featured in this article. Simply check with your sales representative to make sure it is safe for the environment you want to use the tile.
Now get outside and enjoy the fresh air.
Thanks for reading,
Kate