99 Reasons to Shop Tile Outlets of America
Posted by TOA's Blog Team on Apr 1st 2022
Do you need a reason to shop at Tile Outlets of America?
You see, we really want you to come visit and experience for yourself the amazing selection of in-stock and first quality ceramic and porcelain tile, stone and other products we carry.
We think you'll be floored by the in-store experience, and intensely inspired by the amazing stone installations and tile design ideas we've created.
So, if you need a reason, I've come up with 99 reasons for you to pick from to come on in and shop Tile Outlets of America.
Come visit, take a stroll and be inspired for your next home project.
99 Reasons To Come Visit and Shop Tile Outlets of America
1. Top Level Customer Service
2. Low Prices Everyday
3. In Stock Selections
4. Our Peace of Mind Commitment
5. We offer a Military Discount
6. The Travertine Stone Selections - and especially mosaics and ledgers
7. Design Concept Boards to WOW you!
8. Large format tile selections
9. Tile Outlets offers a Low Price Guarantee
10. Designer Porcelain Tiles you will fall in love with!
11. You can take home a tile sample. It's true!
12. Count on finding a vast collection of Ceramic Tiles in all sizes
13. Be floored by the displays in every store.
14. You'll find outdoor patio tiles, too!
15. Inspiration Areas in each store.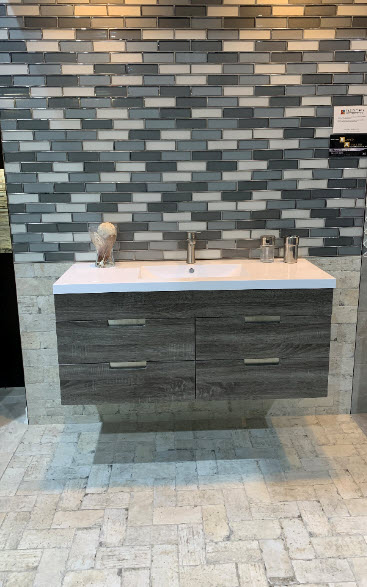 16. We are open 7 days a week
17. Look for a Manufacturer Warranty
18. You can order tile and stone items online
19. You'll find tile and stone installation materials available in Tile Outlets stores.
20. Pick from a variety of grout colors
21. Come admire cutting tile saws in all sizes
22. You'll love the vanities you'll find in all three stores
23. We have a Blog. It's called TOA's Blog About Tile & More.
24. You have 90 days from your date of purchase to return for full refund
25. We will store your order for 30 days
26. You'll love the tile and stone bath accessories we carry!
27. Lose yourself in beautiful glass mosaics for pools
28. Find porcelain and ceramic wall tiles in all sizes
30. Same as #1
Sinks that make a statement with your tile or stone installation
31. Marble sills for thresholds
32. Check out the paver display
33. Top of the line tile and stone setting materials
34. Glass decorative tile and liners
35. Wall tile deco inserts
36. Shower inspiration rooms to admire
37. Selection of beautiful cabinets in the Tampa and Fort Myers Tile Outlets store
38. Stone Versailles Pattern selections
39. Porcelain 2x2 mosaics
40. Vanities in all three Tile Outlets Stores
41. Did I say marble looks in porcelain?
42. Wood tile planks in many sizes
43. Wood moldings and trim to finish the job
44. All kinds of Medallions, including 36x36
45. People who care intensely about tile and stone share their expertise during product knowledge sessions.
46. Have you signed up for Tile Outlets of America's newsletter (while getting access to fabulous tile installation patterns)?
47. Modular pattern tiles for indoors and outdoors
48. Be on the lookout for Manager Specials in each store.
49. Metal and PVC trims to complete your installation
50. Ceramic mosaics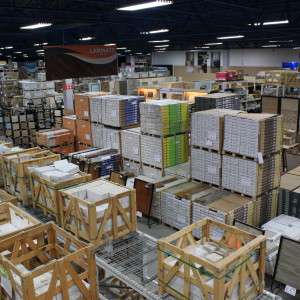 51. Extra blades for your cutting saw
52. We carry Schluter products to complete an edge
53. Tumbled stones in 4x4
54. Ledgerstone for the outdoor grill area
55. Subway Glass 3x9
56. Sinks with a statement (see the image above!)
57. Corner Shelves for the shower
58. Brick tiles for your patio remodel
59. Wonderful decorative tiles!
60. Luxury vinyl tile selections at great values
61. Dream Sheet to download for your tile Outlets' shopping experience
62. Pool waterline selections
63. Inkjet porcelain tile selections
64. Big Tile Sales Events for extra savings
65. Thin set to stick your tile and stone job right
66. Pebble stones to rock your world
67. Stunning marble corner shelves
68. So many New Arrivals to inspire you!
69. Did I already tell you we have amazing customer service?
70. You'll love the Featured Product Displays...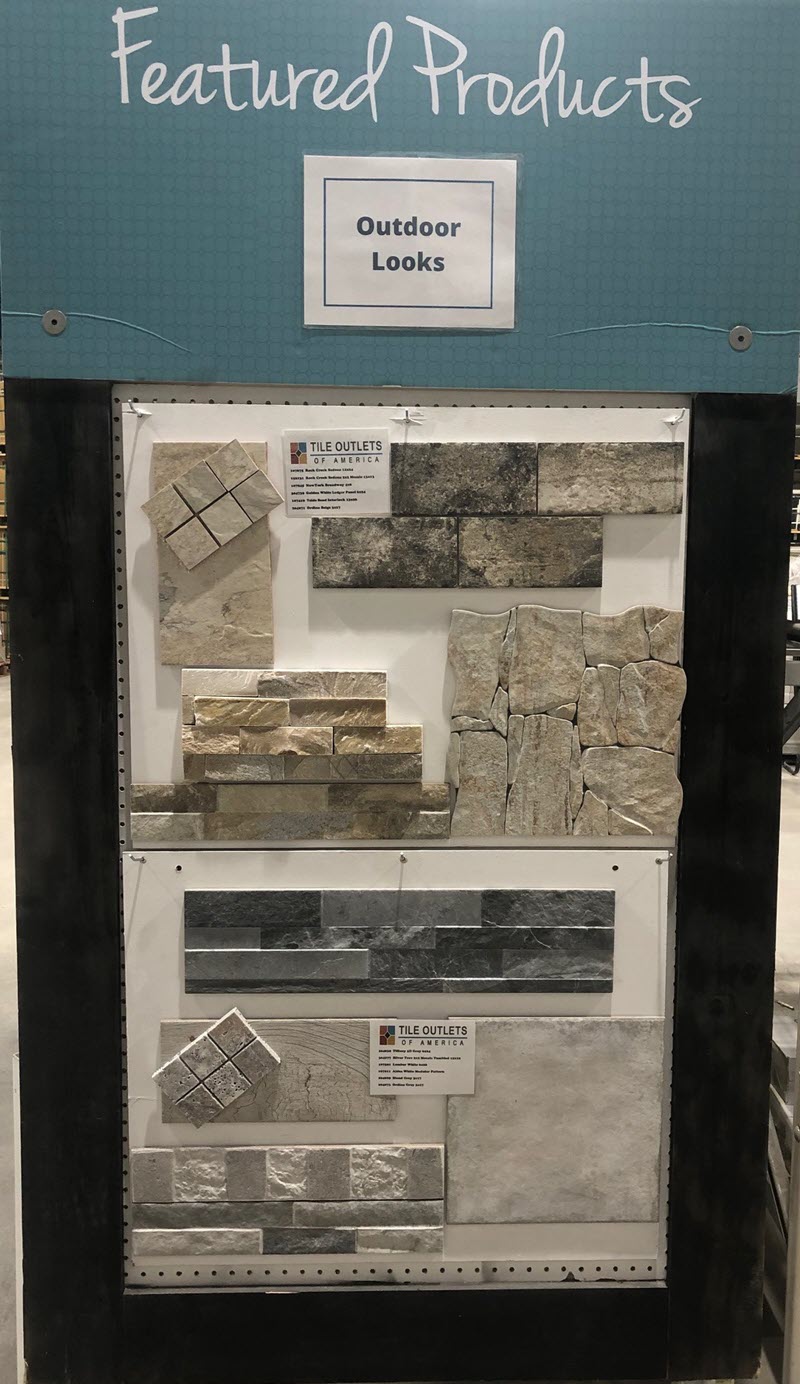 71. Shower install corner units
72. Limestone never grows old
73. We offer trade professional benefits.
74. Shop on our website
75. Same as #1
76. Three locations to shop Tile Outlets of America – Ft Myers, Sarasota & Tampa
77. Outdoor grill area to inspire your outdoors needs
78. Split face mosaics for edgy walls
79. Sealers for any job installation
80. Some slate items for our northerners
81. You need a soap dishes for your shower
82. Your last name is Stone
83. Backsplash Medallions
84. Porcelain modular patterns
85. You are floored to be in Florida
86. To check out our new arrivals
87. Do you need a bucket? We have lots!
88. Our big yellow sponges
89. Glass & stone mosaic in multiple of colors
90. Same as #1
91. Stunning Subway Tiles!
92. What about the bullnose?
93. Porcelain wall ledgers
94. You live in Sarasota and your phone number ends in 8453 which spells T I L E...
95. Explore porcelain 32x32 and 36x36 items
96. 12x24 porcelain tiles
97. We beat competitor prices. It's part of our Promise to You.
98. Setting tools for your belt
99. Because today is April Fools Day!
That said, these 99 reasons to shop Tile Outlets aren't a joke, and we really look forward to welcoming you to our stores in Fort Myers, Sarasota and Tampa.
See you soon!