Consider Stacked Stone Ledger Panels For A Textural Wall Look
Posted by Kate Spencer on Jul 26th 2018
If you're looking to create a one-of-a-kind textural look with stone, you'll want to consider Stacked Stone Ledger Panels.
You'll find several collections to choose from when you explore Tile Outlets of America.
What are Stacked Stone Ledger Panels?
Ledger panels, also known as ledge stone, ledger stone or stone veneer, represent an architectural stone facing tile system.
They capture the look of stacked stone panels and add dimension and texture to an installation and can be used for residential or commercial applications in both interiors and exteriors.
Common applications include shower walls, bathroom walls, kitchen backsplashes, walls in foyers, hallways, vestibules, and any other decorative surface.
In addition to being textural and visually interesting, ledger stone is virtually maintenance free. If you'd like an enhanced look, you can seal them.
(See five important decisions in designing a stone veneer fireplace which describes different types of stone veneer - natural and manmade - as well as the other elements to consider for a fireplace installation.)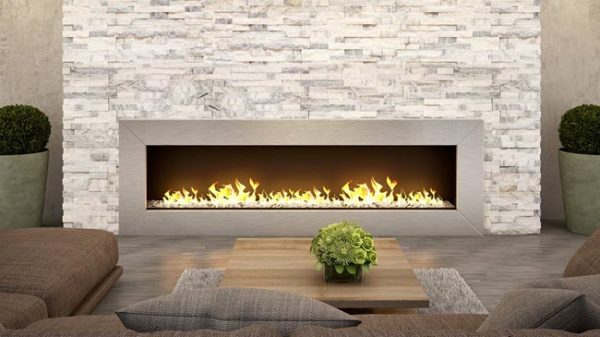 The Adanga White is a great ledger with white and grey tones.
The Range of Stacked Stone Ledger Panels Available
Here are the different types of stacked stone ledgestone panels you'll find when you visit Tile Outlets.
Natural Stone Ledge Panels
The Kayla Stacked Stone Ledger Panels are made from natural stone - granite, sandstone or limestone. This collection is available at Tile Outlets of America in three colors - Shimla White, Teak and Adanga White.
These colors come in 6x24 and 1.5 – 2.5 cm thickness with an interlocking edge for easy installation. These panels are not as thick and chunky as other ledger panels which allows them to beautifully complement an interior space.
We also have stacked stone ledgers available in Mint Sandstone, Jack Multicolor, and Silver Grey. These ledgers are 6x24 and available in .8 – 1.5 cm thickness with an interlocking edge for easy installation -- a great value at $2.98 sqft.
Travertine Ledger Panels
The travertine ledger panels are available in light, silver, and scabos travertine. They are 6x24 and come with complementary corner pieces to finish a look.
Slate and Quartzite Stacked Stone Ledgers
Our slate and quartzite stacked stone ledgers come in three colors – California Gold, Golden White and Arctic White Ledgers - and all available in 6x24 with complementary corner pieces.
Ledger Stone Closeups
Here is a close-up of the teak sandstone stacked ledger stone panel.

Manav Taneja from Tab India talks about stacked stone ledger panels
We caught up with Manav Taneja from Tab India to ask him a few questions about the Kayla Ledger Stone Collection.
TOA: Manav, please tell us about yourself and your background.
MT: I have a BS in Economics and IT from the University of Minnesota. I have been working with Tab India for 13 years and currently hold the position of VP of Sales & Marketing with the company.
TOA: What do you find unique about Kayla Ledger Stone?
MT: Our Ledger panels are very carefully put together to make sure they represent the utmost in quality, especially with the color combinations so each panel looks unique. We offer more than 40 unique colors in our Ledger panels. We pay special attention to quality and craftsmanship.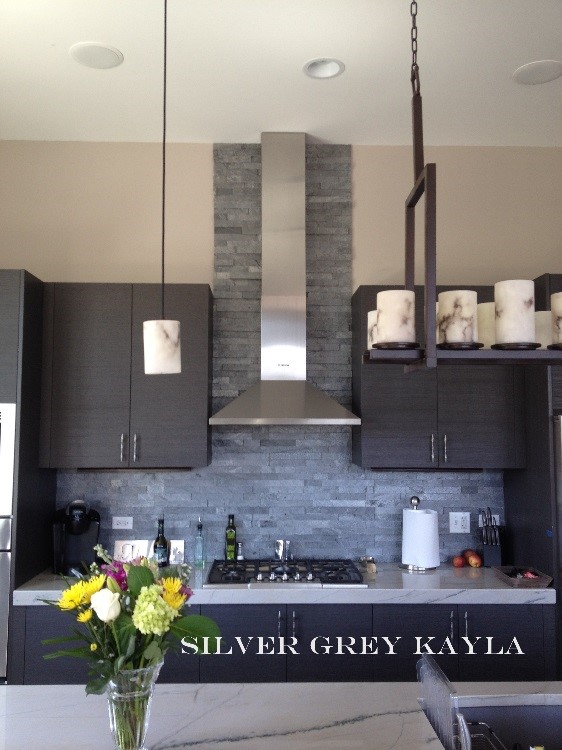 Kayla stacked stone ledger panels in Silver Grey used in a kitchen backsplash installation
TOA: What should a customer know about installing these ledgerstone panels?
MT: We have created a 3-minute video from Tab India demonstrating how easy it is to install the ledger stone panels.
TOA: What are the Kayla ledgers made from?
MT: Our Kayla Ledgers are made from 100% Natural Stone. (You can see photos of the Tab India quarries.)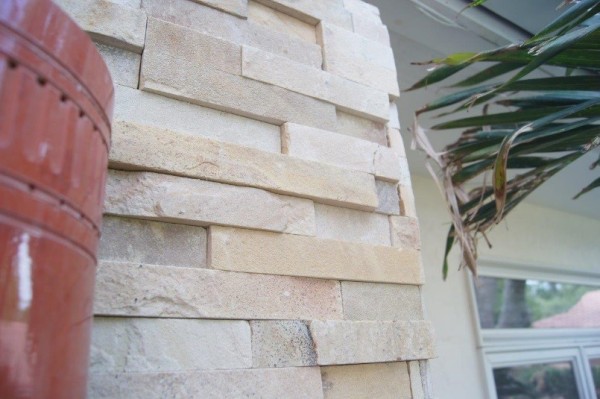 TOA: What type of installation is most popular for ledger stone?
MT: Our ledgers can add a lot of depth and life to any wall so they can be installed inside, outside, as a backsplash, for bathrooms walls... They can be used for outside columns and wall cladding.
Basically, you can apply our Kayla ledgers to any type of wall.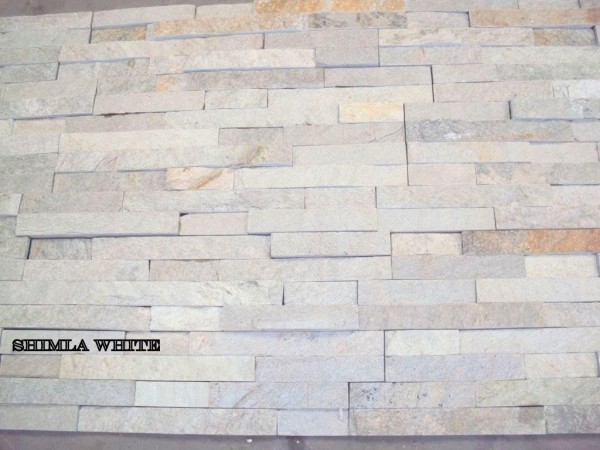 TOA: Why do you feel this product is a good fit for Tile Outlets' customers?
MT: It's a perfect fit for them as the colors are unique. See the colors and selections for yourself. These are the most unique combination of colors available in the market. They blend well with any décor - may it be modern or traditional.
TOA: Thank you, Manav!
The Latest Stacked Ledger Panel Collection
Let's explore this collection in more detail. These three items are great value ledger panels featured at $2.98 sqft. They are thinner in stone, therefore creating a value for installing inside or outside. You'll find them in the following colors:
Jack Multicolor
Silver Grey
Mint Sandstone
Here's the Jack Multicolor 6x24 ledger panel. Notice the richness of the earth tones mixed with the darker color.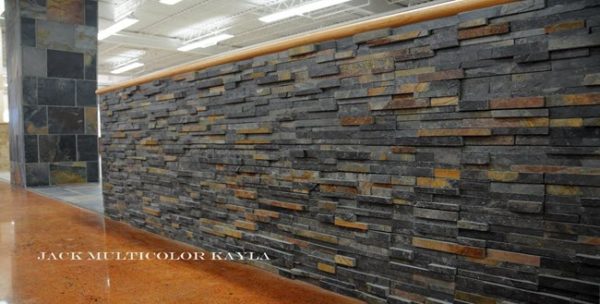 Here's the Silver Grey Stacked Ledger Panel 6x24. Don't you love how beautiful it looks combined with stainless steel?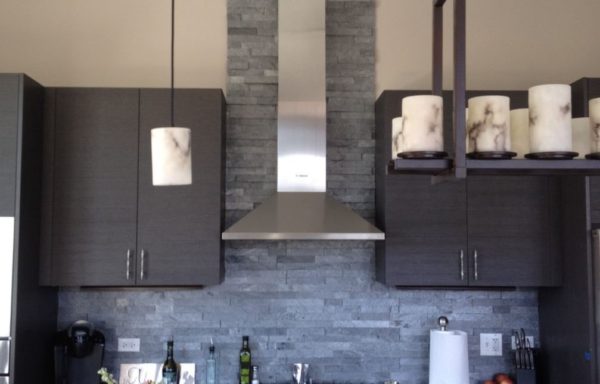 Mint Sandstone
And here's the Mint Sandstone Stacked Ledger Panel 6x24.

Travertine Ledgers
We feature three Travertine ledgers in light, silver and scabos.
Below you see the Light Travertine Splitface Ledger and corner piece. These are 6x24.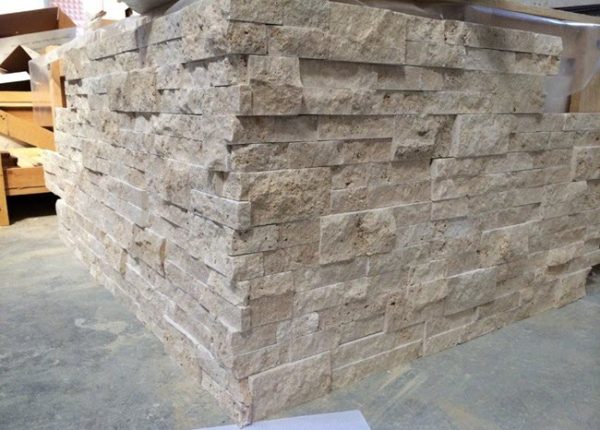 Next, the Silver Travertine Splitface ledger in 6x24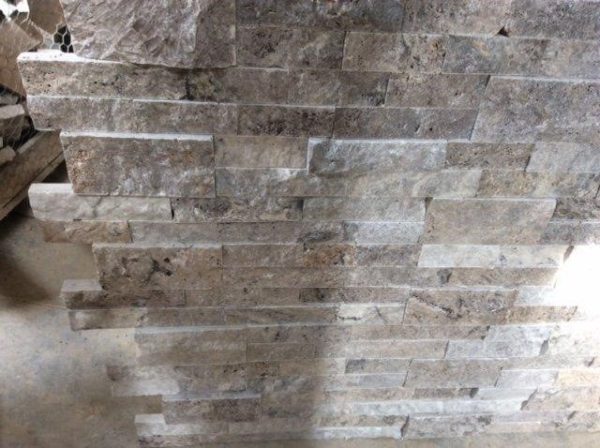 Slate and Quartzite Ledger Panels
We feature one slate ledger panel and two quartzite ledger panels.
The slate ledger panel is called California Gold Ledger panel 6x24 and comes with a coordinating corner piece.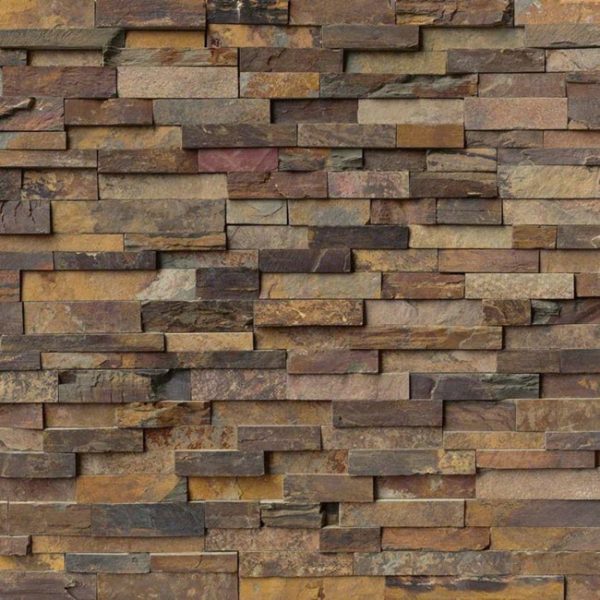 Below is the Golden White Ledger panel 6x24. As I mentioned, it is a quartzite product and also comes with a corner piece.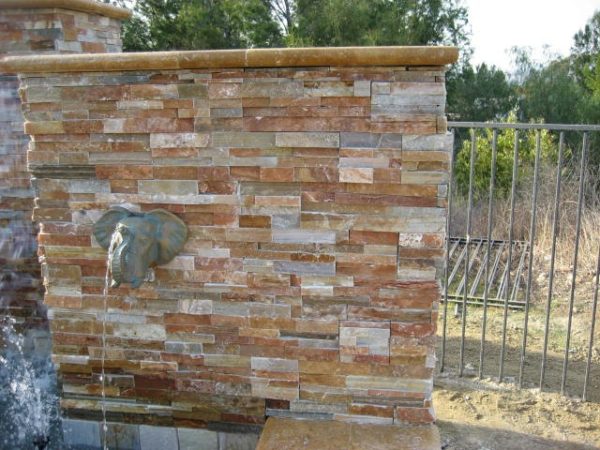 Arctic White Ledger Panel 6x24 is a quartzite product. It comes with a corner piece.
Ready to Shop Stacked Stone Ledger Panels?
What do you think of stacked stone ledger panels? Do you like the look and feel of them as much as we do?
We hope you'll come to visit Tile Outlets to see for yourself how versatile and beautiful they are.
Kate

Note: This article was originally published on July 16, 2015 and has been updated.