Discover Amazing Tile Finds during the Tile Outlets Summer Sale
Posted by Kate Spencer on Jun 17th 2021
Are you ready? It's time for the Tile Outlets Summer Sale when you are sure to discover amazing tile finds!
This sale event takes place Friday, June 18th through Monday, June 28th at all three Tile Outlets of America stores. This is when we clear out inventory and get ready for new tile arrivals.
In this article, I'll highlight some of the sale and feature items and introduce you to a few of the new tile arrivals.
Tile Outlets Summer Sale Highlights
This sale promotes both existing and new items; here are some of my favorites. I invite you to visit all three stores during the sale event to explore them more closely.
Note that these products are all first-quality porcelain and ceramic tile, stone, mosaics, LVT, and more available during the sale for up to 50% off regular prices, in-stock, and ready to go.
Ceramic Tile Featured During the Tile Outlets Summer Sale
Along with our ceramic tiles, we have a feature ceramic plank that starts at $.98 sqft! It is the Etic Bronce 8x24.
If you are looking for a ceramic in rectangular size we have the Skyline NY Beige 12x24 featured at $1.02 sqft.
Popular Rectangular Porcelain Tile
Rectangular-sized tile continues as a popular and often requested shape. For that reason, we think you'll enjoy these porcelain sale selections which can be used on both floors and walls.
Urban Dove 12x24 is featured at $.96 sqft.
Moon Byrd Beige 12x24 is a soft neutral tile in the warm tones.
Geneseo Beige 12x24 is more rustic but also a neutral tone.
Realistic Wood Plank Tile at the Tile Outlets Summer Sale
Wood plank tiles continue even stronger than we ever imagined! You'll find an assortment of wood planks in all lengths at Tile Outlets of America.
(For more on wood plank lengths, see Learn About the Range of Wood Plank Tile Sizes on Suncoast View.)
Here are a few of those great values that are only on sale for this event.
Coffee Wood 6x24 is featured at $1.34 per sqft.
Indian Wood Noce 6x24 is a rich wood look porcelain plank tile featured at $1.51 per sqft.
Royal Harbor White 6x36 is a plank size tile but not in a wood look. This is featured at $1.50 per sqft.
Tile Outlets Summer Sale Includes Outdoor Porcelain Tiles
You'll love the outdoor space you'll have to entertain in once you've installed these outdoor porcelain tiles! They are stunning.
Check out the modular porcelain tile pattern on sale: Aldea Sand Modular Pattern.
Below you see how that pattern looks installed. These tiles are packaged together as a pattern in the box. Follow the pattern on the box and you can create this design for your outdoor space.
We also have an R11 product that is suitable for outdoor installation.
Frammenta Bianco Roc R11 12x24 is a pebble textured looked and in a soft white color. You can use this on your back porch, pool deck or walk areas. The grip texture is not suitable for an interior installation.
Lovely Mosaics
I absolutely love how gem-like mosaics are and you'll love how many great ones you have to select from! During the inventory clearance sale, you'll find discounts as high as 50% of some items. Sizes range from 1x1s, 1x2s to 2x2s, in ceramic, glass, and Travertine.
Glass and Stone Mosaics
The Blue Blend 1x1 Textured Glass mosaic is 25%-off for the sale.
Frosted Mosaics
We are featuring a few frosted glass mosaics. Here are two.
Bl/Turq/Wh Brick Frosted Glass is available at $6.19 per piece.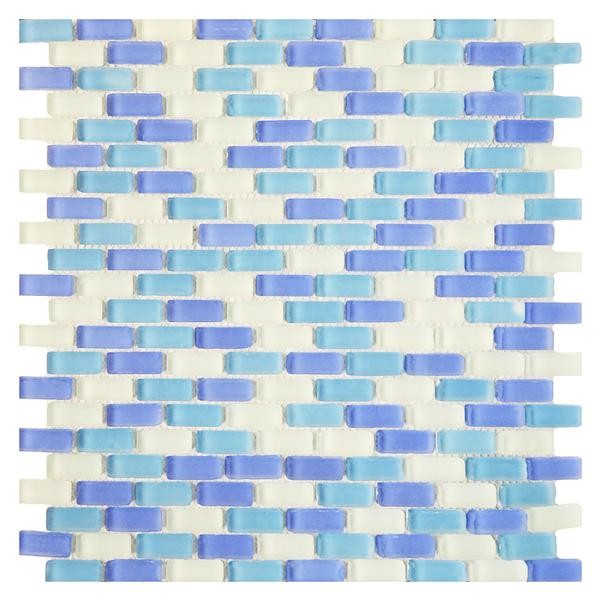 The other is Misty Waters Frosted Herringbone Mosaic 11.8x11.8.
Hexagon Mosaics
The Sand Blend Cappucino 2" Hex Glass mosaic consists of dimensional mosaic pieces that create a raised effect in the glass. Some of these warm-toned hexagons are matte and others shiny. You'll find other colors available in this same design to explore.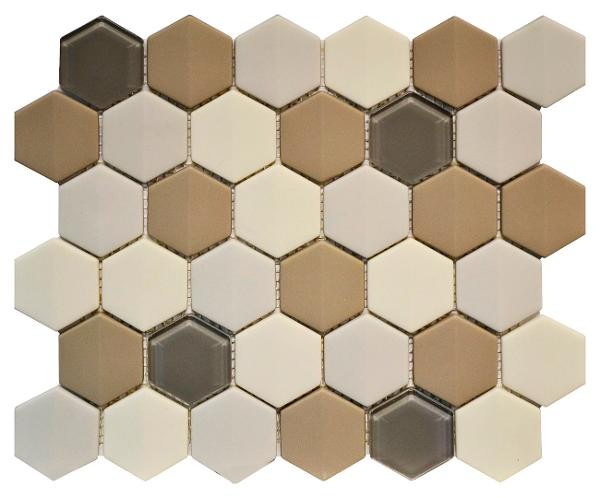 Blue Blend Glass Elongated Hex Mosaic takes the frosted theme and blends it with a modified hexagon shape.
Stick Mosaics
The Dk Emperador/gold Glass Sticks features rich gold tones that the glass sticks amplify.
Dark/Light Grey 1.5x4 Soldier Glass Mosaic 12x12 is a blend of stone and glass. This mosaic also features a print on the glass to give it an artistic feel. You can, similarly, install these as strips or single mosaics.
For a more modern look, check out the Taupe Vertical Basalt Glass Mosaic 12x13 pictured below.
Travertine & Stone Mosaics
These Travertine and stone mosaics are stunning!
Carrara White 2x4 Brick Mosaics Beveled Polished 12x12
Thassos White/Gr Zig Zag Polished
Wood White/Athns Gr Zig Zag Polished
Lt/Dk Emperador Marble Circle Mosaic
Patchwork Mosaics
Here is a patchwork mosaic that combines glass with stone: Lt Grey Patchwork 2x4 Glass.
Remember that each store has different selections so be sure to check them all out.
The Reason for the Tile Outlets Summer Sale? Check Out These New Tile Arrivals
As I mentioned at the beginning of this article, the reason for the Tile Outlets Summer Sale is to make room for new tile arrivals.
Petrified Wood White Polished 12x24
This petrified wood series comes in three colors and two different formats. This porcelain tile is from Italy. Come check out the 12x24 polished in White and Blue and the 24x48 polished in the Natural color.
Quarzi Barge Lappato 24x24
The Quarzi series has a lappato finish which has some flat surfaces that are polished and the rest is matte. The unique design is suitable for interior installation.
This product is Made in Italy and has a really cool 3" Hexagon to match. Quarzi Barge Lappato 3" Hex Mosaic.
6x36 Porcelain Plank Series
These three items are 6x36 porcelain planks in marble designs. They are Made in Spain and have a matte finish. Use these planks on the walls and floors. With this size, you are also able to do herringbone designs to create a unique look in your room.
Please check out the following items:
Calacatta Gold 6x36
This item is a true Calacatta Gold design in a plank format.
Pulpis Grey 6x36
The Pulpis grey is soft grey in color and has that traditional stone veining.
Marquina Gold 6x36
The Marquina is black and gold in color. The veining is dominate and true to the natural stone.
Timber Series 9x30
The Timber Series consists of two colors of wood porcelain planks Made in Spain.
The first feature is the Timber Blanco 9x30 which is light in color and will complement any space.
The second color is the Timber Gris 9x30 which is Grey in color.
Both of these items are great colors with a great price.
Ready for the Tile Outlets Summer Sale?
Are you sufficiently intrigued to visit Tile Outlets of America during the Summer Sale so you can see these products firsthand?
You can get a preview by visiting the Tile Outlets June Sale Event page.
Let me know of questions and how you end up using these tile products in your home.
Thanks for reading!
~ Kate