Discover NAC Products
Posted by TOA's Blog Team on Sep 23rd 2021
Curious about NAC Products and the role they play in protecting against crack isolation, sound control and waterproof issues? Read on to learn more.
National Applied Construction or NAC Products
NAC stands for National Applied Construction Products. The company provides a variety of surface related products with solutions that are never just surface level.
NAC products protect your flooring with superior crack isolation protection, sound control, and waterproofing solutions. This ensures that your porcelain and ceramic floor tile, stone, and LVT/SPC flooring installations perform over time.
Since not all jobs require the same membrane, NAC offers distinct products:
ECB75 provides crack isolation up to 1/4"
SAM90 and SuperSam125 provide crack isolation, sound control and moisture barrier
These type products are considered underlayment.
An Overview of Underlayment
Underlayment isn't something you can see and appreciate since it is completely covered by the material going over the top of it.
It's critical because it protects your flooring investment from cracking, moisture intrusion, and additional sound control (depending on what your flooring requires). You'll find a wide range of underlayments in the industry from roofing felt, cork, recycled rubber to products like ECB membrane.
ECB Membrane from NAC Products
Not all products are designed for the tile flooring industry and meet the ANSI specifications recommended by the Tile Council of North America (TCNA).
For example, cork and recycled rubber may have good sound numbers, but cannot hold up to the deflection and shear bond tests recognized by TCNA.
How NAC Underlayments Stand Out
Two NAC Products - ECB 75 and SAM 3 90 - were built for the tile industry and exceed all 6 tests recognized for underlayments by TCNA ANSI A118.12 and A118.13.
ECB is the original anti-fracture membrane. It provides up to 3/8" crack isolation protection.
SAM sound control membranes provide impact and audible sound reduction, meeting and exceeding the Uniform Building Code (UBC) and International Building Code (IBC) standards that call for a minimum 50 IIC (Impact Insulation Class) and a minimum 50 STC (Sound Transmission Class) rating per ASTM E90 and E492.
Not all membranes are built as well as the NAC membranes which have a higher rubber content.
Also, the mesh on the surface that you bond to melts into the base. This allows NAC products to exceed standards, and never delaminate.
If you install products that do not meet tile industry standards, you are opening yourself to all kinds of liability issues when something does go wrong.
What Issues Does Underlayment Address in a Tile Installation?
Underlayments are the best insurance a customer can buy for their tile installation.
All concrete floors are subject to expansion and contraction and will eventually crack. Underlayment prevents your new tile installation from cracking as well.
>> See Why Underlayment Matters to a Tile Installation Project
They are also very important in reducing sound in condominium-type construction if they are installed properly. In fact, many condominiums require sound control membrane prior to installing the floors.
>> See Explaining Sound Ratings
What do the letters IIC and STC stand for?
IIC stands for Impact Insulation Class. This measures the level of structure and sound isolation between two spaces. The most common IIC rating of 50 and above is quite common in building code and HOA establishments.
STC stands for Sound Transmission Class. This integer rating measures airborne sound in a surrounding area. It is commonly used to rate interior partitions, ceilings, floors, and windows, as well as exterior walls.
Please not: If your flooring project requires an underlayment with sound control it is best to check with your HOA prior to installation.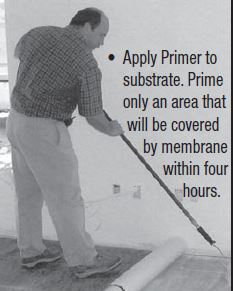 How to apply primer in this NAC Products instruction sheet.
Tips For Installing NAC Products Underlayments
The best way to install the NAC membrane is to follow these steps:
Clean the surface
Measure and fit the membrane to the floor
Roll the membrane 1/2 or 3/4 back
Prime the floor
Slit the release paper and walk the membrane back over the primed floor
Repeat the other half and either roll or flat trowel
Then, start tiling
You can click on link below the image to download a pdf with more detail on each of these Membrane Installation steps.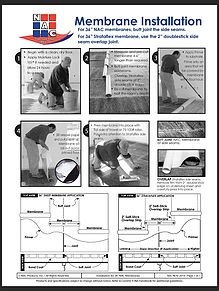 Download NAC Membrane Installation Guidelines
What if an Air Bubble Appears?
No need to worry if an air bubble appears!
Simply get a utility knife and cut into the raised area. Once the air has been released push the membrane back down into the bonding agent.
Can the Underlayment be Overlapped?
No, no overlapping!
Overlapping will create a weakest joint and an area that will likely "debond".
The membrane should be cut, butted up to each other.
If you need to apply waterproofing over the seams, you can use a liquid waterproofing product (such as TEC Hydraflex).
Does NAC Offer a Warranty?
Yes, NAC does offer a lifetime system warranty or a five-year performance warranty.
What is the Difference Between an Expansion Joint and a Control Joint?
It's important to understand the difference between these types of joints.
Expansion joints are meant to deal with structural movement.
Control joints help to control cracking.
Expansion joints join separate slabs. No underlayment product can bridge these areas. If this is presented on your installation you will need to start your tile on each side of the expansion joint.
Control joints are a "soft joint" cut into the concrete. These cuts will help the slab to expand and contract. These type of joints can be bridged or covered by underlayment. If you place tile over a control joint without underlayment, you will discover that the tile becomes damaged or cracked.
If a slab has cracks and is also not flat, you'll want to deal with the cracks first via underlayment. Once the underlayment has been installed then the floor can be floated.
Ready to Try NAC Products for Your Next Installation?
If you are, we look forward to seeing you at Tile Outlets of America in Fort Myers, Sarasota and Tampa - or online - and answering your questions.
Thank you for reading!