Dustless Thinset, Pre-Mixed Grout, and Waterproofing From Merkrete
Posted by TOA's Blog Team on Jul 7th 2022
Have you checked out a few of the latest products from Merkrete such as dustless thinset, pre-mixed grout, and their waterproofing solution? These are exciting products that address many of the frustrations that installation contractors as well as D.I.Y.ers encounter when they're installing tile.
Let's explore all three product categories in this article.
Waterproofing/Crack Isolation from Merkrete
Merkrete offers solutions to address waterproofing and crack isolation.
Fracture Guard focuses on crack isolation.
Hydro Guard addresses waterproofing.
Crack Isolation:
Crack isolation matters to prevent cracks from telegraphing through installations and damaging ceramic and porcelain tile installations.
Fracture Guard can be used for cracks up to 1/8" horizontal movement. It can also be used over an interior floor with a plywood or cement board substrate.
You can apply the product with a roller or trowel, moving across the surface to achieve the proper coverage of 30 mils (the thickness of a credit card). A 3 ½" gallon bucket will cover 280 sf.
The end result should look like an elephant or gator-like skin after it's applied. It can take from 2-4 hours to dry.
Please note that any excessive deflection must be eliminated prior to using this product per the L/360 deflection formula. According to the Tile Council of North America (TNCA),
"The L/360 standard means that the floor should not deflect more than the "span" divided by 360. If the span of the joists is 10 feet (between supports), then the deflection should not be more than 1/3" between the center and the end. Frequently, there is misunderstanding regarding deflection between joists."
Waterproofing:
When it comes to waterproofing, Merkrete's Hydro Guard is an excellent solution. The SP-1 product dries faster than typical waterproofing products, is water and vapor proof, passes a flood test after a 4-6 hour curing period, and offers anti-fracture protection up to 1/8".
SP-1 is a positive waterproofing material that can be used as a "positive" waterproofing over the top of a shower floor or on walls. The term positive means protection from top-down moisture. In this case, the material applied over the top of the walls or floor is waterproof after applied.
This is not to be confused with a moisture mitigation product that waterproofs from the ground up.
Dustless Mortars and Pre-Mixed Grouts from Merkrete
For those interested in mortars and grouts, Merkrete offers cutting edge products.
Dustless Thinset Mortar:
Merkrete is the only company in the industry to offer both "Dustless and Slake Free" technology together. Slake-Free means the thinset does not need to sit in the bucket for several minutes after it has been mixed. The mortar can be mixed with water and spread for tile installation immediately.
Merkrete thinset mortars are ranked in numerical order on each of their bags. As each number increases, so does the advancement in technology in the mortar itself. The numbers of their mortar include: 703, 705, 710, 720, 720RS (rapid set) 725, 735, 750, 820, 855, and 856. All are dustless except for 700/703.
For example, the 700 (unmodified) thinset is meant for basic installations of ceramic tile or stone on walls and floors.
And the 856 XLF is a "high performance full contact mortar." It is also non slump for the use of both large and heavy tile without the need to back-butter the tile.
Merkrete has an extensive line of modified (multi-purpose) thinset mortars for tile, glass, and natural stone installations.
Best Practices for Using Merkrete Thinset Mortar
It's important to use best practices when using all tile installation products. If you aren't sure about how to properly install and use Merkrete thinsets, be sure to ask your Tile Outlets of America associate who has attended product knowledge and demonstration sessions with Merkrete.
Here are some highlights:
Make sure that all wall(s), floor(s), and also the backs of tile are wiped with clean water and a clean sponge prior to thinset application. This will help prevent any bond breaking issues between the mortar and area it is applied to.
It's important to burn or key in mortar onto the surface. This refers to smoothing the mortar over the wall or floor prior to using the notched side of the trowel to spread the thinset mortar. This is performed so the tile gets a good mechanical bond.
For a large format rectangular tile it is best to install the mortar in the direction to the shorter side of the tile. This will help set for a better bond. For example, spread the mortar horizontally for a 12x24 tile installed horizontally.
Make sure the water to mix the thinset is cold, and that the bagged thinset is kept out of the heat. This will prevent the thinset mortar from "kicking too quickly" (mortar getting too hard too quick shortly after mixing in the bucket.)
What does LHT mean? L= Large, H= Heavy, T= Tile. It refers to any tile that is larger than 15" on one side and requires a mortar specifically designed for it.
Interestingly, a 30 lb. bag of Merlite 820 will achieve the same amount as a 50lb. bag.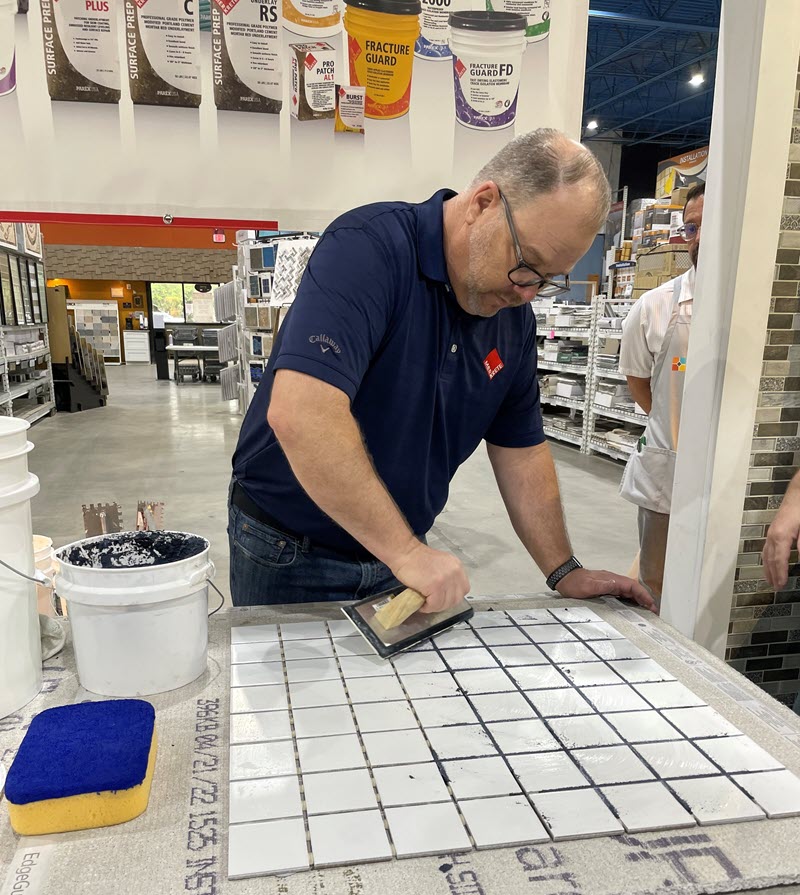 Pre-Mixed Grout:
Grout can often be frustrating. Too much water causes issues, as does not enough water. Imagine a product that solves that issue! That's the peace-of-mind that Merkrete's pre-mixed grout offers installers.
The grout is ready to go straight from the bucket without mixing. It is also slake-free. If you don't use all of the grout in the bucket, simply put the plastic liner back over the remaining grout, and put the lid back on the bucket. This grout will keep for 6 months.
This grout is antimicrobial. It can be used in showers 72 hours after application.
The pre-mixed grout is for interior use only, and can be used on both walls and floors. It is an acrylic grout and can be used on grout joints from 1/16" up to ½" and on softer items such as glass because it will not scratch. Because it is an acrylic grout, it will not lose its pigment from over washing. The grout can however be washed out of the grout joints from too much wiping.
Merkrete's pre-mixed grout is available in 14 colors.
You can purchase it in single 2-gallon buckets.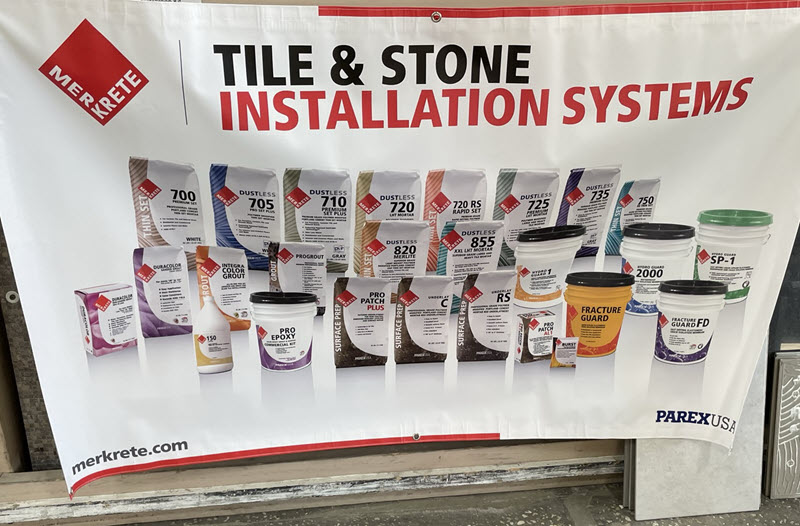 More About Merkrete
Merkrete has been around since 1971, and is a division of Parex USA, focused on innovation. Merkrete offers a variety of great products from thin set to grout and products for surface preparation. Most all of the Merkrete thin sets are 80% dust less and slake free, and contain mold shield technology for protection against mold and mildew, Rapid set technology, and dustless technology.
Rapid set technology offers early strength, excellent workability, fast curing, and excellent durability to Merkrete's fast setting line of products.
Dustless technology produces 80% less dust than ordinary thin sets. It is designed to improve air quality, promote cleaner working conditions and reduce mess.
Are You Ready to Try Dustless Thinset, Premixed Grout and Waterproofing From Merkrete?
If you are, you've come to the right place. Here at Tile Outlets of America, you will find many of these Merkrete products. For example,
Merkrete dustless 735 premium flex: A superior grade, polymer modified flexible thin set mortar offering flexibility, higher strength, plus extended open times. It will help prevent cracks in tile. It has a great bond. It can also be used for pools.
Merkrete dustless 710 premium set plus: A professional grade thin set mortar designed for interior and exterior floor and wall installations of all types of ceramic tile, Porcelain tile, and even stone. It even bonds to cement and exterior grade plywood surfaces.
Merkrete dustless 855 XXL: A polymer modified Portland cement mortar for installing extra-large and heavy porcelain, ceramic tile and natural stone on both walls and floor. This thin set has a high bond strength and initial grab. A non-sag and non-slip formula holds wall tiles in place. It also great for our customers who do their own DIY projects.
If you don't see what you need, we can special order any Merkrete product for you, our contractors and customers.
We look forward to seeing you and answering your questions.
Thanks for reading.