Find the Tile of Your Dreams During the Tile Outlets Anniversary Sale Event
Posted by Kate Spencer on Oct 12th 2023
Help us celebrate our 21st Anniversary!
Find the tile of your dreams during October. That's when Tile Outlets of America holds our yearly Anniversary Celebration Sale and offers great savings on just the right tile, so you can indulge in that remodel project you've been noodling for a while.
However, the other big deal about this Anniversary sale is that it makes room for brand new tile arrivals that you'll learn more about in this article.
The sale event takes place Friday, October 13th through Monday, October 23rd at all three Tile Outlets stores and features special buys and amazingly priced products that are all first-quality porcelain and ceramic tile, stone, mosaics, and more available during the sale for up to 50% off regular prices, in-stock and ready to go.
Ready to learn more about the new arrivals?
Discover the Tile of Your Dreams During the Tile Outlets Anniversary Sale: New Product Arrivals
The latest product arrivals to the stores include floor tiles, decorative tiles, wall tiles, and mosaics.
Let's start with floor tile.
1. New Floor Tile Arrivals
Let's explore the new porcelain option.
Charme Porcelain Tile Series
The Charme series comes in 12x24 matte finish. These formats are great for wall and floors. This series is Made in Italy and has a fabulous 4" porcelain hexagon mosaic.
The Charme Black has a marble design. Imagine using brushed gold fixtures with this elegant look.
To complete the look we also have the 4" porcelain matte hexagon SKU: 152799. This would be great for a shower floor or used as an accent in a niche or backsplash.
Oscar Crema Series
The Oscar Crema series is available in 24x24 matte and 24x48 polished. This gives you a polished and matte option for the walls and floors. This is a soft crema marfil look which is still classic and warm.
Oscar Crema Matte 24x24 – SKU: 108967
The Oscar Crema Polished 24x48 – SKU: 108965
Elite Wood Series
The Elite wood series reminds me of a fun beach house. The variety in colors and weathered look of the planks is fun and whimsical. This porcelain tile is available in 8x36. It would also make a great feature wall in a den or fireplace.
To appreciate the look, here's the range picture shows you the variety of colors the best.
When installed you will have a room that mimics this design. Tiles can be installed soldier style or offset.
Havsta Series
The Havsta series is Made in Spain.
This porcelain wood look plank was so great that we decided to bring this to you in two sizes – 9x47 and 12x60. This longer plank is very impressive in a room. The color is very neutral and warm. There is slight wood grain movements and more modern and clean design.
Havsta Natural 9x47 – SKU: 108917
See below a range picture of the 9x47 format.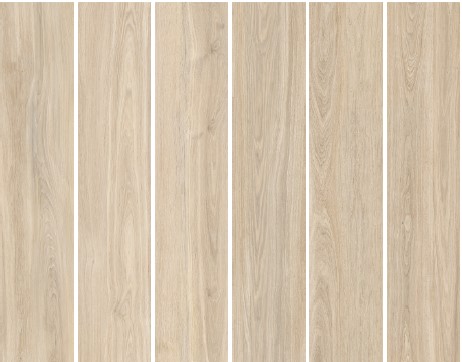 Havsta Natural 12x60 – SKU: 108979
See an installed picture of the 12x60 format and see how this fills up a room.
2. Polished Large Format Tiles
Large format tiles are becoming very popular. Customers are wanting fewer grout lines and a more continuous look of product.
Tile Outlets of America selected a few new large format looks to inspire you for your next project. Please come explore the following products and remember that these large formats can go on the floors and walls.
Glitz Series
Come check out the Glitz Leventa Nerio Polished 24x48 porcelain tile. This is a classic timeless nero marquina look. The white veining against the black background really pops. Explore this look in a living space or a shower. Feel free to explore using this look anywhere in the house.
Glitz Leventa Nero Polished 24x48 – SKU: 108963
Onyx White
The Onyx White is a polished 24x48 in porcelain. The soft onyx design is cool in color and can be used on the floors and walls. The background is a nice soft white with grey onyx tones.
Onyx White Polished 24x48 – SKU: 108927
Sand Dune
The Sand Dune Polished 24x48 is a porcelain tile. We called this Sand Dune because the movement on the tile reminds me of walking on the beach.
Sand Dune Polished 24x48 – SKU: 108929
3. Wall & Subway Tiles New Arrivals
We have some fun new wall and subway tiles to feature. These are sure to get you excited about redecorating your bathroom or kitchen. Let's explore some of these fun designs. First up is a new wall tile that has a grooved design to give the tile depth in the space.
This is the Filetto Camel item and is 18x48 in size.
Filetto Camel 18x48 – SKU: 204345
They create these looks in a larger size to avoid having too many grout lines.
This design can be used in an entire shower or as a backsplash in a bathroom or kitchen.
Next is a subway feature called Village.
We have four fun colors in a 4x16 glossy ceramic subway. These colors can be combined together or used individually to create a design. The colors are blue, green, white and black. Have fun exploring these new subway tiles and room inspirations.
Village Marine Glossy 4x16 – SKU: 204337
Village Hijau Glossy 4x16 – SKU: 204339
Village Carbon Glossy 4x16 – SKU: 204341
And here's another image.
Village Off White Glossy 4x16 – SKU: 204343
4. Mosaics
Pebble mosaics are still a favorite with customers.
We have added some recycled glass pebbles that will coordinate with many wall tiles and subways. There are five new pebbles added. Come explore the pebble collection in the store, but here are a few of my favorite new additions to the mosaics:
Liquid Rocks Clearwater Mosaic – SKU: 152771
Liquid Rocks Riviera Shores Mosaic – SKU: 152769
Liquid Rocks Pebble Beach Mosaic – SKU: 152777
Ready to Find the Tile of Your Dreams During the Tile Outlets Anniversary Sale?
Are you ready to stop by Tile Outlets of America during the Anniversary Sale to explore not just the great deals but also these wonderful new arrivals? Most have come in and are ready for you to experience them firsthand.
>> You can get a preview by visiting the Tile Outlets Anniversary Sale Event page.
Let me know of questions and how you end up using these tile products in your home.
Thanks for reading and Happy Shopping!
~ Kate