Find the Tile of Your Dreams During the Tile Outlets Anniversary Sale Event
Posted by Kate Spencer on Oct 7th 2021
Help us celebrate our 19th Anniversary! Find the tile of your dreams during October. That's when Tile Outlets of America holds our yearly Anniversary Celebration Sale and offers great savings on just the right tile, so you can indulge in that remodel project you've been noodling for a while.
However, the other big deal about this Anniversary sale is that it makes room for brand new tile arrivals that you'll learn more about in this article.
The sale event takes place Friday, October 8th through Monday, October 18th at all three Tile Outlets stores and features special buys and amazingly priced products that are all first-quality porcelain and ceramic tile, stone, mosaics, and more available during the sale for up to 50% off regular prices, in-stock and ready to go.
Ready to learn more about the new arrivals?
Discover the Tile of Your Dreams During the Tile Outlets Anniversary Sale: New Product Arrivals
The latest product arrivals to the stores include floor tiles, decorative tiles, LVT (luxury vinyl flooring), wall tiles, and mosaics. In this article, you'll find four categories of new arrivals, two in tile, one in Luxury Vinyl planks, and one in pool mosaics.
Let's start with floor tile, then highlight the luxury vinyl new arrivals, and finish with pool tiles.
1. New Floor Tile Arrivals
12x24 Porcelain Formats
Let's explore the new porcelain matte options in 12x24. These formats are great for wall and floors. Here are just a few of the new series:
The Craft series is a matte porcelain rectified tile Made in the USA and available in two colors: Cotton and Yarn. This linen tile is a color body and is commercial rated and can be used on walls and floors. The series also has a basket weave mosaic to finish the look.
The collection helps to meet the criteria for obtaining LEED credits. Thanks to Protect antibacterial technology, tiles from the Craft collection have continuous, effective and durable protection against the proliferation of bacteria, tested and certified.
Craft Cotton 12x24 – SKU: 103037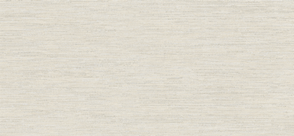 Craft Yarn 12x24 – SKU: 103039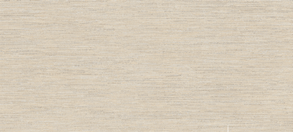 The image below shows you the combination of Craft Cotton 12x24 with Craft Cotton Basketweave Mosaic.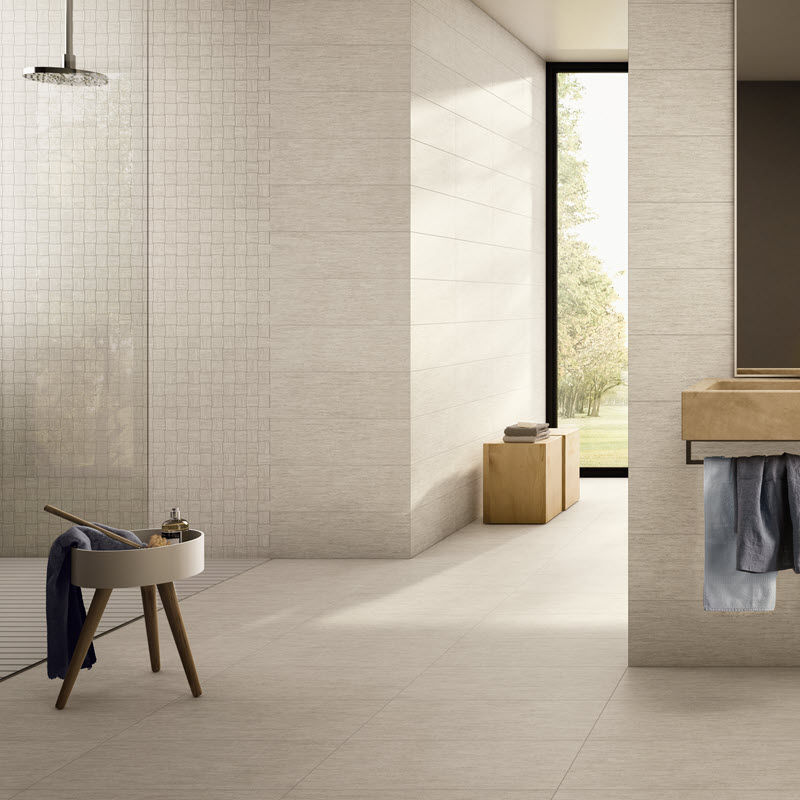 The Cuarzo Reno collection is made in Spain and comes in a 24x24 and 12x24. Here, we feature the 24x24 tile which is a matte rectified porcelain tile.
This marble look has a gold bold feature in the design. Be on the lookout for a 3" hexagon coming soon!
Cuarzo Reno 24x24 – SKU: 103045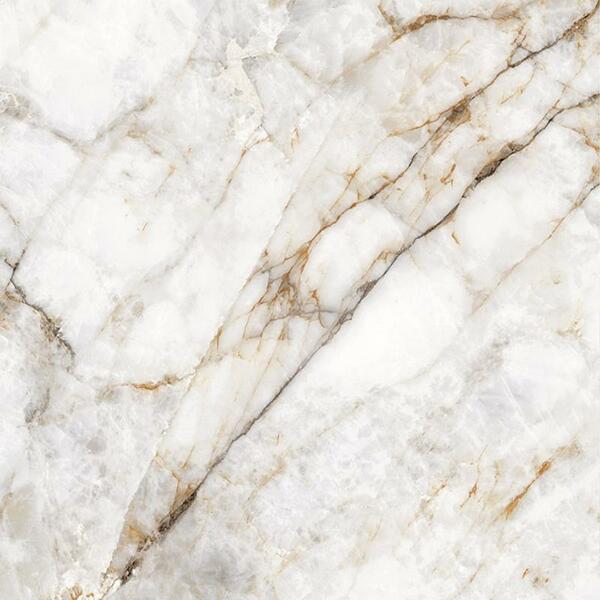 The room scene below shows you the range of the product.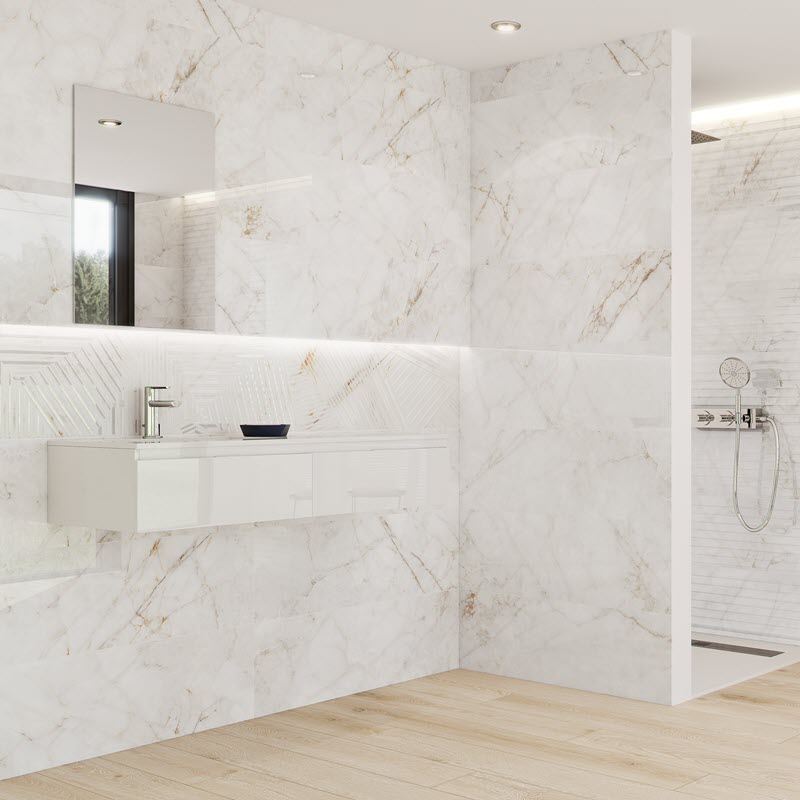 The Terma series is made in Spain. This is a brushed Carrara tile that is available in a 12x24 with a matching wall tile in 10x30.
The floor porcelain tile is rectified in format. The wall tile is a ceramic white body tile.
Terma Matte 12x24 – SKU: 108261
Terma Matte 10x30 – SKU: 204193
In this room scene, you see how beautiful the large format pattern looks with this stunning Carrara marble pattern. The large format creates a stunning and relaxing space.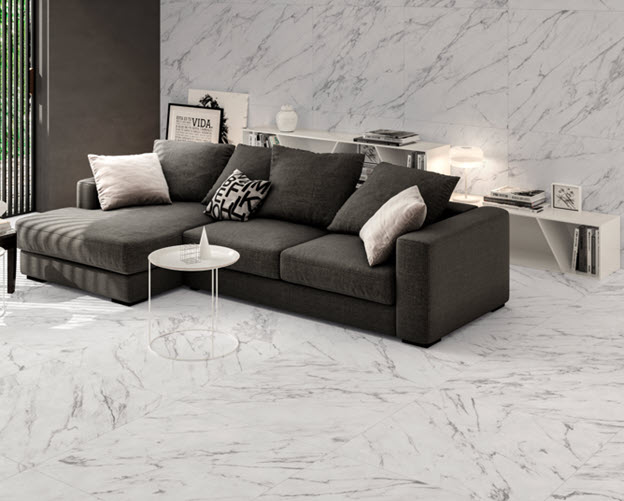 The Backwoods wood plank in color Kentucky Bourbon is Made in the USA. This rectified plank is a porcelain body, and has the look of a real rustic wood plank.
From the image below, you get a feel for how stunning the pattern looks in the plank format.
Backwoods Kentucky Bourbon 6x36 – SKU: 108259
If you'd like to explore more wood plank tile, be sure to check out 24 Wood Planks in Tile and Luxury Vinyl Tile.
2. Large Format Tiles
Large format tiles are becoming very popular. Customers are wanting fewer grout lines and a more continuous look of product.
Tile Outlets of America selected a few new large format looks to inspire you for your next project. Please come explore the following products and remember that these large formats can go on the floors and walls.
Imperador Gris Polished 33x33 – SKU: 108263 – is available in our Tampa location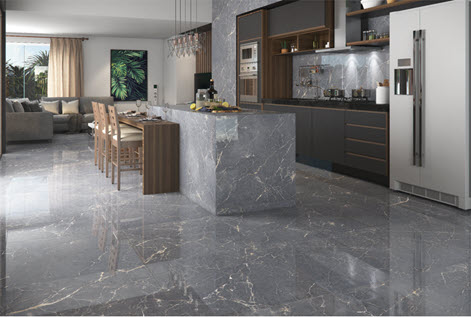 Lincoln Cream Polished 36x36 – SKU: 108295
Apulia Gold Polished 36x36 – SKU: 108297
The Prism Statuario series pictured below is also available in 12x24 and 24x24 polished.
Prism Statuario Polished 24x48 – SKU: 108271.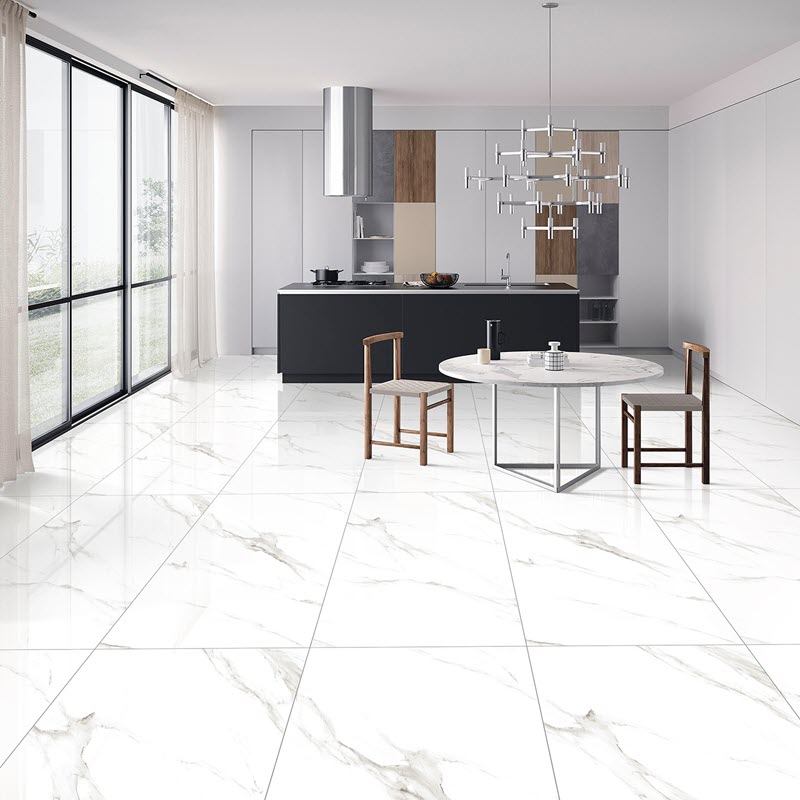 3. New SPC – Luxury Vinyl Flooring Arrivals
The Grays Peak design is a multi-plank look in the design that features a grey range of color. That said, each piece looks like different plank sizes within the plank.
The Gray's Peak is 5.5mm thick and has a 20 mil wear layer with a pad attached. This vinyl flooring plank can be used for commercial use as well as residentially.
Gray's Peak SPC 5.5mm.20 mil w/pad 7x48 – SKU: 836691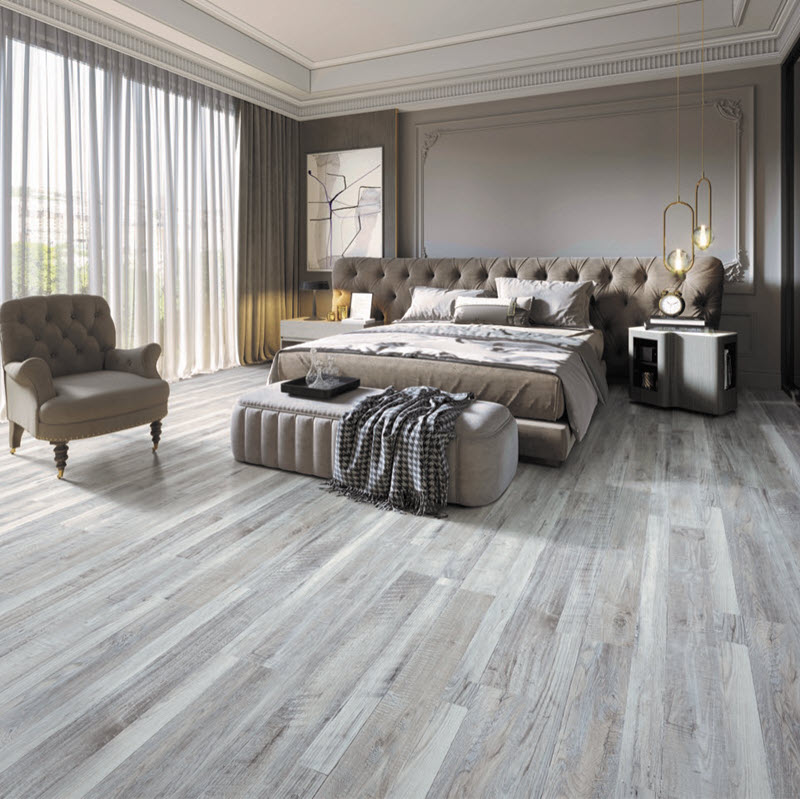 The Blue Wave is 5mm thick and has a 20mil wear layer with a pad attached. This vinyl flooring plank can be used commercially as well as residentially.
Blue Wave SPC 5mm/20mil w/pad 7x48 – SKU: 836701
Here you can see this installed and see the stunning blue/grey color pattern.
The Sierra Lux plank is a 5mm thickness with a 20 mil wear layer and has a pad attached. This vinyl flooring plank is 9x60 in size and can be used for commercial or residential installations. The color is more uniform and a softer grey.
Sierra Lux Pewter SPC 5mm/20 mil w/pad 9x60 – SKU: 836721
4. Pool Tile Glass Mosaics
You'll love the collection of new pool tile mosaics available in 2x2, puzzle and 1x2 glass mosaics. Check out all the new pool mosaics These mosaics can be used on the waterline, pool surface or water features.
For each mosaic, we've included a pool installation so you get a feel for the watery magic each adds to an outdoor oasis.
Crystal Cobalt Mix 2x2 Glass Mosaic – SKU: 152397
Crystal Teal Mix 2x2 Glass Mosaic – SKU: 152401
Crystal Sky Puzzle Glass Mosaic – SKU: 152403
Pure Azure Puzzle Glass Mosaic – SKU: 152405
Pure Aqua Puzzle Glass Mosaic – SKU: 152407
Pure Azure 1x2 Glass Mosaic – SKU: 152409
Pure Aqua 1x2 Glass Mosaic – SKU: 152411
Ready to Find the Tile of Your Dreams During the Tile Outlets Anniversary Sale?
Are you ready to stop by Tile Outlets of America during the Anniversary Sale to explore not just the great deals but also these wonderful new arrivals? Most have come in and are ready for you to experience them firsthand.
>> You can get a preview by visiting the Tile Outlets Anniversary Sale Event page.
Let me know of questions and how you end up using these tile products in your home.
Thanks for reading and Happy Shopping!
~ Kate