GoBoard Lightweight Backerboard and Point Drain Shower Kits
Posted by TOA's Blog Team on Sep 16th 2021
Waterproof, lightweight, and now with a point drain shower kit! That's GoBoard and it's available at Tile Outlets of America.
We first introduced you to GoBoard in Introducing GoBoard Waterproof Tile Backer Board. Since then, we held product knowledge sessions in all three Tile Outlets stores.
In this article, you'll find highlights from those sessions including Q&A that customers like you asked.
What Makes GoBoard Unlike Other Backerboards?
GoBoard is made from high density polyisocyanurate (polyiso) closed-cell foam, providing waterproof quality, strength, and durability. It is a very lightweight material, affordable, and easy to cut and install for walls and floors prior to a tile installation project.
In fact, what surprises people most when they first encounter GoBoard is how lightweight and versatile it is.
It's up to 80% lighter than cement boards.
You can effortlessly carry many boards at the same time.
This speeds up the process of getting a job started.
How Does GoBoard Compare to Other Cement Boards?
Compared to traditional boards such as Fiberock and Durock, GoBoard is much lighter. Plus, it can be cut with a utility knife rather than a saw. That means less dust and less prep time.
With GoBoard, you use the GoBoard sealant on the seams to have them waterproofed. Traditional backer boards need a waterproofing membrane applied over it to be fully waterproofed.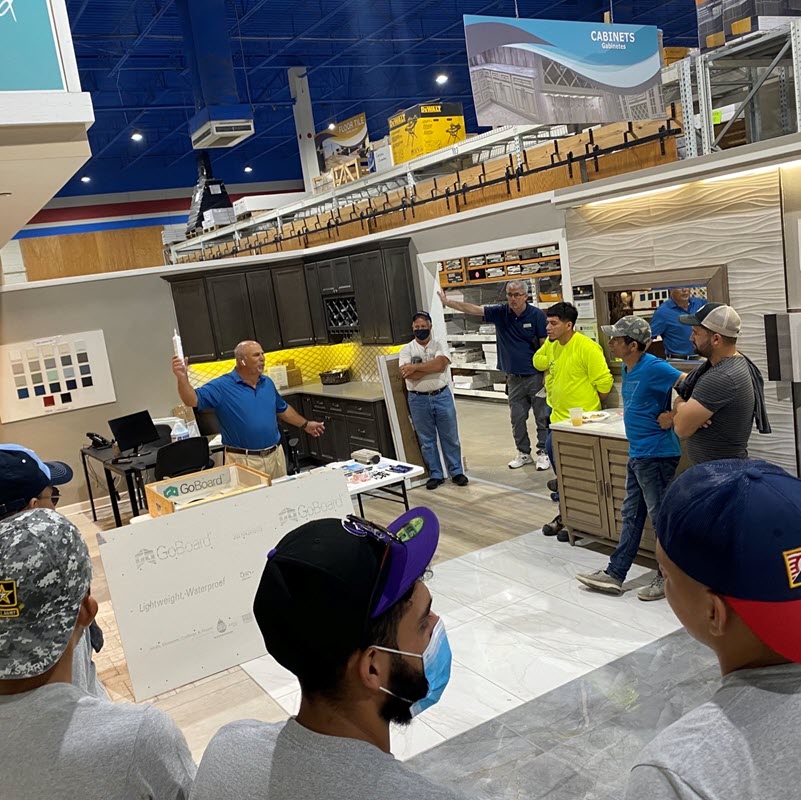 GoBoard Installation Questions
Many of those who attended the PK were curious about this new lightweight board and how it worked. Here are some questions they asked during the presentation:
1. How do you fully seal the job with GoBoard?
To fully seal a GoBoard installation, you must cover all the GoBoard Fasteners using the GoBoard sealant with at least a 2 1/2"diameter patch which can be achieved with a 3" putty knife.
2. What are different end uses for GoBoard?
You can use the 1/2" GoBoard for walls, showers, ceilings and floors.
3. What type of thinset can be used on GoBoard?
You can use modified or non-modified thinset on GoBoard installation projects.
4. When I pick up and place GoBoard under my arm to carry it, my skin gets irritated afterwards. Why does this happen?
GoBoard has fiberglass in it. You can avoid skin irritation by picking up the boards with your hands and carrying them instead of putting them under your arms. The product is so lightweight you can carry several boards at a time.
Another option is to wear gloves.
5. How can I protect myself from airborne fiberglass?
For installers who are sensitive to airborne fiberglass when cutting GoBoard, they can do the following to project themselves:
Take a clean sponge, wet it, and wipe over the area being cut prior to cutting GoBoard.
6. What type of screws can be used on GoBoard? And what is the recommended placement of the screws?
GoBoard products have screws that can be used for wood or metal studs. Placement of these screws are recommended every 8" on the board.
Or you can also use standard galvanized backer board screws. Placement of these screws is every 6".
7. In a shower enclosure how far down into the mud bed can GoBoard be installed?
Go Board can be installed all the way down into the mud bed.
This can be done because it is waterproof. Most competitor boards will "wick" the moisture up the board, and over a period of time the backer board will eventually rot.
8. How do you waterproof the GoBoard during installation? Do the screws need to be waterproofed as well?
The use of GoBoard sealant is needed in between the boards, and over all screws as well.
For those who are not comfortable working with the GoBoard sealant, you can use waterproof mesh and liquid waterproofing (like TEC Hydraflex) as well.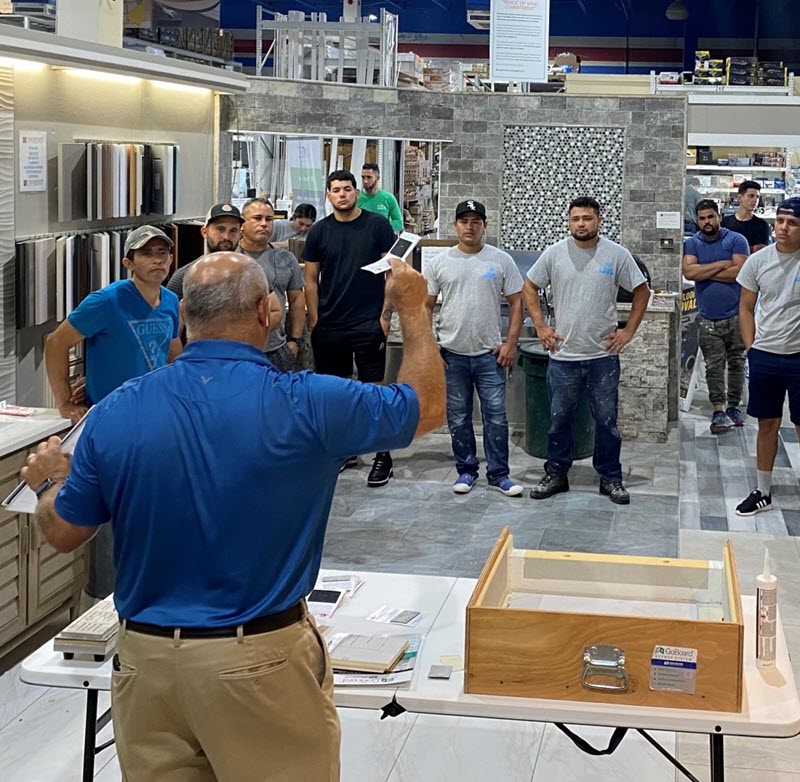 The New GoBoard Point Drain Shower Kit
GoBoard has a new GoBoard Point Drain Shower Kit. It comes with a pre-assembled drain, mixing valve seal, pipe collar, clamping collar screws, and a two-inch plastic putty knife. This system accommodates all types of shower areas and offset drain locations.
This shower tray and drain assembly eliminates the need to mix mud, and carry in those heavy buckets to slope the shower floor. It will save time and money.
We are very excited to start carrying these GoBoard Point Drain Shower Kits (SKU 408203) here at Tile Outlets of America!
Ready to Try GoBoard Waterproof Tile Backer Board for Your Next Installation?
If you are, we look forward to seeing you at Tile Outlets of America in Fort Myers, Sarasota and Tampa - or online - and answering your questions.
Thank you for reading!