How to Use Pebbles and Penny Mosaics, Patterns and Ledger Panels in Your Home
Posted by TOA's Blog Team on Jul 21st 2016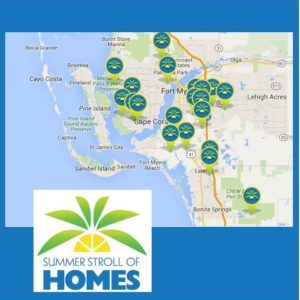 Are you intrigued with pebbles and penny mosaics, not to mention patterns and ledger panels?
After visiting homes in the Summer Stroll of Homes, we are, too!
Curtis Harmon and Michele Hoover decided to explore homes in the Cape Coral, Florida area. They came back with a treasure trove of images and ideas to share with you and inspire your next bathroom, kitchen or home remodel.
Here are the highlights that Michele shares.
Ideas for Using Pebbles and Penny Mosaics, Patterns and Ledger Panels in Your Home
Curtis and I enjoyed the Parade of Homes tour we took this spring so much that we decided to check out the Summer Stroll of Homes.
Since we visited homes in the Fort Myers area during the Parade, this time we headed west to Cape Coral. The beautifully decorated homes once again completely impressed us! Of course, for Curtis and me, our eyes were immediately drawn to the tile and stone. It's so much fun to see how creative others are in designing with those items. The different uses and product combinations definitely inspired us.
We noticed several products that were used multiple ways in multiple homes: Pebbles, Pennies, Patterns, and Ledger Panels. We're going to focus on these items in this article. And we'll include products available at Tile Outlets of America so you can create a similar look in your own home.
Pebbles for Your Shower Walls and Floors
Let's start with the pebbles.
We saw multi-color round pebbles (similar to Rounded Pebble Stone High Polish Multi Color Mosaic) used as the shower floor in an absolutely stunning walk-in master shower!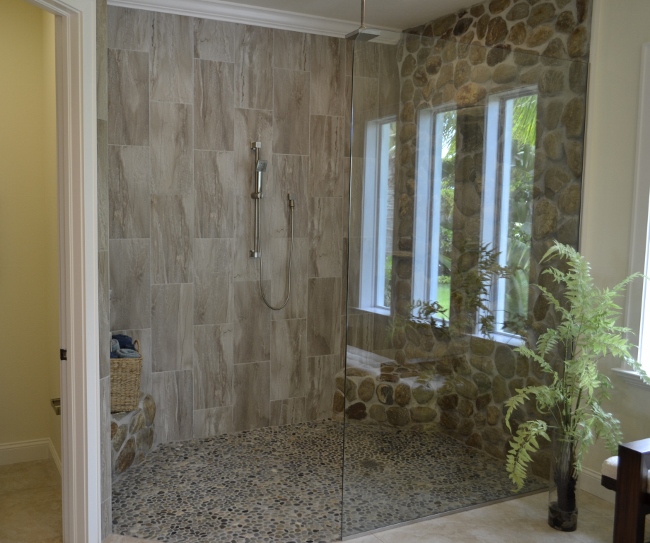 This shower also showcased large, natural rock along with a vertically set 12x24 porcelain tile (similar to Royal Beige Porcelain Tile 12x24 or Habana Blanco Natural Porcelain Tile 12x24).
Look at the pebbles used in this creative poolside shower.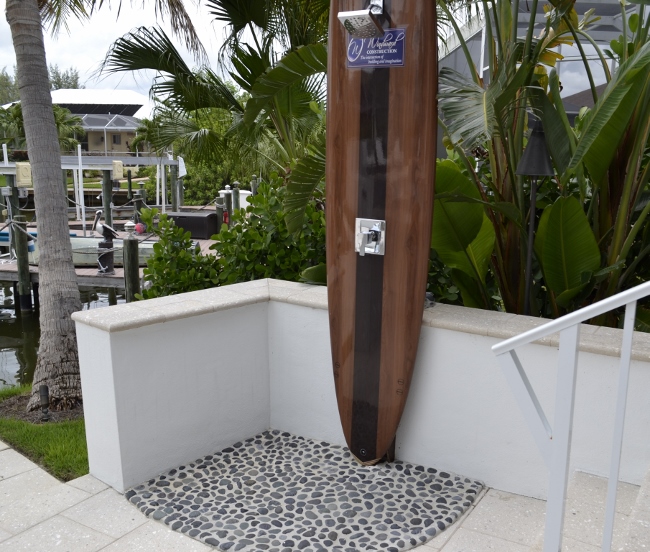 This shower, in addition to the super cool surfboard, featured a black round pebble mosaic, similar to Rounded Pebble Stone Black Mosaic.
We saw round yellow pebble mosaics used to wrap a tub surround, just like Rounded Pebble Stone High Polish Yellow Mosaic.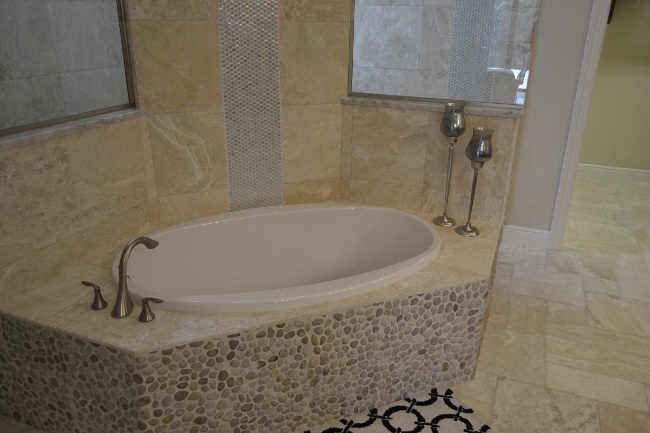 By the way, this is the same pebble used in the Fort Myers women's bathroom as you can see in the image below.
>> See How to Transform a Bathroom With Tile: Fort Myers Bathroom Makeover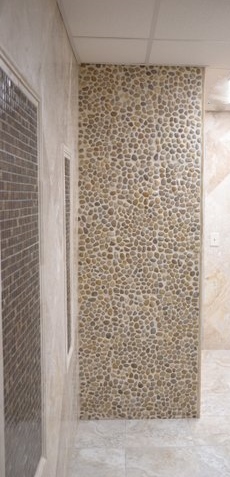 Pebble mosaics used in the Tile Outlets of America women's bathroom.
And last, but certainly not least, a multi-color flat or sliced pebble was used as a decorative stripe along with a 12x24 tile in another shower.
>> See Flat Pebble Stone Polished Mosaic Multi Color
This look is similar to one we created in the Tile Outlets Inspiration area in a travertine shower/tub installation as you can see in the image below.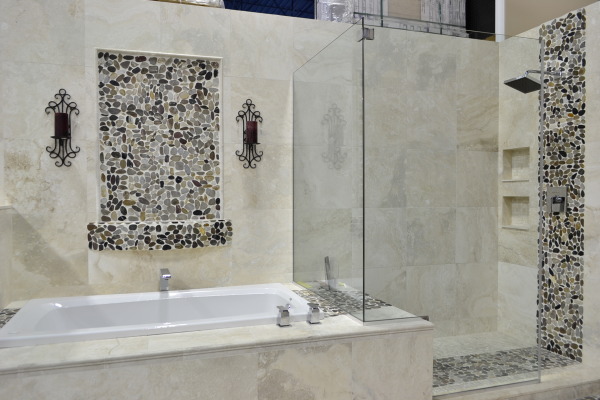 Experience this flat pebble stone mosaic decorative insert with travertine tub and shower installation at Tile Outlets of America.
Penny Mosaics as Decorative Elements
The next item that caught our attention was penny mosaics.
These penny mosaics come in glass, tile, metal and stone in many different colors and finishes. They are commonly referred to as "pennies" because they are circular in shape and approximately the same size as an actual penny. To give you a sense of the range of possibilities, here are examples available at Tile Outlets of America:
We admired the use of the penny mosaics to wrap a hot tub and water line of one of the pools.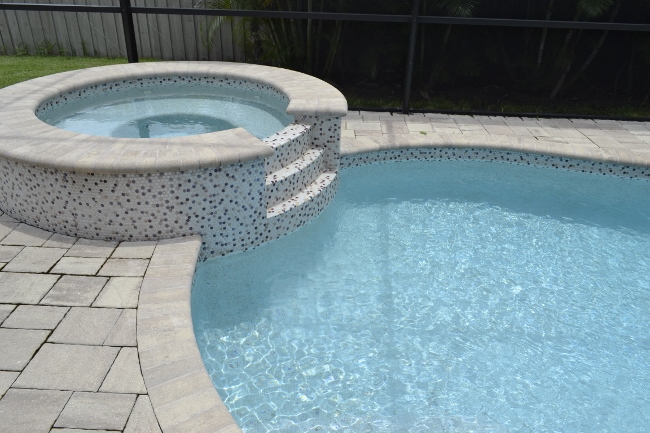 We also were fond of the use of the pennies as a decorative listello in two showers as you can see below.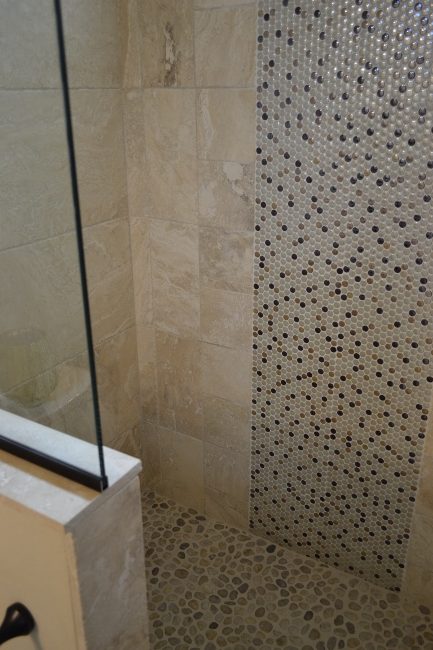 When you visit the Inspiration Center at Tile Outlets in Fort Myers, you'll notice a similar use of pennies - in this case copper penny mosaic and white penny mosaic - as a backsplash in two cabinetry displays.
Below is an image of the copper penny installation.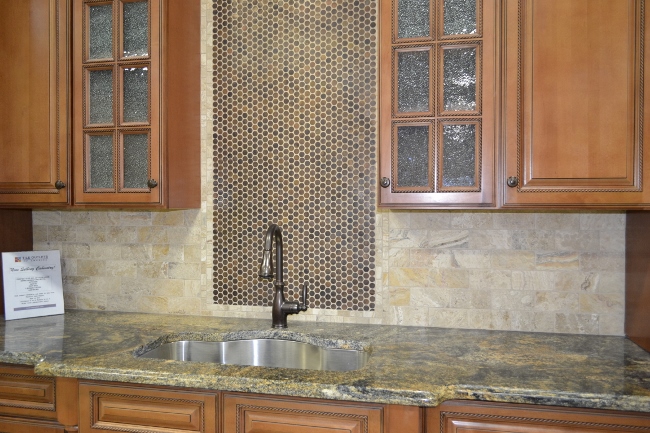 Copper penny mosaic backsplash in the Tile Outlets Inspiration Area
Pattern Travertine for Your Floors and Also Your Walls!
Pattern travertine is another item we stock that is very popular among our customers. Customers like that it features four different sizes of travertine that are set in a repetitive pattern. It gives the floor dimension and creates a classic regal look.
We viewed a gorgeous pattern that was used throughout the floors in one of the models.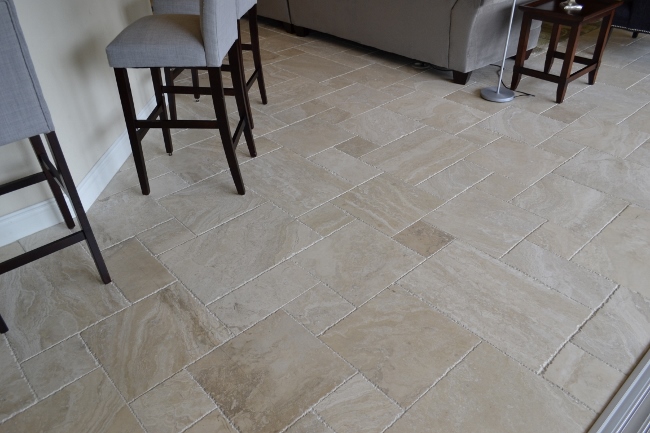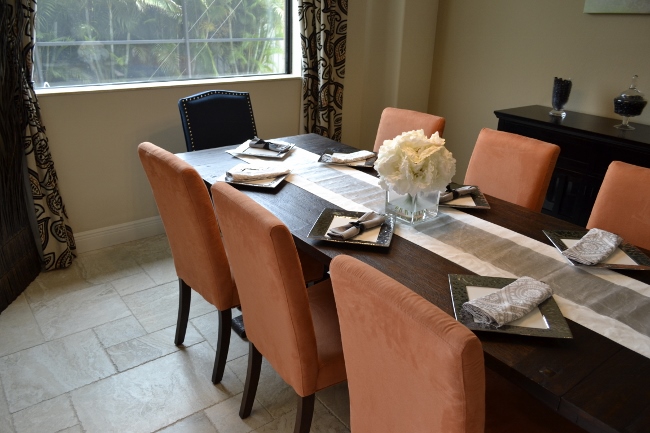 It reminded us of two of our best-selling travertine patterns – Ivory Fantastic Travertine Versailes Pattern Filled, Brushed and Chiseled Edge and Cascade Blend Travertine Versailes Pattern Filled, Brushed Face, Chiseled Edge.
>> See Travertine Floors and Patterns Design Ideas
In this home, the travertine pattern was used in the traditional way on the floors.
However, it was used non-traditionally on the walls of a large walk through shower shown below.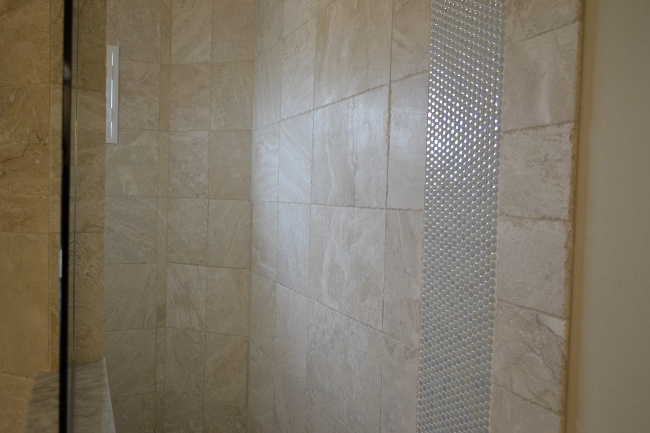 We both enjoyed seeing the installer mix this up! It was lined up by size.
There was a vertical row of 8x8s, then a row of 8x16s, a row 16x24s and finally a row of 16x16s before the pattern repeated.
It made for a visually appealing effect on the walls and also created differentiation from the floors while still using the same item.
Ledger Panels Outdoors and Inside, Too
Finally, we finish with the ledger panels.
Ledger panels are generally comprised of layered stone. They have a rustic look with extreme dimension and come in assorted colors and styles.
>> See Consider Stacked Stone Ledger Panels For A Textural Wall Look
They are often used outdoors to wrap columns or to add a focal band around the front facade of a house.
They are also commonly used in outdoor kitchens as we saw in one of the models.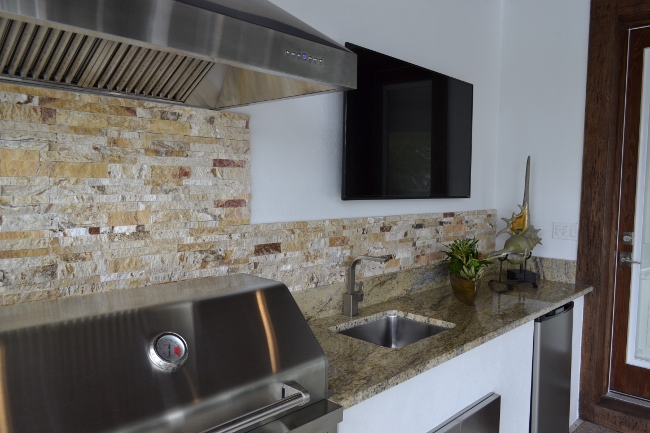 This is a look you can experience for yourself at Tile Outlets of America. This image below shows you an installation with ledger stone from the Inspiration Area.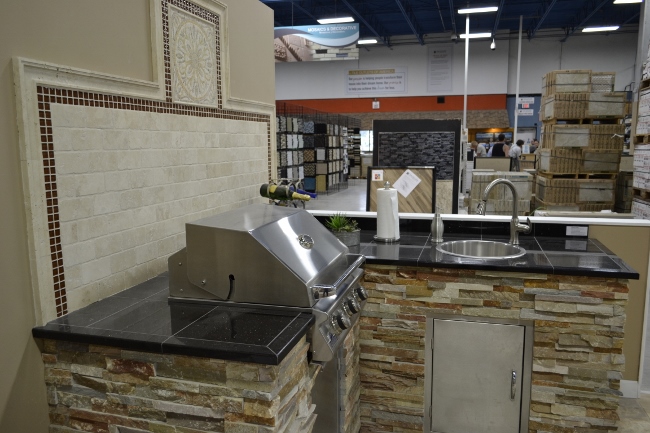 Ledger panels used in for an outdoor grill in the Fort Myers Inspiration Area
Imagine, though, taking ledger panels inside the home!
In one of our favorite model homes, we saw ledger panels sensationally used as a backsplash in a bar area.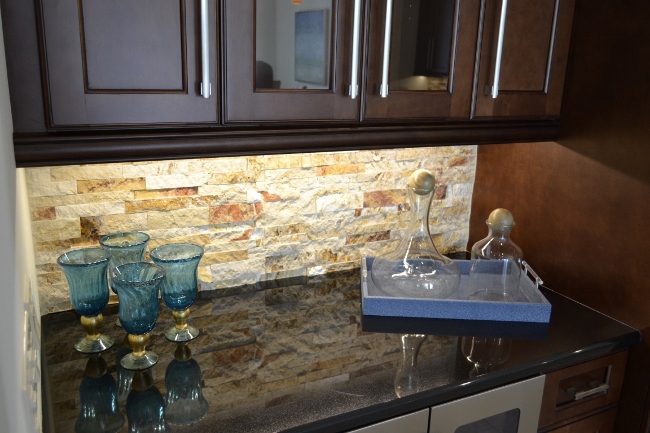 And throughout the entire kitchen, making quite a statement!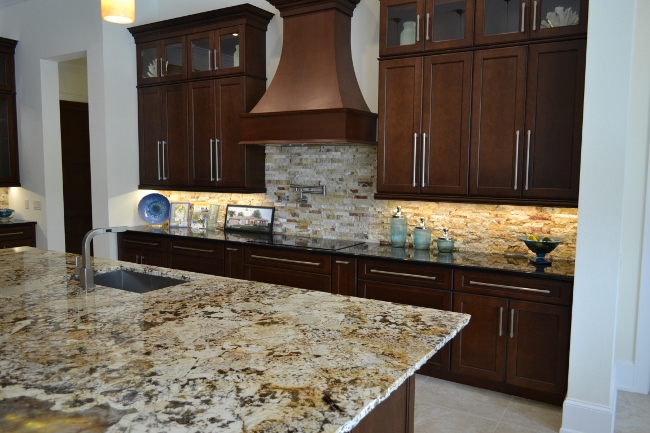 The use of the ledger panel in this kitchen was breathtaking! We couldn't stop admiring how spectacular this looked in this kitchen.
Here are a few of the ledgers available in stock at Tile Outlets so you can create the same look in your kitchen:
How Will You Use Pebbles, Penny Mosaics, Patterns and Ledger Panels in Your Home?
Once again we had a great time strolling through these model homes. Even if you aren't in the market for a new home, visiting model homes will help spur some creative ideas for future remodel projects. We highly recommend it!
Did you attend the Summer Stroll of Homes? What did you enjoy most?