How Wall and Floor Medallions Can Transform a Space
Posted by Kate Spencer on Sep 7th 2022
Have you wondered how to add a strong design element to your tile floor or kitchen backsplash? If yes, you'll want to consider wall or floor medallions.
Tile medallions are used to transform a space. They easily accent a room with a strong centerpiece visual element.
In this article, we'll feature the more popular medallion styles which range in design from compass to flower to star and round formats as well as new medallion arrivals.
Come visit Tile Outlets of America to explore these designs and formats in person!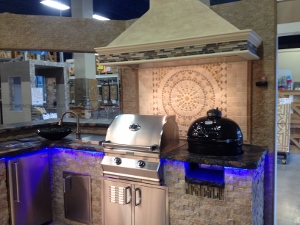 What's Special About Tile Wall and Floor Medallions?
What's wonderful about medallions is that you can use them on the floor, on walls, over a fireplace, on the foyer floor, in the shower, not to mention for an outdoor patio wall or floor.
Medallions are infinitely versatile. I have a medallion on my front porch before you enter my home, and I've surrounded it with porcelain tile.
Medallions Created from Combined Elements
What makes medallions so beautiful and unique is the combination of elements used to create each design.
These medallions feature tumbled stones, polished stones and cut stones. Each piece is hand made and similar in looks, but unique in character.
Combine that with how you might install the medallion, adding other tile and stone elements - such as mosaics or liners - for added richness.
Seven New 36x36 Wall and Floor Medallions
I'm excited to share with you details on seven 36x36 medallions. Four feature tumbled square options and three polished square options in stone or marble.
Each one is unique and will transform a space. You can easily enhance the design by adding porcelain or stone around your medallion. The choice is yours.
By the way, you may notice a theme in the names of four of the medallions...
Tile Medallions With a Compass Motif
The compass motif works really well in a medallion. No surprise, then, that we have three beautiful ones for you to choose from.
The Aruba 36x36 medallion is made from tumbled stone.
Notice the small compass center and the circular feature around the center surrounded by another circular braided detail.
The stones used in this medallion are gold travertine, white travertine and noce travertine. This medallion will complement many colors of stone and tiles.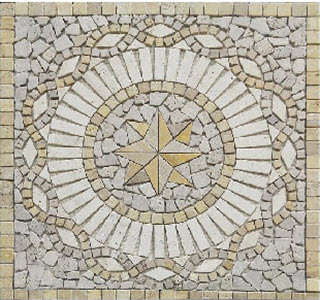 The medallion Compass Star 36x36 is made from polished stone, using Botticino, Nero and Cinderalla Grey marble to create this look.
The compass consists of a two dimensional star in the middle of the medallion. It is square in format but circles out from small to large in chip sizes.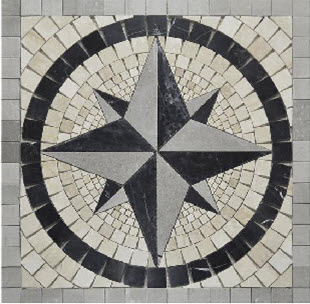 Compass Star 5761 is a tumbled intricate medallion. The pieces are really small, yet the look is very large. The compass/star in the middle is like a starburst.
The stones used are dark Emperador, light Emperador and cream marfil.
Notice the diamond features on all four sides representing North, East, South and West on the medallion.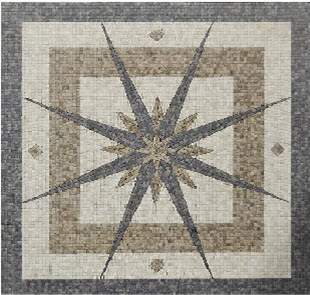 Tile Medallions With a Flower Motif
In addition to the compass motif, you'll find tile medallions in a flower motif.
The Curacao medallion is a polished 36x36 in a flower motif created with Dark Emperador, Light Emperador, and cream marfil.
Notice the small compass star at the center and how the center trails out into the diamond pattern wheel.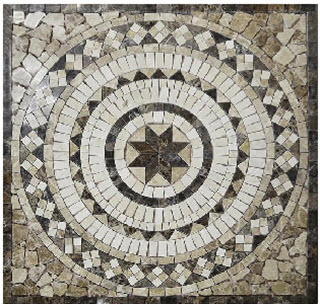 The 36x36 Flower Stone Medallion is designed with white pebbles and black and grey accents. This medallion would be a great complement to a white/grey/black design element.
The 36x36 Mystic Fog Marble Medallion has a flower motif.
The grey pebbles accent the outside and the warm tones of Light Emperador marble along with the white marbles brighten this flower piece. This piece could be used in a warm tone environment or a white environment for a pop of color.
Explore using these in bathroom floors, front entrance ways or wall features.
Tile Medallions With a Star Motif
Perhaps the strongest visual option in a tile medallion is the star formation. Although very similar to the compass star, what distinguishes the star from the compass is that all of the star points are of the same size and have little contrast between one and the other.
Tile Outlets of America has several wonderful star inspired motifs for you to choose from.
The 36x36 Bonaire medallion is made from polished stone. It shares a family resemblance with the Aruba medallion.
The stones used are dark Emperador, light Emperador and cream marfil.
The center motif is a star in dark Emperador and the braided circular pattern around the center is done in both dark emperador and cream marfil. The medallion is square in format.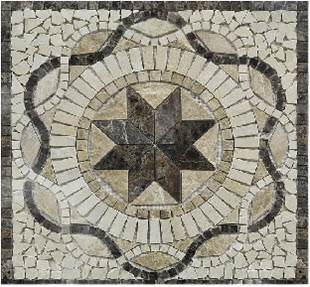 Don't Forget to Seal your Medallion
Remember that medallions can be used on the floor, walls and outdoors and will stand up to the beauty of the stones they are made from. We do, though, recommend that you seal your medallions to maintain their beauty.
Our store associates will be happy to help you select the proper product to seal your medallion.
Ready to Add Wall and Floor Medallions to your Home?
Are you ready to create your own wall or floor medallion centerpiece?
Which of these tile medallions do you find most interesting for your home?
We look forward to seeing you at Tile Outlets of America and helping you select the right centerpiece for the room design of your dreams.
Kate