How Inkjet Technology Has Transformed Ceramic and Porcelain Tile
Posted by TOA's Blog Team on Sep 15th 2016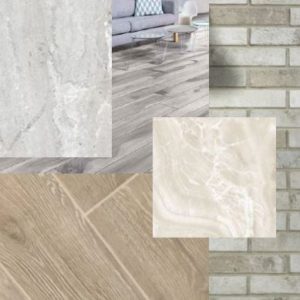 Inkjet technology has truly transformed ceramic and porcelain tile. Not only has it made possible more realistic reproductions of other surface materials (i.e., wood, stone or brick), but those reproductions also feel real because the printing includes texture.
To better understand how printing on tile has evolved, we caught up with two experts in inkjet technology: George E. Muniz and Sergio Barro.
Two Experts Explain How Inkjet Technology Has Transformed Ceramic and Porcelain Tile
Both George Muniz and Sergio Barro have a wealth of experience relating to printing on porcelain and ceramic tile. As an added bonus, Sergio publishes www.theporcelainjungle.com where you will find a great deal of additional information on porcelain tile and inkjet printing on tile.
TOA: What is your background and how do you know so much about tile?
George Muniz: I graduated with a major in Industrial Engineering. I've spent 33 years in the tile industry, first in the manufacturing process and subsequently in ceramic and porcelain tile marketing and sales in the USA.
Sergio Barro: I am owner and manager of The Porcelain Jungle. I have been in the tile business since 1995, and spent a lot of time reading and learning from colleagues in production and sales. Companies I've worked with include Gambarelli Group, Mirage, Cisa (Ricchetti Group), Omega (Imola Group) Refin and Supergres (Concorde Group).
TOA: What is inkjet technology for tile?
George Muniz: Inkjet technology is basically a "printer" type process in which the terminals of the "printer" have the so called heads or dispensers each of which have millions of pixels distributing the specialty ink over a canvas. The canvas is actually the body of the tile, prior to going into the kilns to be fired.
In the early days of this inkjet technology process , most factories had equipment with 4 heads and hundreds of pixels. Today's equipment like ours have 6 main heads and three additional ones to add more vivid colors when needed or desired.
Sergio Barro: I'm sure you own or use a color printer and you're familiar with the most popular color system CMYK (acronym for Cyan, Magenta, Yellow and Black called K – Key to distinguish it from Blue) which, when overlapping, generate many more colors.

So in digital porcelain technology there's no contact with the tile. There are different digital decorating machines out there, that can have 3, 4 or 6 inks, working in different ways but all sharing the same basic idea, i.e.: when they reproduce an image (butterfly, Rojo Alicante marble in this example) the overlaying of colors do the trick.

TOA: How has it evolved?
George Muniz: It evolved from the current printing technology available to every computer desktop. The idea was born from that very same process.
Sergio Barro: A little bit like the television or the camera industry, digital porcelain has basically improved three-dimensionality, sharpness and depth of colors but also:
Decoration up to the edges of the tiles (even when distressed)
Decoration in the shallow and high end of the tiles (avoiding lack of color and cheap look)
Huge graphic variation (40/60 different faces) vs. limited variability of max 1440 mm (4 ¾ ft)
4)
High definition normally abt. 300 dpi (dots per inch) vs. the 80 dpi of screen and roller system
Digital technology can reach up to 1000 dpi, but it's generally not needed for tile/stone
reproduction, although usually needed for pictures reproduction.
Notice in the first image below how the slate decoration does not extend all the way to the edges of the tile. The image lacks depth and the shade variation is limited.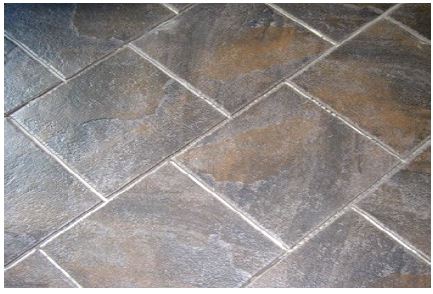 A traditionally decorated porcelain tile
Contrast that with the image below. Notice how the design extends all the way to the edges of the tile. There's depth to the design and the shade variation looks so natural that it's hard to believe that this is not real slate rather than porcelain tile.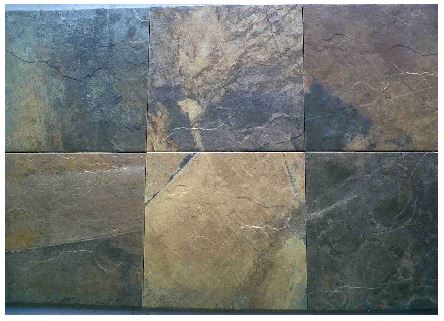 A digitally decorated porcelain tile
TOA: What kinds of designs are possible with inkjet technology?
George Muniz: With the digital technology, we are now capable of copying or producing all kinds or types of design only limited up to a point by the variation of colors. The very dark colors and the black due to the mix of the four basic colors utilized in most inkjet processes today are very hard to obtain with the tonality desired in most cases.
Sergio Barro: Any kind is possible with the technology.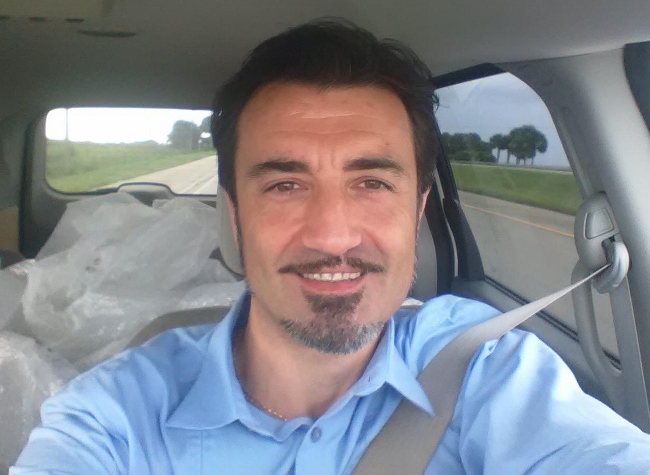 Sergio Barro, Tile Inkjet Technology Expert
TOA: How many colors are possible/used to create designs?
George Muniz: Basically we can obtain any color, however, and as stated above, we try to stay away from the black and real dark colors as it may cause difficulty in achieving the results desired. Our equipment will create, with a base of four color inks, combinations of pink, yellow, blue, brown, grey, taupe, beige, luster, matte, light black and white in several tones.
Sergio Barro: I'm not sure technically, but I guess in the 100 nuances.
TOA: What other types of printing exist for tile and how are they different from inkjet technology?
George Muniz: The other types of creating designs still in use but fading away rapidly are the silk screen and the rotocolor systems.
Silk screen has been around humanity for several centuries and particularly used in fabrics to create designs for curtains, carpets, rugs clothing etc. In our industry it was utilized as of the 1960s in an industrial and massive way to try to imitate marbles.
In the 1990s, the rotocolor became the best way to print designs on the tiles. It was a number of rolls, placed at a given distance from each other over the production line, each of which had a particular design embedded in the roll and they "rolled" over the tiles "painting" them in a particular and different way as they passed under the them.
Although the definition and complexity of the designs improved tremendously over the silk screen method, one of the major problems with both systems was that the edges of the tiles could not be accessed properly, thus the so called "TV effect" of a line around the 4 edges could be noticed.
Sergio Barro: In terms of the different kinds of machines used to decorate porcelain tile, the first generations included:
"Flat" screen printing from one screen
Rotary printing, cylindrical screens - rollprint (3/4 static screens)
Single rolling decorating machine - rotocolor (1 silicon roller)
Multiple rolling decorative machine - rotocolor (3-6 silicon rollers)
Single laser engraved rotating band (1 band for dry glaze)
Multiple laser engraved rotating bands (3 or more bands as above)
Color inkjet process (decorating with four inks or more)
Nowadays, especially from Italy, 80% of production is digital.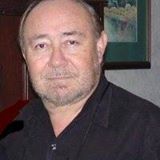 George Muniz, Tile Inkjet Technology Expert
TOA: What are the benefits for tile manufacturers?
George Muniz: The obvious benefits for manufacturers include improving production time and quality. More specifically,
Elimination the time that was involved in the preparation and control of the serigraphs
Shorter glazing lines
Reduction of time spent in constant cleaning and adjustment the rolls in the rotocolor method
Elimination of thousands of serigraphics that we had to stock , maintain, clean and create with the silk screen method
Reduction in sampling time, adjustment of the rolls and ink spent before going into production with the rotocolor method.
But above all, the capability of creating whatever design we can imagine or copy from nature ( like stones, marbles, woods etc ) with a quality of printing similar to that of a photography, with a level of accurate achievement to the most minimum detail needed, not possible prior to the advent of the silk screen and HD.
The benefit for the clients, among others are that they are getting tiles that do not have the prior quality problems with the definition of the designs of the glazed products. Also, getting products that compare with great accuracy to the ones they are trying to imitate. The availability of larger sizes not possible to make with the previous methods.
Sergio Barro: There are so many benefits starting with flexible work-flow production runs, more consistent production, less storage space needed for rollers, screens, etc., it's easier to simulate production outcome, etc.
TOA: What kinds of patterns are trending now?
George Muniz: The trends are to imitate wood planks but in larger sizes that before. The appearance of sizes for square of rectangular tiles, not possible to do before with colors that appeal more to the American public. Staying away from the yellow tones, so common before and the disappearance of the tv effect in the serigraphed previous tiles.
Wall tiles in colors and designs more suitable for this market in larger sizes as well.
Sergio Barro: It depends on the market you're in. So, for residential markets, the following is trending:
Still Wood look
White Calacatta/Carrara
Polished/shiny
Fabric and Textile will be launched this year
An example of fabric textures and looks in tile
>> See New Porcelain and Ceramic Tile Arrivals: Venice, Clast, Deck, Linho, Sienna and Decape Series
And, for commercial markets, you'll see:
Still wood look
Cement/minimal
Fabric/Textile will be launche this year
Limestone/clean look
Above all, the breakthrough today are tile sizes, the longer, the bigger, the better.
>> See How to Create a Contemporary Urban Look with Porcelain and Ceramic Tile
TOA: Thank you, George and Sergio!
To learn more about inkjet technology for porcelain and ceramic tile, be sure to explore Sergio Barro's Porcelain Jungle site.
To experience the beautiful and realistic tile patterns available, be sure to visit Tile Outlets of America!