Kate Spencer: Tile and Stone Design and Product Maven
Posted by TOA's Blog Team on Feb 20th 2014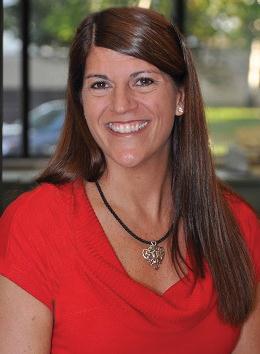 Tile Outlets of America's Kathryn "Kate" Spencer has a passion for beautiful, high-quality stone and mosaics as well as porcelain and ceramic tile developed over 20 years in the tile industry.
She works with tile and stone factories and agents throughout the world to bring you the best product mix at the most competitive prices to Tile Outlets' stores in Fort Myers, Sarasota and Tampa - and online.
When she's not reviewing and selecting product, Kate can be found visiting the TOA stores, attending tile and flooring shows, and researching and documenting tile and stone design and product trends to keep up on the latest looks in tile and flooring.
As she meets with tile and stone experts and learns about new product and design trends, Kate will share those with us here in TOA's Blog About Tile and More.
She'll also detail specific product trends in the Design Ideas section of the Tile Outlets of America website and in Kate's Corner.
In the meantime, we caught up with Kate and asked her a few questions...
Meet TOA's Tile Design and Product Maven, Kate Spencer!
TOA: Kate, tell us about yourself.
I was born and raised in upstate New York and moved to Florida after college to pursue a career in accounting. I worked for 8 years for a CPA firm.
Then, in 1994 I was recruited by one of my accounting clients, International Wholesale Tile, which was launching a brand new wholesale tile business to distribute tile throughout the United States. Though it was a huge shift from the accounting work I was doing, this move allowed me to learn the ins and outs of the wholesale tile industry from every different perspective.
During my 18 years as Vice President of Operations at IWT, I helped grow this small local tile business, just breaking into the industry with only 3 employees, to an international wholesale tile company which now employs over sixty people and generates millions of dollars in annual revenue. Talk about gaining invaluable experience in the tile industry that I will carry with me throughout my life!
After 18 years, I elected to take time off to work on a mission that I am passionate about....overcoming the obesity epidemic that is currently plaguing the US. For the past 3 years I have been an Ambassador for ViSalus Sciences, a company helping to fight adult and childhood obesity. We are making a big impact on this deadly epidemic. It is incredibly rewarding to help your community regain its health and friends and family lead healthier and more productive lives.
In addition to all that, I'm involved with organizations that make an impact on the local economy and the residents of our community. I served as President of the Martin County Business Development Board for two years; I sit on the Finance Committee for the local Council on Aging and am an active member of the Palm City Chamber of Commerce.
TOA: How did you get involved with tile?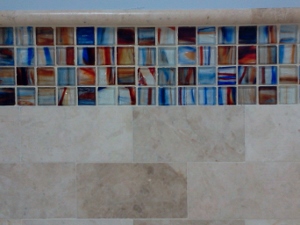 During my 18 years with IWT, I attended every tile trade show around the country. It was at these trade-shows that I realized that this business isn't just about turning sand into durable and beautiful flooring; it's also about fashion and design.
Most tile selections are made by the women in a household. As one of only a few women in an industry full of men, I found that I brought a valuable perspective. After years of attending shows, I was finally able to be a part of the selection process and that is truly how I got "involved" with tile. Designing a room using different decorative tiles, mosaics and materials is just as exciting to me as assembling the perfect outfit for a night out!
Tile has always been my passion. That's why I was so excited when Don Aronin, Tile Outlets' President and CEO, called to ask me if I'd be interested in consulting for TOA, a truly remarkable company! After all these years, I finally feel like I am home!
TOA: What is your role at Tile Outlets of America?
My role at TOA is to consult on and build relationships with factories and agents throughout the world so that we can offer the best tile and stone product mix at the most competitive price-points to our customers.
Over my 20 years in the industry, I've built relationships with suppliers all over the world who share my passion for beautiful, high-quality flooring that will stand the test of time. These relationships are the building blocks for offering an extensive line of first-quality products that fit every need and any budget.
Another part of my role with TOA is attending tile shows and researching trends so that I stay up to date with the latest looks in tile and flooring. My goal is to help every Tile Outlets' customer build her "forever room" that is not only stunning to guests, but also meets the needs of her family by being durable and timeless, all for a price that only looks like she spent a lot of money.
TOA: What do you love most about tile and stone?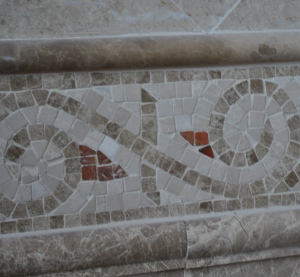 Add decorative tile inserts for a unique tile design.
More than anything, I'm constantly amazed that something so beautiful could all start from a pile of clay.
I also love that this industry is continually evolving. It's really exciting to have a window into the next big fashion idea. Tile to me is like having a beautiful pair of shoes that completes the perfect outfit. That's what the perfect tile can do for any room and I love bringing those new fashions to our customers at Tile Outlets stores in Fort Myers, Sarasota and Tampa as well as online.
TOA: Which trade shows do you go to and why?
Attending trade shows gives me the opportunity to see the factories from multiple countries as well as new tile designs to bring our customers the best selections to choose from.
When I worked in the wholesale tile industry I attended both Surfaces and Coverings shows - both showcase tile and stone - many times as an exhibitor. Now that I am a consultant with Tile Outlets of America, for the first time in 18 years I actually get to walk the entire showroom floor at these shows as a customer! It's an amazing and educational experience. We will continue to attend the Surfaces and Coverings shows in the future.
Each fall there is a tradeshow in Italy called Cersaie and this is where you go to see the latest and newest tile trends and creations from all the leading factories. This is an amazing show that always gives me major ideas to bring back to our TOA customers; I hope to attend this show on a regular basis.
TOA: Which online resources do you follow for tile and stone design and trend ideas?
While I constantly visit numerous factory websites and read all the trade magazines while researching the latest tile trends, I love HGTV everything (magazine and TV), Pinterest and my new favorite is the Houzz app on my smart phone! It's an app that gives you design and trend ideas from all over the world and lets you save your ideas to your account to help you build an amazing room.
TOA: What tile trends do you find most interesting?
Add stainless steel metal inserts for a unique tile design.
A lot of the latest tile trends are really exciting. When I started in the industry, there weren't a lot of options out there. The most you could do to add some flair to a room was incorporate different finishes.
But now the possibilities are endless!! I love incorporating glass in a design to add unique texture and light variation. I also love using 12x24 format tiles to create sleek lines on walls to make spaces look larger.
Another trend that I'm really excited about is the use of various sized deco inserts to create mosaics or add a pop of color. Using metals in a design is really hot right now as it captures the light in a room and looks really clean. My newest obsession though is the digital ceramic process which uses an inkjet printer to print the look of stone or marble onto a tile.
All of these trends are interesting and really exciting because of the many different looks they offer.
TOA: What advice would you offer to someone considering a tile or stone project?
The first thing I would tell someone considering a tile project would be to get an idea in your head about what your "forever room" will look like. Capture ideas from magazines, Pinterest or Houzz to give the designer an idea of the look you are going for.
If you want your room to be timeless and still have that WOW factor, adding a pencil liner or decorative glass can make all the difference to your overall concept and will give you something to build from when considering decorating ideas.
Another great idea is to pull your colors and accessories together and design a look around those key features. For instance if you are remodeling a bathroom, choose your accessories such as towels or shower curtains first, and then select the key decorative pieces that will pull your forever look together and create the room of your dreams!
For anyone doing any tile project, consider adding decorative tile to make it your forever room. The small additions of these specialty pieces won't make a huge difference in the cost of your project and will be worth the wows! you receive from your family and friends.
All in all, using tile to create your very own vision of your "forever room" is critical to building a room that you will love for years and years to come!
TOA: Thanks, Kate! We can't wait to hear more about the tile and stone design ideas and product trends you come across in your travels.
If you have questions about tile and stone design ideas, please don't hesitate to leave a comment for Kate.