10 Kitchen Cabinet Accessories Worth Considering For Your Home
Posted by TOA's Blog Team on Jan 31st 2023
If you're planning a kitchen remodel, did you know that you have wonderful kitchen cabinet accessories to choose from at Tile Outlets of America?
Not only can you create the kitchen of your dreams with beautiful new cabinets, tile backsplashes and coordinating floor tile, but you also have the opportunity to include accessories that will make life in the kitchen (and beyond) easier and better organized.
Our kitchen designers can even use the cabinet lines to create beautiful bathrooms, entertainment centers with a wet bar or refrigeration for wines or beers, as well as study nooks and laundry rooms.
Tile Outlets Recommends These 10 Kitchen Cabinet Accessories!
Here are ten kitchen cabinet accessories we think you'll really like. We've organized them into 5 must-haves and 5 worth adding-on.
The truth is that all 10 are worth considering so you truly enjoy your beautiful new kitchen.
5 Must-Have Kitchen Cabinet Accessories
1. Trash Can Pull Out
This is an item that almost everyone orders! That's how practical it is. All you need is an 18" or 21" cabinet space to fit the double-trash can pull out. The trash cans are large enough to accommodate using one for trash and the other for recycled items.
The trash can pull out comes with either a wood frame (see image below) or a metal one. The trash cans are available in white and gray.
The Trash Can Pull Out Cabinet Accessory For Your Kitchen
2. Spice Rack Pull Out
All you need is 3" to get a whole lot of extra use with the spice rack pull out. It is available in 3" and 6" widths and can be used in the upper cabinets or the lower ones below the counter.
This is a really practical space saving solution that enhances the actual cabinet boxes. A lot of people like to do two, one on each side of the stove. The most commonly used ones are the filler spice racks.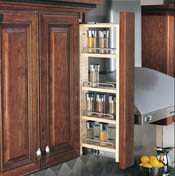 The Spice Rack Pull Out
3. Roll Out Accessory for Cabinets
The roll out is a must-have kitchen cabinet accessory because you don't have to dig around in the back of the cabinets for all your pots and pans. Consider adding one or two to each cabinet for ease of use. They are more cost effective than a 3-drawer cabinet.
(Note the beautiful tile and mosaic backsplash installation in the cabinetry image below.)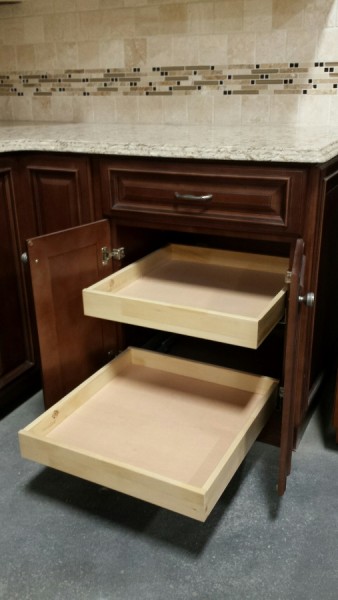 Every Kitchen Needs One Or Two Roll Out Cabinet Accessories.
4. Blind Corner Pull Out
The blind corner pull out is an option for kitchens with space constraints, where the traditional lazy susan isn't effective.
This pull out serves the same purpose as the traditional roll out and makes the cabinet space much more usable. As you can see in the image below, Instead of the large open space, where things get placed and forgotten about, the blind corner pull out makes them all visible and easily accessible.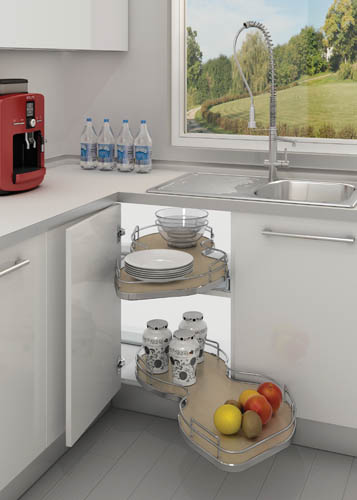 The Blind Corner Pull Out Makes Items Visible And Easily Accessible.
5. Tray Divider
Tray dividers are intensely helpful for keeping all those cookie trays and broil pans upright and neat. They are usually placed in either a 9" or 12" cabinet next to the stove.
A less-traditional, but equally practical use for tray dividers is to place them in cabinets above the stove to organize cookbooks.
Tray dividers are rather inexpensive and a very nice addition to any kitchen.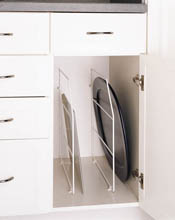 Tray Dividers Keep Tall Items Upright and Neat.
5 Worth Adding-On Kitchen Cabinet Accessories
6. Pantry Pull Out
The pantry pull out makes it super easy to keep your pantry organized and neat. It comes in several different styles and integrates beautifully with a kitchen cabinet remodel.
This pull out helps maximize storage space. If you already have a walk-in pantry planned, you can use the pull out to organize pots and pans as you see in the image below. What's particularly practical is access to items from both sides, making everything easy to see, too.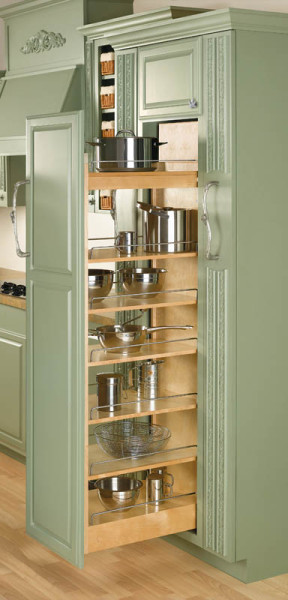 The Pantry Pull Out
7. Drawer Peg System
If you're the type of person who prefers all drawer bases for your kitchen cabinetry to the more traditional door/drawer combination, then the drawer peg system is a must-have for you. It comes with adjustable pegs that you can easily place wherever you need them so you can keep all your plates and bowls in their place without any kind of sliding around.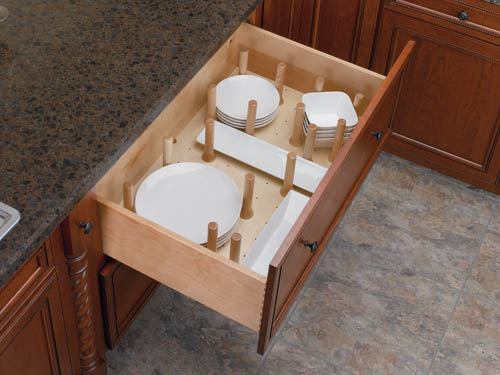 The Drawer Peg System Prevents Dishes From Sliding Around.
8. Cutlery/Knife Block Drawer
In addition to the plastic or wire cutlery tray dividers that most people get for at least one drawer, the cutlery/knife block drawer system replaces the entire drawer and gives you a complete built-in cutlery/knife block drawer.
This accessory option comes in many different sizes and configurations. Some of them even come with a built-in removable cutting board.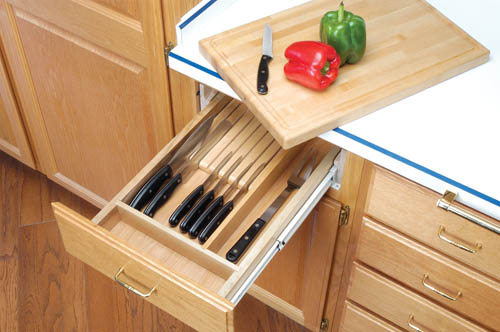 The Cutlery/Knife Block Drawer Even Comes With A Cutting Board.
9. Pots and Pan Peg Board
The pots and pan peg board takes the drawer peg system accessory concept and applies it to pots and pans. It is ideal for customers who want organization without losing the contemporary feel.
It is available in a gray vinyl pegboard system and includes all kinds of options for accessories so you can ensure that all your pots and pans - from saucepans to lids to canister sets and more - stay organized and easily available when you need them.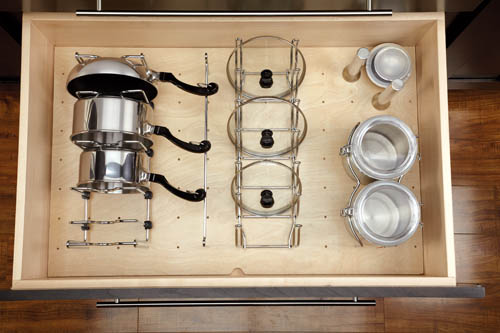 The Pots And Pans Peg Drawer System Keeps Items Organized.
10. Under Sink Cleaning Storage
The under sink cleaning storage is one of our very favorite kitchen cabinet accessories. This item keeps all of your cleaning supplies in one place. It comes with a slide out feature yet is removable so you can easily take the caddy with you to another part of the house for cleaning.
With a paper towel holder and wire baskets to hold several bottles, you'll wonder how you ever lived without it.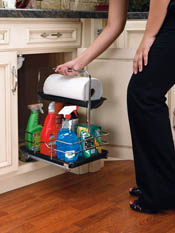 The Under Sink Caddy Keeps Cleaning Supplies Handy.
Which of these 10 Kitchen Cabinet Accessories Will You Consider For Your Home?
What's your reaction to these 10 different kitchen cabinet accessories? Which do you consider your must-haves and which possibly over-the-top? We'd love to hear.
Be sure to visit Tile Outlets of America in Fort Myers and Tampa so you can see these different accessory items for yourself. They are available in many different options and configurations depending on the kitchen cabinetry style you prefer.
As we mentioned above, you aren't limited to your kitchen. With these cabinet lines, you can create beautiful bathrooms, entertainment centers, that may include a wet bar or refrigeration for wines or beers, study nooks, and laundry rooms.
Note: We originally published this article on 10/29/2015 and have updated it.