Create a Lippage-free Tile Installation with the Tuscan Leveling System
Posted by TOA's Blog Team on Mar 3rd 2016
Don't you think a lippage-free tile installation is worth creating every time, especially with tile that is 24" or more wide?
After all, who wants to have every-so-slight differences in tile levelness to catch a heel on or look unsightly? (See Managing Lippage: Why Offsets Matter When Installing Tile.)
If you're wondering how to create that lippage-free installation, we recommend that you try the Tuscan Leveling System which is available at all three Tile Outlets of America. Here's why.
What is the Tuscan Tile Leveling System?
The Tuscan Leveling System interlocks tiles as you install them, virtually creating a single flat slab surface on walls and floors while the setting material cures.
As a result, it reduces and mostly eliminates settling from shrinkage, while also minimizing the possibility of warping.The system prevents tiles from moving while drying and in some applications tiles can be walked on while the mud is wet. Furthermore, it reduces the need to re-lift tiles to add more mud; you no longer need to shim tiles.
The end result is faster installation - often twice as fast as without a leveling system - with significantly fewer issues. Most importantly, the finished product is flat resulting in a beautifully smooth floor!
Tuscan has been working with Laticrete, Mapei, Custom, Schluter, TCNA and other organizations to help educate the industry. Using these systems definitely provides tile installers with a strong advantage.
When Should You Use a Leveling System?
A leveling system should be used on any tile that has a side 24" or larger. This would include any rectangular tile such as, but not limited to wood look planks.
A leveling system should also be used for the installation of rectified tile or stone installations where a minimum of 1/16" grout joint is being used.
What Kinds of Leveling Systems Does Tuscan Offer for Lippage-Free Tile Installation?
Tuscan has two different lippage-free tile installation leveling systems: the Tuscan SeamClip and the Tuscan Leveling System.
The Tuscan SeamClips are designed to work with tile that is 1/8", ¼" and 3/8" thick.
For tile thicker than 3/8", the strap and cap Tuscan Leveling System must be used.
The SeamClips are not suitable for un-gauged material; use the Tuscan Leveling System instead.
Both systems work for patterned ceramic and porcelain tile installations although the Tuscan Leveling System is better on a chiseled edge pattern than the SeamClips.
Both systems are manufactured in the USA.
1. The Tuscan SeamClip™
The Tuscan SeamClip™ is a unique one-piece system that clicks into place only using your hands. There are no tools required. Removal is easy, too.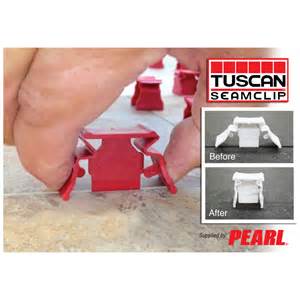 The SeamClips™ come in 3 sizes. The sizes are based on the thickness of the tile you are setting:
Red for tiles 3/8" – ½" thick;
Blue for tiles ¼" – 3/8" thick; and
White for tiles 1/8" – ¼" thick.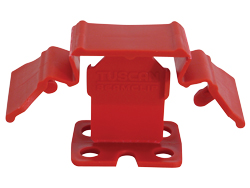 Red Tuscan SeamClip™
The learning curve for using the clips is typically only a few minutes. Once removed with a rubber mallet, the product is recycleable.
This 1:13 minute video about the Tuscan SeamClip offers you a great overview of this leveling system.
2. The Tuscan Leveling System®
The other system is the Tuscan Leveling System®. This system is comprised of caps, straps, and a tightening tool.
This system will work with ceramic, porcelain, marble, onyx, granite and most composites. It is designed to work with tiles 12" or larger and is most ideal for large format tiles including the large, thin materials.
The learning curve for using this system is generally just a few hours. Here is a 3:48 minute video with perspective on the Tuscan Leveling System.
Given the very short learning curve, both Tuscan leveling systems make sense for homeowners and DIY customers as well as professional tile installers.
However, the system is no substitute for the education and experience that comes from being immersed in a constantly evolving technical trade. Remember that It is always important to make sure you are working within industry standards when using any leveling system.
Details About the Tuscan Leveling Sytem
The Tuscan Leveling System straps and clips come in boxes and buckets in quantities of 200, 500, or 1000.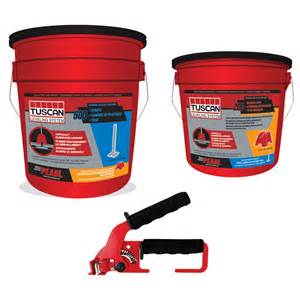 The caps are re-useable and many installers are able to re-use dozens of times. Some installers have reported using the same caps for years! Although the initial cost may seem expensive, because you can reuse the caps, the system actually saves the installer money over time.
There are two options for the tightening tool: an economical version perfect for the DIY installer and an ergonomic model that is ideal for the professional installer.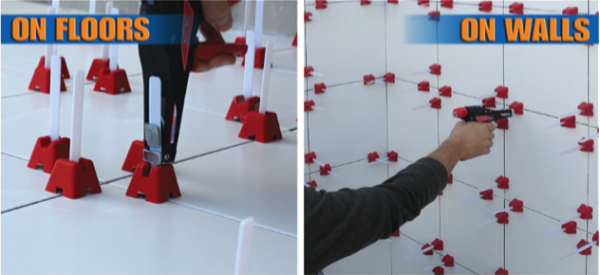 Questions About Using the Tuscan Leveling System for Lippage-free Tile Installation:
Here are a few questions about the Tuscan lippage-free systems that have come up in conversations with our tile installers:
Q: If a leveling system raises the tile, couldn't that create a void under the tile that could eventually lead to a crack?
A: No the Tuscan leveling systems don't raise the tile. They actually push the high tiles down. Furthermore, the Tuscan Level System has passed all fourteen steps of the Robinson Test for evaluating ceramic floor tile installation proving that no voids are created.
Q: If the system pushes the edges down, won't I end up with thinset in my grout joints?
A: You may see the thinset in the grout joints rise when a high tile is pushed down. If the correct trowel was used during installation, there should not be much thinset in the grout joint.
Q: What if the tile sinks when the thinset cures and shrinks?
A: The Tuscan leveling system prevents a tile sinking during the curing process.
If you have questions about leveling systems and creating lippage-free tile installations, please let us know in the comments.
Ready to Create Lippage-Free Tile Installations?
Come by any one of the Tile Outlets of America stores to try out the Tuscan Leveling Systems. We think you'll have trouble imagining how you ever installed tile without them!