Looking for Pool Mosaics? Check out Artistry in Mosaics at Tile Outlets of America
Posted by Kate Spencer on Jun 9th 2021
If you're looking for pool mosaics to add that special custom touch to your outdoor oasis, look no further than Tile Outlets of America!
Handmade Pool Mosaics from Artistry in Mosaics
As the jewels of our backyards, pools are ideal for the sparkle of mosaics and glass. That's why Tile Outlets has partnered with Artistry in Mosaics to provide you with scintillating pool options ranging from ceramic and glass mosaics in all kinds of fabulous designs such as mermaids, turtles and more.
Background on Artistry in Mosaics
Artistry in Mosaics is located in Fort Pierce, Florida where the company designs and manufactures all of its pool mosaics. The company launched in 1987 and has developed world-renowned first quality, frost proof handmade ceramic and glass mosaic designs for pools, homes, and businesses.
The standard product line includes over 300 in-stock pool themed designs.
If you prefer custom tile mural designs created from an art file or a photograph (including logos), Artistry in Mosaics can help.
All products are Made in the USA and they are not limited to pools. You can use them in any application.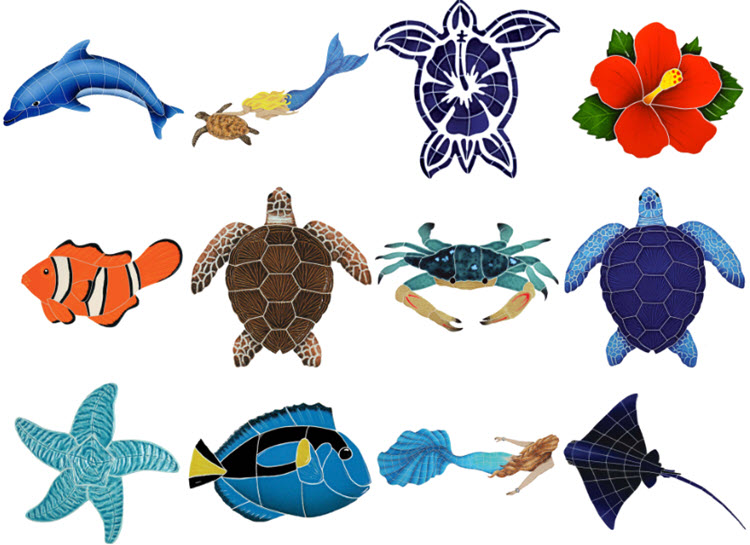 Discover the Pool Mosaics Creation Process
Kate recently visited Artistry in Mosaics to learn more about the business and the pool mosaics creation process. While touring the facility, she got to experience first hand the process of making these pieces.
Ceramic Pool Mosaics
These ceramic mosaics are hand cut, hand cleaned, pressed, fired, numbered, hand painted and then assembled together to make the mosaic. The mosaic is then meshed mounted and ready for installation in your pool or shower area.
Here is just a small sampling of the hundreds of options available, starting with the seahorse.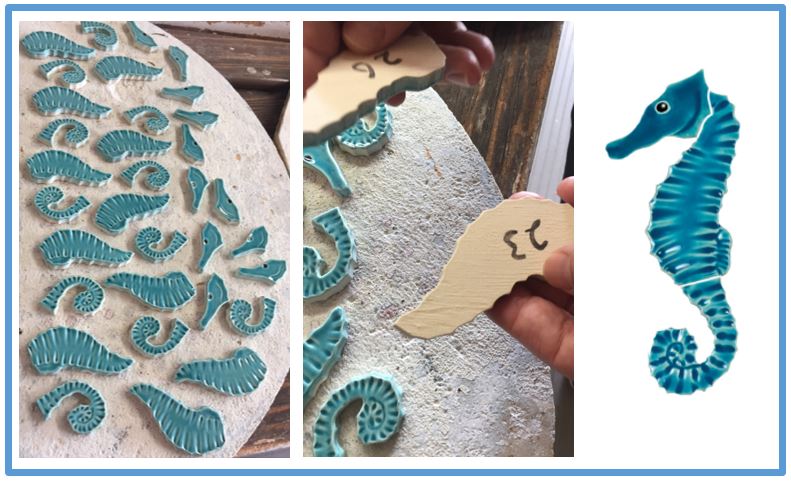 The final pieces begin as deconstructed seahorses. Notice that the pieces are numbered on the back so you know which pieces go together when assembling them.
The mosaic pieces assemble like a puzzle and then are mesh mounted together for each installation as you can see in the image below with the dolphins.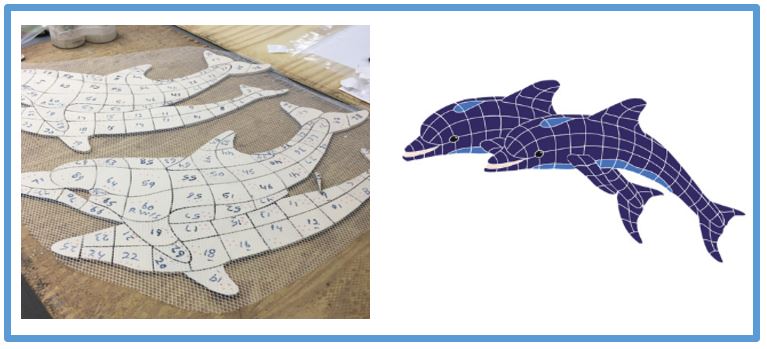 The mesh is added to the back to keep the design together.
Kate's favorite mosaic is the mermaid! She got to watch the details that go into making this masterpiece.
Below you see the artist painting the details of the mermaid's hair to match the sample. Some of these processes are done individually, making each piece unique.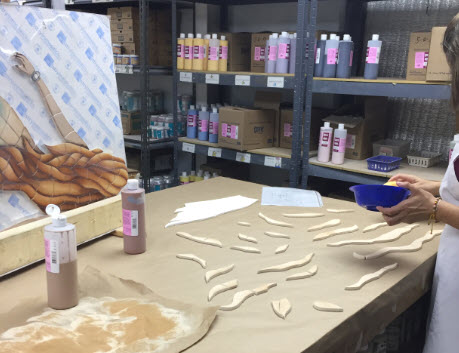 Below you see the Fusion pieces which have a little extra shimmer to them. These pieces come in a few different fusion colors.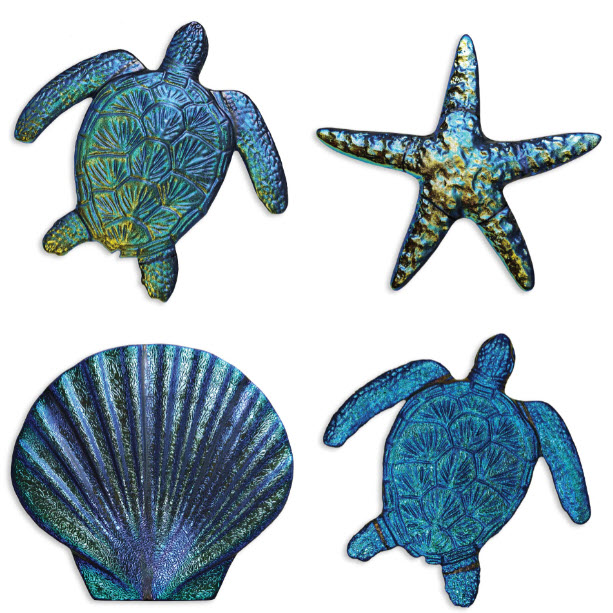 Discover the Range of Artistry in Mosaics Pool Selections
Now that you have a feel for how special these handmade mosaics are, let's explore the range of products from Artistry in Mosaics that you can select from.
Mosaics for Pool Steps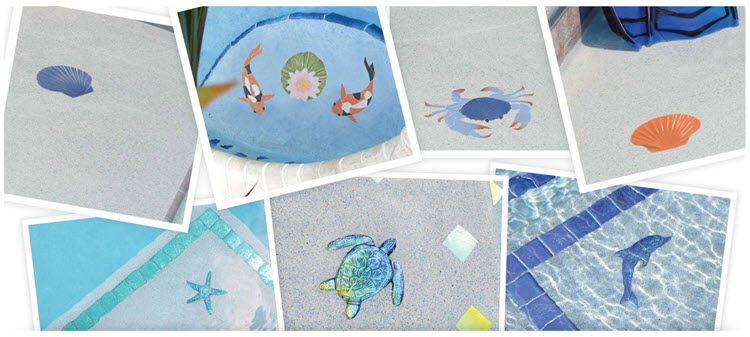 A perfect place to add a dash of whimsy, surprise and perhaps even shimmer is on your pool steps. Anyone taking those steps to go in and out of the pool will always enjoy the effect.
You can outline your steps with ceramic tiles as well to define the area. These decorative pieces can be a combination of characters and colors. For example, below you see the Hibiscus flower which comes in four different colors.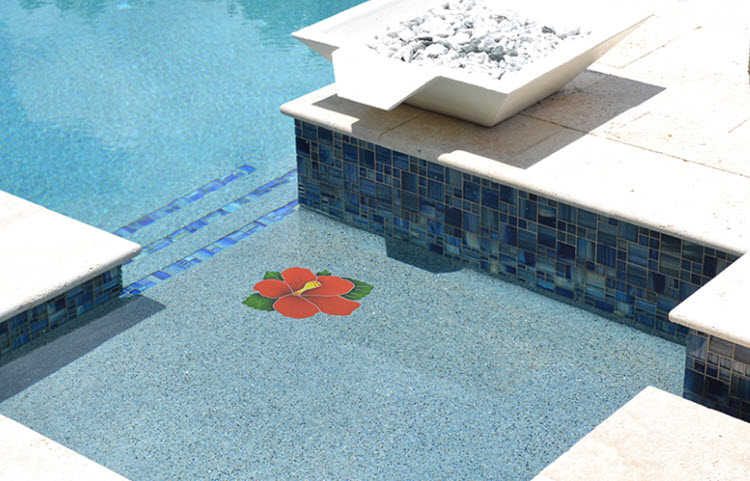 Below, you see the Tropical Reef mosaic which is filled with stunning colorful details of the reef and sea life.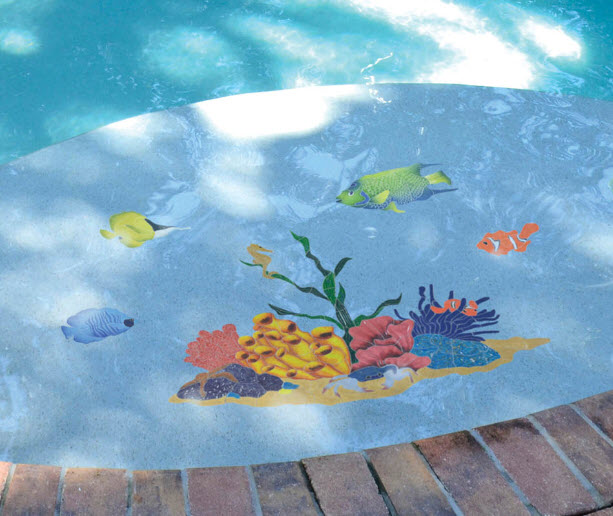 Custom Pool Mosaic Designs
If you have something more custom in mind, Artistry in Mosaics can help.
The company offers the ability to custom design anything for your pool. They can take an image or create a design for you that they can develop into a mosaic. There are no limits to the creative designs possible!
Here are a few of their projects.
Celtic Tree of Life
Imagine have an elegant and timeless Celtic Tree of Life in your pool as you see below.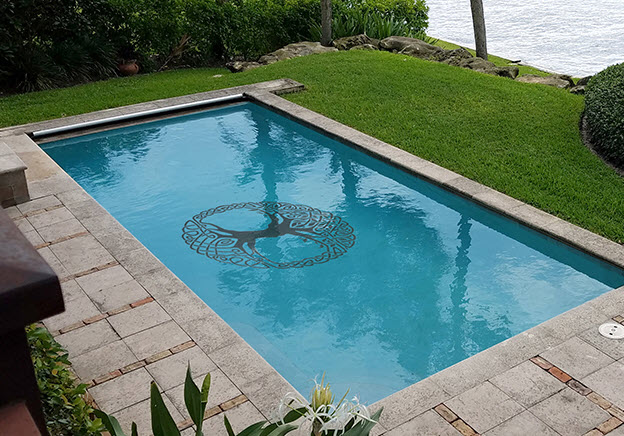 Logos for Pools
The Sun Valley Lodge has its logo in its pool.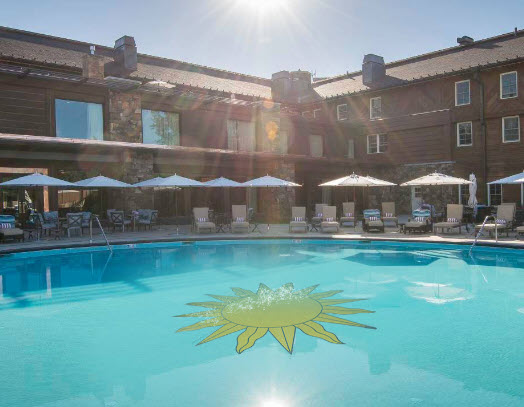 School logos and hotel names are very popular.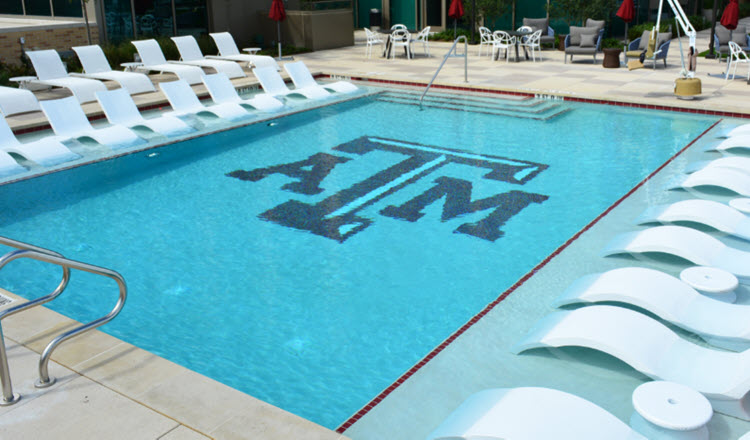 If you have a custom design you want to create for your pool or lobby space, Artistry in Mosaic will create this look for you in tiles.
Waterline Mosaics
As wonderful as accents are, it's waterline mosaics that literally detail the pool. You'll find them available in glass or ceramics. You can use glass mosaics to outline your hot tub area and corner pieces to make the edge smooth and round.
Here are a few color options you can use to make your pool stand out.
Puzzle mosaics as you see above are common for waterline and water features.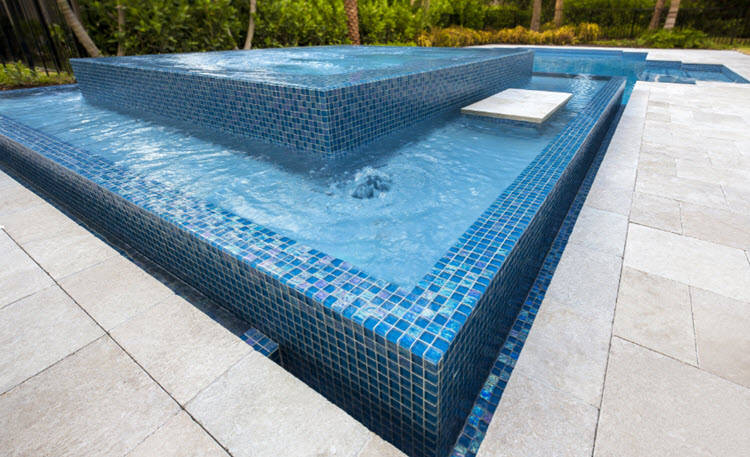 Glass mosaics can be used for spillover water features. Don't you love how they shimmer under the water? These are 1x1 glass mosaics used around the entire pool.
Iridescent glass really sparkles when the light hits it.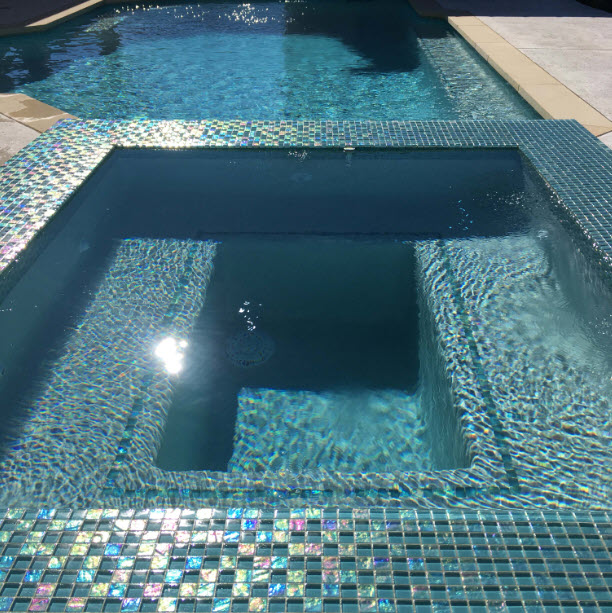 Below you see how brick iridescent mosaics outline the pool step for guidance in stepping in and out of the pool.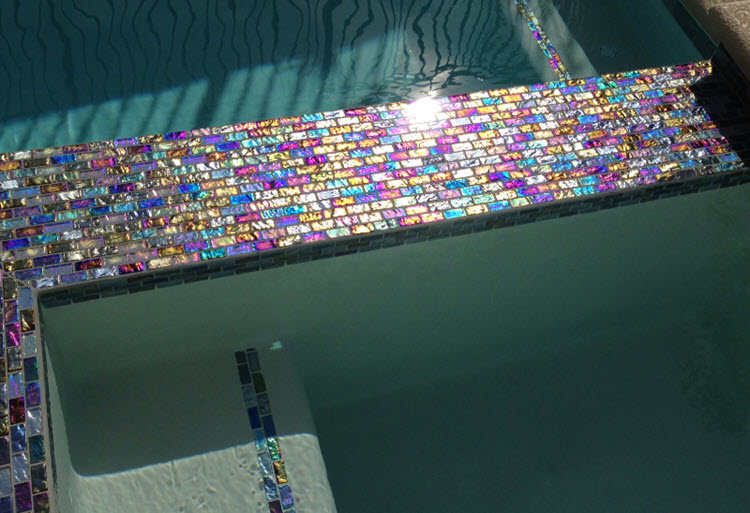 Be sure to consider the outside walls of your pool area as well. These are areas you can highlight with some color and texture.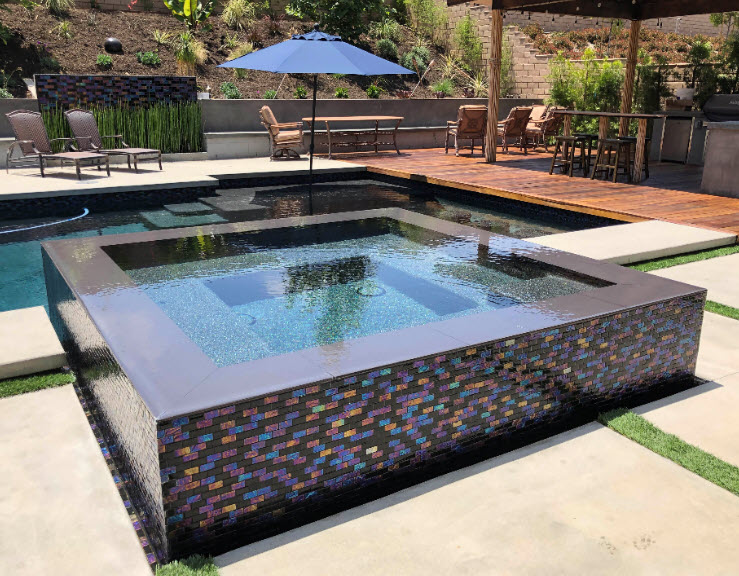 Below you see glass 1x2 mosaics used to outline the steps and exterior walls of the pool. Don't you love the contrast between the deep blue and the outdoor tile?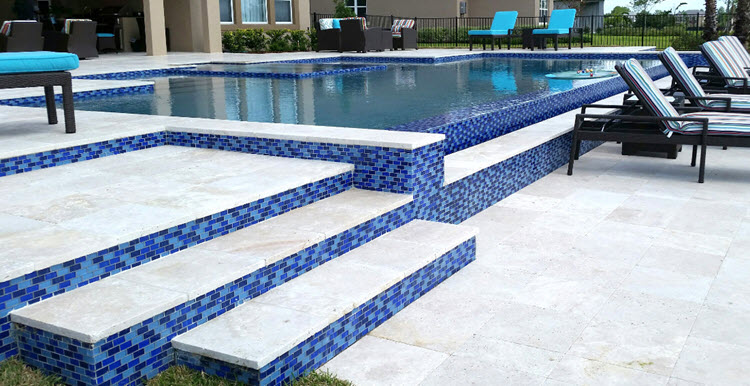 If you want to finish off a rounded edge, we have that solution too.
Artistry in Mosaics makes pieces that have a curve to them to match the mosaic you picked so you can complete the edging.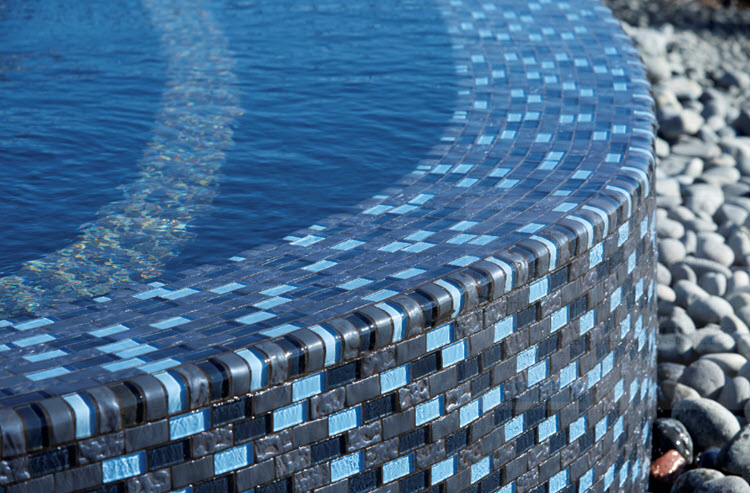 Subway Tiles
Did you know that subway tiles aren't limited to kitchen backsplashes? You will now regularly see them in a pool waterline or water feature. These subway tiles come in multiple different colors to match your pool design. Here are just a few ideas to explore.
First here is a two-tone 2x4 subway blue glass that is offset.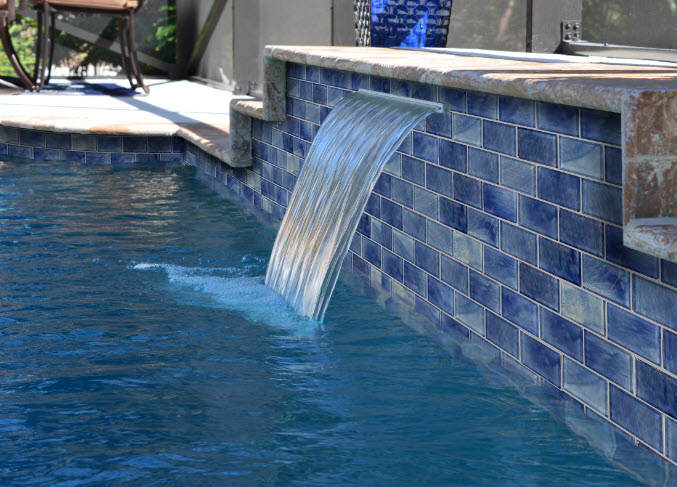 What about dark subway tile? It adds a masculine touch against the black edge of the pool.
What about the multi-toned glass subway tile below? Isn't the effect bright and fun? These mosaics make the color of the water mirror the color of the glass.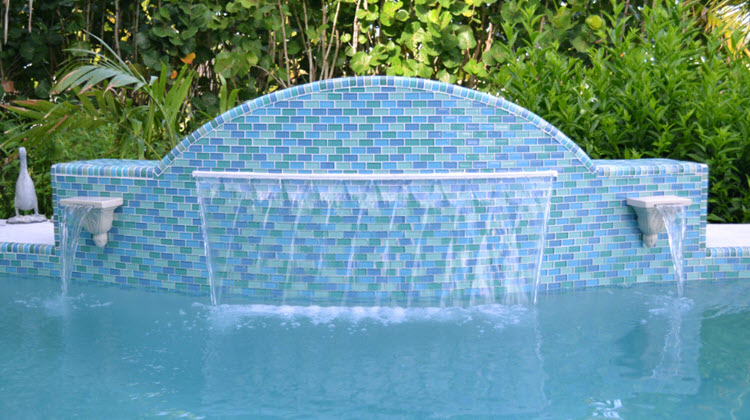 How Pool Mosaics Add to Underwater Enjoyment
So let's tie all of this pool beauty together. Imagine combining the ceramic pool mosaics from the beginning of this article with the ideal waterline tile for intense underwater enjoyment...
These examples will demonstrate how much fun you can create. Add mermaids, dolphins, fish, and turtles to swim around with.
What about sea rays?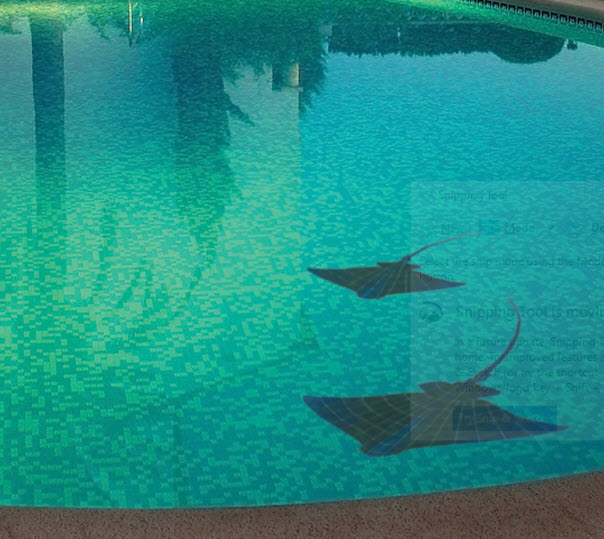 Or a shark! Notice the shadow effect under the mosaics. These are part of the ceramic mosaic design to complement the item to look more lifelike.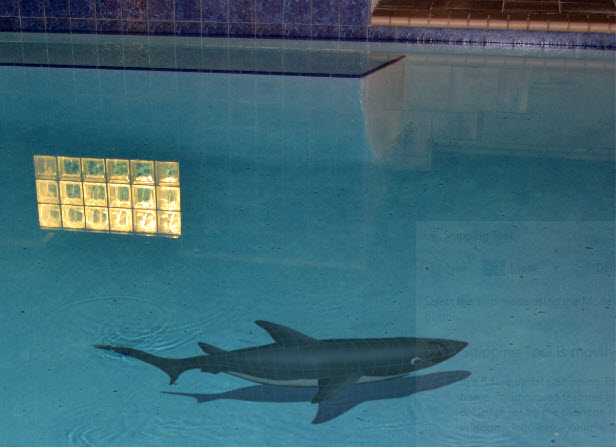 Or combine several different mosaics. Here a mermaid plays with one dolphin while another two follow. Notice the creatures along the pool walls.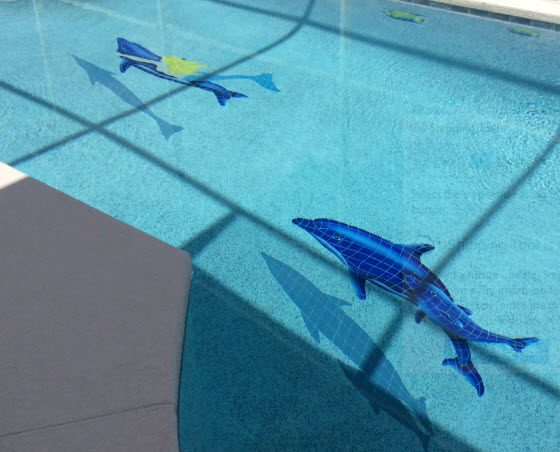 Here's a trail of turtles in graduated sizes - poppa, momma and baby turtle. The complete family!

You'll find different types of turtles to choose from.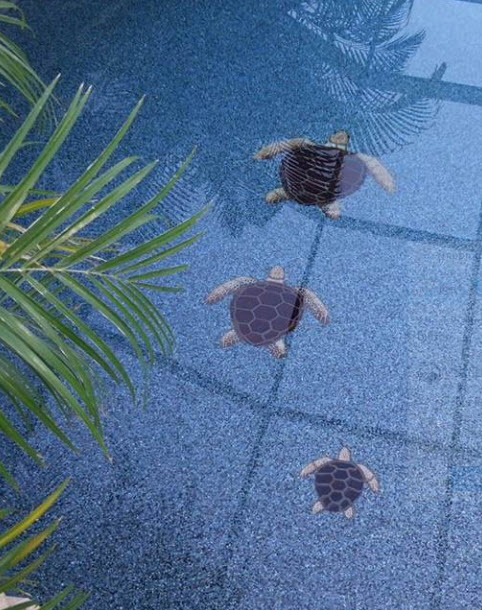 Mermaids are ever popular. Who doesn't want to swim with a mermaid! Notice the blue hibiscus on the top pool step.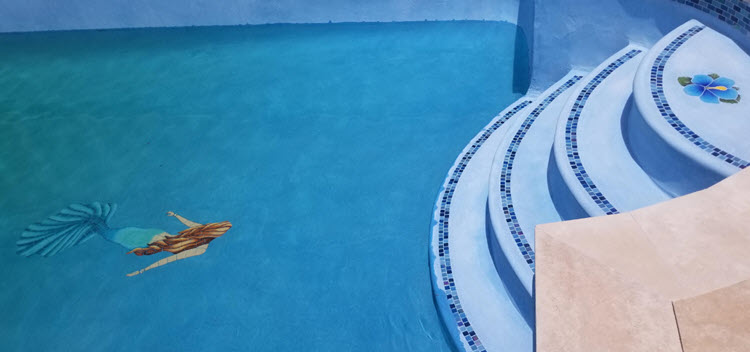 Come to Tile Outlets of America for Pool Mosaic Gems to Add to Your Pool!
What's your reaction to these pool mosaics? Can you see creating your own magical oasis using some of the selections from Artistry in Mosaics?
We invite you to explore further at Tile Outlets of America.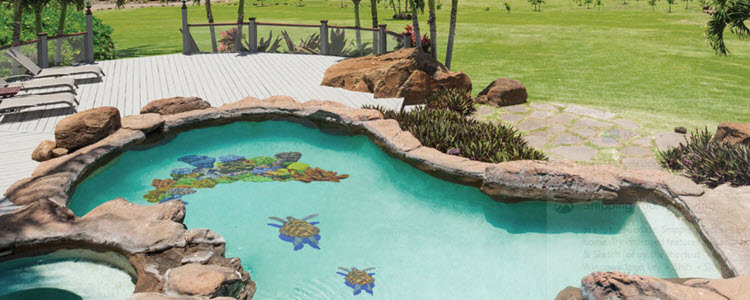 Thanks for reading!
Kate