Maria Font, Kitchen and Bath Designer, Tile Outlets in Tampa
Posted by TOA's Blog Team on Oct 25th 2018
Have you met Maria Font? She is our kitchen and bath designer at the Tile Outlets of America store in Tampa, and she is passionate about ensuring that you find the right cabinets to go with your tile design.
We caught up with her to ask her a few questions.
Meet Maria Font, Kitchen and Bath Designer, Tile Outlets of America in Tampa
TOA: Maria, tell us about yourself and your background. Are you from the Tampa area?
MF: My name is Adrienne but I started to go by Maria once I moved to the United States from Puerto Rico in my teens.
Most people pronounced my name incorrectly (like Sylvester Stallone says it in the Rocky movies) and I felt that it just did not fit me.
TOA: How did you get interested in kitchen and bath design, and cabinets and vanities?
TOA: I have a bachelor's degree in business and a minor in interior design.
MF: Throughout my career, I have been involved in remodeling and DIY projects. I managed a Sherwin Williams store and worked with paints, wallpaper, and carpet.
I was asked to join Thomasville and sold complete interiors with furniture, window treatments, and floor finishes.
Then I had the chance to work with some local custom builders in a design shop coordinating all phases of the building process. With this position, I started to help design kitchen and bath spaces. It truly allowed me to use all of my skills and I developed a passion for creating the spaces that "sold" the home.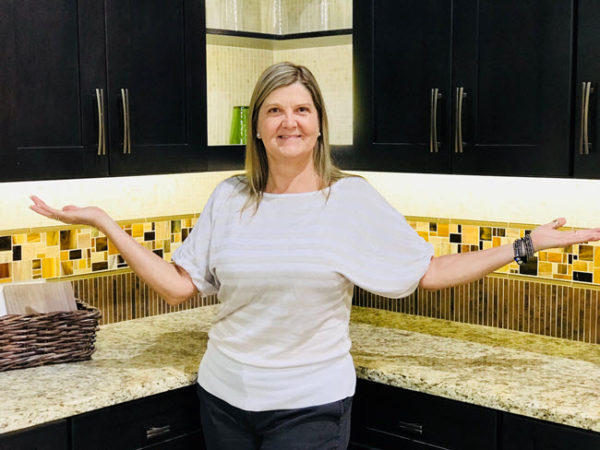 TOA: Maria, what is your role at Tile Outlets?
MF: Although I had to make a change and worked in the corporate world for many years, I always knew I would return to my first love and that opportunity did arrive.
I started with a large company that specialized in kitchen and bath design and heard about a design position at Tile Outlets of America. It seemed like serendipity as I purchased all my tile flooring and backsplash from them for my personal home. They had just opened and I chose them because of the great customer service I received!
I was fortunate enough to have the background that Tile Outlets was looking for.
TOA: What do you love most about kitchen and bath cabinetry at Tile Outlets?
MF: I love using my design skills to create beautiful kitchen and bathrooms, and then introducing the inspiration center to the Tampa Bay area.
In addition, clients have the opportunity to purchase all their tile needs with our expert sales advisors.
TOA: Which are your favorite cabinet accessories?
MF: I am able to provide the complete package using beautiful sinks by Solera, faucets from Sir Faucet, and hardware from Top Knobs and Resource Hardware.
TOA: What are some of the strongest cabinet trends you see in the Tampa area?
MF: The trend in Florida for the past few years is the Shaker style in the whites and grays. They reflect a simpler, cleaner feel than the traditional wood tones in the Raised panel style.
I enjoy doing designs in either style.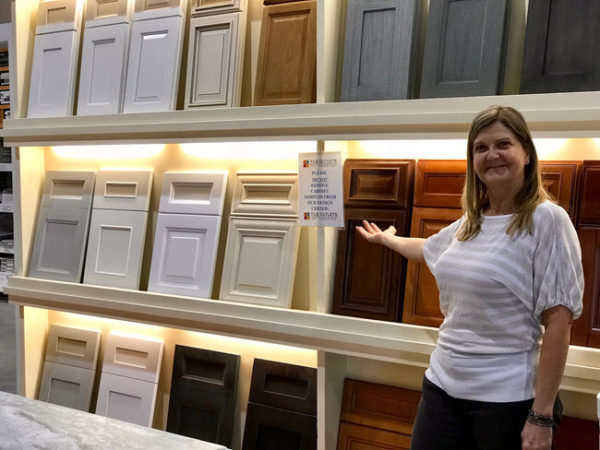 TOA: How do you recommend that people shop for cabinets?
MF: Tile Outlets has the best selection of backsplashes to give the space that finishing touch …the WOW factor! Be sure to check out the Inspiration Area for ideas.
You might also want to download the Tile Outlets Cabinet Planner design guide as you explore the different cabinet door styles as well as vanities available.
The best compliment I can receive is when my client is thrilled with their new space and recommends Tile Outlets and myself to their families and friends.
TOA: Maria, what do you like to do outside of Tile Outlets?
MF: My stress relief is working out but I often find myself helping my family and friends on their DIY projects on my days off.
Of course, I am hooked on HGTV, Pinterest, and Houzz and use all as a source of inspiration.
TOA: What is the best way to reach you?
MF: Please give me the opportunity to design YOUR space by reaching me at the Tile Outlets store in Tampa at 813-876-0080 ext 223.
TOA: Congratulations and thank you, Maria!
Are you ready to explore kitchen and bath cabinets and include them in your tile and stone design?
Be sure to visit Tile Outlets of America in Tampa where you can be inspired by the installations there and guided by Maria Font, Kitchen and Bath Designer.
Thanks for reading. We look forward to helping you make your dream kitchen and bath become reality!