Ready For Patchwork Tile In Your Home?
Posted by TOA's Blog Team on Jul 7th 2016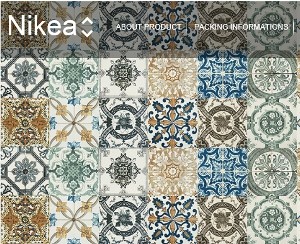 Are you ready for patchwork tile in your home? We are!
(We originally published this article on 1/8/15 and have updated it to reflect new patchwork tile products available at Tile Outlets.)
We first brought patchwork tile to your attention in Flooring and Tile Trends from Coverings 2014: Patchwork Tile. We see it as an important tile trend and think it's a must for your home whether on the floor or on the walls!
In this article, I introduce you to three products available at all Tile Outlets of America stores. They capture the essence of patchwork tile so you can boldly or subtly transform a space. All three can be used on walls and floors.
How to Add Patchwork Tile in Your Home
As mentioned above, you can add the patchwork tile look to your home in two ways: on the walls and/or on the floors. With the products below, you can do so with bold patterns or with subtle ones.
Ready for Patchwork Tile on Your Walls? Try Nikea.
Nikea is a glazed ceramic tile. As you can see in the images below, Nikea will transform your walls! It comes in two styles.
1. Nikea Matte 8x8 tile creates a patchwork look for a one-of-a-kind room transformation. Each box includes 25 digital glazed matte patterns which can be used together or as individual decorative elements to complement a backsplash design.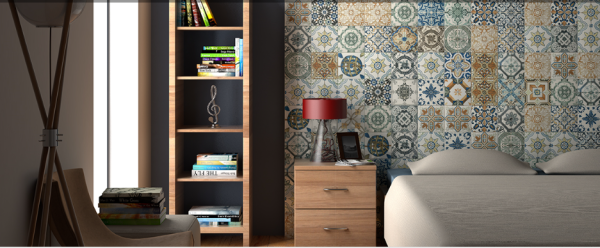 The Nikea Matte colors are really classic - with blues, oranges and yellows - and can easily be combined with a beige or white tile. You can even create a rug design in front of your kitchen sink with these 8x8 tiles.
2. Nikea Sephia Glossy 8x8 tile is the glossy version of the Nikea Matte above. The colors are in soft grey and white tones, making for a subtle patchwork effect.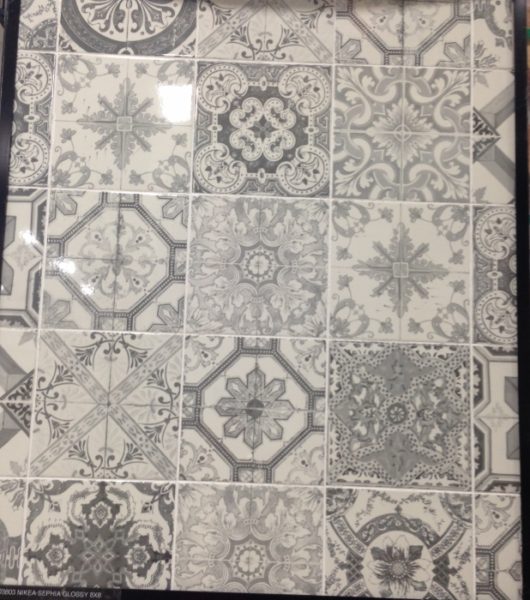 Nikea Sephia Glossy 8x8 porcelain tile colors are in soft grey and white tones.
Here, too, you'll find multiple designs in a box so you can create this patchwork design on walls or floors. Nikea Sephia Glossy includes twenty seven designs in total mixed in each box.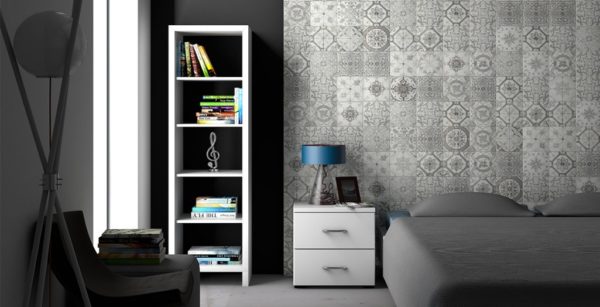 Here are the different Nikea Sephia designs.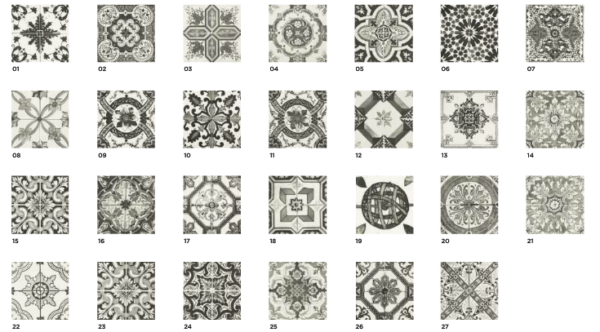 To give you an idea of the richness and intricacy of the patterns, here is a close up image of nine of the designs.
Can you imagine the beautiful effects you can create in your home with either of these two Nikea tile products?
Patchwork Tile for Your Floors
In addition to using Nikea to create patchwork patterns for your floors, you have two other options:
Cement Tile
Monotech Bianco and Monotech Black
We described cement tile in detail in Cement Tile: Perfect for Fort Myers, Sarasota and Tampa Homes. It's a special order product. However, as you can see in the image below, the possibilities are endless.
Monotech Bianco 13x13 and Monotech Black 13x13 are both ceramic tiles with a matte finish that can be installed of floors and walls. This series has a nice satin finish and can be used separately or combined together.
What we love most about these two Monotech products is that you can create with them a perfect checkerboard pattern by alternating the Bianco with the Black as you see in the images below.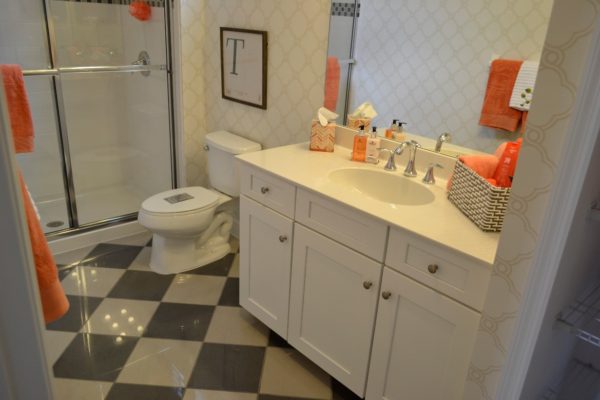 This fun variation on the patchwork effect will transform your floors and add tremendous pop even to a small space. Don't you love how the orange highlights in the bathroom image really pull the design together and create a bright, clean, visually interesting space?
The black-and-white checkerboard pattern is both a classic and an intensely fresh design trend.
How Will You Incorporate Patchwork Tile into Your Home?
What's your reaction to patchwork tile? How do you see adding it to your home? Which of the products above might you use?
I'd love to hear!
Be sure to visit Tile Outlets to see these beautiful patchwork tiles for yourself.
Kate