Ready to Celebrate National Dog Day With Tile Outlets of America?
Posted by Kate Spencer on Aug 25th 2023
Happy National Dog Day!
We love dogs. We also love tile. So, when the opportunity to celebrate National Dog Day and highlight amazing tile dog houses came up, we just couldn't say no.
We hope you'll join us in the festivities.
What is National Dog Day?
National Dog Day takes place August 26th and celebrates all breeds of dogs, pure and mixed.
The purpose is to draw the public's attention to the number of dogs that need to be rescued each year, either from public shelters, rescues and pure breed rescues.
As the National Dog Day site explains,
National Dog Day honors family dogs and dogs that work selflessly to save lives, keep us safe and bring comfort. Dogs put their lives on the line every day - for their law enforcement partner, for their blind companion, for the disabled, for our freedom and safety by detecting bombs and drugs and pulling victims of tragedy from wreckage.
You can celebrate in many dog-friendly ways, including showing off your dogs and supporting shelters and rescues.
Tile Outlets Loves our Four-Legged Friends
In honor of National Dog Day, we want to show off just a few of the Tile Outlets dogs. We hope you'll join us and share a picture of your pup on Facebook...
Meet the Top Dogs of Tile Outlets of America
Ready to meet some of the top dogs of Tile Outlets of America?
Michele Hoover's pack includes Bentley, Curly and Shaggy. You're right, two aren't really dogs. However, they're really cute and they are Bentley's best friends. That means that we consider them honorary dogs for National Dog Day.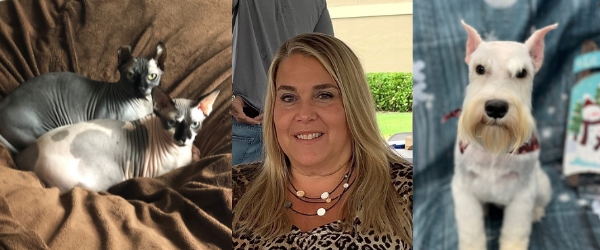 Warren Lampert's pack consists of Bandit and Luna.

Kate Spencer's pack includes brothers Walker & Rummy. Both are rescued dogs. How can anyone resist those eyes?

How Does Tile Fit Into National Dog Day?
For several years now, Tile Council of North America has sponsored tiled dog houses during the Coverings Tile & Stone event, donating them to homeless pet shelters afterward. The project is rather amazing in terms of the good it does and the tile creativity it exhibits. All have been installed over custom-made Wedi Corp. doghouse forms.
So you get a complete taste for the project, we've decided to highlight doghouses from 2021 as well as those from 2018.
Tiled Doghouses from Coverings 2021
You'll love these five creations from the 2021 Coverings show.
>> See TCNA Members Donate Custom Dog Houses at Coverings 2021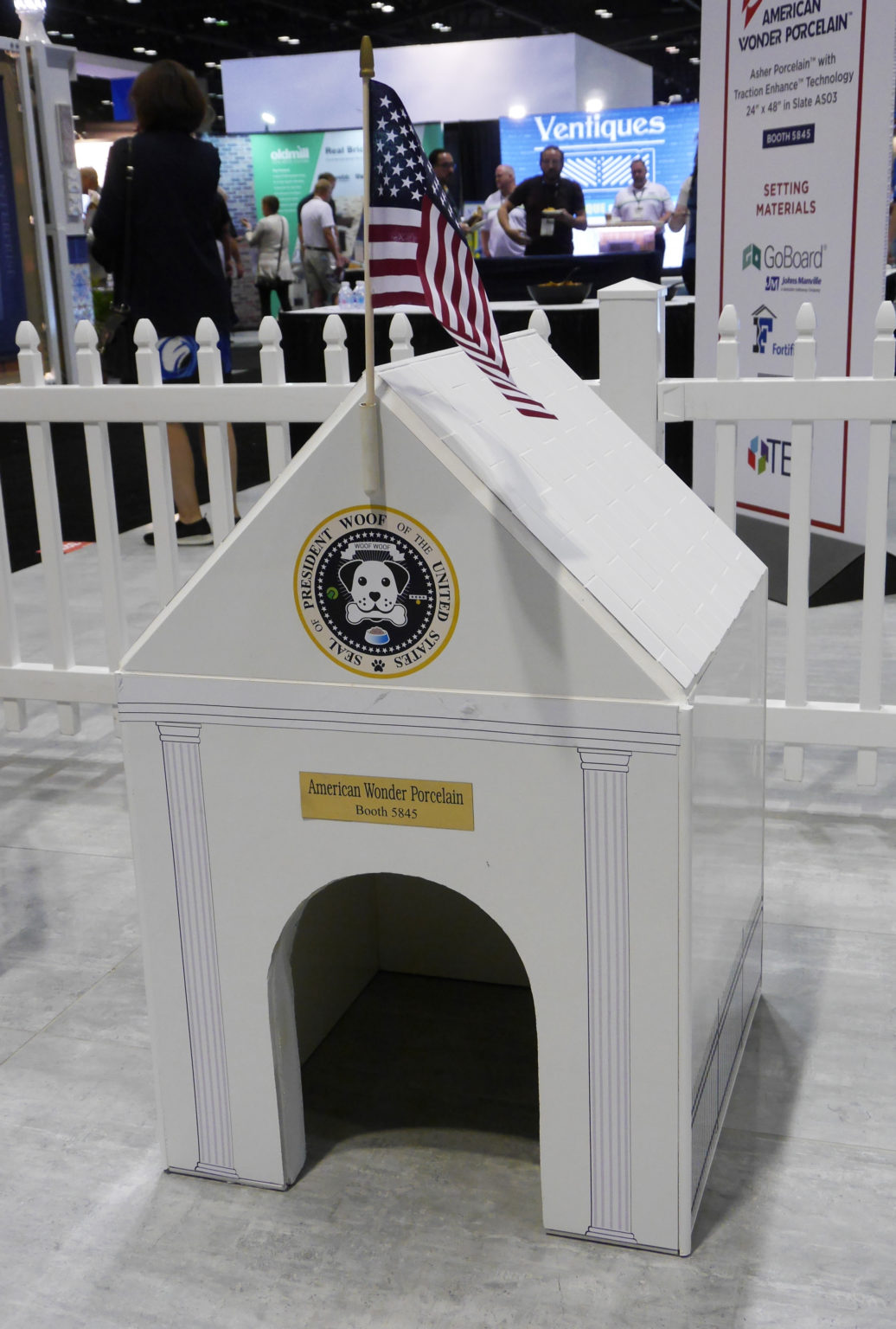 1. American Wonder Porcelain
First off, the "Canine in Chief" themed house from American Wonder Porcelain for President Woof.
Tiled in Polar Style Porcelain™, the house features White PS01 24" x 24" polished field tile on the body and Wonder's 2" x 4" brick joint mosaic from the same series on the roof.
The tile was installed by Paul Magyar, and Kaylee Ledford added the presidential details.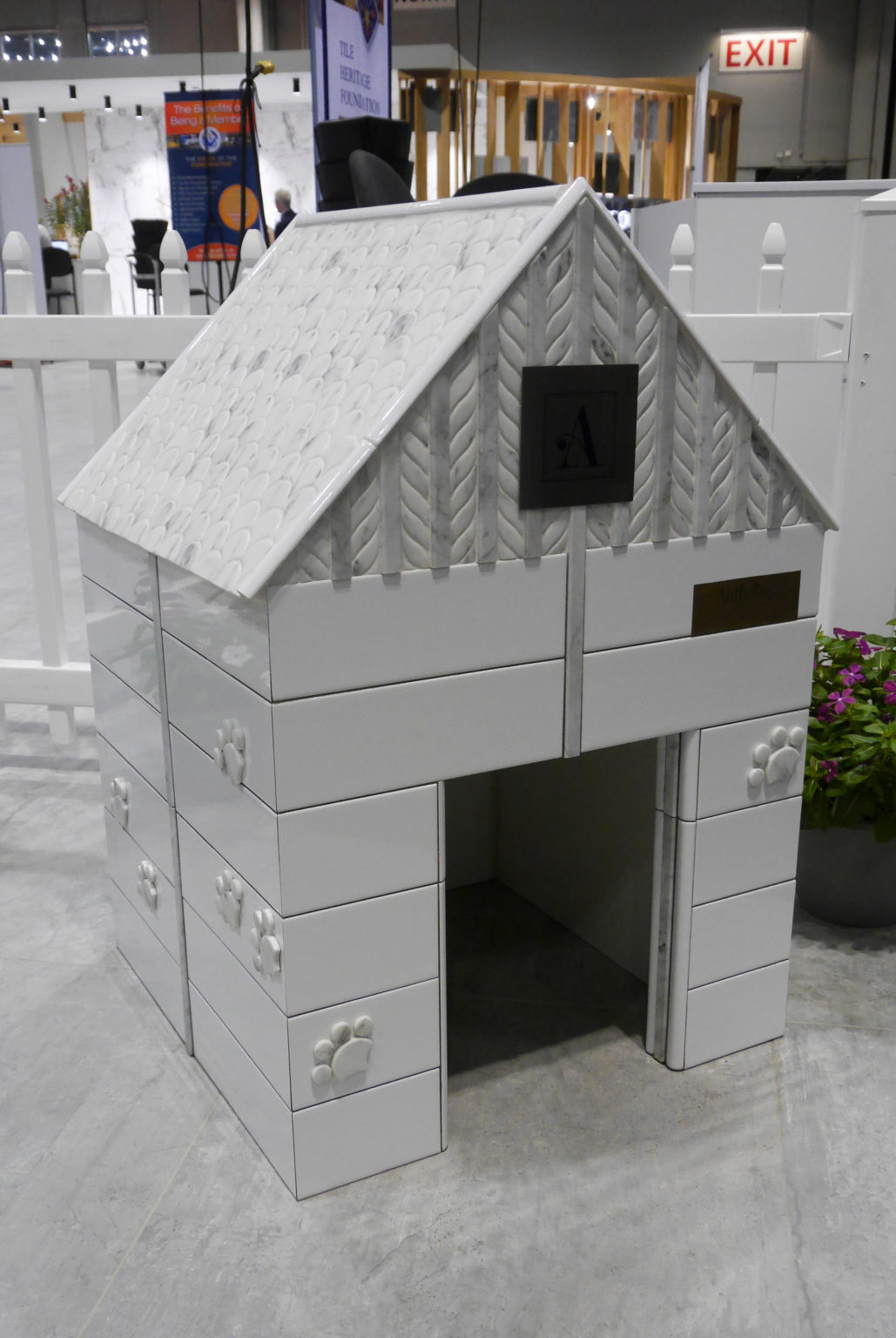 2. Anthology
Next, Anthology's luxury-inspired doghouse.
The pawprints, roof, and front of this dream doghouse were made from recycled glass, inkjet-printed to resemble Carrara marble. These blend beautifully with the luxurious, glossy white outer walls.
The back of the doghouse is accented with Anthology's classic royal gem mosaics, which give this puppy palace an unforgettable elegance.
3. Casa Ceramica
Casa Ceramica's in-house designers designed and installed this doghouse, using stunning hand-painted tiles from their classic Mediterranean Collection.
4" x 4" classic Moorish-design tiles decorate the sides of the doghouse, while the roof features handmade subway tiles to create a more transitional feel.
The front fascia features handmade 2" x 2" Mediterranean tile inserts, along with a custom fleur-de-lys relief. Casa Ceramica's classic handmade dog bones add a final playful touch.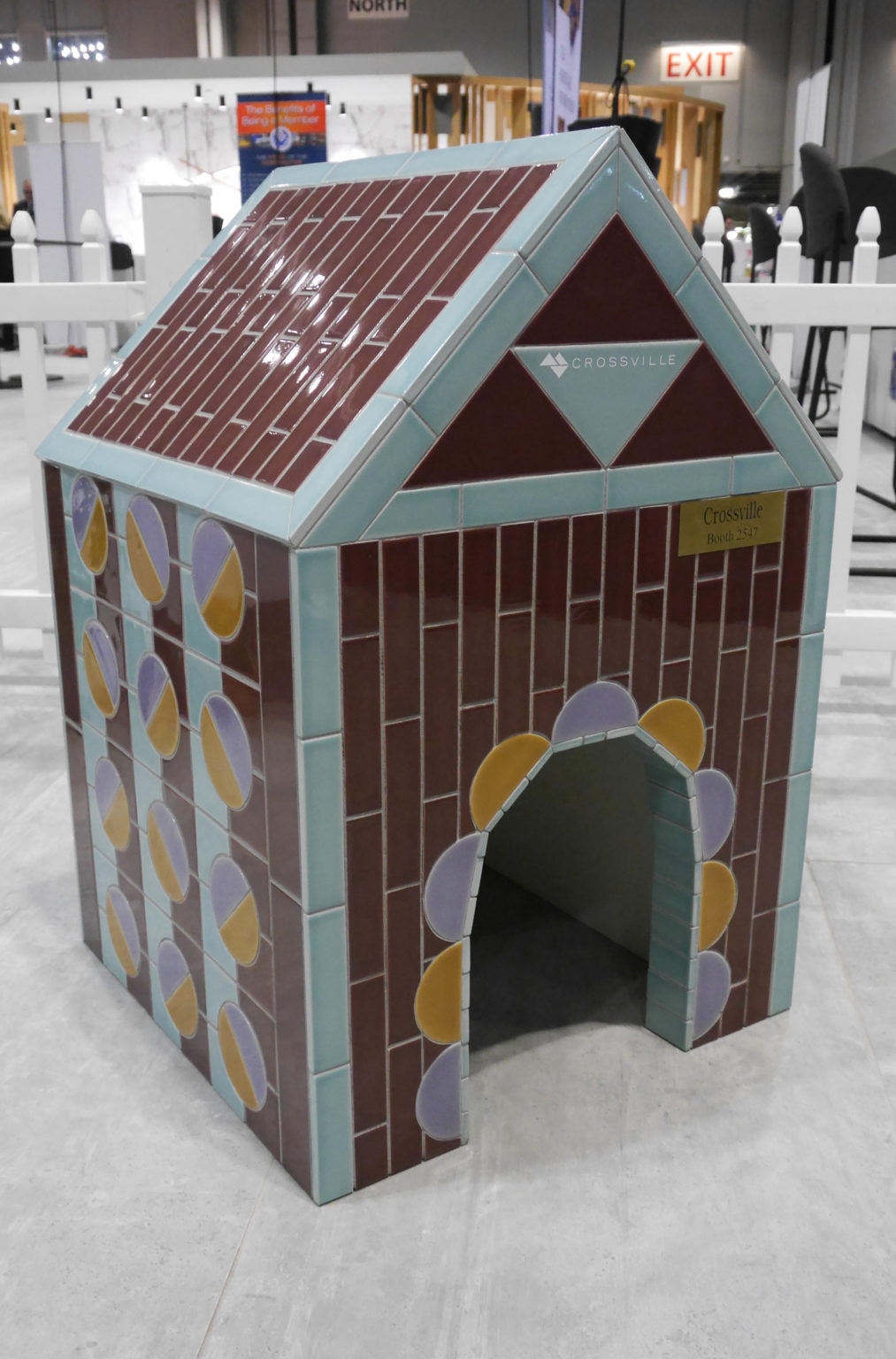 4. Crossville, Inc.
Crossville's doghouse showcases their colorful Cursive mosaic wall tile collection in Oxblood, Soft Teal, Iris, and Goldenrod.
The custom pattern was made with Crossville's exclusive Cursive Pattern Visualizer, a digital design tool that makes it easy to create fun looks.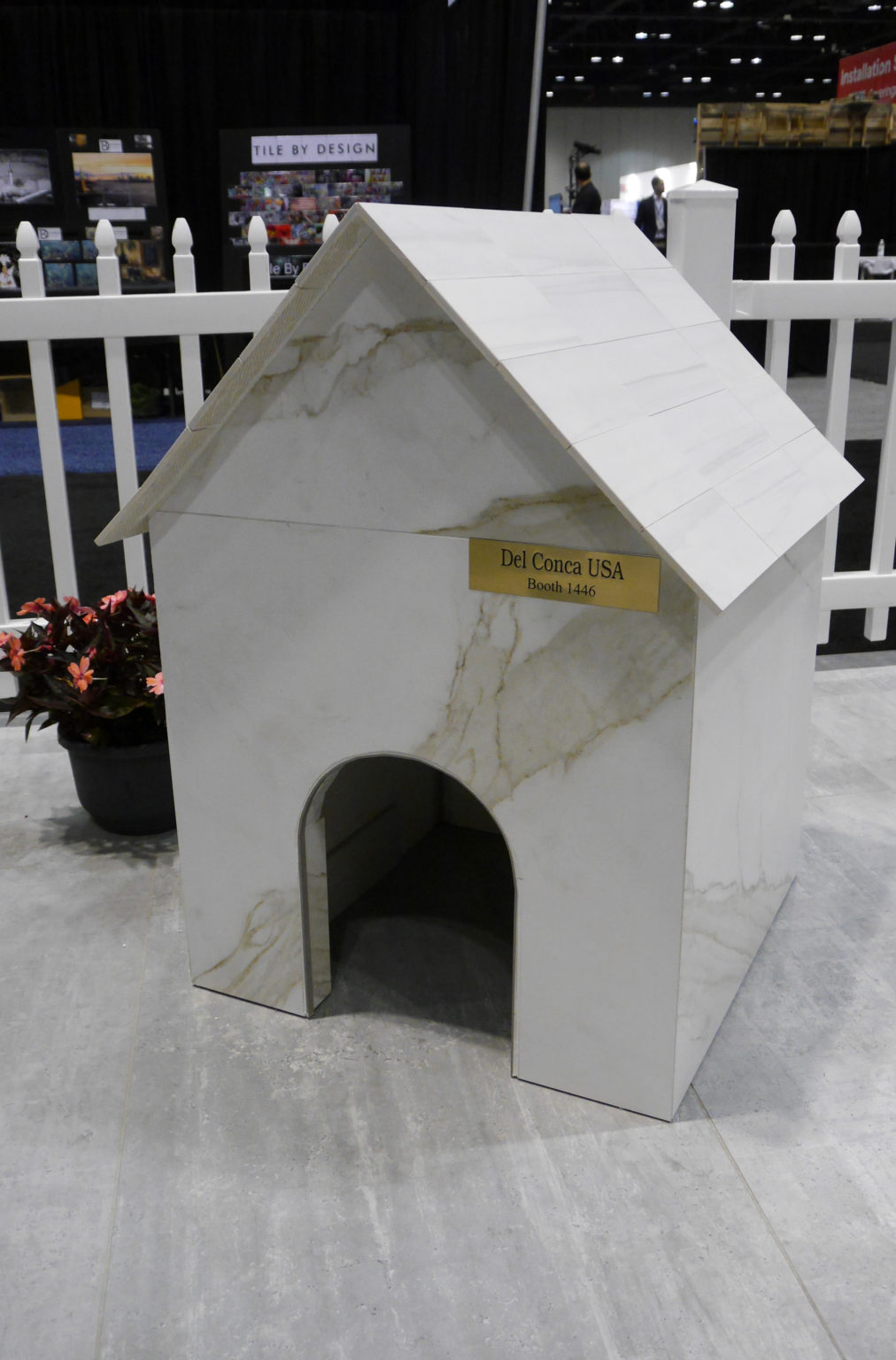 5. Del Conca USA
Finally, Del Conca USA's doghouse features tile from its Nature marble collection.
The body of the house is constructed with Calacatta Gold, a marble with a beautiful, creamy white background and golden veins of various sizes.
The roof is finished with Dolomite marble, a surface that represents the Italian "Zebrino marble," rich in movement with refined linear veins.
2021 Doghouses Donated to the Pet Alliance of Greater Orlando
The best part about these tile doghouses is that, at the end of the show, they are donated to local pet resources. For 2021, they went to the Pet Alliance of Greater Orlando.
As the go-to pet experts across Central Florida, the Pet Alliance of Greater Orlando does good things for dogs and cats and the people who love them. Founded in 1937 as the Orlando Humane Society, its goal is to provide compassionate services for pets and to be leaders in innovative animal care and veterinary medicine.
Each year thousands of homeless dogs and cats turn to the Pet Alliance of Greater Orlando for caring, compassion, and hope through its animal shelters, veterinary and disaster response services, and a pet food pantry for dogs and cats in need.
In addition to providing housing and care, Pet Alliance works to develop progressive and innovative programs that help keep pets and people together. This, combined with initiatives to minimize the number of feral cats being born, will help reduce the number of dogs and cats that need to enter the shelter.
Tiled Doghouses from Coverings 2018
For perspective on the tradition of tiled doghouses, here are the fourteen 2018 doghouse creations all of which were donated to the Homeless Pets Foundation in Atlanta, GA. You'll recognize several of the participants.
>> See TCNA Members Donate Tiled Doghouses To Homeless Pets Foundation
1. AlysEdwards Tile & Stone Doghouse
This doghouse was designed by Kevin Sanchez and tiled by the AlysEdwards Tile & Stone Sample Department and features pink tile in honor of celebrating 10 years in business.
You'll notice a floral porcelain patterned interior floor and AlysEdwards' famous kiss of approval on the hexagon tile exterior.
2. American Wonder Porcelain Doghouse
American Wonder Porcelain presents A Vision in Black & White. It reflects the current, sizzling-hot black and white trend seen in multiple industries, from fashion, home furnishings, and also tile. (You might also call this an ode to mosaics.)
Notice the fun black and white mosaics used on the body of the doghouse (basket weave, penny round, octagon, hexagon and curve mosaics). The roof features American Wonder Porcelain's No. 12 series in 12" x 24" Super Black.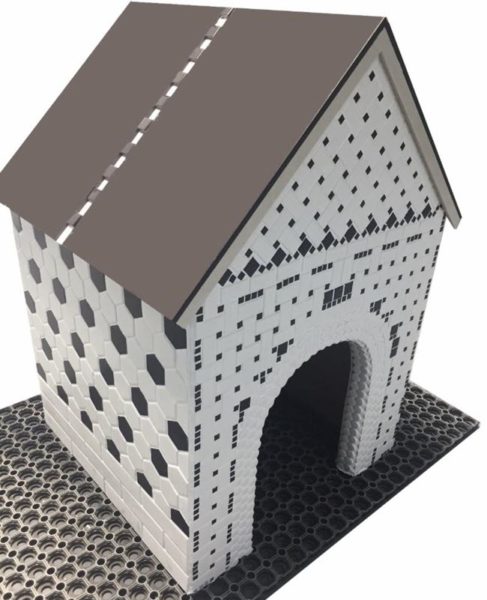 3. Casa Ceramica Tile Doghouse
Designed and installed internally, Casa Ceramica's doghouse features tile and trim pieces from the Mediterranean Tile Collection installed in a patchwork motif, as well as tiles from the new Subway and Heritage Collections.
The same Florida-based artist who produces Casa Ceramica's custom tiles created the bones.
4. Crossville, Inc. Doghouse
Banko Design of Marietta, GA designed the 2018 Crossville, Inc. doghouse. The result is a canine abode that's both modern and classic in style.
Black and white tiles from Crossville's Yin+Yang collection interplay on the roof to create a fun,
zig-zag pattern. The juxtaposition of the traditional black and white palette combined in such a
playful pattern speaks to the current trend of combining starkly contrasting colors to achieve
unique tile designs. The natural stone look enveloping the walls of the doggy dwelling offers a
timeless aesthetic that also appeals to contemporary sensibilities - a doggedly bold and
beautiful approach to doghouse design!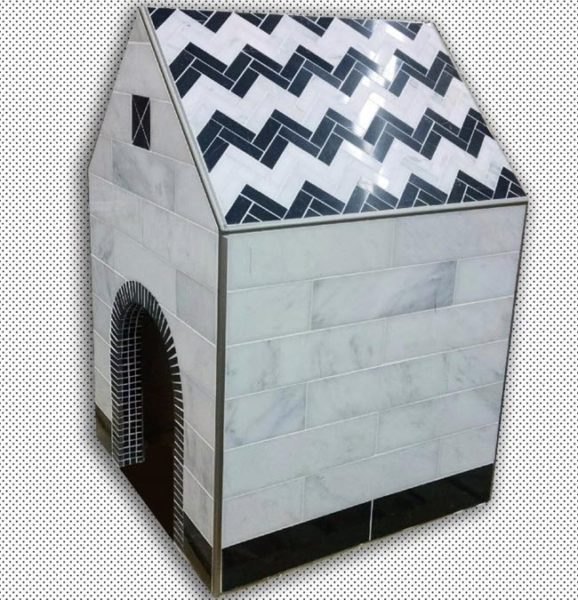 5. Del Conca USA Doghouse
Del Conca's doghouse features tile from the Calico collection, which simulates a wood design, in colors Sunset and Brown. A chimney adds a homey touch.
Note that you can find the Calico series at Tile Outlets of America – Calico Taupe and Calico Sunset wood planks - so you can easily recreate this look with an in-stock product.
6. Fiandre Doghouse
Inspired by Fiandre's global brand sustainability vision, their doghouse design connects the beauty of nature with luxurious Italian porcelain-pet-friendly design and environmentally friendly materials.
This dog house features Eminent Wood Italian porcelain, a new collection inspired by the fossilization process of ancient wood in color brown. Notice the incredibly vivid brushstrokes of color that stand out among the intense contrasting white background of this tile.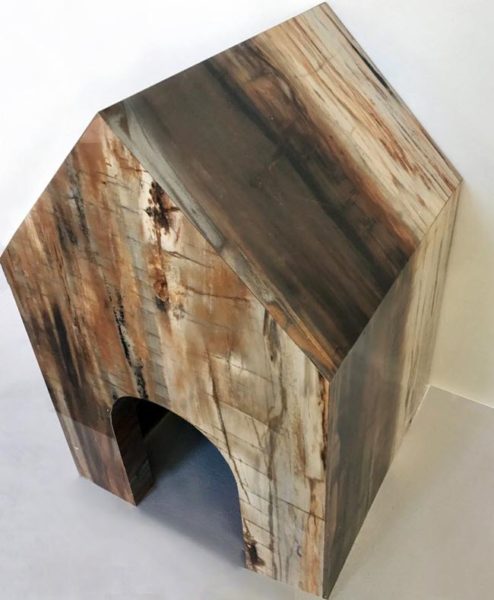 7. Florida Tile Doghouse
Florida Tile's doghouse represents a salute to the traditional folk art heritage of its home state of Kentucky. There, you'll find a trail of tobacco and horse barns with beautifully painted symbols and quilt patterns-a history dating back to the 1800s symbolizing
rooted heritage and a promise of good fortune.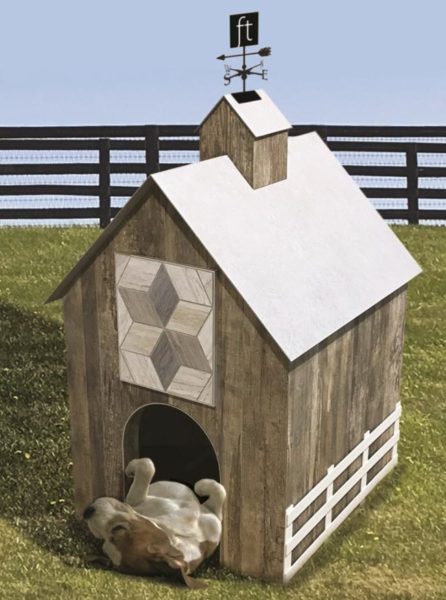 8. International Wholesale Tile Doghouse
International Wholesale Tile decided to utilize the "Bark" series, a collection of
recycled glass inkjet mosaics available in a myriad of colors and sizes, for its doghouse.
On the outside walls is the Bark Bay Multi-linear 11.75" x 11.75" mosaic sheet.
Staggered to mimic roof tiles, the roof is portrayed in Bark Aspen 3" x 6" staggered
11.5" x 11.5" mosaic sheet.
Bark is available in four unique color combinations in three popular sizes: Multi-linear mosaic 11.75" x 11.75" sheet, 3" x 6" staggered mosaic 11.5" x 11.5" sheet, and a 3" Hex mosaic 11.75" x 11.75" sheet.
Note that Bark mosaics are stocked at Tile Outlets of America.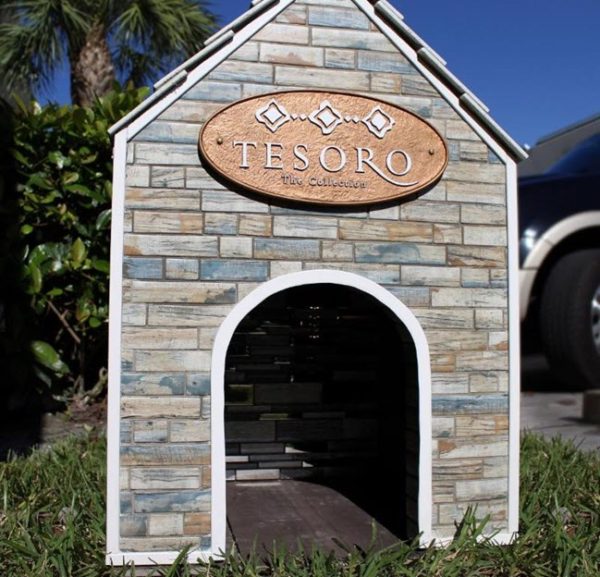 9. Ironrock Doghouse
If you're looking for a Little Brick Puppy Palace, look no further than Ironrock's doghouse.
The design is reminiscent of a classic brick home and uses Ironrock's Royal Thin Brick® product to achieve this look. The roof is made of Metropolitan Ceramics® quarry tile.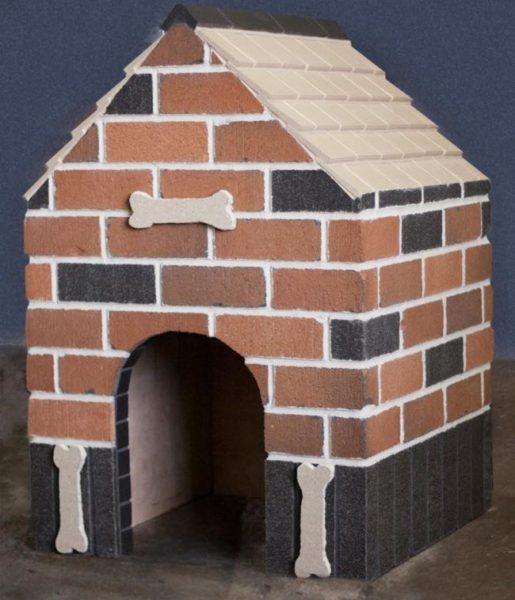 10. Lunada Bay Tile Doghouse
The Lunada Bay doghouse is inspired by Adora, a fluffy, design-loving hound. The roof and side walls showcase the striking architectural shapes of Ka-nu Keel ceramic tile in Harbor Blue, which feature a lustrous, subtly pearlized glaze.
The front and back walls are a combination of Ka-nu Buoy Mosaic in Sandbar, Harbor Blue, and Sea Kelp, and the house is trimmed in Ka-nu Plank 1-3/4" x 9-3/4" in Sea Kelp.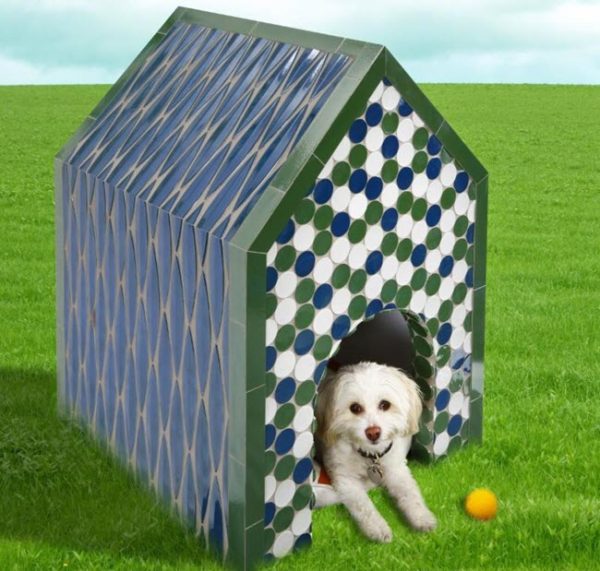 11. Marazzi Doghouse
Marazzi's Costa Clara tile in Blue Wave comprised the majority of the doghouse. This tile has a handcrafted, artisan look and texture that lends to Marazzi's fun-loving theme. The roof tile adds both a look and texture akin to the waves of the ocean.
The blue tile was paired with bright white grout to simulate the white piping that is typically part
of any good nautical theme, bringing additional vibrancy to the overall visual. Over the door of the doghouse, you'll notice the image of a dog bone. The doghouse was designed by Sarah Morales of Marazzi, and the tile installer was Albert Pena of LAB Exhibits.
12. New Ravenna Doghouse
New Ravenna creative director, Cean Irminger, designed this doghouse, Ruff Stuff. Ruff
Stuff is comprised of Absolute White and Zircon Jewel glass. You'll notice a dog print on the roof,
and the base is made from bricks for a classic look with a luxurious twist. The bricks are 2" x 8"
Absolute White with a 1 cm stripe trim in Zircon.
The grout on the base is a blue-gray to pop the look of the bricks, and the roof is grouted in white to accentuate the lines of the dogs.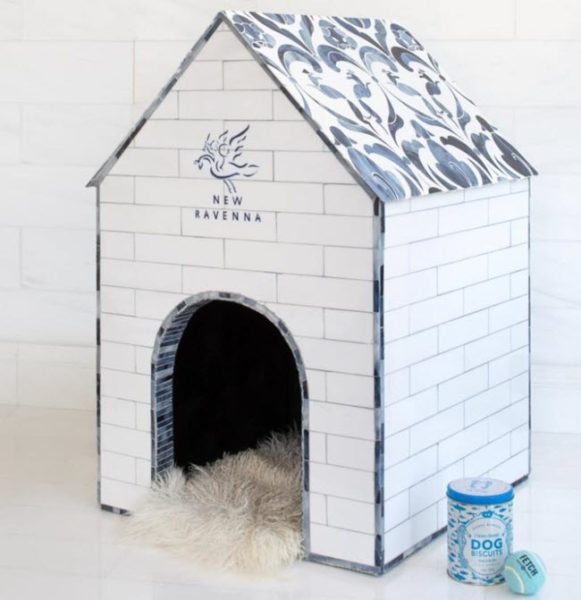 13. Quemere Designs Doghouse
The theme for Quemere Designs' doghouse is Country Living - Home Away from Home. The
doghouse was designed by Quemere Designs' creative group and installed by their design team. The doghouse features the following tile:
Roof: Palm - color: Myrtle Green Gloss
Walls: Prism - color: Gris Gloss
Walls base: 4" x 4" Manhattan - color: Pinot Gloss
Walls borders and liners: Pencil liner - color: Pinot Gloss
1" quarter round - color: Pinot Gloss
Mini square mosaics - color: Myrtle Green Gloss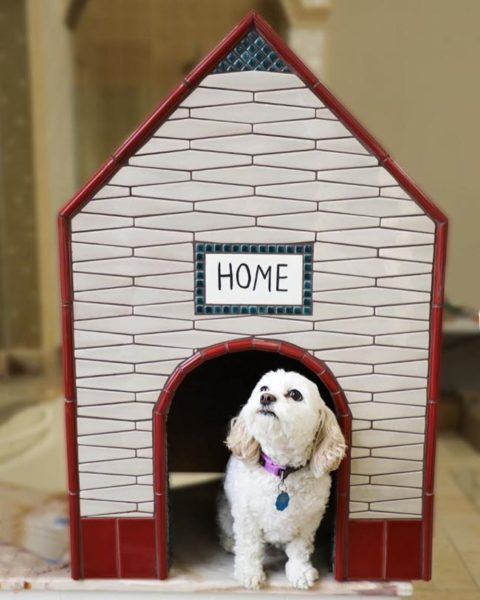 14. StonePeak Ceramics Doghouse
All tile used in the StonePeak Ceramics doghouse hail from 2017s most popular new product collection, Classic 2.0. A mix of mosaics in Travertino Grigio color highlights the countless design possibilities available through StonePeak.
The roof is composed of 9" x 15" Chelsea mosaic and the side walls are 2" x 6" brick mosaics. The doghouse's front and back feature 12" x 12" basketweave mosaic.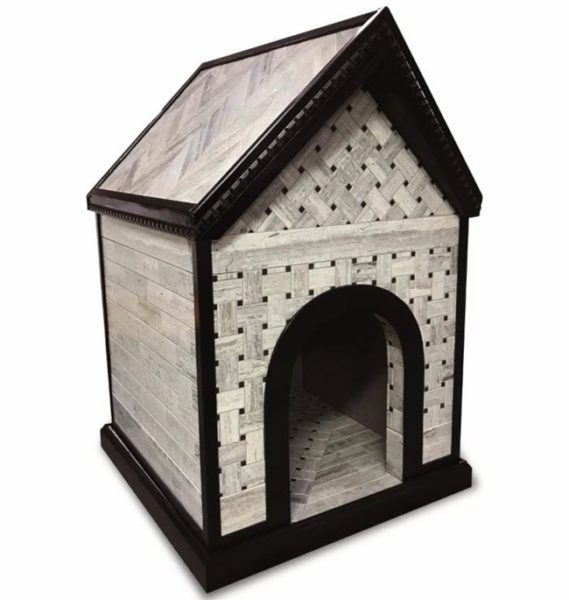 Doghouses Donated to the Homeless Pets Foundation
Remember, we're celebrating National Dog Day. That includes supporting the many organizations around us that exist to support the lives of homeless dogs (and cats) and promote the many benefits of owning pets.
One such organization in the Atlanta area is the Homeless Pets Foundation which received the fourteen doghouses described above.
The Homeless Pets Foundation is a 100% volunteer-run organization dedicated to promoting responsible pet ownership, aiding abandoned and homeless animals, and placing adoptable dogs and cats in forever homes. Since its founding in 1998, it has placed more than 10,000 pets into loving homes.
Dr. Michael Good, the owner of Town and Country Veterinary Clinic, founded the Homeless Pets Foundation when he saw firsthand the need to get adoptable pets out of overcrowded shelters to prevent unnecessary euthanasia. Through his Underhound Railroad program, Dr. Good helps dogs in the South that are about to be put down find loving homes in other areas of the country.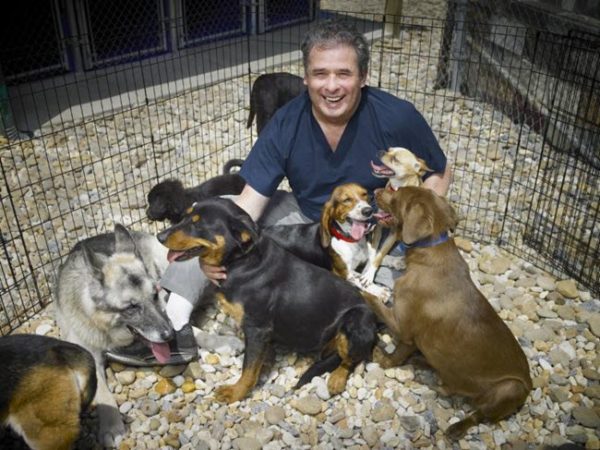 Ready to Celebrate National Dog Day With Us?
We hope you'll join us on August 26 as we celebrate National Dog Day. Hug your pup, support your local animal shelters, raise awareness for the good that dogs offer us day in and day out.
Woof Woof!
Thanks for reading,
Kate

Images courtesy of TCNA