Ready to Seal Stone? Here are the Types of Stone Sealers Available
Posted by TOA's Blog Team on Sep 27th 2023
If you read Why and How to Seal Travertine Tile, you know that it's critical to seal your stone tiles.
In this article, you'll learn about the different types of stone sealers available and how to choose the one that is best for you.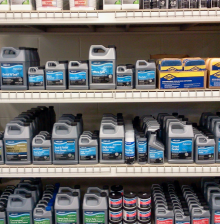 Two Considerations When You're Ready to Seal Stone
When you're figuring out what to seal your stone with there are two considerations. The first is do you want a natural or enhanced finish?
The second is where will your stone tile be: indoors or outdoors?
1. Do you want a natural or enhanced finish when you seal stone tile?
There is no right or wrong answer to this. Whether you want a natural or enhanced look for your stone is purely a personal preference.
Natural Stone Sealers
Natural sealers leave your stone looking natural. Natural sealers neither darken the stone nor alter the color or provide a sheen of any kind. They are perfect for polished stone.
Enhancing Stone Sealers
Enhancing Sealers enhance or darken the color of most stone tiles, although they typically have little to no effect on polished stone. With an enhancing sealer, you'll notice that the stone will have a sheen to it otherwise known as a "wet" look. A helpful trick to determine if this is the right choice for you is to simply wipe a piece of your stone with a damp cloth or sponge.
You can find Natural and Enhanced sealers at nearly any home center or tile and stone supply center [i.e., Tile Outlets of America…].
Do you want solvent- or water-based tile and stone sealers?
For years, solvent-based sealers were the only option available for sealing stone. Nowadays, water-based sealers have become more popular and effective.
Before moving on to the second consideration for sealing stone, let's explore these two types of sealers.
How is the Sealer Applied to the Stone?
When we say 'water based' or 'solvent based', what we're referring to is how the sealer is chemically applied to the stone [i.e., the carrier method of the sealer].
Polymer molecules are what seal stone. They form a protective barrier in or on stone tiles, but they need help getting there. Water and solvents both carry the sealer into the stone and then evaporate away, leaving the sealer molecules behind.
What's Similar?
Solvent and water based sealers have comparable performance ratings for UV resistance and durability. They are applied similarly. Solvent and water based sealers may be used for interior as well as exterior applications.
What's Different Between Solvent and Water Based Sealers?
In Solvent based sealers, polymer molecules are combined with solvents to create a continuous solution. When the solvent evaporates the polymers are left behind. The polymers eventually chain together to create a protective barrier in or on the stone. Solvent-based sealers often have a higher VOC (volatile organic compound) rating than water based sealers.
VOC (Volatile Organic Compounds) refer to emitted gases from solids or liquids. They include chemicals that could become harmful without proper ventilation. Examples include Paint, Lacquers and strippers, office equipment such as copiers and printers, and cleaning products.
A complete list can be viewed here, www.epa.gov/iaq/voc.html.
Water-based sealers refer to sealers where polymer molecules are disseminated in water. When the sealer is applied, the water begins to evaporate and the polymer molecules are drawn together, eventually becoming entangled and forming a barrier that helps repel stains.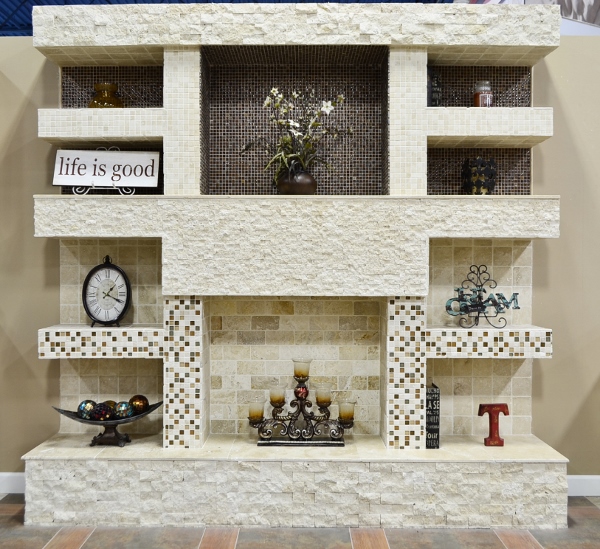 2. Penetrating or Topical Stone Sealer: will your stone be placed indoors or outdoors?
Up to this point, your choice of sealer is a matter of preference: enhancing vs. natural, solvent- or water-based. The next question isn't.
If you remember from the beginning of this article, a critical question is whether the stone tile will be outside or inside your home. The response dictates whether to use a penetrating or topical sealer. All tile sealers are either penetrating or topical.
Penetrating Sealers: Recommended for Outdoors
Penetrating: Is a type of sealer that penetrates the surface of the stone. This will help repel stains from spills. Penetrating sealers are absorbed by the stone. They are recommended for exterior applications and for thick, smooth or polished stone types such as granite or marble.
Topical Sealers: Recommended for Indoors
Topical: Is a type of sealer that bonds to the surface of a stone. Topical sealers are recommended primarily for interior use. This type of sealer is recommended for textured surfaces because the sealer needs to bond mechanically to the stone surface. Some topical sealers leave a sheen or glossy finish on the surface.
Ready to Seal Stone? Which Sealer Will You Choose?
Assuming you've already purchased your stone tile, are you ready to seal it? (If you've not yet purchased it, check out some of these options from Tile Outlets:
>> Travertine
>> Marble
If you are ready to seal it, what will you be sealing your stone tile with? Let us know in the comments. We'd love to hear what mattered to you for your choice.
You can find a full selection of stone sealers at Tile Outlets of America. When you visit the stores, don't hesitate to ask our sales associates any questions about sealers.
We will be delighted to help you so you can make your dreams reality!
Note: This article was originally published on January 30, 2014, and has been updated.