Sealing and Cleaning Tile with Aqua Mix: Interview with Jeffrey Stone
Mar 27th 2014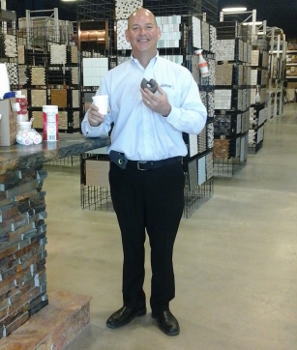 Jeffrey Stone from Aqua Mix brand of Tile Sealers and Cleaners recently conducted a training and demonstration session at Tile Outlets of America in Tampa. We caught up with him to find out more about his background and the sealing and cleaning products he believes so strongly in.
Interview with Jeffrey Stone about Aqua Mix Sealing and Cleaning Products
TOA: Jeff, tell us about yourself and your background with tile?
I am the Territory Sales Manager for Custom Building Products / Aqua Mix and have held this position for 23 years.
I am a husband and proud father of 3 sons.
I am the third generation in my family to be in the tile business in the state of Florida. My grandmother was the very first employee of Florida Tile headquartered in Lakeland, FL. A great many old-timers remember my father, Wally Stone, who was the first salesman at Florida Tile where he spent 30+ years. My older brother has been a distributor in this industry since the early 80s.
I have been fortunate to be part of this industry and watch it change and grow over the years, learn its history and have made a great many friends within it, and for that I am grateful.
TOA: What is your role with Aqua-Mix?
As the the territory sales manager for Aqua Mix, I am ultimately responsible for developing the distribution network, in order to grow the sales of Aqua Mix products within the state of Florida, and assisting our distributors anyway I can in order to further our efforts, grow sales, and expand brand recognition.
TOA: What do you love most about your products and about tile?
As a sales professional what I love most about Aqua Mix products is how they are embraced by professional installers. It reminds me of the old adage "build a better mousetrap, and the world will beat a path to your door."
Professional installers overwhelmingly prefer Aqua Mix, making it the best selling brand in our industry, year after year. Installers from large to small use our products everyday because they work, satisfy their customers, put money in their pockets, and prevent callbacks, and that's what it's all about.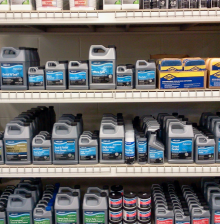 TOA: How do Aqua-Mix sealers and cleaners differ from other products available?
There are a lot of good products in the marketplace, but I believe there are couple of things that separate Aqua Mix, from the competition.
First - Aqua Mix is the most complete line in the business, from cleaners, sealers, restoration products, and problem solvers. Whatever the challenge, Aqua Mix has the products to help you achieve the desired result.
Aqua Mix is also the leader in making products that are not only safer for the environment, but also safer for the professionals who use them. Old-Timers remember when it was thought that for a sealer or cleaner to be effective it had to be hazardous and that water based products were for Do - It - Yourselfers, and inferior.
Today, however nothing could be further from the truth. Aqua Mix water based technology has propelled our industry forward. The result is a product line so effective, it's demanded by professional installers. And the products are so safe and easy to use they are perfect for Do It Yourselfers.
TOA: What's most critical for success with Aqua-Mix sealers and cleaners?
The most critical thing for success when using Aqua Mix cleaners and sealers is 2 fold.
1. Familiarize yourself with the product, I think any manufacturer will say the same, Read The Label! The packaging always contains crucial information, where the product can and cannot be used, safety instructions, proper application techniques, and other information that may be key to a successful application.
2. The second critical tip would be what we call "dwell time." Unlike many products people buy in the hardware or grocery store, our products are not just working on the surface. They are not "wipe on, wipe off" products; they need to "dwell" because the sealers are working below the surface to penetrate the stone to better protect against stains.
The same is true of the cleaners. Because Aqua Mix cleaners don't rely on harsh chemicals that could damage your stone or tile, they need the dwell time to properly breakdown foodstuffs, soils and stains, leaving your stone or tile beautiful and protected.
TOA: Any parting words of wisdom?
Yes. One Size Does Not Fit All. For the best results, you need the right product. Technology is constantly changing and so are products. If you've been doing it the same way for 20 years, you're missing out.
At Aqua Mix we are constantly working with our partners like Tile Outlets of America to provide the best products and the technical knowledge to help professional installers move the industry forward.
TOA: Thanks very much, Jeffrey!
Do you have questions about sealing and cleaning tile? Have you used Aqua Mix products? Let us know in the comments.
Won't You Subscribe to TOA's Blog About Tile & More? Simply enter your email address in the form at the top of the right sidebar!