Shop Luxury Vinyl Flooring at Tile Outlets of America!
Posted by Kate Spencer on Oct 4th 2018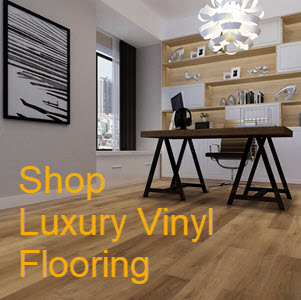 There's a new flooring category available at Tile Outlets of America: Luxury Vinyl Flooring. It's also known as Engineered Composite Flooring and we think you'll like it!
Try the Ecolux Luxury Vinyl Flooring Collection
This collection is not only beautiful, but it's also 100% waterproof and extremely durable thanks to its stone core technology which consists of 70% recycled limestone. It even feels like real wood.
Ecolux comes in three color styles: classic grey, French oak, and beechwood, all in 7-1/4" x 48" plank sizes that are 4mm thick. This floating floor features the Unilin® Click locking installation method which means that you need neither glue nor nails to install it, not to mention that it's a breeze.
>> Shop Ecolux Luxury Vinyl Flooring at Tile Outlets of America
Ecolux Luxury Vinyl Flooring Benefits
Here are a few additional noteworthy benefits associated with this LVT product.
1. Ecolux Requires No Acclimation
This benefit is a big one: you won't need to acclimate Ecolux!
Most flooring products - other than tile - need acclimation. In other words, you need to take into account a 48-hour period before you start your installation project for your flooring products (e.g., wood, cork, laminate...) to sit in the house or room where it will be installed, so it gets to temperature and also reaches the same level of humidity.
No acclimation means not needing to deliver the product 2 days before you get started.
2. It Comes With a Warranty
Ecolux Luxury Vinyl Flooring comes with a Lifetime Limited Residential Wear Layer Warranty, a Limited Lifetime Structural Warranty, a Limited Lifetime Waterproof Warranty, and a 10 Year Limited Light Commercial Wear Layer Warranty.
Not only do you have a durable product, but you have one that comes with peace-of-mind.
3. Added Bonus: Anti-Microbial Protection & Free From Toxins
Here's an added bonus: Ecolux comes with Anti-Microbial Protection.
Also, because it is made from Virgin Vinyl, it is free from toxins. In fact, this product is Floorscore® Certified and Formaldehyde Free (meets California Air Resource Board requirements). FloorScore Certification means that this flooring product has been independently certified by SCS to comply with the volatile organic compound emissions criteria of the California Section 01350 Program.
What Makes This Luxury Vinyl Flooring an Engineered Composite Flooring?
Essentially, what makes this luxury vinyl flooring an engineered composite flooring comes down to the layers! In the case of the Ecolux Luxury Vinyl Flooring collection, the layers consist of:
A durable UV ceramic bead antimicrobial top layer
A sturdy 12Mil wear layer
A hot-pressed high-definition decorative paper layer
A high-density rigid stone core technology at the bottom
The top layer represents the first layer of protection, making this flooring particularly impact and indentation resistant. The sturdy wear layer supports that durability.
The high-definition decorative paper is where the beauty of the product comes through. The quality of that image is what makes the wood pattern look like real wood, as you can see in the image below.
The high-density rigid stone core technology combines 100% recycled limestone, with 100% virgin PVC, providing dimensional stability and industry-leading durability.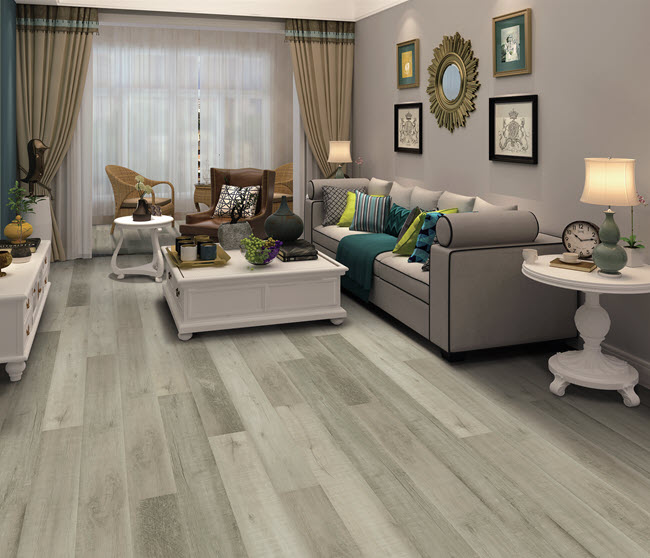 Tips on How to Install Ecolux Engineered Composite Flooring
The Ecolux collection can be installed in virtually any room in a home or business. That includes kitchens, bathrooms and also basements.
These Luxury Vinyl Planks are extra rigid and can be installed directly over most existing subfloors with no subfloor telegraphing concerns. That means you don't need to tear out the existing flooring. And you don't have to worry about most minor subfloor imperfections.
Furthermore, you can install over 6,400 square feet of this product without transitions.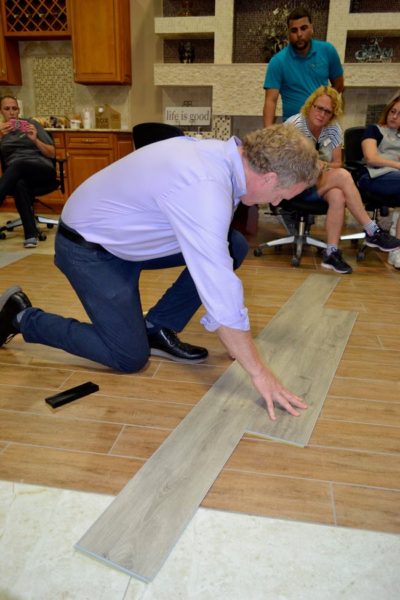 The photos above and below demonstrate how easy it is to install the Ecolux LVP. As we mentioned earlier in the article, it uses the Uniclic system, which is a patented technology for installing vinyl planks, that most contractors should be familiar with.
Essentially, you need to install planks from left to right.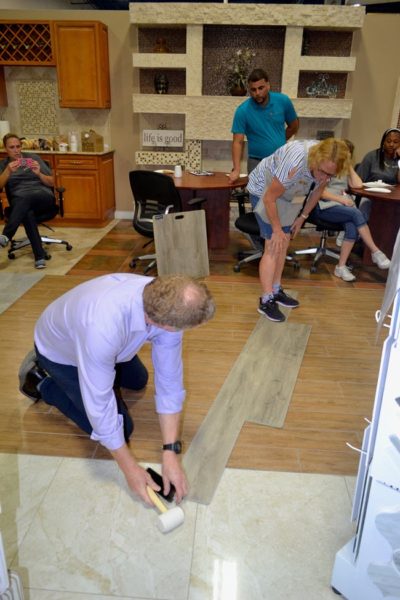 When removing or adjusting a plank, be sure to do so at a 30° angle so as not to damage the sides of the plank.
No Dye Lots
Although you don't have to worry about dye lots since there aren't any, you'll want to open two to three cases at a time and mix the planks from each together to give your flooring installation a more natural look.
New Construction Watch-outs
If you're installing Ecolux Luxury Vinyl Flooring in new construction, you'll want to use a pad (Visqueen moisture barrier). Existing construction doesn't require it.
The Luxwood pad is 1.5mm thick and the stocked pad is 1mm thick. The thickness of the Ecolux with the pad is ¼".
Installation No-Nos
We don't recommend that you install Luxury Vinyl flooring outside, on a lanai, or on a non-enclosed covered porch.
How to Make Cuts
To cut this Luxury Vinyl Plank product, simply score it with a utility knife and snap.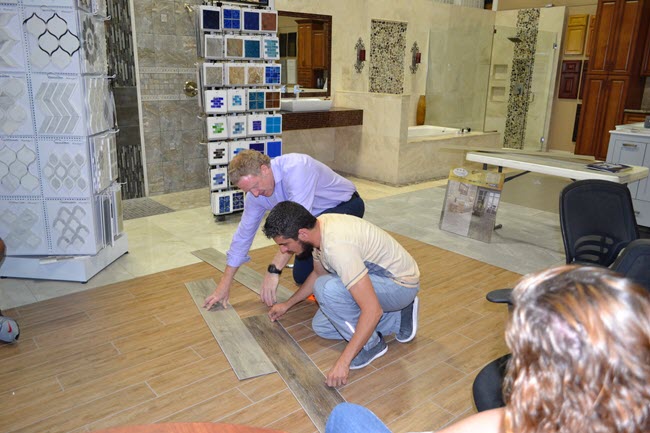 How to Care for Ecolux Luxury Vinyl Planks
All you need to do to care for and maintain these planks is to simply sweep or wet mop. It's that easy.
Do treat this flooring like hardwood. In other words, don't drag furniture across the floor. Use felt tips under furniture.
Ready to Shop for Luxury Vinyl Flooring at Tile Outlets of America?
We hope you are as we'd love to show it to you when you next visit Tile Outlets of America. It's so beautiful that seeing is truly believing.
If you're looking for a COREtec-like product, this is not only comparable but actually better as the rigid-core technology means that the 70% limestone and 30% PVC core are fused together.
Thanks for exploring the Ecolux series with us!
Kate