Tile Outlets' Kitchen and Bath Cabinet Expert: Michelle Slobodzian
May 29th 2014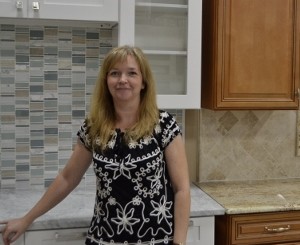 If you need cabinets to accessorize with your new mosaic backsplash or Travertine wall tiles, you'll want to explore the kitchen and bath cabinet program that Tile Outlets of America offers in Fort Myers.
The cabinets program at Tile Outlets features Forevermark cabinets - stylish, highly functional, quality wood cabinetry which looks beautiful when combined with tile or stone walls and floors.
The program also includes guidance and advice from Michelle Slobodzian, Tile Outlets' cabinet expert.
Meet Michelle Slobodzian, Kitchen and Bath Cabinet Expert at Tile Outlets of America
We caught up with Michelle to ask her a few questions about herself and her passion for cabinets.
TOA: Michelle, tell us about yourself. How do you know so much about cabinets?
My career in the cabinet industry began in 1997 when I started working for my husband's family at their cabinet door manufacturing facility. Public interest in our hand-made product spurred the progression to building the cabinet boxes as well, and we began remodeling. I was instrumental in researching the products and methods we used for fabricating cabinets.
I have always had a passion for design, so it was a natural transition for me to become the kitchen and bath cabinet designer. I worked both in the shop and in the field, on job sites for both new construction and existing homes, and understand the intricacies of proper planning and execution of all of the details involved in a cabinet project.
TOA: What is your role at Tile Outlets of America?
I am the cabinetry designer and sales person.
I will help you design your space with our Forevermark cabinetry by pulling together all of the necessary ingredients such as sinks, faucets, backsplash tile and Top Knobs hardware, or help you with just the parts that you need my help with.
I provide pricing, place the orders for the cabinets and follow through on the sale, letting customers know when their order has arrived.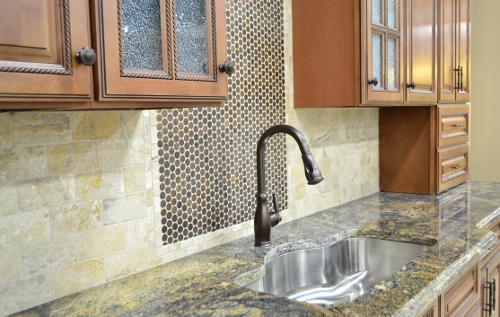 How cabinets, knobs and tile work together to tie the design elements in a kitchen.
TOA: What do you like about the Forevermark Cabinets available at Tile Outlets of America?
Forevermark Cabinets are an all plywood box construction which is finished completely inside and out. That is a nice feature because the consumer doesn't have to worry about unfinished ends.
Forevermark's dovetail drawers have a 1/2" bottom which is a bonus, as 1/4" bottoms tend to sag over time.
Soft close slides are a sought out feature which is standard on the majority of the styles, and available as an upgrade if not.
Most of the series have Sherwin Williams finishes which have passed strict emissions test.
All of these factors, along with the attractive styles that are available, make Forevermark cabinets a top quality product which I am proud to represent.
TOA: What is a price range for cabinets in a 10x10 kitchen?
A 10' x 10' kitchen can be comprised of many different layouts, with many different components, which can create a great variance in pricing. A very basic 10' x 10' kitchen would cost $999.00 in our country oak door style, which has rabbit joint drawers, as opposed to dovetail drawers.
To get that same basic kitchen in a mid priced cabinet series with soft close dovetails as a standard feature would be an average of $2,150.00 to $2,350.00. In this price range there are 8 doors to choose from.
We have a K Series which does not have soft close drawers, but has dovetails. That drops the price to $1,800.00.
There are three styles in the platinum series.
There is a gorgeous solid bamboo door, called the Tribecca. It is the only style available in a 3/4" European style cabinet and has soft close drawers and doors as a standard; pricing would be $2,950.00.
The Oasis is a mitered maple door and would also be $2,950.00.
And lastly, the Pacifica style would cost $3,100.00 for that basic 10' x 10' layout.
By the way, pricing is plus tax and shipping.
TOA: What's important to consider when coordinating cabinets with porcelain or ceramic tile, stone and/or mosaics?
When you choose your selections, make sure that you love each component. Don't choose something just because it 'matches.' What you want is for all of the parts of your project to complement one another. And don't be afraid to mix metals. You can have stainless steel appliances with a copper sink. Think outside the box.
Tile Outlets of America has such a huge selection of amazing tile to use as both flooring and backsplash. Many styles of mosaic tile come on a meshmount which can be cut into strips, squares or whatever shape accent you can think of.
Start with the item you love most that you can't live without, whether it be the door style, the floor, or even the backsplash and work on pulling together your look from that point.
If you are working with existing materials that you can't replace, bring in pictures or sample pieces if you have any.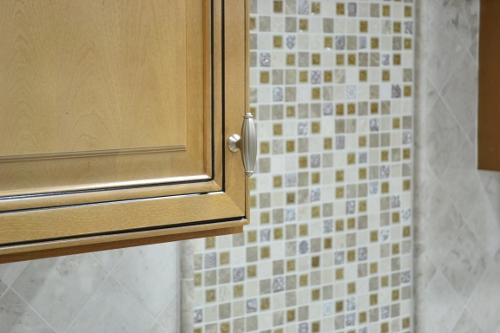 "Start with the item you love most that you can't live without, whether it be the door style... or even the backsplash and work on pulling together your look from that point."
TOA: What are some of the big trends in cabinets? Which is your favorite and why?
Colorful backsplash is a big trend and with good reason.
There are so many beautiful kitchen and bath cabinet styles to choose from!
White cabinets are back in style.
The shaker is popular for its simple clean lines.
Sleek contemporary kitchens are trending and we have the Tribecca bamboo door to fill that requirement. With the Tribecca style you can have a curved sink base or curved lower and upper ends, as well as hydraulic lift doors with or without an aluminum frame and frosted glass.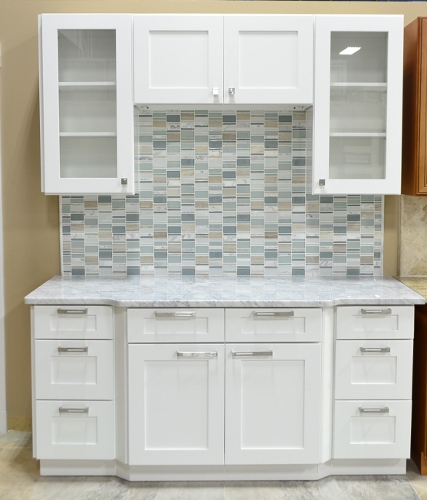 "White cabinets are back in style."
My favorite is to mix the cabinet coloring, either with a different color island or perhaps light upper cabinets, with dark lower cabinets or some combination such as that. It adds interest and gives a furniture feel.
TOA: Where do you go for cabinet ideas?
Home design is an obsessive passion of mine. I love just about everything on HGTV and I subscribe to several magazines. This Old House is a favorite, because I live in a historic home. There are publications that are specific to kitchen and bath design as well, where you can get great ideas. And naturally anything can be found on the Internet, especially sites such as Pinterest and Houzz.
TOA: How does someone go about selecting cabinets?
It is typically a matter of personal taste, such as the detail of door design or the coloring, or a combination of both. I recommend thinking about how the kitchen or bath ties in to the existing design and decor of your home to determine if the style you like will work in your home.
Feel free to bring me pictures of your home and I can help guide you with a design direction or color choice.
TOA: How should someone prepare for a visit with you at Tile Outlets?
In order to create a design or pricing proposal, I need room sizes. The first thing I recommend is to print out the Tile Outlets Cabinet Planner Design Guide and learn how to accurately measure your space.
Taking pictures of your space would definitely help me to see what we are working with. Taking pictures of some favorites aspects of your home also gives me insight into your tastes.
Be sure, too, to let me know things you might have already decided, or have in place, such as flooring, appliances and things of that nature.
Don't forget to measure windows and doors, ceiling height and to provide appliance sizes. Our Design Planner is very thorough.
TOA: How long does it take to have cabinets installed?
Once the cabinets are ordered they take about 10 to 12 days to arrive at our store. How long they will take to install would be a question for your contractor. Each job is unique and each contractor has their own schedule. There are likely other trades involved, such as plumbers and electricians and they all have to be worked into the job schedule.
TOA: Any final words of advice?
Enjoy your cabinet project and the experience. Take on your remodeling or building project with the understanding that you might encounter a problem, but knowing that for every problem there is always a solution. The end result is always worth the effort.
TOA: Thank you, Michelle!
Are you ready to explore kitchen and bath cabinets? We hope you'll visit Tile Outlets of America in Fort Myers and ask for Michelle Slobodzian.