TileWare Products Shower Accessories: No Rust, Permanently Attached, Beautiful!
Posted by TOA's Blog Team on Jul 9th 2015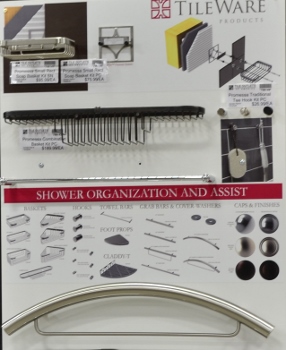 Curious about cutting edge bath and shower accessories? In this article, we introduce you to TileWare Products and Steve Thorn - who represents TileWare. Steve recently visited all three Tile Outlets of America stores to share product knowledge about these breakthrough shower accessories.
If you've not heard about TileWare Products, here's some brief perspective (you'll learn more in the interiew below).
TileWare is the inventor of the PermaTile™ Fastener System, the first "non-penetrating, non-intrusive fastener technology" exclusively for tile professionals. TileWare, with its shower accessories, intends to attach to, not through - purposefully protecting waterproofing, while permanently fixing consumer utility. This is a big deal when other shower accessories need to go through tile to be attached.
>> Note that each TileWare Product comes ready-to-install, with all of the parts needed included: shop Promessa TIleWare baskets on TileOutlets.com.
We met up with Steve to ask him a few questions.
Meet Steve Thorn, TileWare Products, As He Explains What Matters For Shower Accessories
TOA: Steve, tell us about yourself and your background.
I have been in the stone and tile industry since 1976, and have worked in every area of the market.
For 18 years I worked for five different companies that distributed tile and stone, winding up as an Architectural Rep, and then Manager from 1986 to 1992 for the Daltile Corporation. After leaving Dal-Tile, I chose to become an independent rep and currently represent six lines of products related to the stone and tile industry including TileWare Products.

TOA: What do you find unique about TileWare products?
Simply, there is nothing like these products in the market!
Tile and stone distributors have shower organization products that are ceramic, stone, or resin based to hold bar soap, hair care products, and literally nothing to hang loofahs, squeegees, or anything else that hangs with a rope.
TileWare is a unique, one-of-a-kind system that does not compromise the waterproofing integrity of the shower. The PermaTile Fastener System is a no anchor system that allows you to install the Promessa baskets, hooks, towel bar, grab bars, Caddy T corner shelf, and ladies' Foot Prop on any wall of the shower while the tile or backerboard is being installed.
Once grouted, TileWare products are fully installed. They are functional, have personality, and save the consumer and the contractor time and money. There is literally nothing like TileWare in the market.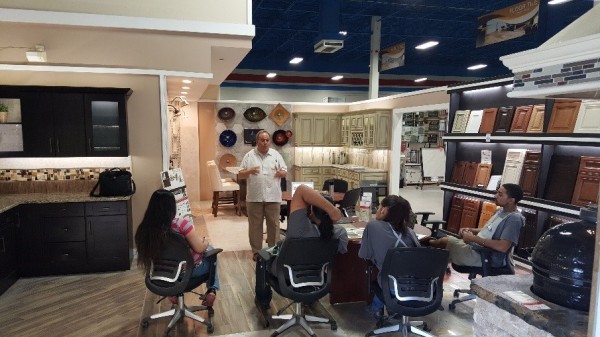 TOA: Who is your primary customer using these products?
Anyone who needs a place to put body care products or bath assist products in the shower or bath area. Every age can benefit. With TileWare Products, you no longer need to place bathroom products on a window sill, a seat, or another area in the shower and look cluttered.
TOA: Why should installers select TileWare Products vs. other similar products available?
Installers can save time and money. Tileware Products are installed while the tile is being installed, and as soon as the grout is cleaned off of the tile. There's no need to fasten a ceramic soap dish or towel bar and post to the wall and secure it temporarily with tape, and then come back another day to finish the job.
If you've not read the March 27, 2015 release about TileWare Products, here is some perspective on what makes it unique:
...TileWare is currently the only worldwide manufacturer that has solved the accessory mounting dilemma. TileWare's technology is composed of both rough-in fasteners (our system) and decorative trim (the actual accessory). Fasteners install using traditional tile installation methods and timing. Tile professionals simply install our system with tile and thin-set mortar – install requires no special tools and can occur in minutes. Trim represents the decorative accessory that attaches to our mortar-based system (storage baskets, hooks, towel bars, grab bars, foot props & glass shelving). Products are manufactured with premium metal coatings for residential and commercial shower purposes. Products will never rust, clean easily and are hygienic. Most importantly, accessories will stay firmly attached to tiled walls throughout their intended life without loosening or pulling away.
In this 6:58 minute video of the TileWare Products PK session Steve conducted in the Tampa store, he describes what makes these products unique and briefly touches on the PermaTile Fastener System when the video ends.
TOA: Who can install these products?
Anything new to the tile industry tends to draw some skepticism. However, if you have the ability to install tile or stone, you have more than enough experience to install TileWare. In fact, TileWare is easier to install than anything else in a bathroom or shower area. It takes literally 5-10 minutes from start to finish to install TileWare Products.
The installation of these items will save you time at installation. The products come complete with an installation kit so there's no need to buy separate pieces.
Here's a 5:38 minute video demonstrating how the PermaTile System works for installing Tileware products:
TOA: What is the most popular TileWare Product and why?
People love the Promessa TileWare baskets. There are 7 different sizes and most people use two or more of the different sizes in a bathroom setting to solve the bathroom organizational challenge.
The Promessa baskets offer unique shelving utility for tiled showers. Manufactured from solid brass with premium finishes, the baskets will never rust. They are available in the following finishes: Polished Chrome, Brushed Nickel and Oil Rub Bronze.
The "boomer" generation loves the stylish designs of TileWare Grab Bars which gives them extra security without looking like a big pipe on the wall.
The new Foot Prop always gets a positive review by ladies who are looking for something to assist them in shaving their legs!!! And everyone loves the three different designs for Hooks. Finally, there is a sensible place to hang the squeegee, loofah, washcloth or any other bath assist products that have a rope.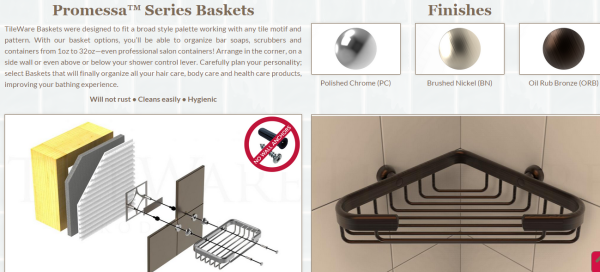 TOA: Why do you feel this product is a good fit for Tile Outlets?
It solves a challenge that has never been offered before.
For the first time Tile Outlets of America has a no-anchor system that does not compromise the waterproofing integrity of the shower with finishes that coordinate with all of the bathroom fixtures and the latest glass, tile and stone fashions offered todayl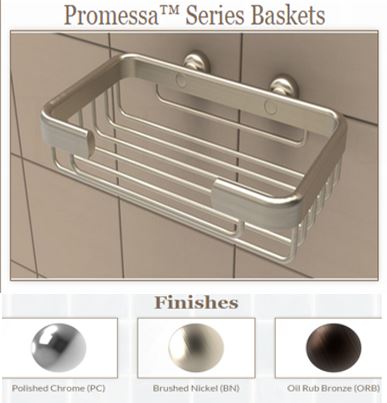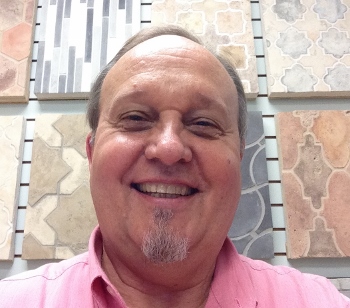 TOA: What else can you tell us about TileWare to share with our customers?
If your customers have questions about TileWare, I recommend the newly designed TileWare website. It is a complete and comprehensive site that will answer style, finish, installation, and specification questions.
Tile Outlets also has great TileWare brochures available in-store that are a great item to pick up and take home to read in your spare time.
TOA: Thank you, Steve!
What's your take on TileWare Products and shower accessories? Can you see how these baskets and grab bars installed with the PermaTile System can truly transform your dream shower?
Let us know in the comments.
Be sure to ask about TileWare Products when you next visit Tile Outlets of America in Fort Myers, Sarasota and Tampa.