Travertine Tile Finishes: honed, tumbled, polished and chiseled edge
Posted by TOA's Blog Team on Nov 1st 2018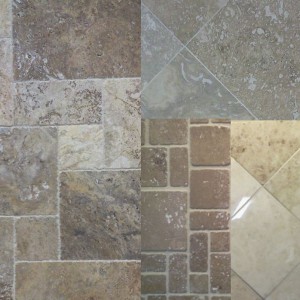 Your dream kitchen has Travertine tile written all over it, until you encounter terms such as honed, polished, tumbled, chiseled edge, and more. You're no longer sure how Travertine fits into your dream…
In this article, we want to explain what those tile finish terms mean – especially for Travertine – so you clearly envision how this stone can transform your kitchen, or any other room inside your home or outdoors based on the look you want to create.
Travertine Tile Finishes Come in Many Styles!
Travertine tile is produced and finished in a variety of styles. (See 13 Facts About Travertine Tile for more information about this stone.)
The most common of those finishes are honed, tumbled, polished, brushed, and chiseled edged. Some finishes fill in Travertine's naturally occurring surface holes and troughs; others don't.
Here are details on each type of finish to help you decide which style of Travertine tile is best for your kitchen, bathroom or another project.
Honed Finish Travertine - Filled or Unfilled
Honed finish Travertine tile can be filled or unfilled. (You'll notice the abbreviations H/F or H/UF used with honed Travertine to identify filled or unfilled.)
A honed stone has a smooth texture and finish that is achieved by grinding one side of the unfinished stone. The finish can range from a dull matte to a satin or high sheen.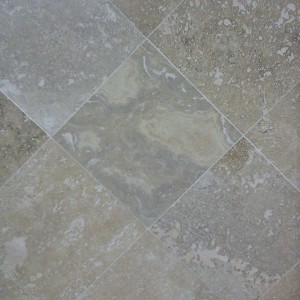 Honed and filled Travertine is one of the most common forms of this popular stone in America. It can be used indoors, outdoors, on floors, walls, bathrooms, showers, kitchens and pool areas.
Tumbled Travertine Finish
Tumbled Travertine is a process where many pieces of stone that have been cut to the same size are placed in a rubber coated or plastic barrel with an abrasive grit and water. The items are packed in such a way that the pieces rub against each other with the grit between them.
Depending on the finish desired, this process can take 3-5 weeks and three or more steps using different types of grit.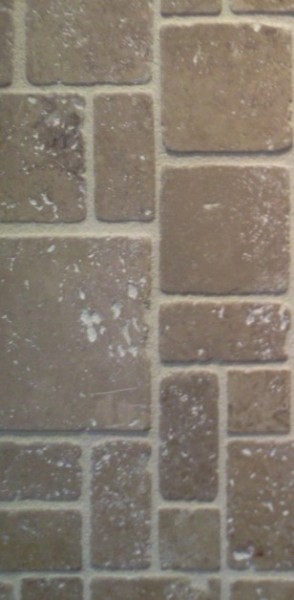 Tumbled stone is typically unfilled when purchased and can be left that way after installation or filled with grout by the installer during the grouting phase.
Note: It is important for you to know that tumbled travertine should be sealed before and after grouting.
Like Honed Travertine Tumbled Travertine can be used inside and out; it's popular for walk-in showers, tub surrounds, and backsplashes.
>> Classic Travertine Tumbled 4x4 is another example to explore in more detail on the TileOutlets.com site.
Brushed Travertine Tile
A brushed Travertine finish is obtained by brushing the surface of the stone with a rotary wire wheel or brush until the desired texture is achieved.
Brushed stone is often unfilled and not as common as honed or tumbled stone. You'll find it combined with patterned Travertine; it can be used anywhere that honed and tumbled Travertine can be.
Polished Travertine Tile Finish
A polished Travertine finish is acquired much the same way as a honed finish. In most cases, polished stone has been filled.
Polished stone has a smooth texture and a gloss or semi-gloss finish that can sometimes be reflective. The color of a polished stone is not as dramatically affected by enhancing sealers which darken most of the other finishes.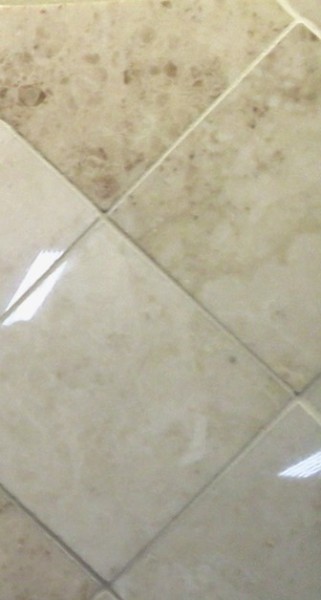 Polished Travertine is common in smaller sizes like an 8x12 or 4x4 and is used as a wall tile or insert piece. Because it tends to be slicker when wet it is not recommended as a floor covering in wet areas.
Straight Edge Travertine Tile Finish
Straight Edge (sometimes known as saw cut) Travertine is stone that was cut from a slab or block and then un-modified after that. Straight edge Travertine has a finish that ranges from smooth to rough based on the quality of the stone, type of stone and type of blade used to cut the stone.
It is a popular finish for pavers but can be found in other sizes for use inside and out.
Chiseled Edge Travertine Finish
Chiseled edge Travertine has a rough irregular edge instead of the straight or beveled edge that most other cuts of stone would have. The chiseled edge is intended to give the stone an aged or weathered appearance.
The chiseled edge can be applied to any finish; however, it is commonly paired with a brushed or honed finish.
Chiseling can be done by hand or with a machine. A chiseled edge finish is common with many varieties of Travertine, including Roman and Versailles patterns and can be used in the same way that tumbled and honed Travertine can be.
Ready to Explore Different Travertine Finishes?
The vast range of finishes for Travertine highlight how versatile a product it is. We hope that understanding the terms and what they reflect in the stone help you as you evaluate your options.
We'd love to hear which Travertine Tile finish you prefer and why.
If you have questions we haven't addressed, don't hesitate to ask any of our store associates. Or, leave a comment.
Thanks for reading.
Are you looking for tile installation patterns for your Travertine Tile? Here are ideas.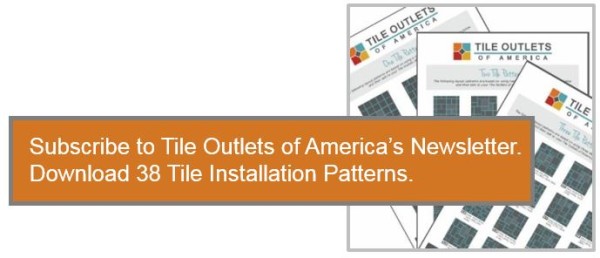 Note: This article was originally published on February 6, 2014 and has been updated.