Two Wood Look Porcelain Tile Styles To Transform Floors and Walls
Posted by Kate Spencer on Apr 9th 2015
Wood look tile can dramatically transform a room. There's something about the rectangular shaped planks combined with the realistic look and feel of wood on the surface of the tile that makes for pure design magic. These two wood look porcelain tile styles that I highlight in this article are a perfect example.
Wood Look Porcelain Tile from Spain: Bosco Series
The Bosco series is a wood looking tile in 9" x 34" planks from Pamesa in Spain. This porcelain tile is available at Tile Outlets of America in three colors:
Bosco Moka
Bosco Cenere
Bosco Taupe
Bosco was designed to give you the feel of real wood in a porcelain tile. The inkjet technology is so realistic that you can see and feel the texture of wood. It can be used on walls and floors.
Bosco wood look porcelain tile in color Moka
Bosco Moka gives you the look and feel of warm wood floors. You can see the actual knotting in the plank with the rustic finish.

Bosco Cenere is a lighter wood-look plank. This is more of the beach weather wood-look plank that many customers are looking for.
Bosco wood look porcelain tile in color Cenere
It, too, includes knotting and texture in the surface of the wood plank tile.
Wood Look Porcelain Tile from Italy: Origini Series
The Origini series is a wood look porcelain plank tile in 6" x 40" format from Rondine in Italy. It can be used on both walls and floors. This glazed inkjet porcelain tile is available at Tile Outlets of America in two colors:
Origini Tortora
Origini Bianco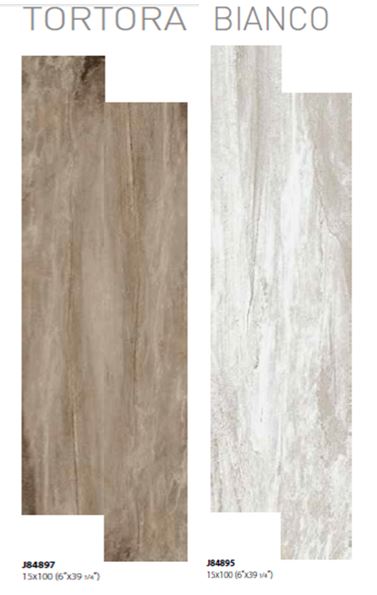 According to the factory, the Origini series is designed around petrified wood, and the charm and richness of natural energy. Here's additional perspective from the Rondine factory:
Nature ~ the greatest artist in the world – has created petrified wood, a material with exceptional charm and natural energy. The fossilization process takes place underground, where the organic compounds of trees are completely replaced over millennia by minerals (quartz and silica), but the original structure remains intact down to the smallest details. The richness and variety of colors offered by this material are bestowed by water containing elements such as copper, iron and manganese, which are leached from the various sedimentary strata in the ground. Color seen as a source of innovative planning; not only an aesthetic-decorative element, but a combination of sensorial and psychological consequences, which opens up new planning innovation scenarios.
The room scene images below capture the beauty of the petrified wood design and how different the effect is depending on whether you choose Origini in color Tortora...
Origini wood look porcelain tile in color Tortora 6x40
or Origini in color Bianco, featured below.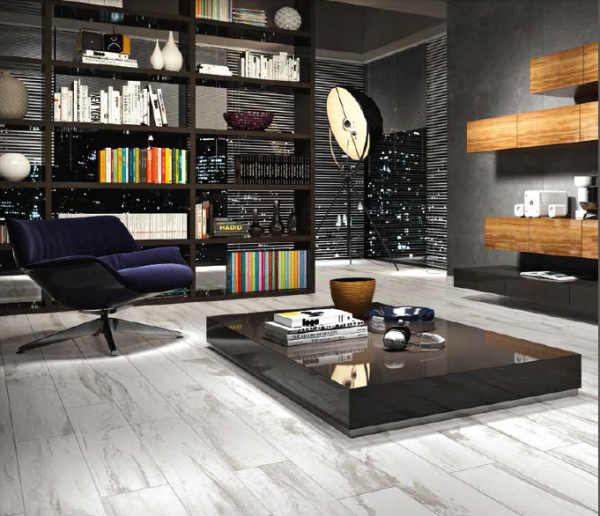 Origini wood look porcelain tile in color Bianco 6x40
Important Installation Considerations for Wood Tile Planks
Be sure to read the manufacturer's instructions on the box for information about the necessary offset when installing wood look porcelain tile. Most planks cannot be set at a 50% or at half of the tile's length. You'll find that 25% of the length is often the recommended limit for the staggered pattern. In the case of Origini, which is non-rectified, the manufacturer recommends not to stagger the rectangular plank tiles by more than 2" to 4" and suggests joints of 3mm.
Are you as excited about wood looking tile as I am? I hope you'll explore these two series and let me know your reactions.
Kate