What To Expect When You Shop Tile Outlets of America
Posted by Kate Spencer on Apr 29th 2021
First-time visitors to Tile Outlets of America often tell us that they never expected to discover such an extensive range of porcelain and ceramic tile, mosaics, and LVT stone products. They often wish they were better prepared for experiencing over 1 million square feet of first quality tile, stone, mosaics and more, all ready-to-go at incredibly low prices.
For that reason we created a 30-second video so you know what to expect when you shop Tile Outlets of America.
This article and the video at the end are meant to help prepare you for finding treasures and inspiration to help make your dreams become reality... for a whole lot less.
What To Expect When You Shop Tile Outlets of America
Here's what you can expect.
In-Stock Products
All three Tile Outlets of America stores in Fort Myers, Sarasota and Tampa carry the following in-stock products:
Ceramic and porcelain tile; glass, metal and stone mosaics as well as luxury vinyl tile/planks; decorative inserts and liners; bathroom accessories such as stone sinks, soap dishes and towel bars; and tile installation products including saws, mortars, grouts, glues and everything in-between.
Special Order Products
Other items, such as kitchen and bath cabinetry, can be special ordered for rapid delivery from the Fort Myers and Tampa stores.
>> See Kitchen & Bath Cabinets.
Don't Forget Bathroom Vanities!
Yes, in addition to kitchen and bath cabinets, you'll find vanities and made those available at all three stores.
First Quality Tile and Stone
All of the ceramic and porcelain tile, the stone, mosaics, and LVT sold at Tile Outlets are all first quality, which means they aren't flawed and of inferior quality.
We work with the best tile and stone manufacturers in the world so we can bring you, our customer, the best values in the latest styles and selections available for your floors and walls, indoors and outdoors, too.
>> Shop Floor and Wall Products at Tile Outlets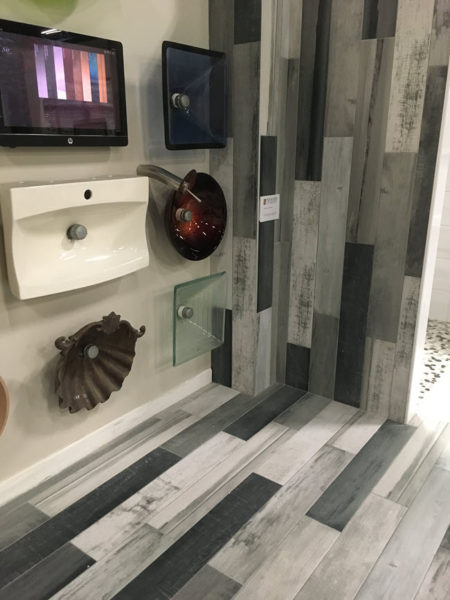 Design Inspiration, Design Help, Knowledgeable Associates and More
As much product as you'll find, you don't need to worry about being made to swim in the deep end without any kind of support. Quite the opposite!
Each Tile Outlets store includes an Inspiration Center where you can see how mosaics, pencils and tile in different finishes look together as finished products. You can view and touch the different types of tile and textures.
You'll find feature boards in each store showcasing product pairings. These rotate regularly.
You also can sit down to discuss your project with any of our experienced sales associates who can help with design and planning.
By the way, store managers and sales associates at all Tile Outlets of America stores have been certified as Ceramic Tile Specialists by the Ceramic Tile Institute of America.
A referral list of expert installers is available upon request and home delivery can be arranged.
And, don't forget the Tile Outlets website! In addition to the Tile & More Blog, you'll find plenty of ideas in the Design Ideas section.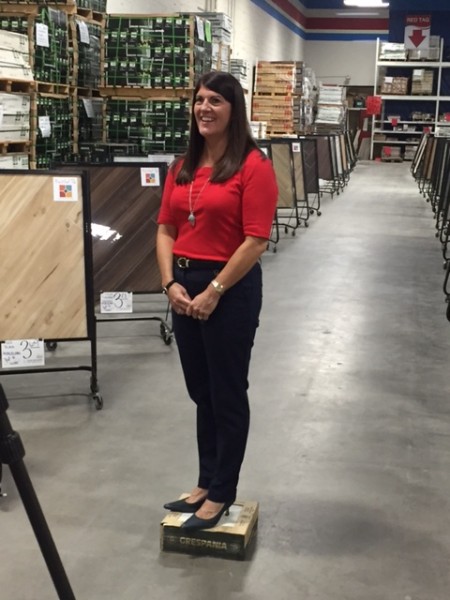 Here I am standing on a box of tile so I'm tall enough for the camera.
Tile Outlets Store Size and Organization
In terms of store size, Fort Myers is a 45,000 square foot showroom; Sarasota is 28,000 square feet and Tampa is 40,000 square feet in size.
Each store is organized slightly differently as you can see from the three store maps above. (When you visit, we'll provide you with a map for easy reference and navigation upon your request.)
However, in each store, we've organized products in like categories so you can more easily evaluate your options within a category.
One-Stop Tile Remodeling Project Shopping
I mentioned this earlier in this article. It's worth repeating, though.
Whether you are searching for wood-look plank tile or needing buckets, trowels, mortar, grout and backerboard, Tile Outlets of America is your one-stop shop for everything you or your contractor needs to start and finish a home remodeling project – from floor and wall tile, mosaics, and kitchen and bath cabinetry to installation tools and supplies, as well as setting materials.
In fact, you can now find those on the Tile Outlets website so you can shop when it's convenient for you.
>> Shop Tools
Watch the Video About What to Expect When Shopping Tile Outlets
Here is the :30 minute video showing you what to expect when you shop Tile Outlets of America:
Helpful Resources To Plan Your Visit To Tile Outlets of America
If you're looking for resources to help with your tile project, we invite you to download the following resources:
All Tile Outlets of America stores – in Fort Myers, Sarasota and Tampa – are open 7 days a week and regularly feature manager's specials. We offer 12 months special financing, too.
Even more important, Tile Outlets takes seriously its Promise to Customers, backing it up with the Peace of Mind Commitment.
I hope you'll come visit!
Kate