Why Buy From Tile Outlets? Hector Morejon From Five Star Flooring Explains.
Sep 11th 2014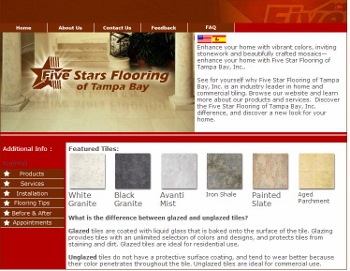 At Tile Outlets of America, we value the relationships we have developed with tile installation professionals like Hector Morejon from Five Star Flooring of Tampa Bay.
He created a beautiful shower installation in the Tile Outlets Tampa store and is next in our 'Meet the Tile Contractors' blog series. In this interview, Hector addresses the question 'why buy from Tile Outlets?'
Meet Hector Morejon, Five Star Flooring Who Explains Why He Buys From Tile Outlets of America
TOA: Hector, tell us about yourself and your background installing tile and stone.
Before I became a tile contractor, I used to do all of the Home Depot installations in Tampa. That company moved to North Carolina and I took it over. That's when I started my own business. I do tile, stone, wood, carpet - anything with flooring - and mostly remodeling.
My company is professional, reliable and dependable. That's how I promote it. My guys are there consistently between 7:30 am and 8 am; they leave at 4 pm. No matter what, we have to keep the house clean. If it isn't clean, it's terrible for the home owner. We consider that very important and will do whatever it takes to leave a worksite clean.
TOA: How many tile and stone installation crews do you have?
I now have 4 crews.
I visit all of the jobs we work on and work closely with customers. I am the product manager and the head sales person and I spend time talking with people to help them select product. I'm also bilingual Spanish/English which is Important in the Tampa area.
We guarantee our service. We aren't happy unless our customer is happy.
TOA: How did you get started in the business?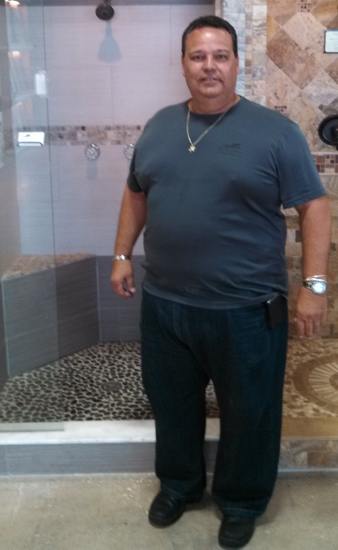 Hector Morejon, Five Star Flooring of Tampa Bay in the Tile Outlets Inspiration Area in the Tampa store.
I started installing flooring 20 to 30 years ago and launched Five Star Flooring over 10 years ago.
My business is primarily based on referrals from satisfied customers and networking with the Construction Partners of Tampa Bay. Construction Partners of Tampa Bay is an organization with a variety of contractors representing different aspects of the construction and remodeling business - estimators, roofers, HVAC contractors, inspectors, etc. I am the only flooring installation contractor represented in the organization.
I also network through the South Tampa Chamber of Commerce and the West Tampa Sherife Association. These are all great organizations to meet people and work with the community.
TOA: How long have you shopped at Tile Outlets of America?
I have been working with Tile Outlets since you opened your doors in Tampa. Your location is very convenient and you have a great showroom that I can bring my customers to in order for them to get ideas on their own projects.
I have installed some of the work in the showroom in Tampa so I can show off tile from Tile Outlets and my skills as an installer.
TOA: Why do you recommend to your clients to shop at Tile Outlets of America?
The service at Tile Outlets is the best in Tampa! The associates are friendly and dependable. I can call a sales associate to say that a customer is coming and I know that my customer will be helped and taken care of. A TOA sales associate will greet my customer and show him or her around the store. The store is very beautiful and the customers love to shop there.
They also like that they can find so many other tile and stone products at Tile Outlets of America. The selection and the prices on tile and stone are very good.
TOA: How knowledgeable are the sales people?
Tile Outlet prides itself on customer friendly sales associates, they are very helpful and go out of their way to help my clients. They understand that satisfied customers always come back; they also send their family and friends.
There's a big difference between Tile Outlets and other stores. The loading service is good and they help me move out fast. Store managers are responsive, too.
TOA: What should a homeowner consider when they are in the process of selecting an installer?
It's always a matter of quality and price compared to the competition.
Homeowners do lots of research on the Internet, now. They try to tell you how to do things, and which product to use.
I like to sit down with them and go step-by-step with them to explain which are the best products to choose for what they have in mind. I can explain the pros and cons so they understand what they are getting. Before I give them a quote, I like to spend at least an hour at their home to go over the project and ask questions.
It's important to get customers into the store, too, so they can see the products available and understand how setting materials and grouts make a difference. They get to understand everything that goes into the project.
TOA: Hector, you created a beautiful shower installation in the Installation Area of the Tile Outlets store in Tampa. Tell us about it.
Yes, I'm very proud of it.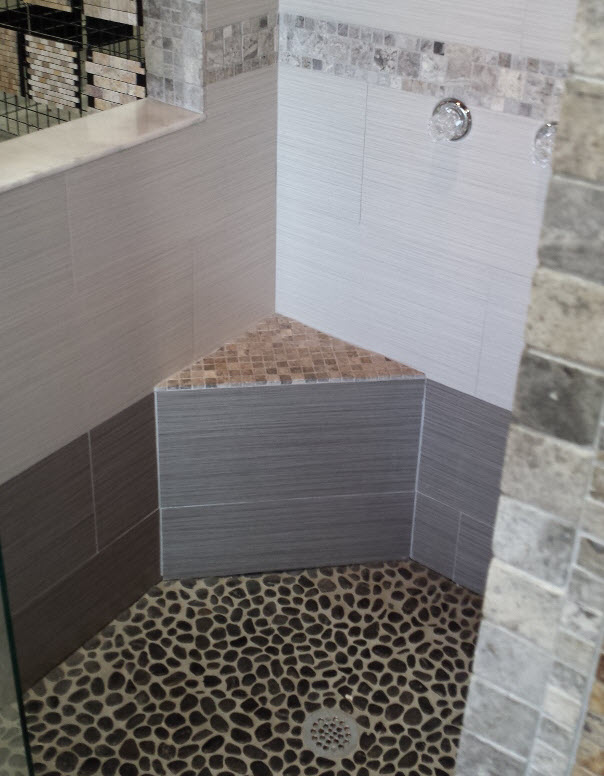 Five Star Flooring of Tampa Bay shower installation at Tile Outlets Inspiration Area in Tampa
This shower installation features Bambu Light 12x24 porcelain tile above and below the listello (which was created out of 1x1 and 2x2 silver mosaic; it is not pre-made).
At the very top and bottom of the shower you find Bambu Dark 12x24 porcelain tile.
The floor of the shower is made with Rounded Pebble Stone Mosaic Black 12x12.
For the top of the bench and the bottom of the listello, we used Silver Travertine 1x1 Mosaic Tumbled 12x12.
For the center of the listello, we used Silver Travertine 2x2 Mosaic Tumbled 12x12.
TOA: What are some of the current tile and stone product and installation trends you are seeing?
I see lots of porcelain tile in 8x12 in showers, tile that looks like wood, and tile being used in patios.
When I do work with Travertine, I mix several sizes together to create a pattern.
I'm seeing more back splashes created for showers. Also, more glass and stone mixed together.
TOA: Thank you, Hector!
If you're interested in learning more about Hector Morejon and Five Star Flooring of Tampa Bay, here's how to connect with him:
If you'd like to see Five Star Flooring and Hector's work at Tile Outlets of America, be sure to visit the Tampa Tile Outlets of America store.
We look forward to seeing you there so you can experience first hand why buy from Tile Outlets!