Why Buy From Tile Outlets? Majestic Enterprises' Jesse DeCicco Explains
Jul 24th 2014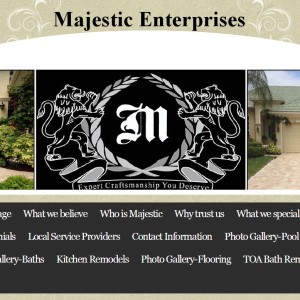 Whether you come to Tile Outlets of America to shop for yourself or to buy with your tile contractor, you will definitely experience the influence of tile installation professionals such as Majestic Enterprises' Jesse DeCicco.
You see, they are the ones who help us bring ceramic and porcelain tile, stone, and mosaics to life in each store's Design Inspiration Area as well as the store restrooms. They, literally, have created those areas - in many cases designing as well as installing them.
Tile contractors also provide us with product feedback and recommendations that help us ensure that your dreams successfully become a reality for a whole lot less.
That's why we are launching a new blog interview series to introduce you to talented tile contractors in the Fort Myers, Sarasota and Tampa vicinity. First up is Jesse DeCicco, Majestic Enterprises, a contractor who has shopped at Tile Outlets of America ever since the store opened in 2002: As Don Aronin, CEO and President of Tile Outlets of America, says,
"Jesse is a true professional installer and designer. He brings his clients into the store all the time. Jesse is a business person first, who's in the remodeling business. He has an excellent reputation and has been a great TOA partner for the past 12 years."
Jesse operates Majestic Enterprises out of the Fort Myers area. This family owned and operated business provides kitchen and bath renovation and remodeling, as well as tile, marble, and stone installation expertise to the Southwest Florida area from Port Charlotte to Naples. We met up with him recently and asked him a few questions.
Meet Jesse DeCicco, Majestic Enterprises, Who Discusses 'Why Buy From Tile Outlets?'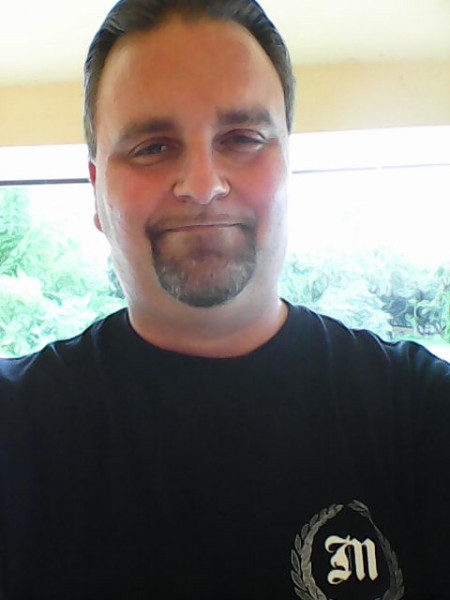 TOA: Jesse, tell us about yourself and your background installing tile and stone? How did you get started in the business?
I'm a third generation marble and tile guy. I grew up on Long Island helping out my grandfather, dad and uncle remodel home bathrooms and kitchens (we worked on Billy Joel's and Kathy Lee Gifford's houses) and I fell in love with the business! I've been around construction my entire life; it's a big part of who I am and how I think.
After college, I got away from construction. I worked in restaurants, sales, gained other experiences, even worked at Home Depot for a few years. I learned a lot. And then, I came back to construction, design, and remodeling after Y2K when my wife and I had a computer business. The construction industry was picking up. At first in 1998 and 1999, I subcontracted with local tile companies. The trend for those companies was to get in, get the work done and move on to the next job. They rarely focused on what customers actually wanted.
I quickly realized that paying attention to what people wanted rather than only focusing on hurrying up to finish the job represented an important business opportunity. So I got my contractors license and have been enjoying working in this special market niche ever since -first as DeCicco Marble and Tile and, since 2003, as Majestic Enterprises - in the Fort Myers, FL area where we've been for 16 years.
TOA: Jesse, why do you recommend to your clients to shop at Tile Outlets of America?
We've been shopping at Tile Outlets of America since the business got started in 2002. I did business with the bank next door to the Fort Myers store and remember looking through the windows before the store opened. I was so excited! I was like a kid in a candy store seeing all those trim pieces and different selections of tile and stone.
Tile Outlets has greatly evolved since then, but it's still really exciting and continues to get better and better. That on-going improvement combined with fine-tuning makes a big difference. You can see it on the face of customers as they go into the store. They love the inspiration area where they can see how sills, pencils, and tile in different finishes look together. They can sit down, touch the different types of tile and feel textures.
It makes a huge difference as a tile contractor to be able to show customers the options available. They get to see tile and stone selections right in front of them. It's a great experience.
TOA: Compared to other options in the market, what appeals to you as a trade professional?
Tile Outlets of America has done ground-breaking things, not to mention provided us with terrific business exposure. The installations we've done in the Fort Myers store using a variety of tile and stone products has influenced customers' perceptions of what's possible in kitchens and bathrooms.
From a product perspective, Tile Outlets offers a vast selection of materials to choose from. It covers the whole spectrum -- from ceramic, porcelain, stone, and within those different finishes in the same material to cover any situation. It's fantastic!
Next is the availability of product: it's there on hand -- that's a big deal to me. I'm a planner. I try to gather all tile and stone materials for a customer so it's easier to roll through the project. It's really valuable for me to know that all of my materials are available before I get a job started.
In other tile stores, 90% of materials are brokered. That means that there's no guarantee on what tile and stone selections will be received and whether those will be broken when they eventually arrive.
At Tile Outlets of America, even special order programs are consistent and come when promised. This is a big advantage and makes our life as contractors easier. It means that customers have fewer headaches.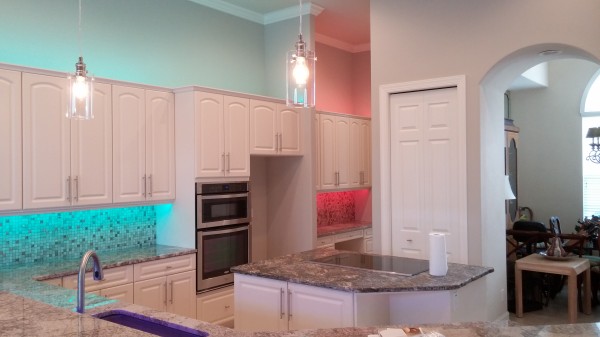 Kitchen designed and installed by Majestic Enterprises
TOA: What about tile and stone product quality at Tile Outlets of America compared to other stores?
I've never had any issues! Tile Outlets sells only first quality products which have nothing to do with closeouts or second rate quality. You purchase product directly; quality and availability are consistently high.
Pricing on your tile and stone products both in terms of retail pricing for customers and contractor pricing is fantastic! No other retail store can touch the prices that you have. Plus, when you buy from Tile Outlets, in addition to great price you get an educated salesperson. Someone who knows the inventory, the products, types of sealer, etc... Tile Outlets' salespeople help to pull everything together for a customer.
When people make the decision to have work done in their home, there's a fear factor. Most people don't have the ability to complete a project for themselves. They become so overwhelmed that they'll freeze - like a deer in the headlights - trying to put everything together. Having people at Tile Outlets to point them in the right direction and educate them so they make the right decision is a big deal. Tile Outlets' salespeople can explain the difference between thinset and glue set installation, or the different types of grout. That education helps customers and means that they feel confident that their project will turn out great.
TOA: What about problems? How is it dealing with Tile Outlets of America?
Invariably, something can happen. I had a problem about 4 months ago. The wrong product was pulled and I realized it when I reached the 8th floor of a condo. I didn't have a copy of the invoice. I called the store, made the manager aware and, in this case, Jeremy immediately pulled the correct invoice and had the proper order ready to go when I got back to the store. It was a breeze to deal with.
In all the years doing business with Tile Outlets, I've only had two situations like this. Someone immediately stepped up to take care of the situation.
TOA: What is the reaction when you bring a new client to Tile Outlets of America?
Any first time visitor to Tile Outlets is overwhelmed in a good way. When they go in, there are so many different things for them to see and consider. Most people are uneducated about tile, finish, and the different types available. I try to accompany them to the store, so I can take them through the whole store, let them walk through and start to feel comfortable. That said, they always have a positive reaction and they really appreciate the Inspiration Area where we go to discuss a quote, make sure they've absorbed everything and fully understand the process.
I've partnered with Tile Outlets' salespeople over the years. If I can't accompany customers to the store, I'll phone ahead and the salesperson will be ready to guide them. Partnering with salespeople means that customers can be reassured about the process and the purchase. They appreciate that the knowledge and reassurance are there and I will get information about product and quantity so I can put together a proposal and project quote. The customer sees it all together in a package. I love having open lines of communication.
Every customer I've brought to Tile Outlets has found products to love! That's when it's important to take samples home to look at them. Products will look different at home. If customers don't like the look at home, they can come back and reselect.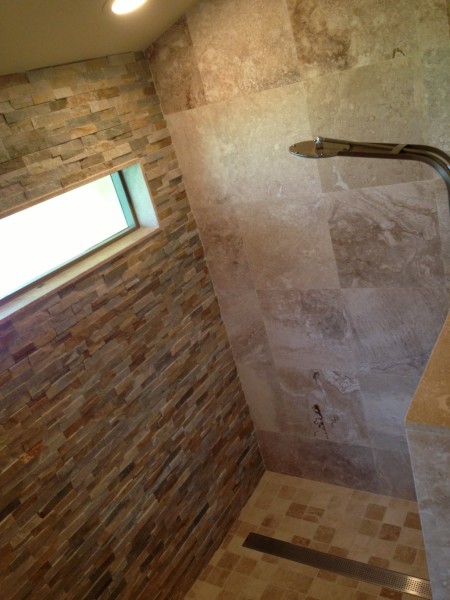 In this shower installation, Majestic Enterprises mixed product types and sizes and installed a linear drain.
TOA: What should a homeowner consider when selecting a tile installer?
It's really important to have good communications with your installer from inception, starting with measurements and meeting to discuss ideas.
Find out about the installer's experience. Installing travertine is different from installing tile. If a contractor doesn't know the proper procedure, you'll be disappointed.
It's critical that your contractor be able and willing to listen to customers. Customers need to be heard even if it's not a great idea. Your contractor can respond, adapt the idea or come up with solutions and explain why, for example, the two materials you're in love with won't work because they may impede the swing of the shower door. A good contractor can come up with another product suggestion that functions and will make the homeowner happy. That can only happen if the contractor is listening carefully.
You should also visit job sites if possible. That gives you a chance to see the fit/finish of the project.
TOA: What are some things a homeowner can do to make the tile or stone product selection and installation process as easy as possible?
Beware of cut-rate pricing: you'll get what you pay for! Experience counts for a tile installation project. You want someone who will do it right the first time. You don't want to be disappointed.
When you select an installer, you are buying a service. If your installer doesn't take that as seriously as the person paying for it, it's difficult to deliver a dream or vision. You want an installer who knows how to avoid problem situations while also creating something beautiful for your home.
As a homeowner, you'll also want to:
Get educated about the area you want to tile. Learn about the products you want to be installed. Read reviews. Find out how it will wear.
Take home a lot of different sample tile pieces and look at them where they will be in your home at different times of the day.
Make sure you or your contractor secure all the tile project materials prior to starting the project. You don't want to ruin the installation by not having enough tiles to finish the job. Buy enough to do the job. Have enough overage and hang on to it until the end of the project. I recommend 15% overage for regular jobs and 20% for stone since it's a natural product. It's important to have the right lot to work with so the patterns and colors are consistent for the entire installation. You can then put some pieces away in case you need a few, then return the rest.
By the way, I don't do many returns. However, you can at Tile Outlets of America and, unlike other stores, you won't be charged a restocking fee.
(TOA: be sure to check out How to Manage the Budget for Your Home Remodel: An Interview with Lorena DeCicco of Majestic Enterprises in Florida State Homes.)
TOA: Describe one of your favorite tile and stone installation projects and why you liked it so much.
The steam shower you see below was an all-around amazing feat. Granite sills were fabricated & installed at the shower perimeter including across the ceiling of the shower opening. The ceiling was tiled using material that was cut down to a 4" x 4" & the shower pan used a linear drain. The floor tile continued into the pan from the main floor. I am a big fan of mixing materials to create unique finished products. We added LED lighting to the suspended cabinetry as well as installed recessed medicine cabinets. The plumbing work was extensive as there was a steam unit, hand held shower & 4-way shower head that mounted flush with the tile. We added a dedicated water supply line for the additional demand. All around it was a challenging task with amazing results. The customers love it & have invited us back to do more work.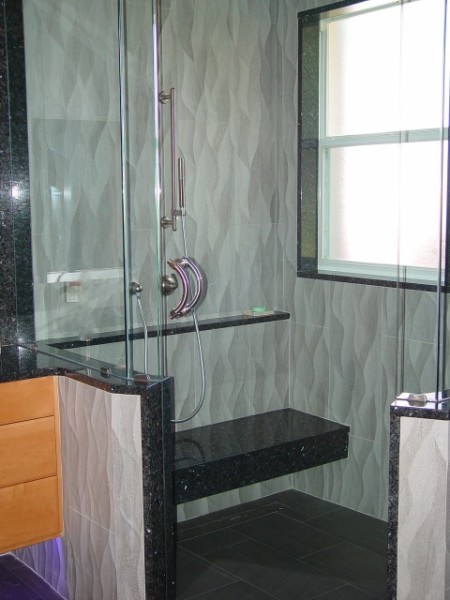 Note the granite sills and the LED lights under the cabinets on the left in this Majestic Enterprises installation.
I enjoy taking care of all the small details. It has to do with the person receiving the work and his or her expectations. If she wants something that's easy to clean, I want to make that happen. I want that customer to be so pleased about having saved up to do this tile project. Customers appreciate it.
I also love doing cool things like mixing tile and stone materials – matte finish mixed with polished. Travertine with oak.
TOA: What are some of the current product and installation trends you are seeing?
I see lots of exciting things happening with tile and stone and they change your thinking.
Running long tile vertically rather than horizontally.
Contemporary tile product trends
Flat stock door cabinets
Tight grout lines (I've used a flat rubber liner as grout liner and spacer).
Wood plank tile
Linear drains are popular
Rectangular tile – done vertically is really hot
Bigger tile is popular, but the installation takes more talent because floors are never flat; they need to be for bigger tile.
People have always liked 24x24 tile
Frosted glass tile: 3x6 or 4x8 in 4 or 5 colors are a great item especially in backsplashes.
Larger 12x24 tile on the wall.
TOA: Thank you, Jesse!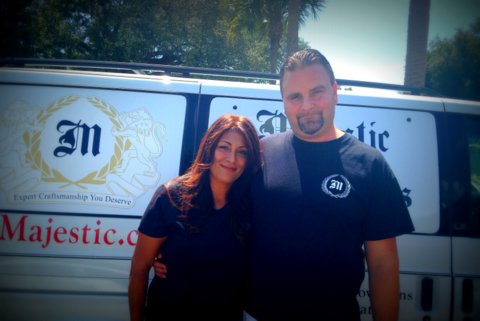 Jesse and Lorena DeCicco from Majestic Enterprises
If you're interested in learning more about Majestic Enterprises, here's how to make contact:
Online, on Twitter, Facebook or the phone - you'll get to meet Jen Andujar who also takes care of preparing contracts.
Lorena DeCicco runs the office and handles customer service & account management.
Jesse has a talented ten-man team working with him in the field, specializing not just in tile and stone installation, but also plumbing, electrical, carpentry, painting, framing, dry walls and finish details.
If you'd like to see Majestic Enterprise's work at Tile Outlets of America, be sure to visit the stores. In addition to the bathrooms in the Fort Myers store, notice the front entry which is a simple straight laid porcelain tile, but shows the quality of Jesse's work.