Alena Capra, Interior Designer, Talks Tile and Design
Posted by TOA's Blog Team on Jun 25th 2015
We love tile. We love design. We also love Coverings, "the premier international trade fair and expo dedicated exclusively to showcasing the newest in ceramic tile and natural stone."
Imagine, then, having the opportunity to meet Alena Capra, fellow tile lover and a successful interior designer with first-hand experience for the uniqueness of Coverings! We recently caught up with Alena who spoke with us about tile and design.
Alena's award-winning boutique interior design firm - Alena Capra Designs - is based in Dania Beach, Florida. Her projects have taken her outside Florida, onto various Home & Design shows around the country and even to television:
As lead designer for Operation Build on the History Channel.
In the summer of 2014, as a competitor on season one of the FYI Network's renovation competition series, Rowhouse Showdown.
Creating designs behind the scenes for HGTV, for season one of Weekends With Luis, which aired in 2011-12.
Meet Alena Capra, CKD, CBD and Coverings Industry Ambassador as she talks tile and design.
TOA: Alena, tell us about your background and how you became a designer.
Alena: I've known I was interested in art and design since I was 7 years old. I started young!
As an undergraduate at the University of Miami, I studied graphic design and advertising. I moved back to the New York City area and attended the Metropolitan Institute of Design. That's where I fell in love with designing kitchens and bathrooms and working with tile. I find it easier to design kitchens and baths than actual furnished rooms. My brain thinks in terms of the guidelines and constraints of those spaces. I love it. I love working with tile and coming up with infinite combinations; I'll add tile selections anywhere I can.
I worked for Expo Design Center in Long Island, NY, where I started designing bathrooms, and in Florida when I decided to return there. I became accredited through the National Kitchen and Bath Association as a Certified Kitchen Designer and a Certified Bathroom Designer.
When Expo Design Center closed in 2009, I started my own interior design firm. My first clients were existing clients from Expo who had nowhere else to go for their renovation projects. I started out designing great bathrooms, then expanded to design whole homes. I have a clean, modern design aesthetic.
TOA: Alena, what is your relationship with Coverings?
Alena: My first introduction to Coverings was in 2010 when I was involved in the first ever Coverings installation showcase. That experience brought me more knowledge about tile - the industry, manufacturers, the products, installation... - than I can possibly describe. It made me a better designer and provided me with the opportunity to have my work installed by the best contractors in the country.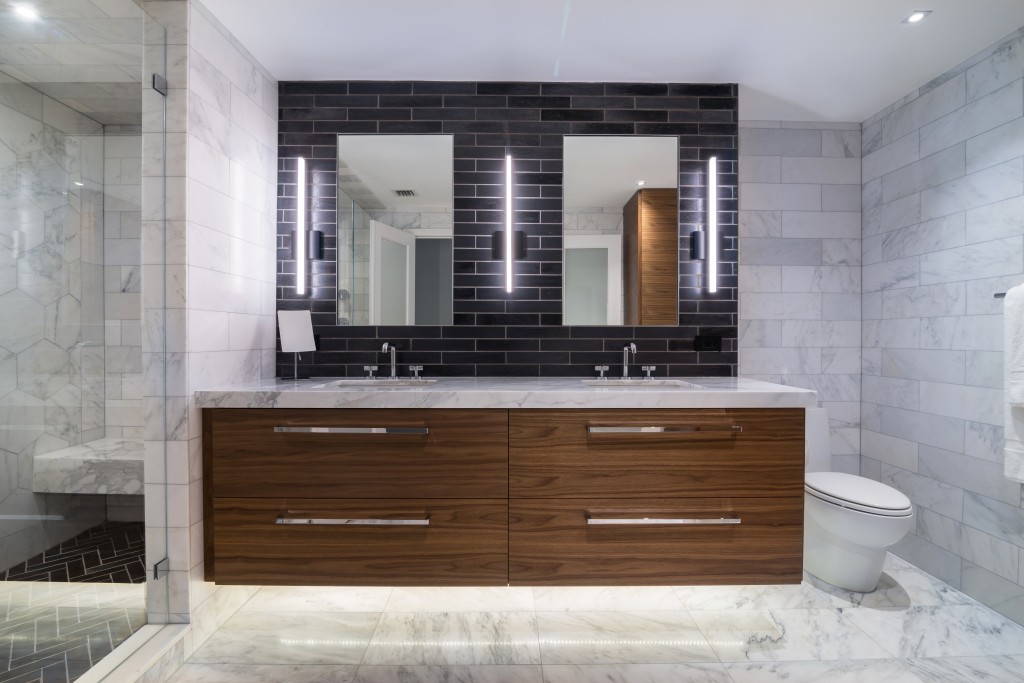 A mix of shapes and sizes of statuary marble create interesting tile patterns
TOA: What does being the Coverings Industry Ambassador entail?
Alena: As the Coverings 2015 Industry Ambassador, I worked with the Coverings marketing team before the show to share what makes it so unique. I've spoken with ASID groups around Orlando about tile and trend forecasting. I share the designer side of working with tile distributors.
I've met with the Coverings show owners to learn about their business. I attended Cersaie for knowledge about tile trends; in Valencia, Spain, I met with Tile of Spain and toured different factories.
>> Note that Alena inspired Top Tile Trends: Hexagon, Wood, Marble, Patterns and Gold! on this blog.
TOA: Where do you get your design inspiration?
Alena: I get my inspiration from things around me rather than by going through design magazines. It can be hotels or restaurants. I like to be in a space, interacting with it.
I found Cersaie and Spain really inspiring - the architecture, the history, the public and private spaces - Barcelona is surreal with the Gaudi influence!
Fashion, too, is important; it influences patterns, fabrics, colors, finishes...
I love Florida and the Art Deco style of South Beach. It's so beautiful. The construction boom in the Miami area has created lots of gorgeous public spaces.
I also attend KBIS, High Point, and the Las Vegas Market. I try to go to as many trade shows as I can.
TOA: Which are your favorite online inspiration resources?
Alena: I really like to use Google when I look online for ideas. I can scroll through Google image search forever. It brings me everything that there is and means that I can be open and free with ideas and possibilities.
If I have a specific idea, I'll search through Pinterest. That's where I would look for kid's room ideas or a table setting, for example, as well as full decor.
I also use Houzz.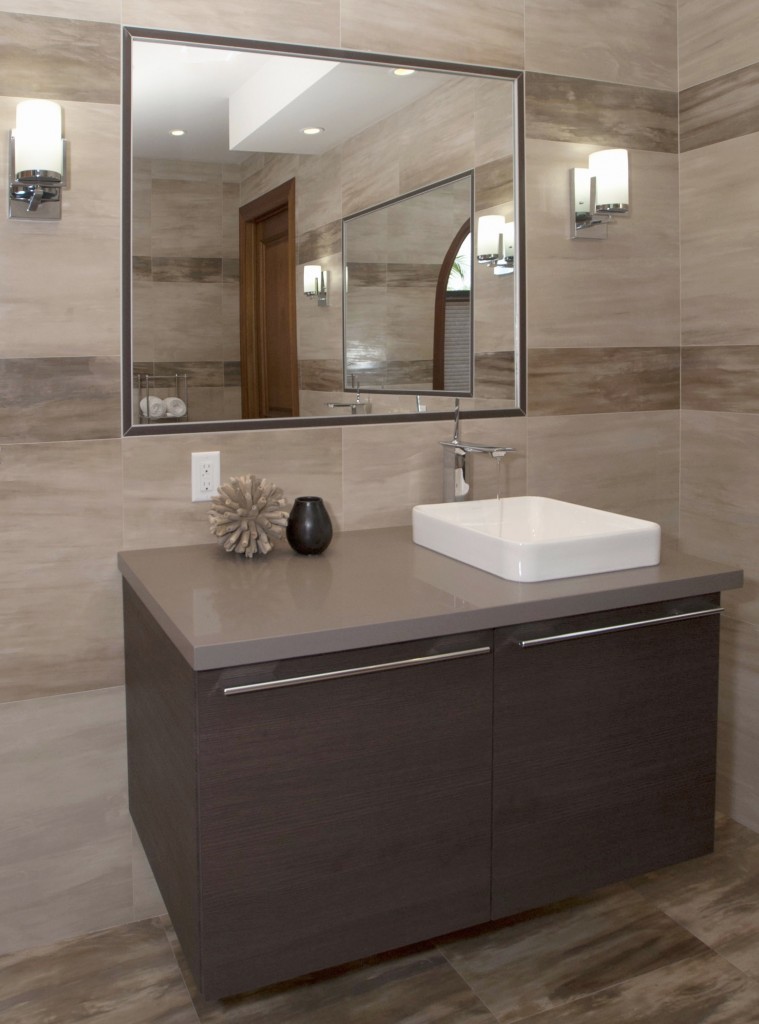 Rex's "horn" collection of porcelain tile was used to create a serene yet unique look of tile in this bath.
TOA: What are some major tile trends in kitchen and bath design?
Alena: Large format tile is an important trend as are glass tile, wood look tile, and thin porcelain tile. The inkjet technology that creates realistic looking wood and Calacatta tile is fantastic.
I love the look of 12x24 tile. I also love the look of wood plank tile in the bath as well as the whole house. There's such a range of different looks possible - from wider planks to printed wood and more.
The emergence of gold is tough in kitchen and bath fixtures; chrome and brush nickel remain a better look. Gold is OK for accents, though, especially with tile.
TOA: What do you love most about tile?
Alena: I love that tile can be mixed and matched in so many different ways. I can take glass and stone and porcelain and create something different each time even with a tight budget. I love using tile in unconventional areas. Tile goes beyond the kitchen and bath. It's different and it protects the wall.
For example, I've used mosaics around columns and created a tiled accent wall behind a TV set. I've used a 3D mother-of-pearl tile so beautiful that everyone wants to touch the wall. Thanks to the versatility of tile, I can do something like that at every price point.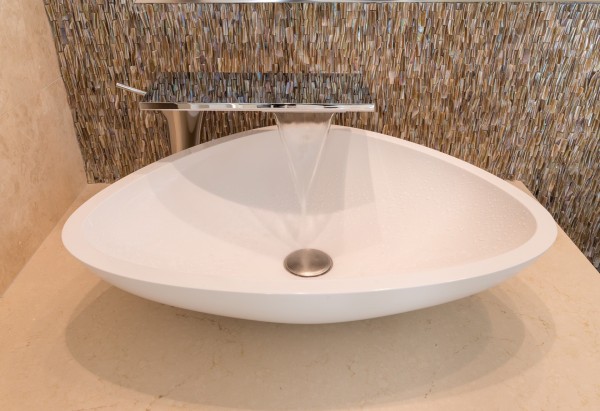 3D mother-of-pearl tile
TOA: What did you think of the textured/3D tile products featured at Coverings? How might you use them?
Alena: When you use 3D tile, it's important to be educated about tile installation so you don't get into tricky situations. For example, if you use a 3D tile as a backsplash in a kitchen, you may encounter difficulties with outlets fitting flat. Definitely, check with your installer.
3D tile is more about creating a wow effect for an accent wall. You need to consider where you put it. If outdoors, you'll want cool cladding.
TOA: What colors do you see trending for kitchen and bath design? Which are your favorites?
Alena: I see lots of greys. Beige is still being used, but grey is growing.
Wood tones are their own category - from dark espresso to reclaimed wood tones.
There are lots of blues, greens, and spa-like colors – people love those colors. They are relaxing colors and strong in glass tile.
Metallics – bronzes, golds - are important.
White countertops, white with veining and Calacatta porcelain tile are also important.
At the same time, each client is different. I use tile to start every bath design palette. Sometimes it's a matter of building around one specific tile.
TOA: What about backsplashes?
Alena: I like rectangular or long linear shapes for backsplashes rather than square ones. I like backsplashes that are different and more about textures and color than specific shapes.
TOA: What is the best way to reach you?
Alena: You can reach me through the following links:
TOA: Thanks very much, Alena!
What's your reaction to this conversation about tile and design? What do you love most about tile and creating designs with tile?

Images courtesy of Alena Capra Designs.