Big Tile or Little Tile? How to Design for Small Bathrooms and Living Spaces
Posted by Kate Spencer on Jan 4th 2023
Are you wondering how to design for small bathrooms and living spaces? Are you at a loss as to whether big tile will work or whether you're stuck with small tile?
Lucky for you, that's what Kate Spencer will focus on in this article. It's inspired by her November 8 visit to Suncoast View when that very topic came up.
Every house has some small space - whether it's a minuscule bathroom or powder room, or a tiny living nook. Just because it's small, doesn't mean that it has to be forgotten, drab or overly busy.
Quite the opposite. Small the square footage doesn't mean small materials only as you'll see from the options detailed below for small bathrooms as well as small living spaces!
How to Design for Small Bathrooms
Although small tile such as mosaic can be effective in a small bathroom (and we'll touch on that in more detail below), I encourage you to consider larger sizes. For example, rectangular shaped tile, square tile, and wood plank tile can radically transform a small space.
And don't think you have to limit yourself to light colors only. Dark ones can add contrast and drama.
Rectangular Tiles in Small Bathrooms
Rectangular tiles look fabulous in a bathroom.
They can be installed vertically or horizontally depending on the look you prefer. Also, they can be set at a 25% offset or in a straight lay.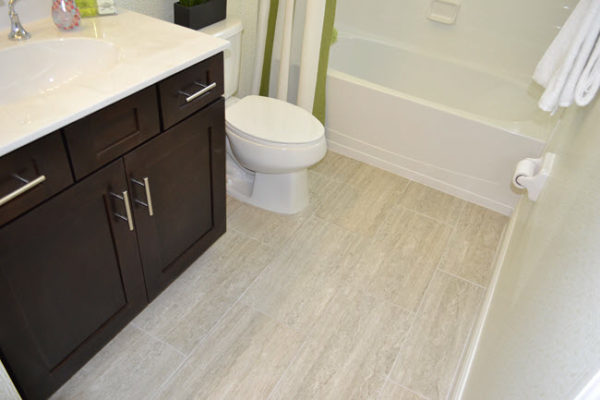 In the image above, you see rectangular tile in an off-white colored pattern installed vertically at a 25% offset. This works well given the dark wood vanity finish.
In contrast, the image below represents a horizontal installation of darker colored tile also at a 25% offset.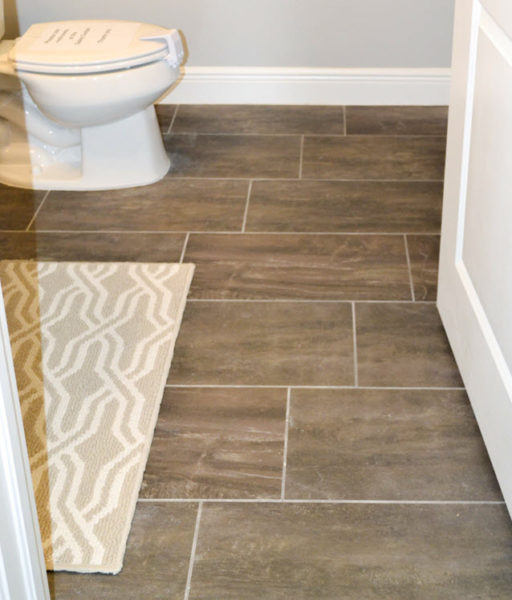 The image below features a darker neutral that pops in contrast with the light bathroom fixtures.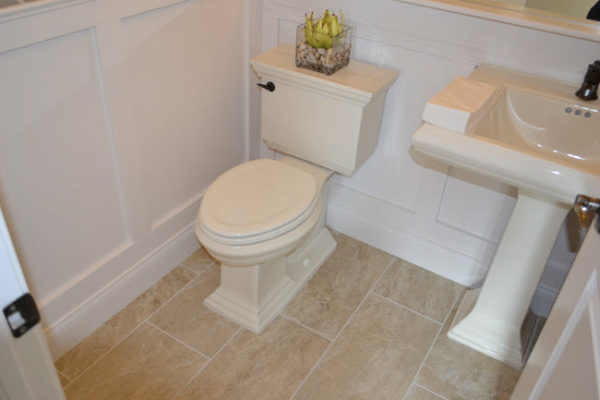 This next example extends the dark rectangular tile to the wall. Talk about dramatic!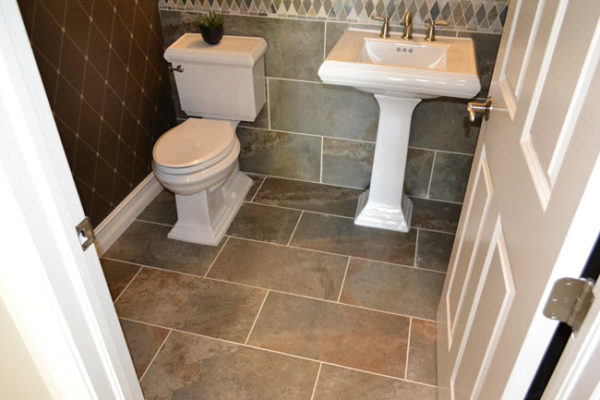 Here is a small bathroom design showing how you can incorporate a dark grey rectangular tile in a very small space. Don't you love the horizontally laid wood planks on the wall?
Notice how the white subway tile used in the shower and the light trim and vanity pull the design together.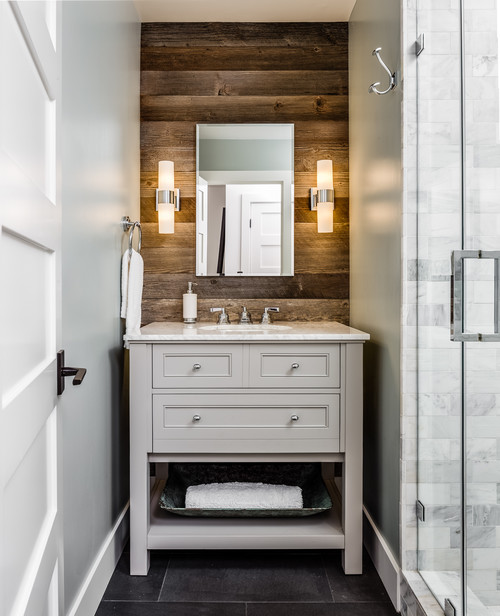 Photo by Norwell Design Build - More bathroom ideas
Below you can see a rectangular tile installed in a straight lay. The effect draws your eye to the end of the room.
These tiles have a linear design look that makes the room look longer.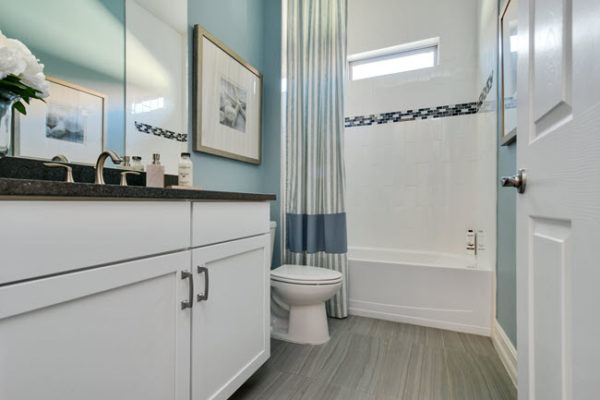 Designing with Square Tiles in Small Bathrooms
Square tiles - including sizes larger than 4x4 and 6x6 - offer design versatility in small bathroom spaces. Not only can you vary the installation (on a diagonal, for example), but you can also opt for a polished and glossy look that reflects light, or a matte effect.
Decorative Tile Patterns in a Small Bathroom
Perhaps strong decorative patterns seem like they would be too busy for a small bathroom. However, they can be extremely effective for adding visual interest and creating a sense of space.
These particular decorative patterns come together based on combining four of the same pattern.
The cabinetry finishes coordinate with the lighter tone of the floor tile.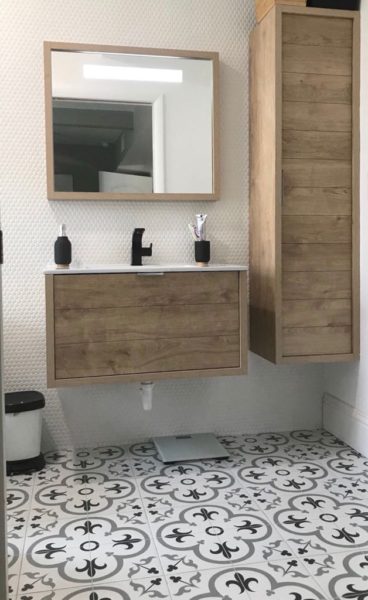 The wall tile emphasizes the white in the pattern. All of the bathroom fixtures echo the dark color of the tile.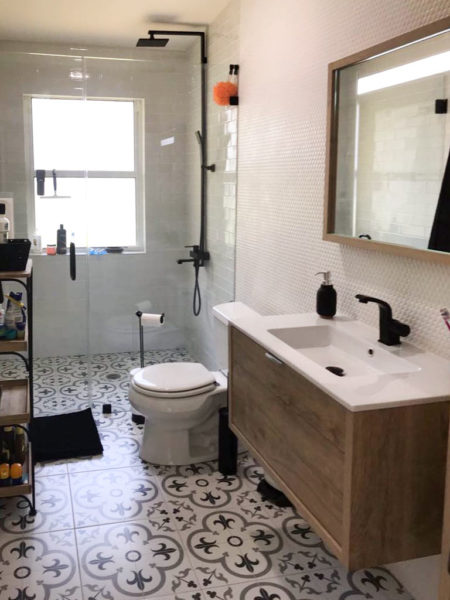 >> See Talking Decorative Patterned Tile on Suncoast View
Or, celebrate stone-like patterns as you see in the image below where the walls echo the floors in a more intense and smaller-scaled square tile.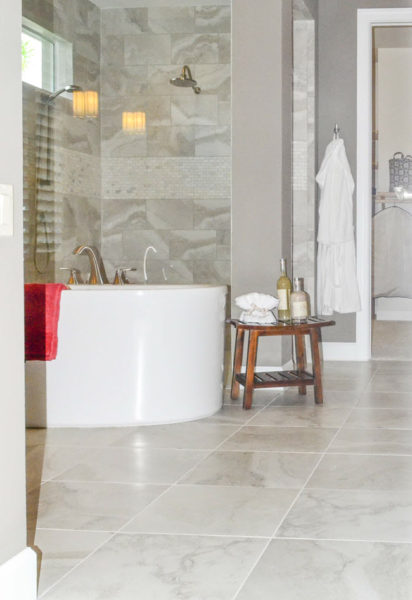 Square Tile on the Diagonal
These next three examples capture how dramatic square tile can look when installed on a diagonal.
In this bathroom, it emphasizes spaciousness.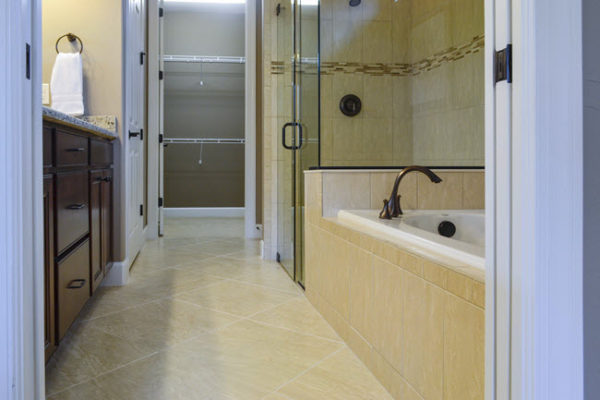 With contrasting colors, you can create a checkerboard design, here with high gloss.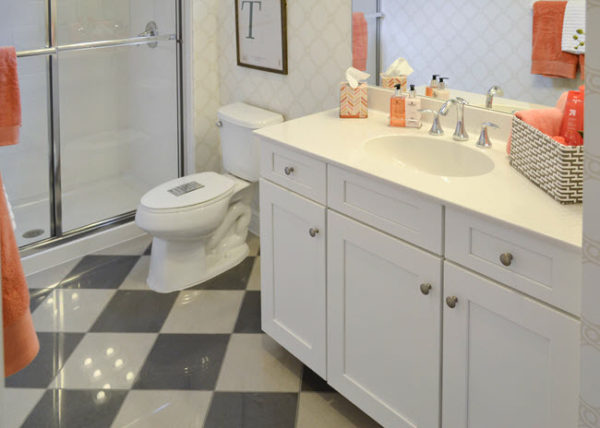 Or, add muted visual interest as a counterpoint to the vibrant wall covering.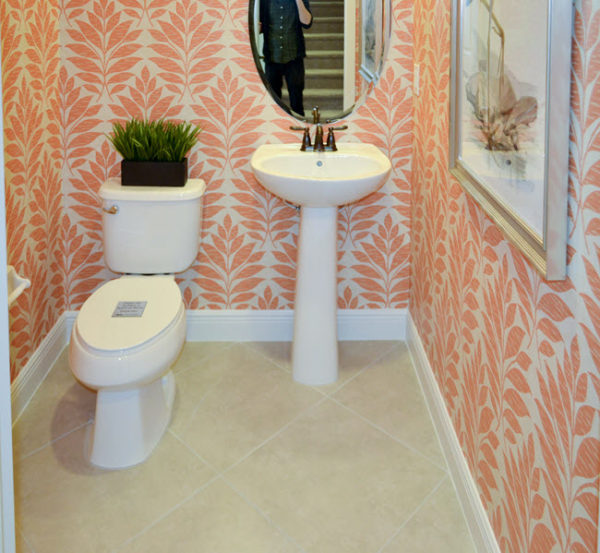 Consider Large Format Tile in Small Bathrooms
A large format tile is great for small spaces. The reason has to do with grout joints. The larger the tile, the fewer grout joints you'll have and the greater sense of spaciousness you'll feel.
Take this notion to an extreme and you might have just one very large format tile in that small space.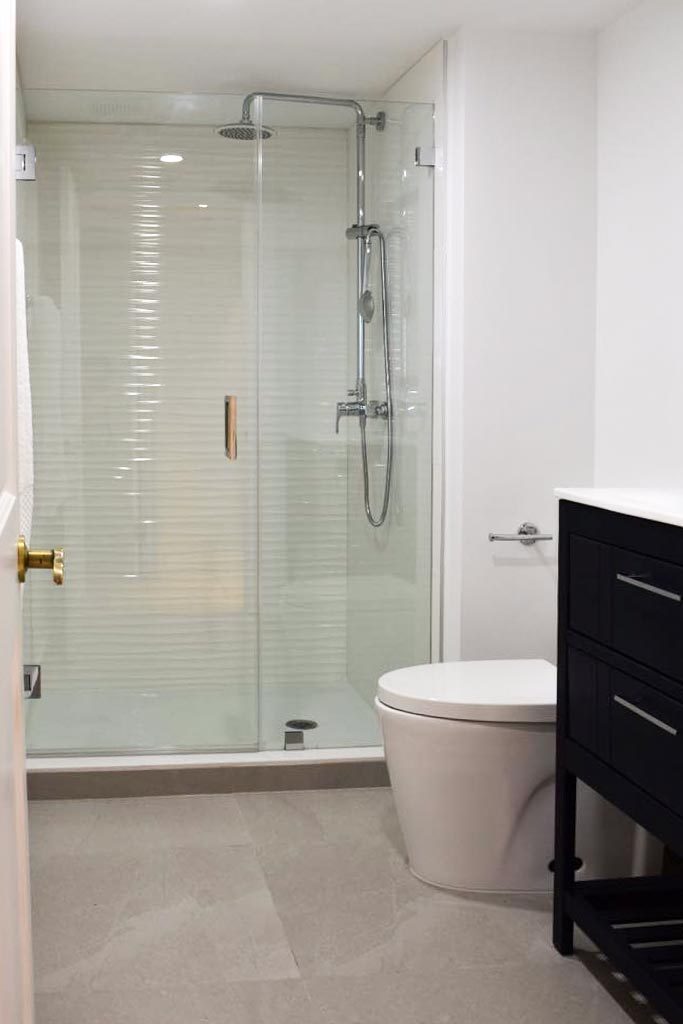 Remember, though, that you can have fun with grout colors.
In this small space below, you see a light colored large format square tile installed on the diagonal.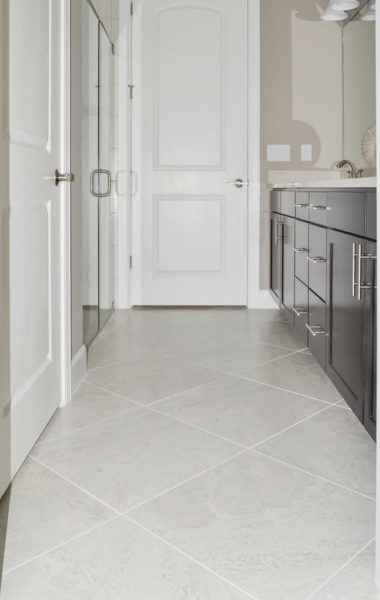 In the image below, the large format tile is highly polished and reflects light.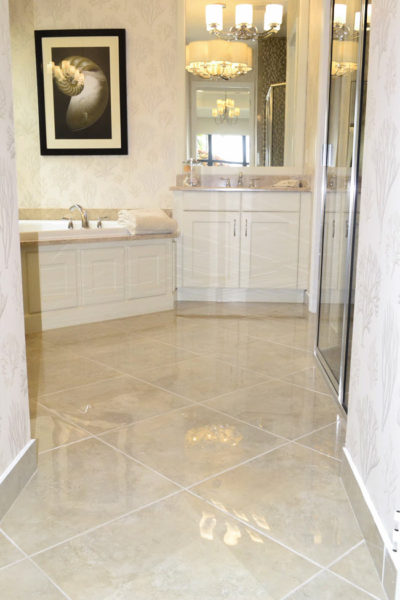 Contrast that with the very dark colored matte-finished large format tile in the bathroom below. The effect is warm and cozy, without feeling small or claustrophobic.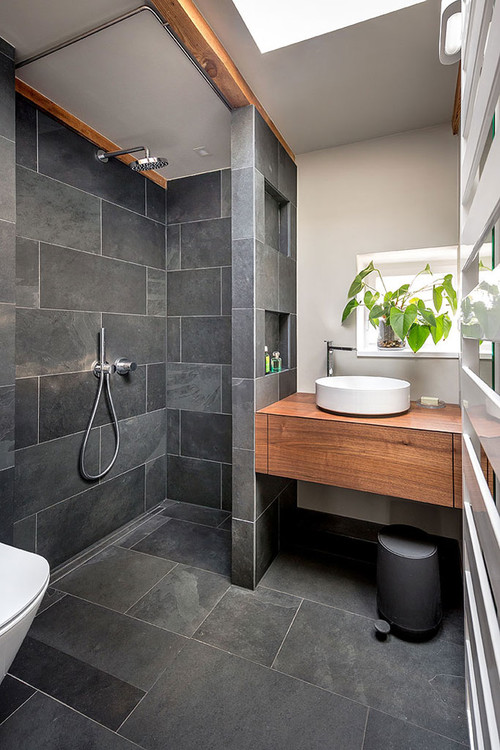 Photo by Conscious Design - Browse bathroom photos
Try Wood Plank Tiles for Small Bathrooms
Don't rule out wood plank tiles in a small bathroom where they look fabulous.
Wood planks can be installed in an offset or a herringbone design as you can see below. Or, consider a herringbone design that makes the room look like it is a tile rug.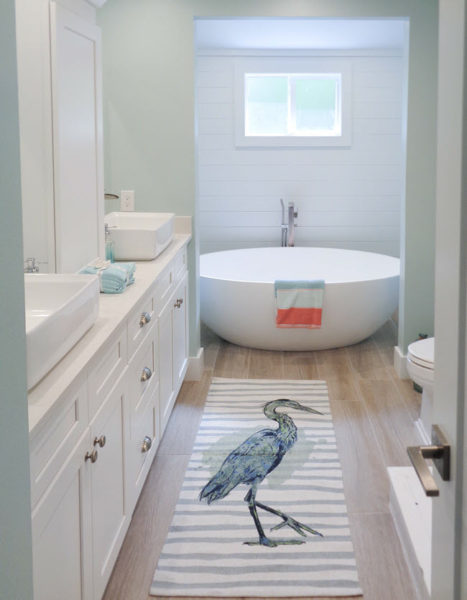 We've even seen wood plank tile continued into the shower space.
>> See How to Create a Contemporary Urban Look with Porcelain and Ceramic Tile
Small Tile aka Mosaics for Small Bathrooms
Mosaics on the floor in a small bathroom work too.
You can find these designs in ceramic, stone and marble as well as decorative tile designs that add color to a space without overpowering it.
In the image below, you see a black and white basketweave design on the floor which works beautifully with the darker shower wall mosaics.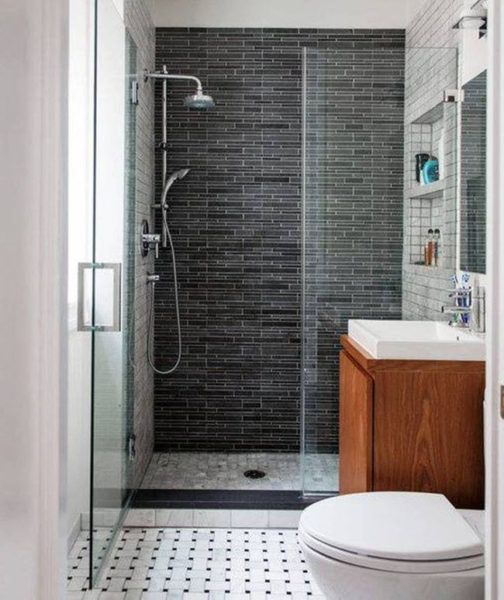 Below you see a classic black and white mosaic floor tile that effectively ties together the stunning soaker tub with the dark cabinetry and the countertops.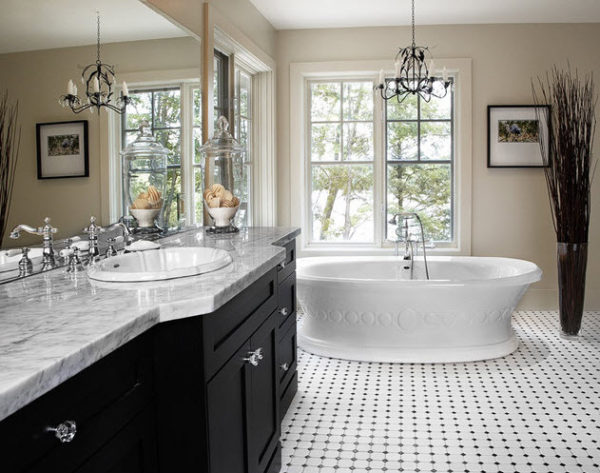 >> See Explore the Wonders of Mosaic Shapes with Kate on Suncoast View
How To Design with Tile for Small Living Spaces
As you might imagine, it's not just bathrooms that can be small. However, a small living space doesn't need to be a challenge. There, too, you can choose any size tile format to complement and open up the space.
For example, install a wood plank tile in a herringbone pattern. This not only adds character, but it also makes the room look bigger.
Install a long narrow tile vertically in a room as you see below and you create the illusion of a longer room.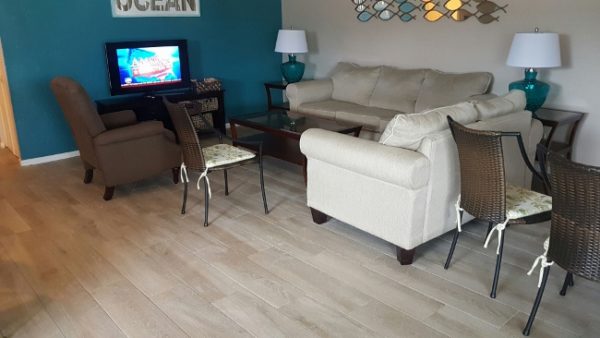 Which Tile - Big or Small - Will You Select for Your Small Bathroom or Living Space Design?
What's your reaction to these tile ideas for small spaces? Do you prefer small mosaics or large format square and rectangular tile (not to mention wood planks)? And which installation patterns do you prefer?
We hope you'll come to explore what's available in this category when you next visit Tile Outlets.
You can watch the 6:20-minute video segment by visiting Renovating Small Living Spaces with Tile Outlets | Suncoast View.
For additional ideas, check out 7 Best Ceramic and Porcelain Tile Trends for Bathrooms.
Thanks for reading!
Kate