The Complete Guide to Selecting and Caring for Metal Mosaics
Posted by Kate Spencer on Dec 1st 2021
If you're looking to make a statement in a tile backsplash design, consider metal mosaics. Whether you seek a contemporary look, prefer to be understated, or maybe want to create a classic practical vibe, you are sure to find a tile that suits you.
For that reason, we've put together this guide to selecting and caring for your metal mosaics.
How To Select Metal Mosaics
When it comes to selecting metal mosaics, you have many options as metal mosaics come in single type of metal sheets, mixed with stone and glass, as well as in interesting shapes.
Let's explore each category in more detail.
Types of Metal Mosaics
In terms of the types of metal available in mosaic tile, here are the ones you will find:
Stainless steel
Brass
Copper
Iron
Aluminum
Gun metal
Titanium
Below you see an example of 1"x4" brick stainless steel mosaics. This is a brushed finished in a brick offset pattern.
Look how versatile this tile looks installed! Here you see a dog cleaning station, complete with dog bone decorative tiles. In addition to the wall installation, notice the penny round sink pattern.
Here's an example of brushed 3-D gun metal penny round or dime mosaics.
(You'll find examples of copper mosaics in the section below with interesting metal mosaic shapes.)
Metal Mosaics Mixed With Stone and Glass
In addition to single metal type metal mosaics, you'll find mixtures with stone, glass and possibly even other types of metal.
This next item is Urban Cowboy 2By Combo Mosaic features natural stone, glass and metal in a unique pattern. It is suitable for wall and backsplash applications.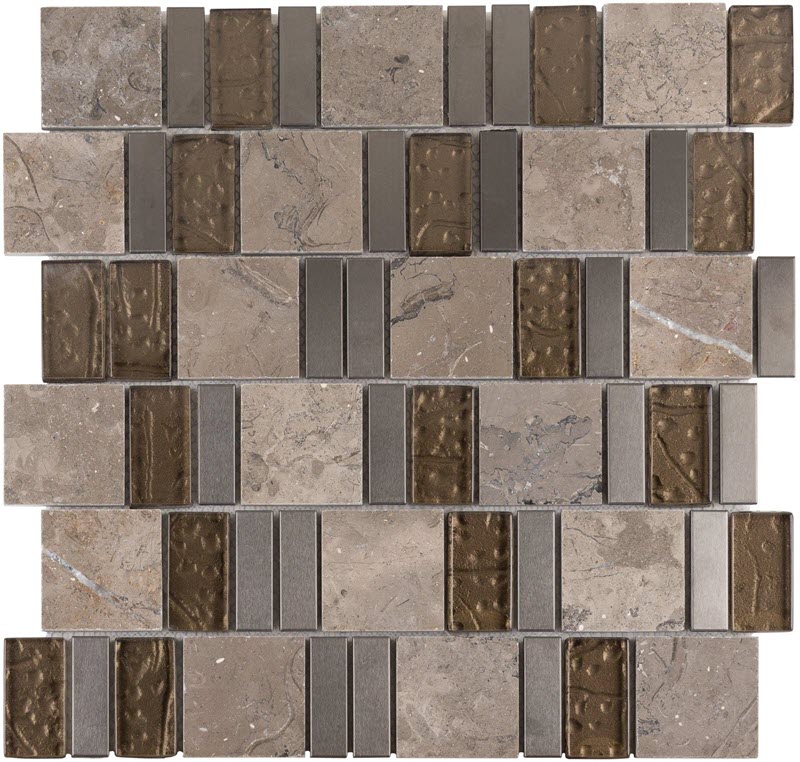 The richness of the Rustic Forest Linear Mosaic is palpable!
It features natural stone, glass, metal and copper in a linear pattern and would look fantastic as a feature wall, or even a floor application. This item is suitable for wet applications.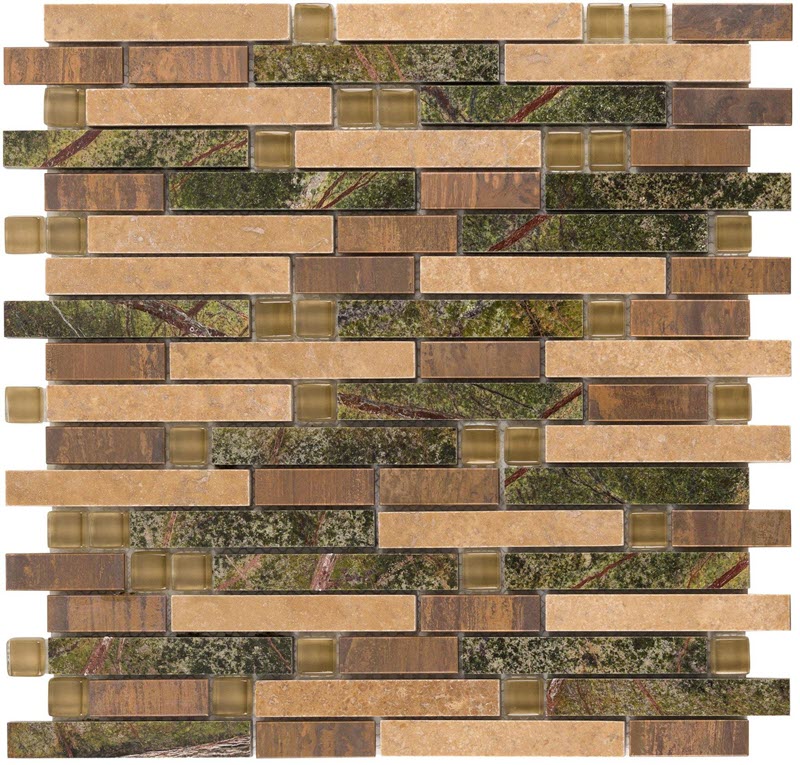 Don't you love this Chiricahua Mountain Richter Mosaic? It combines natural stone, glass, metal and copper in a herringbone pattern. This pattern would dance on a wall application.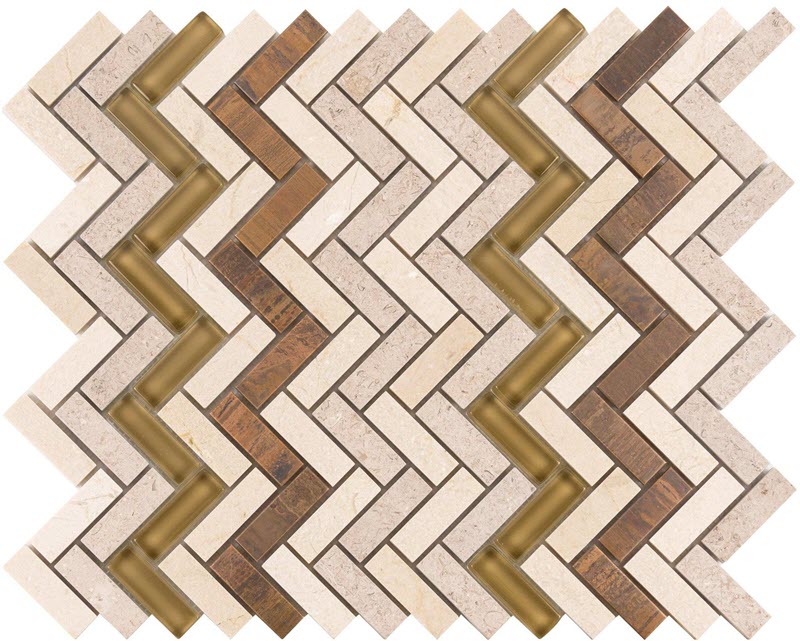 Look how bold the Mixed Metal Rockfall Mosaic looks! It mixes together a range of shapes - squares and rectangles - with different metal finishes and colors.
This is suitable for wall applications.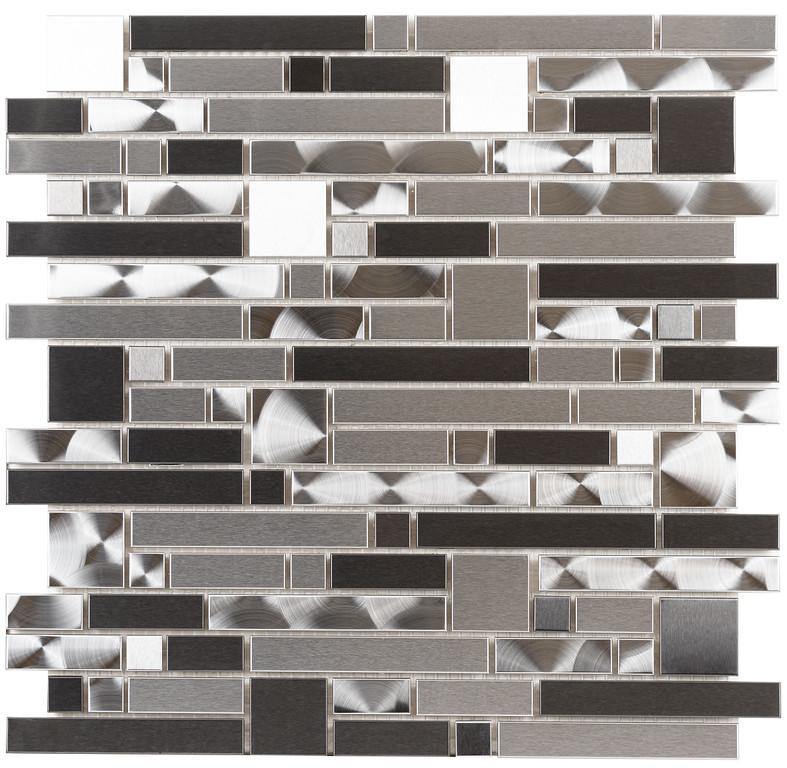 Wonderful Metal Mosaic Shapes
This next section highlights the richness of the shapes available for metal mosaics.
If you're looking for a 3-D effect, check out the Brushed Stainless Steel Windmill Mosaic.
Here's how that mosaic looks installed as a stove backsplash/feature wall. Notice how the stainless steel pulls the three appliances into the composition, and blends perfectly with the gray subway tile, the grey countertop and the white cabinetry.
Let's shift to Copper.
This is the Antique Copper 2By Basketweave Mosaic. It would make for a warm feature wall application.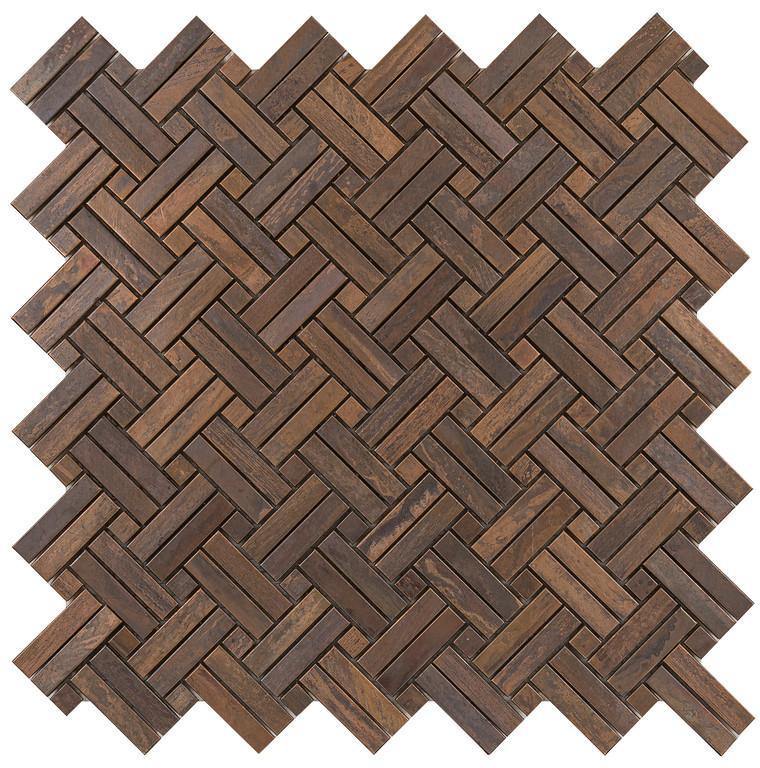 If you prefer round shapes, try the Antique Copper Nickels Mosaic in a rounds pattern.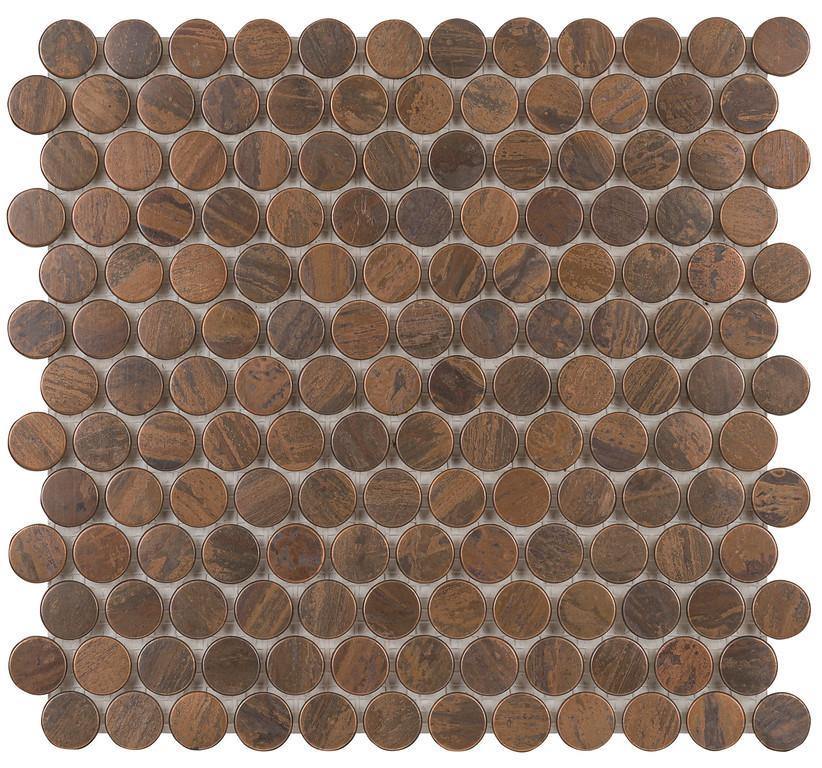 And that's just the tip of the metal iceberg! You have a multitude of other options to choose from. Do explore:
>> Stainless Steel and Metal Backsplash Design Ideas
>> Shop Metal Mosaics - note that you can special order mosaics, too.
>> Also check out The Ultimate Guide to Mosaics
How To Care for Metal Tile
If you plan on designing with metal mosaics, it's important to know how to care for it.
After all, metal tiles add a visually striking accent to any design. With proper care and maintenance you can ensure your tiles will impress audiences for years to come.
Please note that the type of care and maintenance will depend on the type of metal wall tile you choose, and the effect you desire.
For example, the patina of copper tile will change depending on exposure to air and moisture unless you seal it. Iron tile will rust unless it's regularly cared for.
Here are the three steps we recommend.
Step 1: Sealing Your Tile
Only two types of wall tile need to be sealed: iron tiles and copper tiles.
Sealing helps protect the original finish and stops oxidization that will otherwise happen over time as the surface interacts with moisture in the air.
Step 2: Cleaning The Tile
Most metal tiles can be cleaned with warm water and dishwashing detergent.
Wash down the metal mosaic with a micro fiber cloth and rinse thoroughly so no streaks show on the metal wall tile.
Stainless Steel: Use a Stainless Steel Cleaner with a Dry-Lint free Cloth

Titanium: Don't use soap and water to clean them, but make up a solution of equal parts vinegar and water then apply with a Dry-Lint free Cloth.
Step 3: Removing Stains
Metal tile placed near water may develop stains from hard water deposits.
To remove these stains, simply make a paste, using either baking soda and water, or borax and water.
Apply to the entire surface with a cloth (not a brush) then rinse off using warm water and a clean, dry cloth. Repeat if necessary.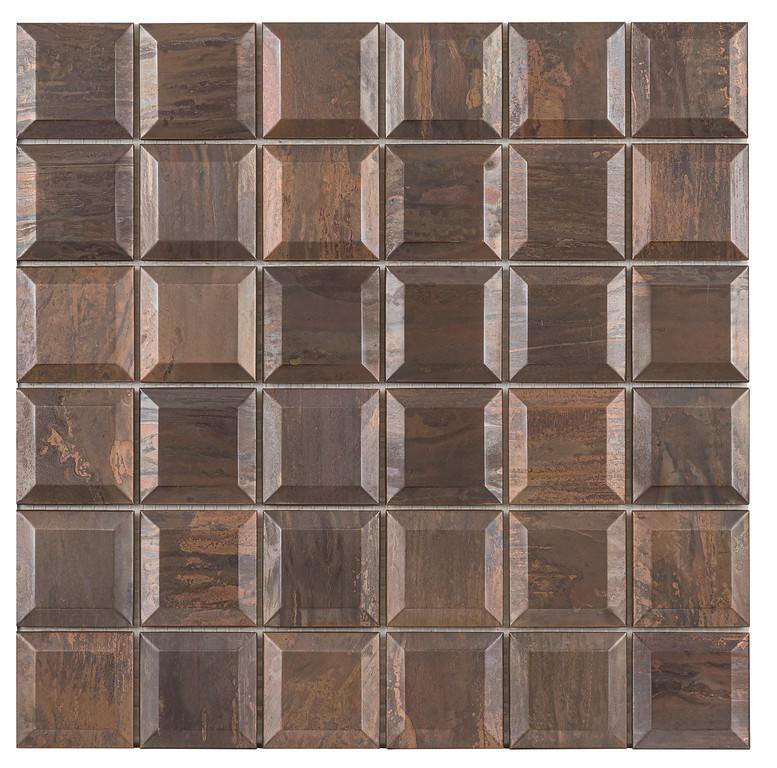 Ready to Design with Metal Mosaics in Your Home?
I hope you found this complete guide to metal mosaics helpful. If you have any questions, don't hesitate to ask.
Mosaics are pure magic, and metal ones even more so. Explore what's available so you can create your perfect tile design.
Thanks for reading!
Kate