The Ultimate Guide to Mosaics
Posted by Kate Spencer on Sep 18th 2023
Curious about how to add magic to your space? Here's our Ultimate Guide to Mosaics, which we consider to be the gems of the tile world. We believe that the more you know about mosaics, the better you'll be able to select the perfect ones for your home.
Mosaics: Infinitely Versatile!
Mosaics are possibly the most versatile tile available given the wealth of colors, shapes and materials you can choose from - oftentimes combined into one product! They can add whimsy, break up a blah wall, enhance a design theme or define a space. Use them, too, to provide contrast and coordinate with larger format tiles.
>> See Mosaics Add Sparkle into the New Year and Beyond!
Designer Alena Capra has used mosaics around columns and created a tiled accent wall behind a TV set.
>> See Alena Capra, Interior Designer, Talks Tile and Design
The Ultimate Guide to Mosaics Topics
This ultimate guide to mosaics will address:
What is a mosaic?
How are mosaics 'packaged'?
How are mosaics made?
Listellos vs. mosaics
Mosaic price ranges
How to use mosaics
How to install mosaics?
Materials used to create mosaics
Sizes, types and finishes of mosaics
If what you're looking for is missing, let me know so I can update this article.
1. What is a mosaic?
First, what is a mosaic?
A mosaic is a collection of small pieces of porcelain tile, glass or stone in any shape that is assembled to make a larger tile.
That collection of mosaics is mounted (or packaged) onto a backing for easy installation.
2. How are mosaics 'packaged'?
Mosaics are are packaged together using a variety of methods that range from mesh-mounted, face-mounted and dot-mounted.
Mesh mounted mosaics use a mesh made of plastic, paper, or use a flexible rubber adhesive applied between individual pieces.
The smaller pieces, commonly 1x1, 2x2 and 1x2, are glued to a 12x12 or 13x13 mesh making a single larger piece.
This process which is done by the manufacturer ensures regular consistent grout joints across a single sheet or multiple sheet installation.
Mesh mounted mosaics offer flexibility and creativity when designing with tile.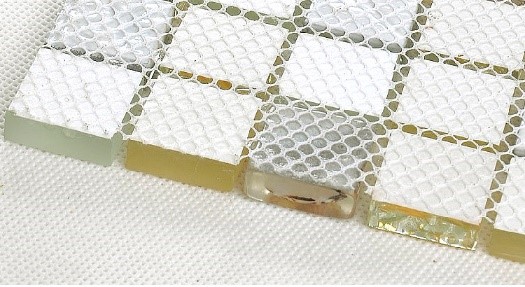 What a mesh-mounted mosaic tile looks like
Face mounted mosaics are placed face down on a tacky sheet of plastic or wax paper.
Most face mounted mosaics are finished on both sides. This allows consumers to view their product before installation.
Face mounted mosaics are more delicate and need to be handled with extra care.
As with mesh-mounted mosaics, face-mounted mosaics use smaller pieces to create flexible sheets.
During installation the mosaic is installed with the tacky sheet facing out. After the thin set or mastic has dried the plastic sheet is removed by gently pulling the sheet diagonally from corner to corner, revealing the face of the produce.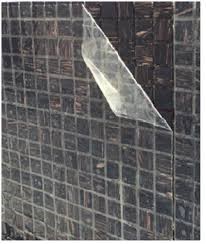 Face-mounted mosaic tile
Designer Alena Capra refers to a peacock mosaic face-mounted with paper in this article: Synergy Between Ceramic Tile Installation and Design? Critical Says Alena Capra.
>> See Paper Mounted vs Mesh Mounted Glass Mosaic Tile
Dot-mounted mosaics are simply assembled with a couple of dots on the back side of each mosaic piece in the grout joint areas, allowing the mosaic to be flexible. Dot-mounted mosaic sheets can be wrapped around columns for easy installation.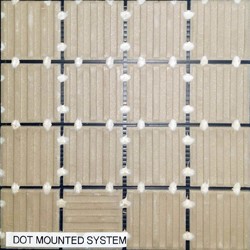 Dot-mounted mosaic tile (image credit: www.tfo.com.au/pool-tiles)
3. How are mosaics made?
Once cut to the right size, the small mosaic pieces are separated for assembly into the bigger mosaic sheets, and then placed into a mold created for that specific mosaic shape and size (e.g. 1x1, 1x2, etc.) to create a specific design.
The molds then go through a machine which puts the mesh backing or face mounting on the mosaic. When dry, the mosaic is removed from the molds and loaded into boxes.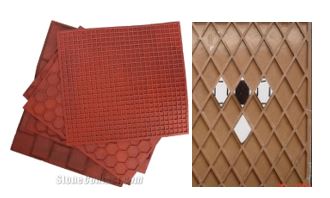 Molds for creating mosaic designs.
This 6:33 minute video demonstrates how to make mosaics and apply the mesh-mount with a mosaics assembling machine.
4. Listellos vs. mosaics
Mosaics are so versatile they are often used in place of listellos.
A listello is a specific size liner generally 3" to 5" in thickness by 12" in length and used primarily for simpler backsplash borders and designs. You will find listellos in ceramic and travertine finishes.
If you desire a larger listello effect or border line, use a mosaic. It can be cut into different sizes depending on the pattern of the mosaic. For that reason, mosaics will give you more size and design options.
5. Mosaic price ranges
Mosaics range in price from $2.95 to $24.99 for in-stock selection from Tile Outlets of America.
You will also find special order mosaics that exceed that price range.
Mosaic prices depend on the materials used, the details in the mosaic and the technology used to achieve the level of detail. For example, some mosaics are water jet cut which takes time and precision to make them consistently perfect.
6. How to use mosaics
Generally, you would create an accent piece on a wall or backsplash with mosaics. You might also include them in a pattern with larger sized tile in a more subdued color to add visual interest.
>> See the mosaic tile used in the bathroom in Brick Porcelain Tile and Mosaics Add 30s Vibe to Clearwater, Florida Vape Pub, Craft Parlor.
7. How to install mosaics?
The degree of difficulty associated with installing mosaics depends on the type of mosaic and how intricate its design. You will want to plan out your design ahead of time to ensure you have enough mosaic to create the effect you have in mind.
As with any tile installation, surface preparation is critical!
When installing glass mosaics, you will need a quality latex modified thin-set mortar. Glass tile is impervious. It doesn't absorb water or stain and requires a thin-set with high bond strength to ensure a good grip on the back of the tile. Simple dry-set and low end modified thinsets won't have the bond strength necessary for a quality glass tile installation.
Also have a 3/16" square notch trowel and a quality set of tile nippers, a tape measure, beating block or rubber grout float, a bucket, mud mixer paddle and grout sponge.
To install glass tile mosaics, ensure that your installation surface is ready. It needs to be free of debris, clean and dry. You will need to measure and determine where and how to cut the tile. You may make cuts, before or during your installation.
Using the 3/16" notched trowel, apply the thin-set to the substrate horizontally and flatten the trowel ridges. Next, apply thin-set to the back on your tiles. Carefully set them into place, and use your tapping block or grout float to tap them down firmly. If you're setting a face mounted mosaic, you'll need to remove the paper face after the initial set.
After the thin-set has had time to cure for twenty-four hours, you can grout.
>> See Grouting Glass Tile: An Interview With Jean Snell Of The Tile Doctor
>> See How To Apply Crystal Glass Grout? Jean Snell from The Tile Doctor Demonstrates
8. Materials used to create mosaics
The wide range of materials possible is what makes mosaics so versatile.
More specifically, you will find mosaics made out of glass, marble, travertine, pebbles, metals, ceramic, porcelain, and blended glass & stone.
You see an example of each in the image below.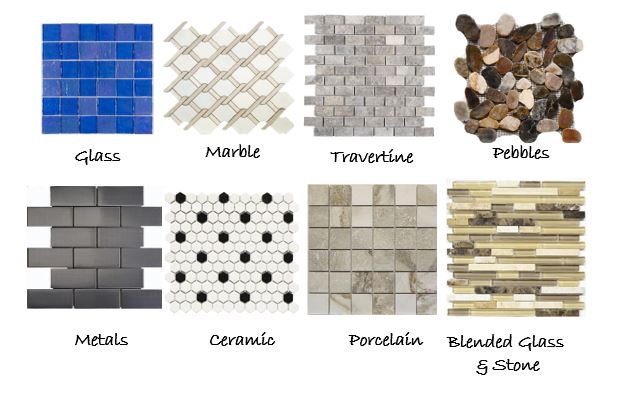 >> See Glass, Stone and Metal Decorative Mosaics
You'll find glass mosaics in many different colors and mixed with other types of tile including travertine.
Travertine mosaics come in basic travertine colors - classic, silver, noce and light travertine. Marble mosaics tend to be in cararra, woodvein grey, honey onyx, emperador dark and light colors.
9. Sizes, types and finishes of mosaics
You'll find mosaics in 1x1, 2x2, and 2x4 as pictured below.

And then you'll discover mosaics in format and shapes such as sticks/strips, interlocking, pebbles, puzzles, penny rounds...
>> Also see How to Use Pebbles and Penny Mosaics, Patterns and Ledger Panels in Your Home
Not to mention herringbones, basketweave, brick, splitface, lantern, octagon, hexagon, diamond, and circles. You'll find them all in the image below.
Finishes:
Mosaics come in many different finishes. Some examples include polished, crackle finish, splitface, glass and laser cut.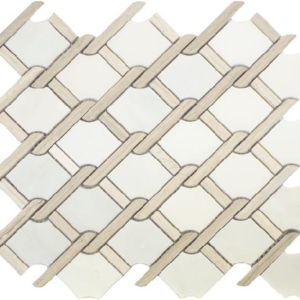 Example of a laser-cut mosaic.
What Would You Add to This Ultimate Guide to Mosaics?
I hope you found this ultimate guide to mosaics helpful. If you have any questions I haven't covered, please let me know.
Mosaics are pure magic. I invite you to explore what's available online so you can create your perfect tile design.
Thanks for reading!
Kate