Mosaics Add Sparkle into the New Year and Beyond!
Posted by Kate Spencer on Dec 24th 2014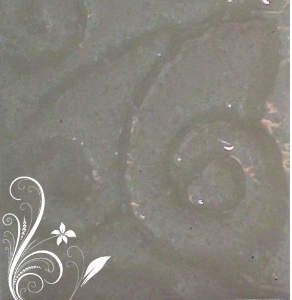 There's something about the end-of-year holidays that captures shimmer and magic and sparkle as no other celebration does. Imagine capturing that spirit with little mosaic jewels that reflect and shimmer and add sparkle to your kitchen or bathroom throughout the year.
I'm inspired by the holidays to share with you in this article a few beautiful mosaics available at Tile Outlets of America that will add a pop of color or simply a shimmery sparkle to your home into the New Year and far beyond.
If you've been reading the Tile & More Blog, you'll recognize that these mosaics represent trends seen at the industry shows we've attended (see 9 Glass Mosaic Tile Trends from Coverings 2014 and Hexagon Tile Trends from Coverings 2014).
Sparkling Glass Mosaics
Glass Mosaics are a fun way of bringing sparkle to any room. These fun holiday colors will glimmer and shine for time to come.
When installing glass mosaics, you'll want to consider using Crystal Glass Grout (see Grouting Glass Tile: An Interview With Jean Snell Of The Tile Doctor and How To Apply Crystal Glass Grout? Jean Snell from The Tile Doctor Demonstrates) so the colors truly shimmer and shine.
Featured below are:
A 1x1 Green Glass mosaic
Recycled Glass mosaic in the middle showing you scroll work on the design of the tile
A 1x2 Reflections Opalo Red mosaic.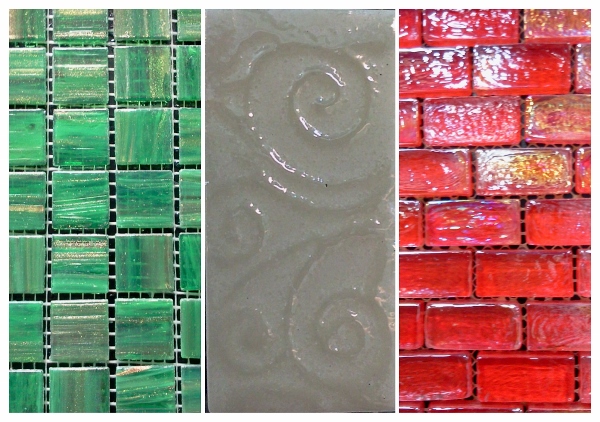 Lantern Mosaics Add Sparkle
These fun mosaic designs remind me of holiday ornaments ready to hang on a tree. These are lantern mosaics and come in four beautiful natural stones:
Chinese Grey Lantern Mosaic
Cararra White Lantern Mosaic
Crema Marfil Lantern Mosaic
Oriental White Lantern Mosaic (not pictured below).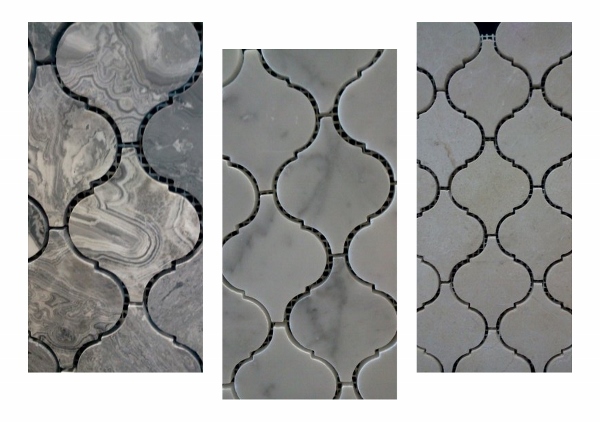 Sparkly Design Mosaics
These mosaics have a unique design to them. They can be used as accent pieces or to create a strong design statement.
Some have scroll work or other patterns that add texture and movement to the mosaic, combined with opalescence, shimmer and sparkle in the design.
The Hexagon mosaics are very trendy; these have an opaque finish that keeps on shining.
Let these mosaics brighten up a room as tinsel does with ornaments and lights.
Trending Grey Mosaics
Don't let the color Grey fool you into thinking it's gloomy! This hot color is a strong trend for interior spaces. It can be interpreted with many different design elements to finish a look.
For example, below you'll notice sparkle glass, textured glass as well as natural stone mosaics.
We're also seeing black, white and grey incorporated into a design, often with an additional pop of color to further decorate it, making the overall effect one to remember (just like the holidays!)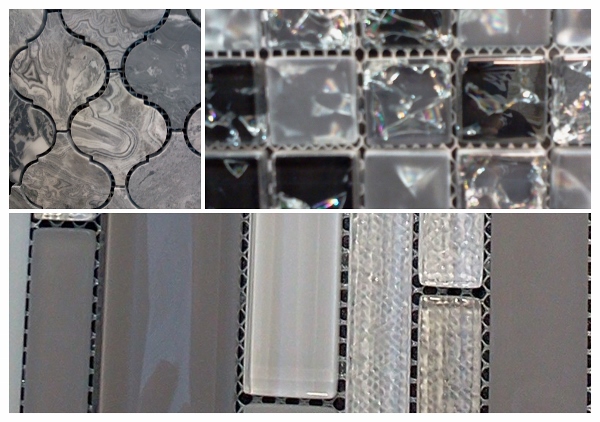 Shapes of Texture and Fun in Mosaics
I think you'll enjoy these mosaic gems!
We are just getting started with fun mosaic shapes and designs... You have circles, herringbone, criss cross and split face shapes and designs available. These textures and the movement they create in these mosaics are sure to make a statement in any room!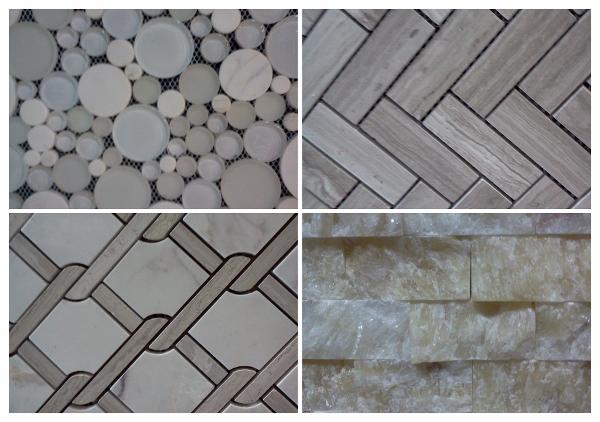 Happy Sparkle-Filled Holidays!
I hope you're as excited as I am about taking these many mosaic gems to add shimmer and sparkle to the tile designs you create in your home...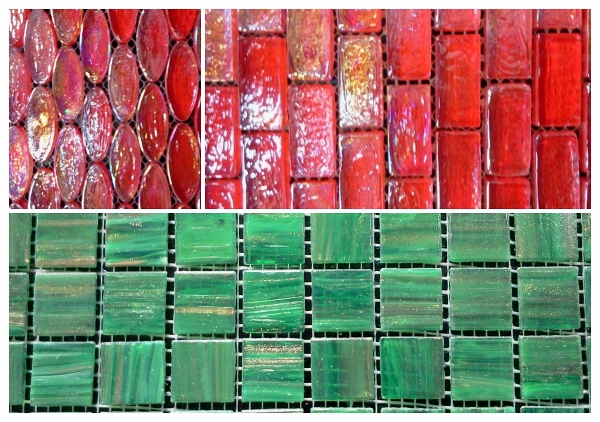 Wishing you and your families a joyful holiday season. We thank you for your business and for being a part of the Tile Outlets of America family for all these years. We look forward to seeing you in the store this coming year.