Grouting Glass Tile: An Interview With Jean Snell Of The Tile Doctor
Posted by Kate Spencer on Jan 4th 2018
Jean Snell of The Tile Doctor® regularly conducts demonstration sessions on grouting glass tile and education sessions about the Noble Company products she represents
Whenever the opportunity arises, we welcome these type of product knowledge sessions at the Outlets of America stores so contractors and store associates are in the know about tile care and maintenance products.
We caught up with Jean before her latest demonstration to find out more about her background and the tile products she works with.
Interview with Jean Snell from The Tile Doctor about Grouting Glass Tile With Crystal Grout, Starlike Grout, Admix and Noble Company Products
TOA: Jean, tell us about yourself and your background with tile.
I am an Independent Sales Representative for several companies including The Tile Doctor and Noble Company.
I started in the tile industry as an independent sales representative for Noble Company in 2002. Since then I have had the opportunity to represent additional great companies including the Tile Doctor.
Prior to that, I was a professional in the banking industry, working in various corporate capacities.
TOA: What is your role with The Tile Doctor?
In addition to being an Independent Sales Representative with The Tile Doctor, I am one of the original representatives for the care and maintenance part of their business.
My duties include setting up distribution, training sales associates on The Tile Doctor products, assisting with technical/installation questions and promoting the products to potential end users through a variety of sales related activities.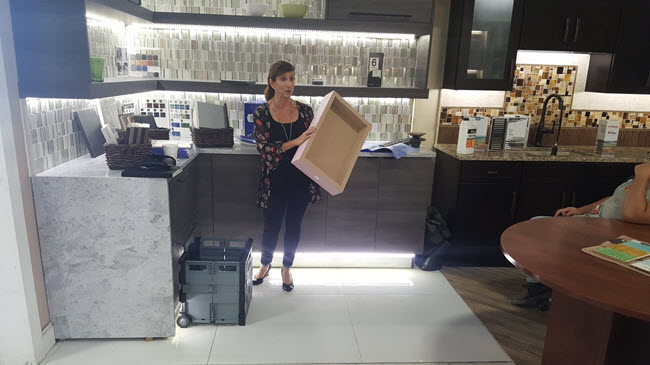 TOA: Tell us about the Noble Company products.
Noble Company provides all of the products necessary to create a high quality, water tight shower system.
The Noble Niches are a great part of that system and come in a wide variety of sizes. They are easy to install and create a modern design feature in bathrooms and other areas as well.
Linear Drains are also available, opening up options to use large format tile in showers and eliminating the need for a curb.
All of Noble Company's products are made in the USA.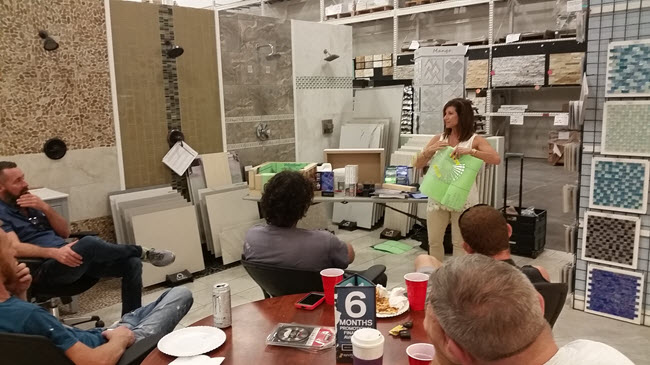 TOA: What do you love most about the products you represent and about tile?
What I love most about the tile related products I represent is the high quality of the manufacturers I promote. I am well supported by great people who help me with whatever I need to do my job effectively.
I also like the tile industry in general for its variety of projects, customers and specifiers. I have made great friendships and professional partnerships that have been very satisfying.
TOA: How does Crystal Glass Grout differ from other products available?
Litokol Crystal Glass Grout is distributed by Tile Doctor - It is a translucent grout that is best used for through-color glass mosaics. It is a two part epoxy that can be used in all applications - inside and outside.
Crystal Grout can be used with glass mosaics on the floor and wall, interior or exterior and in pool applications. That's what makes it different from other products. It can be used inside and outside as well as in pools and fountains.
Not only is it stain resistant, eliminating the need to seal, but it is also chemical and UV resistant. Other urethane based grouts with a similar look may not have these characteristics.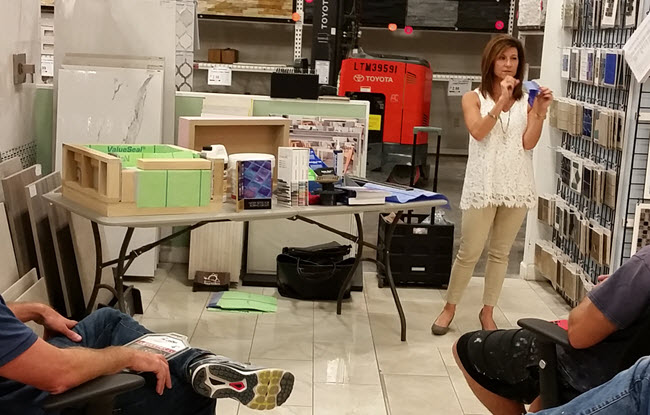 As we explain on the website,
"A translucent grout, Crystal Glass Grout® is comprised of tiny, hollow glass beads, which cause it to reflect and refract light. This makes it the perfect glass tile grout, because this bending of light creates a chameleon effect, in which the grout assumes the hues of the tile when the tile is colored all the way through, enhancing the aesthetic appeal of the installation. Because of these light refracting qualities, Crystal Glass Grout® eliminates the need for colored grout, as this glass tile grout takes on a neutral or translucent look."
It is easy to use for grouting glass tile because it is a pre-measured, two part epoxy product which requires just a few steps in the installation process.
TOA: What are the other grout products available?
Starlike Grout is the same as Crystal Grout, except that it has colors to offer from white and beige to blue and aqua. The Litokol Grouts eliminate the need for sealing and are stain resistant.
A new Crystal grout color collection just came out called Jewel. It is a collection of colors that resemble actual jewels. They are very rich in tone and are a great addition to the Crystal Grout.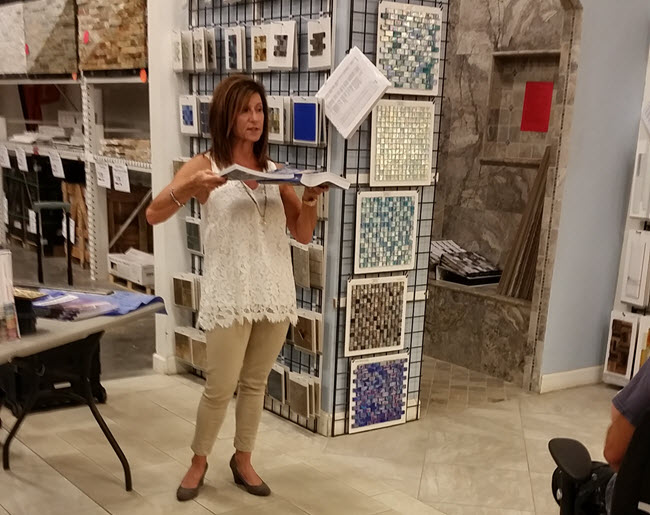 TOA: What's most critical for success with Crystal Glass Grout?
As with all of these types of products, following the manufacturer's instructions is critical. During the demonstration, I'll walk you through the steps for successfully applying Crystal Glass Grout to glass tile.
>> See How To Apply Crystal Glass Grout? Jean Snell from The Tile Doctor Demonstrates
For best results, follow instructions completely. If there are questions, always check with the store or Tile Doctor directly.
TOA: What about the Tile Doctor Admix?
Tile Doctor Admix provides one easy step to seal, protect and strengthen grout.
Admix is used in place of water when mixing grout, eliminating the extra step of sealing after the grout has cured.
Tile Doctor Admix contains Tile Doctor Shield Antimicrobial technology that protects the product from mold mildew, algae and odor causing bacteria. It lasts the life of the installation and no further sealing is necessary. It creates an easy to clean surface.
TOA: Jean, we can't wait! Any parting words of wisdom?
No question is ever a dumb question especially with tile installation products. I would rather a question be asked on the front end than troubleshoot a potential problem that could have been avoided.
TOA: Thank you, Jean!
If you have any questions about Crystal Glass Grout, Starlike Grout, Admix or products from The Noble Company, please let us know here in the comments or be sure to ask a Tile Outlets of America associate.

Note: This article was originally published on September 4, 2014 and has been updated.