Hexagon Tile Trends from Coverings
Posted by Kate Spencer on Apr 1st 2021
In Flooring and Tile Trends from Coverings 2014: Patchwork Tile, I promised you that I would next explore with you Hexagon Tile Trends from Coverings. Beyond that and into 2021, hexagons continue strong as you'll see in this article
Flooring and Tile Trends from Coverings: Hexagon Tile
Hexagon tile - or hex tile - is also called honeycomb tile because it reminds you of the shape of a bee's honeycomb.
This shape has been around for years in the smaller format and used in bathrooms and kitchens as the 1" hexagon or honeycomb design.
Here are examples from Pinterest:
As the Coverings Press Release on tile trends at the show says,
"Good Things Come in All Shapes and Sizes.
It's no longer hip to be square when it comes to tile. Inspired by Roman and Moorish patterns and geometric shapes, a variety of styles beyond the traditional are making a comeback.
CR Studio showcased its handcrafted clay tiles including Flying Garlic, an arabesque-style woven pattern encased in bronze. Betona introduced PopArt, a colorful collection of hexagon-shaped tiles, which each contain more than three recycled fluorescent bulbs. 41Zero42 offered a variety of shapes, including its Mate collection of neutrals in a hexagon shape and chevron patterned plank tiles."
Now as tiles are getting bigger so are the hexagons we saw at Coverings 2014. Starting at roughly 8" to 12" in diameter, they were very interesting. What makes these hexagon tiles appealing is the interlocking of the tiles due to the shape.
As with the patchwork tile trend, each factory and country came up with its own interpretation of what makes the hexagon floor tile special.
Coverings Tile Trend: Wood Tile Hexagon
Let's start with the tile wood look hexagon from Italy. This wood tile hexagon came in multiple colors and tri-color design as well.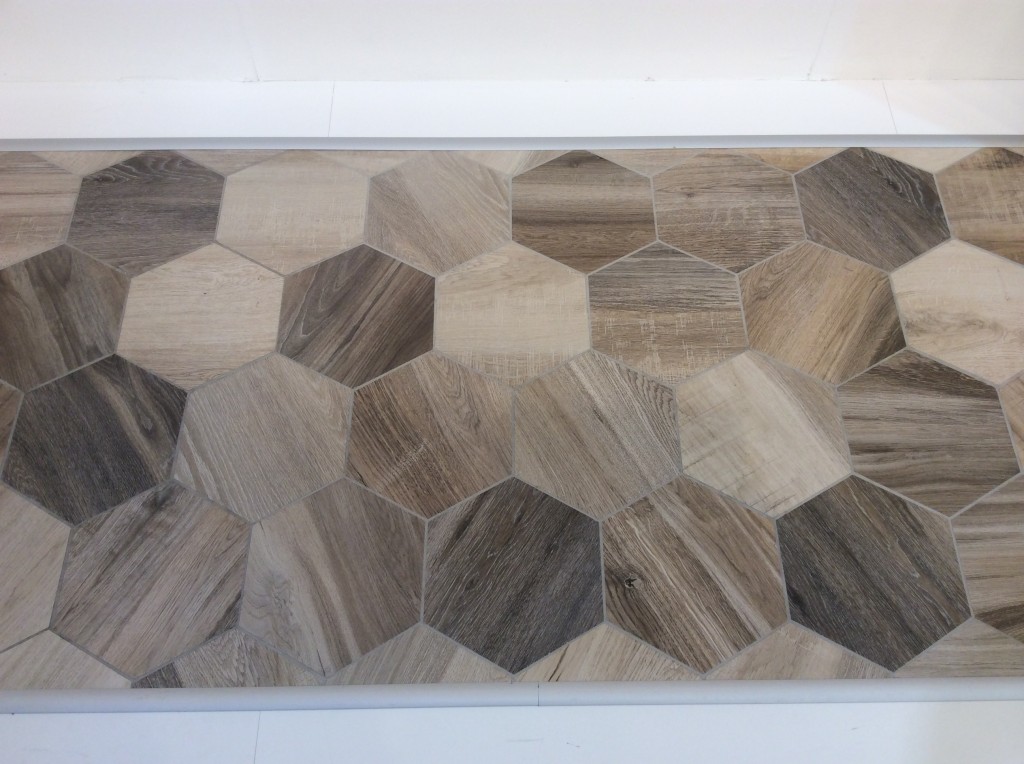 The item shown above is King Wood Nut. The variation of colors of the wood and the way the wood grains are going in different directions gives this a unique twist on wood and tile.
But they didn't stop at just a wood tile hexagon, they introduced at the show their Queen Stone line which includes a stone like hexagon porcelain in four colors and 5 sizes. The sizes include a 12x12, 12x24, 24x24, 4x14 and the hexagon.
Here below is a picture of the Queen Stone Silver in the 24x24 size. Just imagine this pattern in the hexagon and how beautiful this would be on your back patio...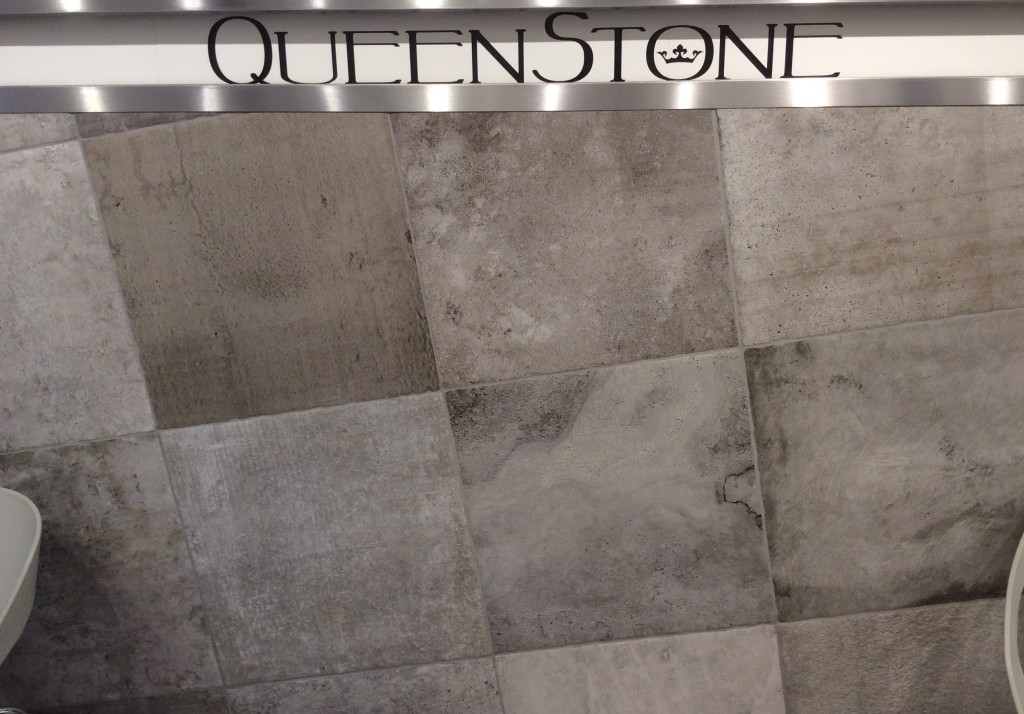 Hexagon in Wall Tile
In addition to hexagon floor tile, we also saw ceramic wall tiles in unique sizes to give you the hexagon shape, while they can be installed like a regular piece of ceramic tile.
These looks are created with color families that we have seen for years like the black and white combo that will never go old. As in the first years of the 20th century, color options on these six-sided tiles were limited to black and white colors. They are also appearing with more color - here, black, white and grey - as well as with random patterns.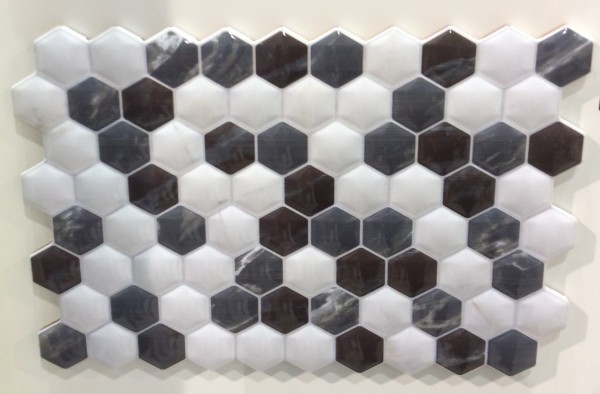 These tiles are interlocking and will continue the pattern to create the look of having placed each individual hexagon tile piece on the wall.
Hexagon Wall Tiles with Patterns
Notice in the image below that each hexagon tile has a pattern. These types of ceramic hexagon wall tiles are also available with a design pattern in the tiles. Each hexagon piece has its own character to the design.
This particular piece has many different colors and patterns within that look as if each hexagon tile had been hand painted. With inkjet technology you can create any design on a tile to appeal to any audience.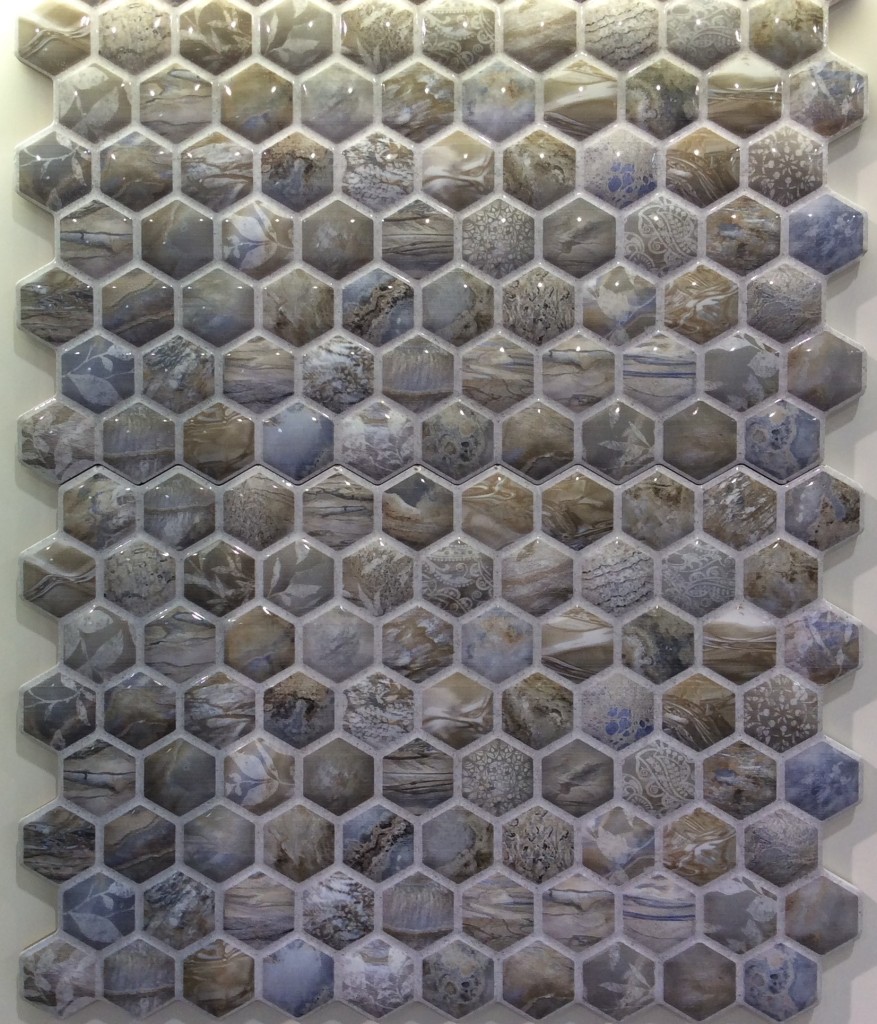 Hexagon in Glass Tile
The hexagon tile trend even appeared in glass tile where the pops of color made the play on the hexagon shape really fun. Just imagine a bathroom floor done with a through-color glass hexagon floor. Yes, it is a glass, but it has a texture on the glass to prevent it from being so slick.
That said, you still have to watch out: whenever you get water on the floor the surface will become slippery.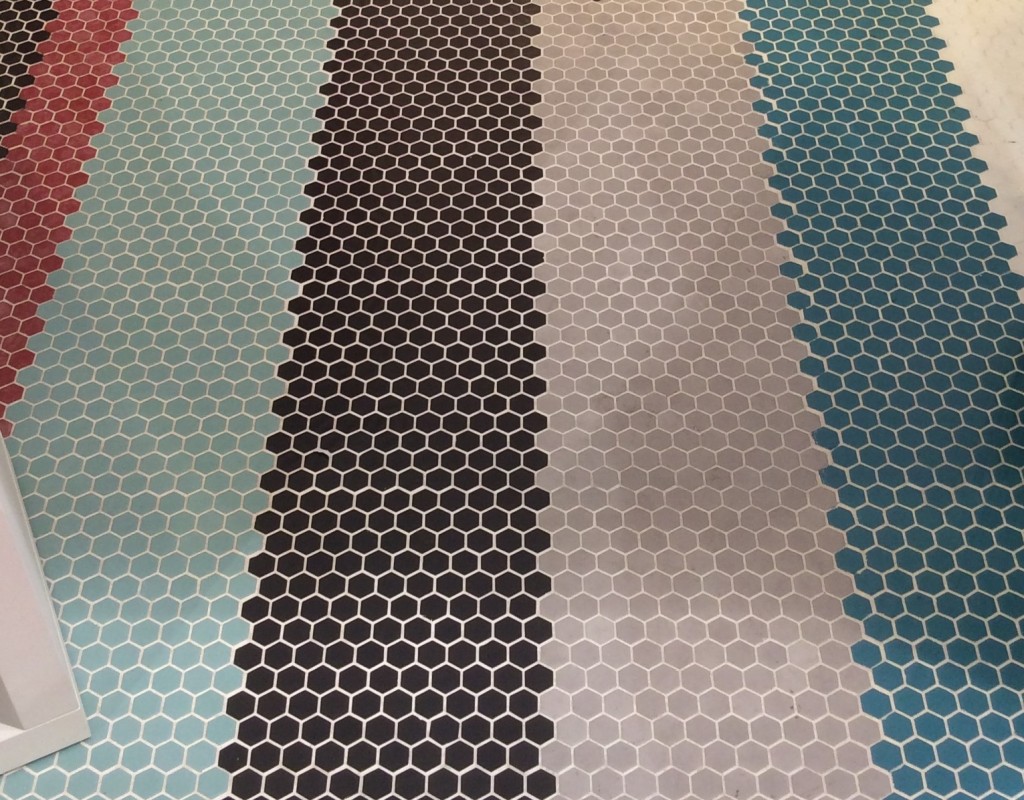 Porcelain Hexagon Brick Pavers
Next at Coverings 2014, we observed the hexagon tile shape in pavers!
We loved the idea of having a porcelain brick like-paver for the backyard especially designed in a hexagon shape reminiscent of a brick walkway. Each piece laid separately and interlocked with the other.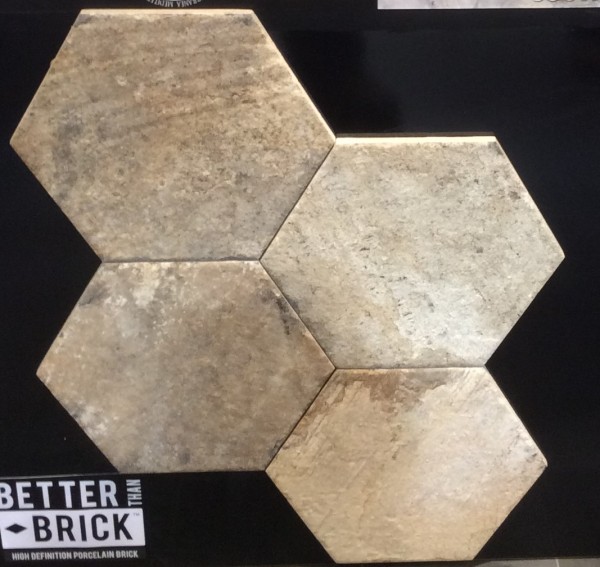 Marble Hexagon Floor Tile
Given all this talk about hexagon tile, I thought you might like to see it in action in a home. My husband's cousin just remodeled his grandfather's home which was built in 1970. He updated it with a marble Carrara hexagon floor in the master bathroom. As you can see, this look both creates a vintage look with a classic feel and yet also looks fresh and contemporary.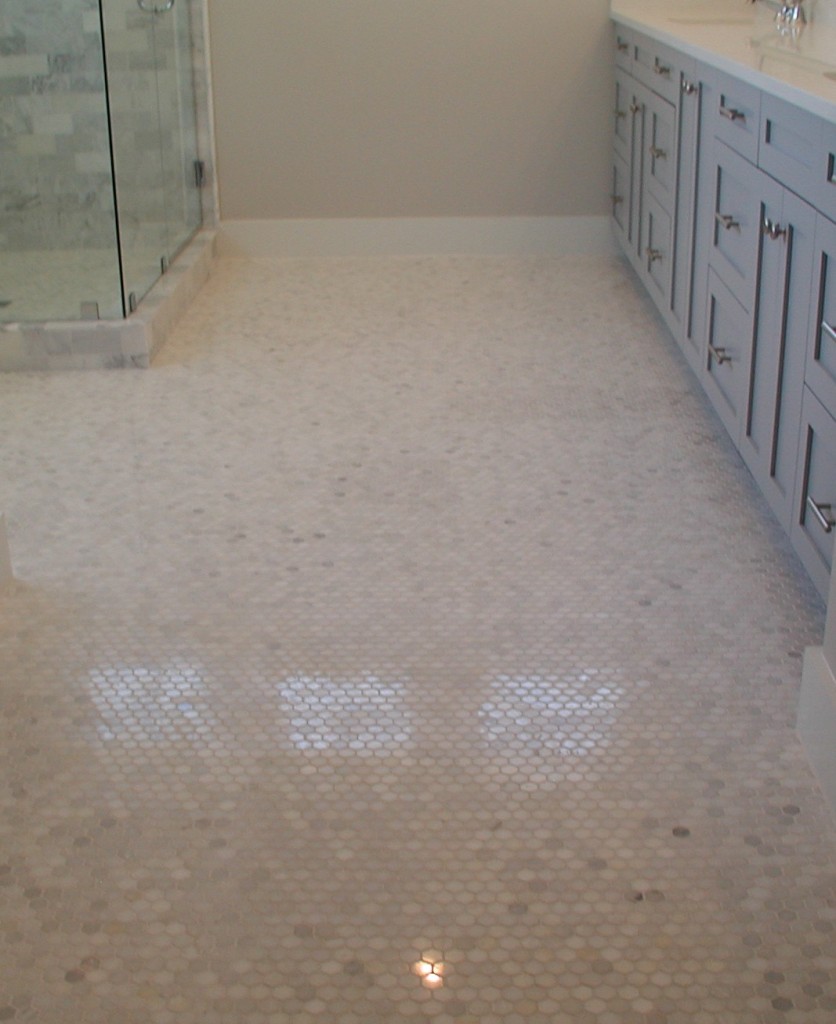 To explore more hexagon tile designs, see Design Ideas focused on geometric tile shapes. You'll love the range of possibilities you'll discover!
There are so many design ideas featuring this new tile trend. I'm sure you'll be seeing see this hexagon shape in contemporary as well as vintage designs. You get to pick which one you like the best and have fun with this honeycomb-hexagon trend.
More Hexagon Tile Resources from Coverings
You'll enjoy exploring these two resources which describe the hexagon tile trend - as well as others - from Coverings:
Ultimately, what makes this trend so exciting is that it is even more viable in 2021 than it was in 2014!
What do you think of the Hexagon Tile Trend? How do you see using it in your home? I look forward to your feedback.