Meet Chris Martin, Sarasota Tile Outlets Store General Manager
Apr 3rd 2014
What's exciting about launching a new Tile Outlets of America store in Sarasota (see Grand Opening: Sarasota Tile Outlets of America Store!) is having the opportunity to gather together another group of associates who care intensely about bringing to life what makes Tile Outlets different.
That difference starts with the store managers who all care passionately about helping customers make their homes more beautiful.
For that reason, we'll be introducing you to the store managers from all three Tile Outlets of America stores. That way you have a face and a story to go with the name as well as confidence that the product knowledge and the design ideas shared with you when you visit any Tile Outlets of America store stores come from experience and passion.
In this article, we introduce you to Chris Martin, Sarasota Store General Manager for Tile Outlets of America, who has been with the company since 2003 and who was instrumental in opening that location.
Meet Sarasota Tile Outlets of America Store General Manager, Chris Martin
TOA: Chris, tell us about yourself.
I grew up around construction sites with my father being a contractor himself.
Before Tile Outlets I ran a flooring department with a large big box competitor. I will be coming up on 11 years that I have been a manager with Tile Outlets of America. Over these 11 years, I have developed an intimate knowledge of all of our markets, since I have worked in Fort Myers, Tampa and Sarasota.
TOA: What is your role at Tile Outlets of America, and in the Sarasota store?
I have been the traveling manager for Tile Outlets, and hold the position of General Manager, recently in the Sarasota store, in the Tampa store, and now again in the Sarasota store.
Since I have been involved in so many roles with TOA, I have the ability to jump into any role that is needed to support the mission of the company. I have played a significant role in the set up of the stores and have been instrumental with most of the major reset jobs in all locations. A reset, by the way, consists of developing the best possible store layout for products and the placement of materials on the store floor.
Whether it's the Tampa store or the Sarasota store, I develop new associates for Tile Outlets of America and build relationships with our new contractors and retail clients.
TOA: How did you get started with tile?
Working for a big box retailer prior to Tile Outlets. It allowed me to get promoted to the flooring department and learn the industry.
TOA: What do you love most about tile and stone?
The ability to mix certain tiles and colors.
A well designed floor, backsplash and shower enclosure can add tremendous value to someone's home.
What I tell people when designing a project is, don't be afraid to be different. There are endless possibilities when planning a tile project.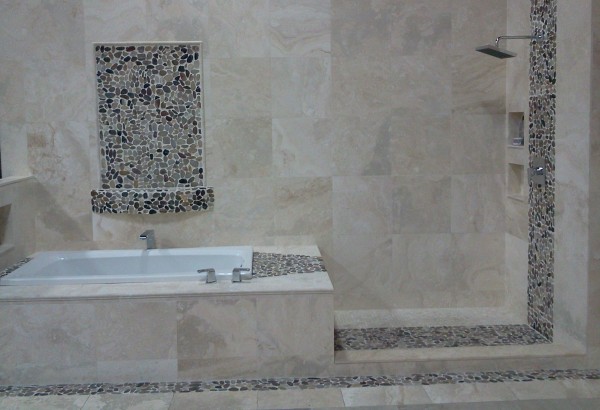 This is one of Sarasota General Manager Chris Martin's favorite products in the Sarasota store.
TOA: Which is your favorite tile or stone product and why?
My favorite product is Roman and Versailles Travertine Patterns. They have an elegant, timeless beauty to them. Travertine patterns can be used in the inside and outside of the home.
TOA: What product trends do you like most?
I think right now, my favorite product trend is the "wood look" porcelain tiles. We have carried wood look tiles for about 10 years now. Each year we bring in more choices because of its popularity.
Each year with new technology, these faux wood tiles look better and more realistic. You get the real wood look without any of the drawbacks in maintenance of real wood (especially in a high humidity/high moisture environment like Florida).
TOA: What can a first time visitor to the Tampa Tile Outlets store expect?
My advice to the first time customer to our store in Tampa, Sarasota - or any Tile Outlets for that matter - is, don't let the huge in-stock selection scare you.
I actually have a lot of people tell me there are too many tiles to choose from. Which is actually a problem I welcome. The bigger selection, the better chance you'll find what you're looking for.
Please don't be afraid to ask for help with any questions or concerns you may have. Sometimes it helps to purchase several samples and take them home and look at the tiles in the area they will be installed in.
You can always return any unused tile or stone samples to the store.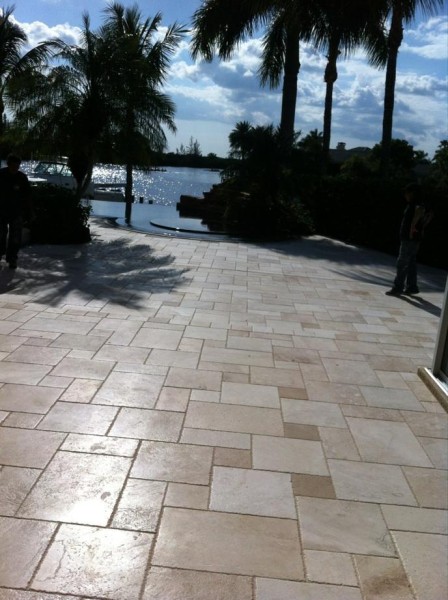 Another of Sarasota Store Manager Chris Martin's favorite Travertine Versailles pattern used outdoors
TOA: What's the best way to prepare for a visit to a Tile Outlets of America store?
Come in with an open mind.
Explore the possibilities since there are many different types of tiles available to select from.
Bring in either architectural plans or a drawing with room measurements of the different areas that you are going to tile.
We will help you figure out the quantities needed for the installation including any overage needed for your job.
We also provide our customers with a Tile Project Dream Sheet checklist to print out prior to coming to the store to assist with your shopping experience.
TOA: Any parting words of advice?
Remember with the Tile Outlets of America "Peace of Mind Commitment", we will not only match the price but discount it by an additional 5%.
We also have a 90 day full refund return policy.
Come on in for a look, you'll like what you see!
TOA: Thanks Chris! We look forward to seeing you in the Sarasota location.
If you haven't yet visited Tile Outlets of America in Sarasota, we hope you'll come visit soon. When you do, be sure to say hi to Chris and let all of us know how to help make your dream home a reality!