Subway Tile in Glass, Travertine, Marble, Brick and More? Oh, My!
Posted by Kate Spencer on Sep 3rd 2015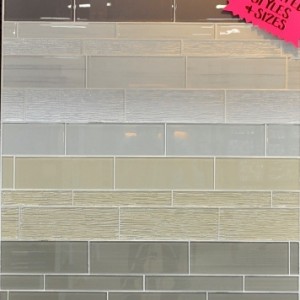 As much as I love ceramic subway tile, what is even more wonderful is how the notion of subway tile has been reinterpreted into subway tile in glass, Travertine, marble and brick in different looks and textures and in several rectangular sizes. Ready to explore with me?

This topic began with Mad For Ceramic Subway Tile? 3 Types To Consider For Your Walls.
Beyond Ceramic To Glass Subway Tile
After traditional ceramic subway tile, beveled and double fired subway tile, my next favorite is glass subway tile. It's amazing how glass has evolved the subway category! Glass brings a bit of shimmer and shine to a room as well as dimension to the tile.
These tiles are available in the standard subway size of 3x6; they have also grown in size to large glass panels. Along with size, you'll notice a wonderful range of different textures and looks - from clear solid glass, to a bamboo raised look and even a linen design in the glass.
>> Explore glass subway tile on TileOutlets.com.
In the image below taken from the Tile Outlets of America Inspiration Area, we created a shower installation with 3x6 glass subway tile and complemented it with a shimmery blue-green glass mosaic insert that really adds playful shine.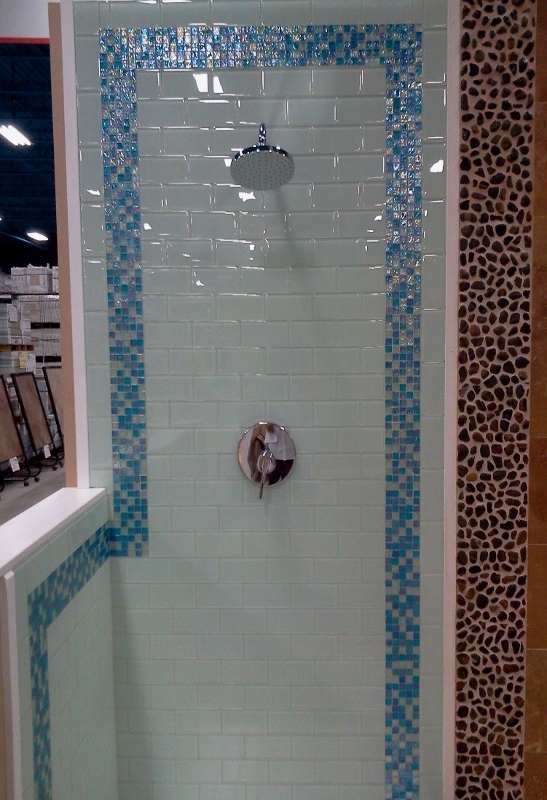 Depending on the color palette you choose you can pick a mosaic that coordinates with your glass choice. The combination below is more muted, but equally shimmery.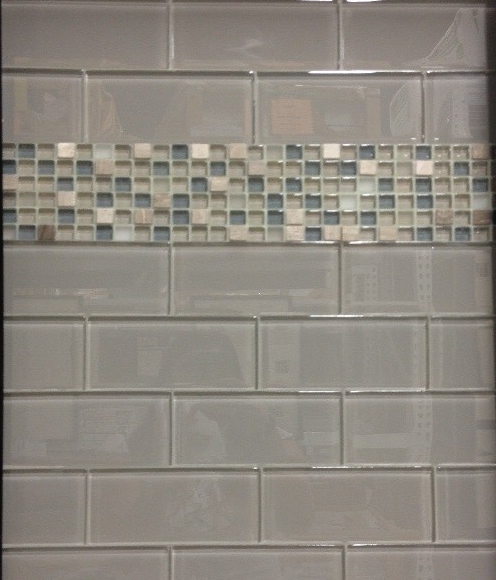 The best part about glass subway tile is that you'll have a range of beautiful colors to choose from, and you can install them subway style vertically or horizontally, as well as in an alternating brick pattern.
Depending on your own design style, you can choose to lay the subway tiles straight across to create clean, modern lines.
Subway tIle in glass can be installed straight across.
I mentioned above that glass subway tile comes in different textures. Look at how a combination of textures creates dimension in a backsplash or wall installation. The image below is of a kitchen display in the Fort Myers Inspiration Area. It combines multiple textures and colors to create this kitchen backsplash statement.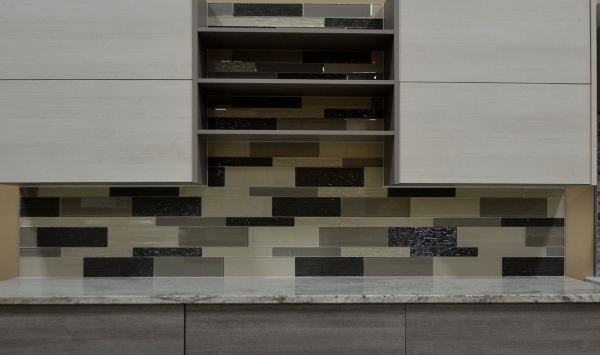 This backsplash display in Fort Myers combines several different colors and textures of glass subway tile.
Here is a closeup of how you might combine colors and textures. Remember to bring in a colorful mosaic or coordinating decorative insert to complement the design and make a statement.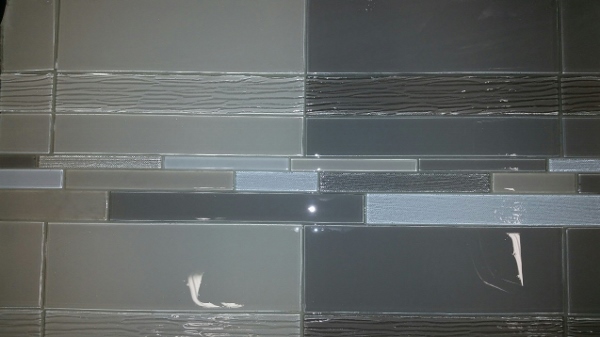 Travertine Subway Tiles
Subway tiles aren't limited to ceramic tile. Quite the contrary! That's what makes subway tiles so amazingly versatile and on-trend. Take Travertine tile.
Travertine has been around for centuries. Imagine reinventing it in a subway tile theme.
Most Travertines come in a 3x6 format that can be used in a subway format. For example, the image below highlights Travertine subway tile installed with glass subway tile. I think the effect is fresh and visually exciting. The glass tile color picks up the natural Travertine themes, adding freshness and visual interest to the overall tile design.
>> Explore 3x6 Travertine tile on TileOutlets.com.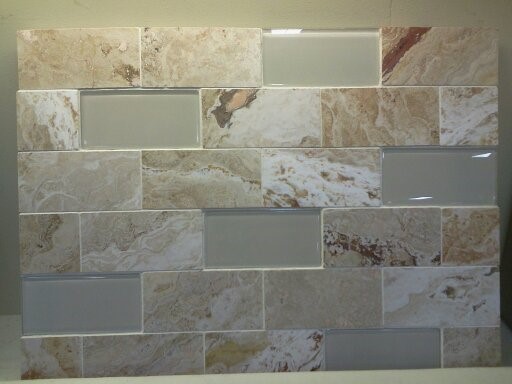 Travertine subway tiles can be tumbled as seen here in this image or come with a straight edge as pictured above. Depending on the look you are trying to achieve they are both great stone options.
Marble Subway Tiles
Marble is another classic stone that lends itself perfectly to subway tile.
The look and feel of marble in a bathroom or backsplash is elegant. These types of subway tiles are generally polished, but can also be available in a honed finish.
>> Explore 3x6 marble tile on TileOutlets.com.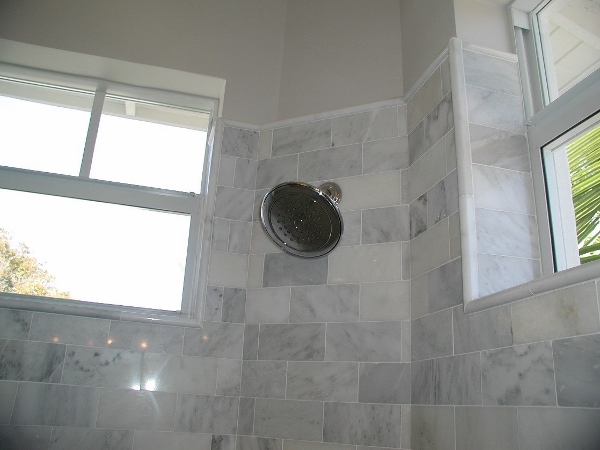 Subway tiles can be used in the kitchen, bathroom or feature walls.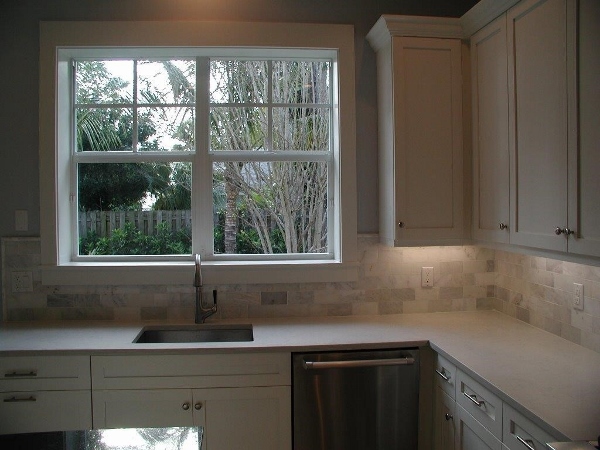 When you add a mosaic or design element to the design, it really gives the backsplash character and life as you can see in the image below.
Brick Subway Tiles
Last but not least is brick.
If you think that subway tile has been around for a long time, so have bricks. What's new, though, are tiles that look like real bricks without the maintenance.

The colors are fascinating and more like real traditional bricks than you think.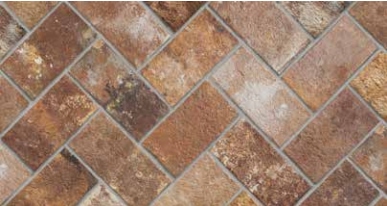 Not only can you install these on the floor, but you can use them for a subway wall feature. Notice in the image below how the rectangular brick (or subway) shape is longer than the traditional 3x6 and looks fresh.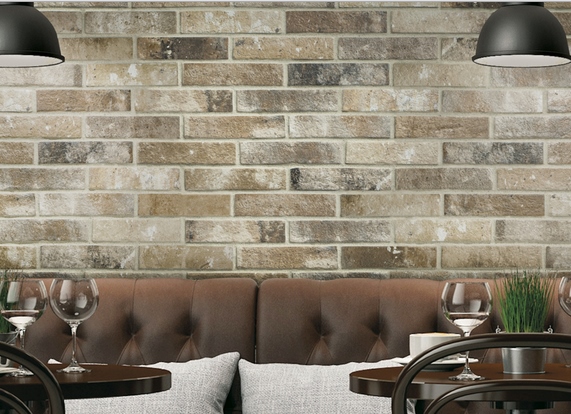 We've covered a lot in this article about subway tile in glass, Travertine, marble and brick. Which do you like most? How do you see using these products in your home?
Kate