Use Grout Release Before Grouting Textured Tile for Easier Clean Up
Posted by TOA's Blog Team on Jul 20th 2022
Will you be grouting textured tile? If yes, consider using Grout Release.
Aqua Mix Grout Release is a temporary, water soluble, pre-grout coating. It protects against mortar and grout stains and makes grout clean up considerably easier, especially for textured tile.
In case you aren't convinced you need this product, here's a real story of regret.
The Woes of Grouting Textured Tile Without Grout Release
Tile Outlets' Gary Tuhro shares the following true story about grouting his floor at home:
"Back in 2013, the tile floor in our Tampa townhouse cracked due to settling issues in the building. I put my wife and our one-year old daughter on a plane to Ohio to stay with family while I tackled removing and replacing the tile in our home.

After several days of tile removal and installation I had only a couple days left before they were scheduled to come back home.

We installed Daytona Laguna Bianco 16x24 on our floors. This tile looked beautiful! Understanding it was relatively smooth (yet a bit bumpy) I began grouting the floors WITHOUT using grout release. I grouted a couple hundred square feet then began washing the grout with clean water and sponge. I was washing the floor with ease and thought to myself this is the easiest part of the job so far.

Boy was I wrong…

After I put my head up and saw the area(s) I recently washed, I noticed the tile was VERY HAZY and looked like grout was still standing on top of the tile. When I took my rubber grout gloves off and felt the tile it was like "the beach". Very gritty and sandy.

I then began to panic. The air conditioner was drying the grout quicker than I could wash it off. Luckily I was able to turn off the air conditioner and carefully go back over and remove the excess grout from the bumpy grooves in the tile. This of course took several hours to do and still had another 500 square feet to grout.

Needless to say it took me an entire day to grout a 700 sq. ft. floor and made the job much harder than necessary.

If I had used the Aqua Mix Grout Release I would have had the job completed in half the time. Overall the job turned out beautiful but will never forget this grout experience."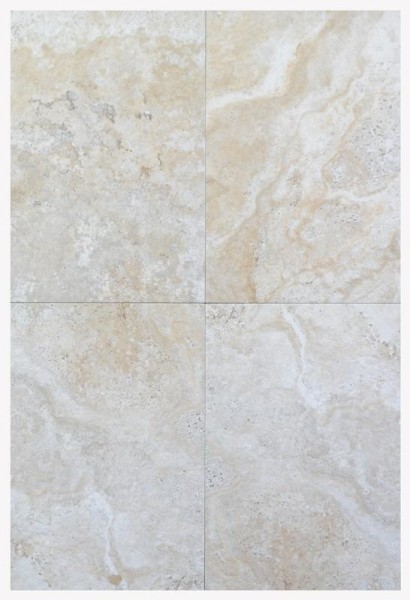 Daytona Laguna Bianco 16x24
Basics About Grout Release and Grouting Textured Tile
Although you can use Grout Release with any tile grouting job it is highly recommended for any textured ceramic or porcelain tile and also natural stone where grout has a tendency to stick in the textured parts.
Why?
Because this product prevents the grout from sticking to textures and crevices on the tile or stone surface. It also minimizes the amount of washing required during grout cleanup. Remember that too much washing during grout cleanup could significantly lighten the color of the grout.
At Tile Outlets, we consider this product wonderful and amazing especially given all of the textured surfaced tiles we sell, and too many instances of lousy grout clean up jobs.
When would you not use Grout Release?
Although you can use Grout Release in almost all cases, it is not recommended for some light colored tile and stones.
Also, if your tile has a glazed, smooth, and glossy surface, you wouldn't need it. It really is designed for a tile with a matte, textured, and or bumpy surface.
Nitty Gritty on Using Grout Release
If you use Grout Release, you'll apply it 30 minutes prior to grouting. It's very important to make sure the tile is both clean and dry prior to application.
Grout Release is ready to use directly out of the bottle. First, shake the bottle prior to use. Apply with a sponge applicator, heavily textured paint roller, or brush.
Best practices for using Grout Release
Apply a liberal coat to ensure 100% surface coverage.
Make sure to remove excess grout release from the grout joints prior to grouting.
Allow 30 minutes for the product to dry prior to grouting.
Do not use acidic solutions for cleanup. This may react with the grout release and form a crystalline residue on the surface.
When you apply Grout Release to the top of the tile, do so with a sponge or sponge mop and allow to dry, usually about 30 minutes prior to grouting.
Next, grout as usual per your grout manufacturer instructions. Grout Release will usually come off during normal clean up.
Remember to use this product in a well-ventilated area, and wear gloves and eye protection.
This 2:22-minute video titled Aqua Mix Grout Release Makes Grout Clean Up Fast and Easy is very helpful.
Not Sure If Your Tile Needs Grout Release?
If you aren't sure, be sure to ask your helpful staff at Tile Outlets of America. Our trained sales staff is always ready to assist you.
Generally, natural stone which is porous, and any porcelain or ceramic tile that is not extremely smooth would likely require Grout Release to prevent the grout from sticking to the surface during grout cleanup.
Let us know if you have any other questions we haven't addressed.