Gary Tuhro Focuses on Tile Installation Professionals in Sarasota
Posted by By TOA's Blog Team on Jul 30th 2015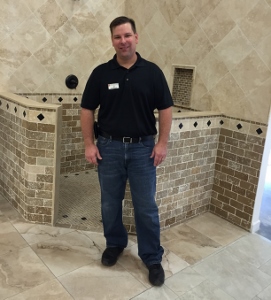 When you visit Tile Outlets of America, you meet managers and associates who care intensely about the experience visitors have. They truly want "dreams to become reality." It's no different when it comes to tile installation professionals and that's why Gary Tuhro is now Pro Services Relationship Manager in the Sarasota store.
Gary knows tile. He grew up in the business and keeps a watchful eye on all tile-related developments so he's in a better position to educate and interpret information for others while building strong relationships.
>> See How to Maintain Ceramic and Porcelain Tile and Grout With Aqua Mix Products
We caught up with Gary to ask him a few questions.
Meet Gary Tuhro, Tile Outlets of America Pro Services Relationship Manager in Sarasota, Who Focuses on Tile Installation Professionals
TOA: Gary, tell us about yourself and your background. How did you get started with tile?
GT: I come from a family who owned a tile business. My aunt, uncle, father and cousins all made this their livelihood since 1959.
Upon graduating high school, I decided to give the family business a try. I began learning from my cousins (who set tile) the fundamentals of tile installation (grouting, mixing mortar, measuring and cutting tile, etc.).
Over time, I learned how to remodel old shower stalls and bathrooms and restore them to new.
And, I learned how to install various types of tile and stone products. I also managed incoming and outgoing inventory, operated a designer showroom and drove to job sites to meet with clients who needed estimates outlining the scope of the work they were having done.
TOA: What is your history at Tile Outlets of America?
GT: I was hired as an Inside Sales Representative for Tile Outlets in 2009.
In my years with Tile Outlets of America, I have built relationships with contractors, designers, and homeowners. My objective has been to help educate the customer and outline the best product(s) for their project and budget.
I also have worked closely with management on various projects throughout the store including: display boards, contractor events, store resets, inventory and more.
>> See Tile Design Inspiration from Tile Outlets Tampa
TOA: Gary, what is your new role with the Sarasota store?
GT: I am very excited about my latest opportunity as the Pro Services Relationship Manager in the Sarasota store. Through this role, I will be able to expand my role with Tile Outlets by learning the needs of the contractor, while assisting in the growth and development of our Sarasota location.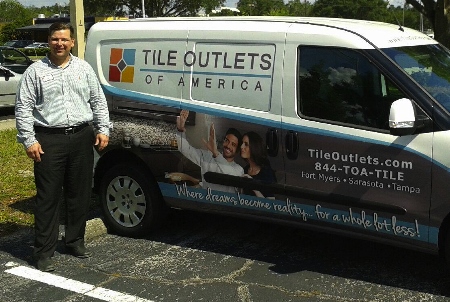 Tile Outlets has also invested in a beautiful company van which will advertise our brand everywhere it goes.
>> See Tile Outlets of America Reaches Out To Contractors, Builders and Designers in Sarasota With New Hire
TOA: What do you love most about tile and stone and which are your favorite products?
GT: I love the Daytona Laguna Bianco porcelain floor tile. It looks like natural stone but without the maintenance. We put it on our floor in our previous home and absolutely loved it.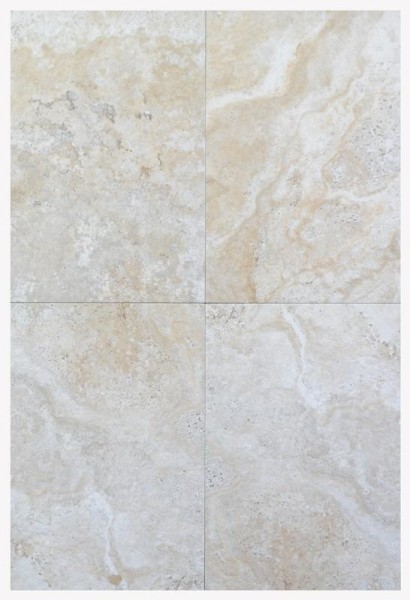 Daytona Laguna Bianco porcelain floor tile
The classic premium travertine is also one of my personal favorites. It is a beautiful stone that has a timeless look.
TOA: What product or installation trends are most interesting for the Sarasota market?
GT: I think customers and contractors both like the wood look ceramic and porcelain tile products. While offering the look of wood, since it is a glazed material, it is much more durable for the Florida climate.
>> See Two Ceramic Floor Tiles That Look Like Wood: Fronda and Sauco
>> See Check Out Bio Wood Modular Wood Look Planks For Rich Patterns
>> See Two Wood Look Porcelain Tile Styles To Transform Floors and Walls
>> See Plank Tile that looks like Barn Wood: Castle Series from Spain
TOA: What do trade professionals most appreciate about Tile Outlets of America?
GT: I believe that the trade professionals like the fact that we are here for them. Our goal is to provide great product and service on a daily basis.
>> See Pro Services to learn more about the program.
TOA: For those who've never been to Tile Outlets before, what should they expect?
TOA: If they have never been to Tile Outlets of America before, expect a huge offering of in stock product and a courteous staff to assist them.
TOA: Gary, what do you do when you're not immersed in tile?
TOA: When I am not immersed in tile, I am at home with my wife Terri and our 2 year old daughter Lauren. They are the love of my life.
TOA: Any parting words of advice?
GT: As far as parting words of advice, I would strongly suggest taking a trip to our store for your next tile or stone project. You will be glad you did.
TOA: Gary, how can trade professionals in the Sarasota area contact you?
GT: I can be contacted on my email: gtuhro@toa.us or at the store 941-549-8453. I look forward to helping every customer and contractor with their tile and stone needs.
TOA: Thank you, Gary, and congratulations on your new role.
Are you a tile installation professional in the Sarasota area? Be sure to visit Tile Outlets and ask for Gary Tuhro.