How to Maintain Ceramic and Porcelain Tile and Grout With Aqua Mix Products
Posted by TOA's Blog Team on Jul 3rd 2019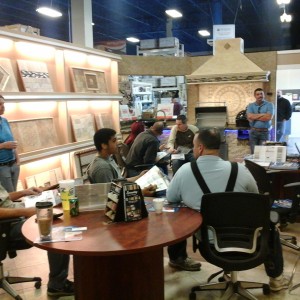 Are you wondering how to maintain your ceramic and porcelain tile and grout? Try Aqua Mix products.
In Sealing and Cleaning Tile with Aqua Mix: Interview with Jeffrey Stone, we introduced you to Jeffrey Stone from the Aqua Mix brand of tile sealers and cleaners. He conducted a training and demonstration session at Tile Outlets of America in Tampa.
In this article, we answer commonly asked questions about how to maintain tile and grout with Aqua Mix products.
How to properly maintain glazed ceramic tile, porcelain tile and grout using Aqua Mix Products
Question: How can I keep my grout joints from getting stained?
Answer: Keeping grout joints stain-free can be challenging. That's where a grout sealer comes in.
Typically, sanded and non sanded grout come equipped with a polymer-modified Portland cement. However, an additional grout sealer applied to the joint (after proper cure time) will provide the protection needed to keep the grout from staining.
Question: How do I apply the grout sealer?
Answer: Grout sealer may come in a variety of ways.
An easy application may come in a spray can such as the Aqua Mix Same Day Grout Sealer.
You can apply this sealer by simply pointing the tip of the can 18"-24" from the grout joint and spraying it evenly along the lines. Any excess sealer can be removed with a clean dry cloth.
Aqua Mix Sealers Choice Gold or Aqua Mix Grout Sealer are also good quality sealers which may be applied with a "grout applicator wheel or brush." These products allow the sealer to come in direct contact with the grout joint minimizing contact with the tile.
As with all grout sealers, the longevity of the sealer depends on the product, environment, and how it is cared for.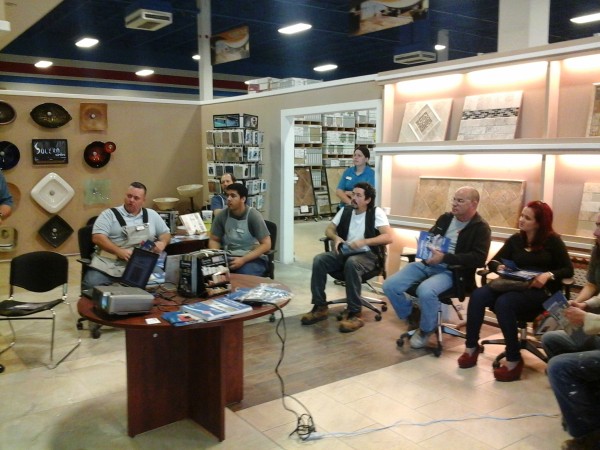 Question: Will my grout get dirty even if I use a sealer?
Answer: Yes, the grout will still accumulate dirt, but the sealer will keep it on the surface of the grout joint rather than the dirt penetrating into the grout joint and causing permanent damage.
Question: How do I clean my tile and grout properly?
Answer: Proper grout and tile cleaning is essential to the beauty and longevity of both the tile and grout. You can use cleaners designed specifically for tile and grout to clean the area without compromising the sealer in the grout or the finish on the tile.
Aqua Mix Heavy Duty Tile & Grout Cleaner is a "high alkaline cleaner and degreaser." It also is great for removing soap scum, grease and other organic materials that may have been subject to heavy use. The cleaner may be used a variety of ways while diluting with water.
For moderate soil build-up, use a ratio of 1 part cleaner to 3 parts water applied with a mop or sponge.
It is best to let the product dwell for 3-5 minutes as this will allow the product to loosen the build-up on the surface.
Agitate the surface with a synthetic mop, scrub brush, or scrub machine and rinse thoroughly with clean water.
It is important to change the water frequently for best results. We recommend using rubber gloves and eye protection.
Question: If I want to change my grout color do I need to remove the old grout?
Answer: Although grout removal may be recommended in some cases, if the grout is solid and clean, Aqua Mix Grout Colorant is a "waterborne epoxy" that provides the ability to recolor and seal the grout at the same time.
You can apply the product with a toothbrush or foam-tipped applicator.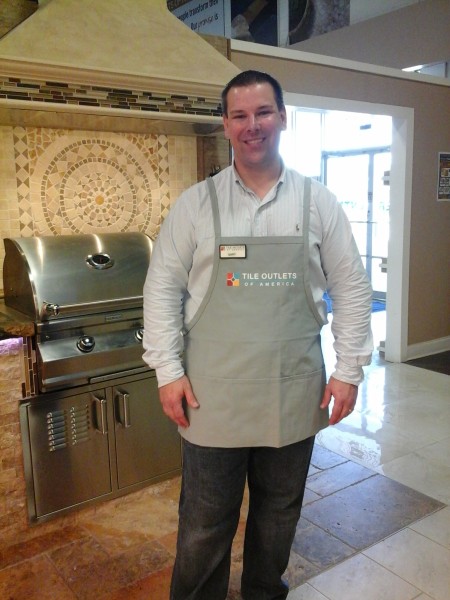 Gary Tuhro, Tile Outlets of America, Sarasota
If the existing grout joint is dirty and has a sealer on it, we highly recommend Aqua Mix Pre-Treat Cleaner. This product will clean and prepare the grout joint to create a strong bond between the existing grout joint and grout colorant.
If covering over a dark grout joint with a light colorant, two coats may be necessary.
Final Words of Wisdom About Using Aqua Mix to Maintain Tile and Grout!
You can find all of the Aqua Mix products mentioned above when you shop Tile Outlets of America.
As with all ceramic and porcelain tile and grout cleaning and maintenance products, be sure to consult with your local Tile Outlets sales associate for complete details, as results may vary.
Also, check out Use Grout Release Before Grouting Textured Tile for Easier Clean Up.
We look forward to answering your questions.
Thanks, Gary Tuhro!
Special thanks to Gary Tuhro, Tile Outlets of America, Inside Sales Representative, who wrote this summary.
Gary began in the tile industry in 1993. He is the third generation in his family in the tile trade and has done inside and outside sales for over 14 years while working for the family business. Gary was an operations manager for Master Tile in 2007 and joined Tile Outlets in 2009.
Gary has contributed several articles to the Tile & More Blog including the following:
>> What You Learn From a Schluter Innovation Workshop
>> Build a Waterproof Shower Enclosure with Schluter Products
>> 9 Top Questions About Trowels

Note: We originally published this article on April 10, 2014, and have updated it.