Build a Waterproof Shower Enclosure with Schluter Products
Posted by TOA's Blog Team on Sep 28th 2017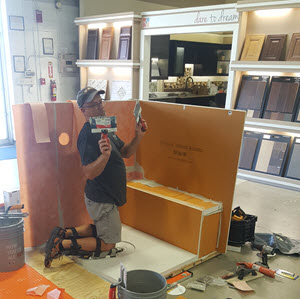 If you're having your bathroom renovated, you probably expect to enjoy a waterproof shower enclosure once the project is done.
Although that makes sense, the end result doesn't always deliver unless the installation makes use of the best waterproof products available combined with tile industry installation standards.
For that reason, Tile Outlets of America regularly hosts product knowledge sessions with tile industry experts such as Schluter Systems, known for its innovative shower installation products.
>> See How to Manage Moisture in Tile Showers: Schluter Training Session
In this article, we focus on building an entire waterproof shower enclosure.
How to Build a Waterproof Shower Enclosure Using Schluter Products
Schluter Systems Territory Manager John Trent has many years of experience as a contractor and tile installer. He's a Certified Tile Installer and believes strongly in shower installations that perform.
>> See John Trent: Certification - Fighting the Good Fight Against Sub-Par Installations
During a live presentation at all three Tile Outlets of America stores, John demonstrated how easy it is to build a completely waterproof shower enclosure with minimal tools and effort. He covered:
Schluter products for building a waterproof shower
Trowel size recommendations when working with Schluter products
How to build a shower bench
The difference between Kerdi and Ditra products
Radiant heating products
Schluter's linear drain product
Let's explore in more detail.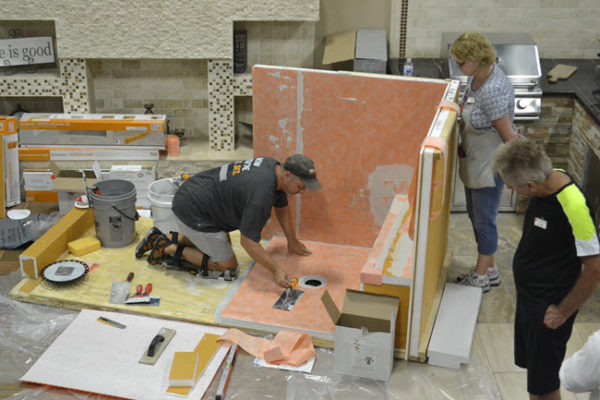 Schluter System Products for a Waterproof Shower Enclosure
In his demonstrations, John used the following Schluter products:
Kerdi Board
Schluter Kerdi Board Panels are waterproof and temperature-resistant, lightweight and easy to handle as well as quick and easy to install. They are available in eight different thicknesses which allow you to truly create a wide range of ready for tile substrates and building elements that are flat, level, plumb, and square.
Kerdi Board ½"- It's a lightweight, extruded polystyrene foam panel that creates bonded waterproof assemblies with tile coverings.
Kerdi Board Panel 2"x24"- John cut small sections of this with a utility knife to prepare a base for the shower seat. He installed the base pieces 16" on center with All-Set thinset, then cut larger pieces to complete the top and face of the bench.
Kerdi Curb - This is a one-piece assembly that attaches across the front of the Kerdi shower tray.
Washers and Fasteners
Schluter washers and fasteners - These consist of galvanized steel washers, and coarse-thread screws are used to fasten the Kerdi Board to metal or wood stud framing.
John demonstrating Kerdi Ker corners.
Waterproofing Membrane
Schluter-Kerdi consists of a pliable sheet applied waterproof membrane and vapor retarder. It has been designed for the direct application of tile and is ideal for use in tiled showers, bathtub surrounds, residential steam showers, and other tile applications in wet areas.
Kerdi Band is made of the same material as Kerdi. It is sold by the roll, used to seal butt joints and floor/wall connections and ensure a fully water-tight seal preventing leaks and mold growth. It adheres tightly to inside and outside corners without rounding at surface transitions. You can easily cut it to cover all seams and place it on top of all the Kerdi screws and washers.
Kerdi Ker Corners are preformed, seamless Kerdi corners for waterproofing floor/wall/shower base connections in barrier-free shower applications. This unique corner hugs the corner so water cannot penetrate the surface. The corners come in both "inside and outside" corners depending on the position of the walls.
Uncoupling Membrane
Ditra membranes help prevent the major cause of cracked tile. They allow for in-plane movement to neutralize movement stresses between the tile and the substrate beneath it.
Schluter All-Set Thinset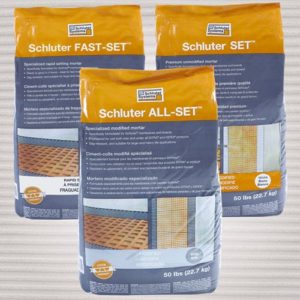 John applied Kerdi over all of the drywall using Schluter All-Set thinset.
The Schluter All-Set is a specifically formulated mortar for installing Schluter membranes and boards. All the components are properly mixed and balanced to ensure that extended dry time is not required.
This ensures that water will not allow penetrate and damage the wallboard beneath it.
Sloped Shower Tray
The Schluter-Kerdi shower tray is a pre-formed sloped shower tray base for the bottom of the shower that eliminates the need for a mortar bed. It helps reduce installation time, creates a bondable surface for applying the waterproof membrane and can easily be cut to size. The lightweight polystyrene foam provides a thermal break from the substrate.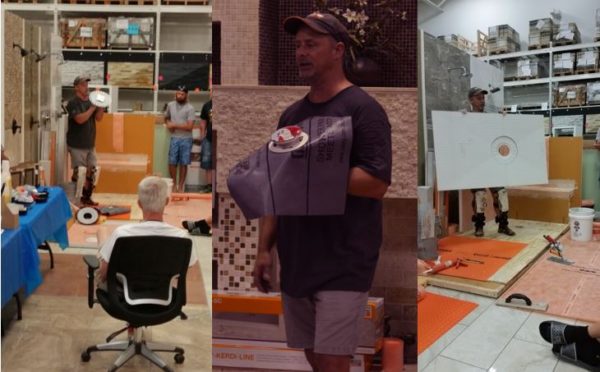 John discusses the Schluter flanged shower drain and the sloped shower tray.
Shower Drain
The Schluter-Kerdi Drain - It's a shower drain with integrated bonding flange to which the KERDI waterproofing membrane is adhered and forms a waterproof connection at the top of the tile assembly. It's available in ABS, PVC, or stainless steel, in a variety of grate finishes and accommodates a wide range of tile thicknesses.
Schluter also offers a linear drain which we detail below.
Waterproof Pipe Seals
Kerdi Pipe Seal and Mixing Valve Seal are prefabricated waterproof seals with over-molded gaskets that are installed around the showerhead and the control valves. They protect all of those moisture-sensitive backer board panels from being exposed to moisture.
Recommended Trowel Sizes for Working with Schluter Products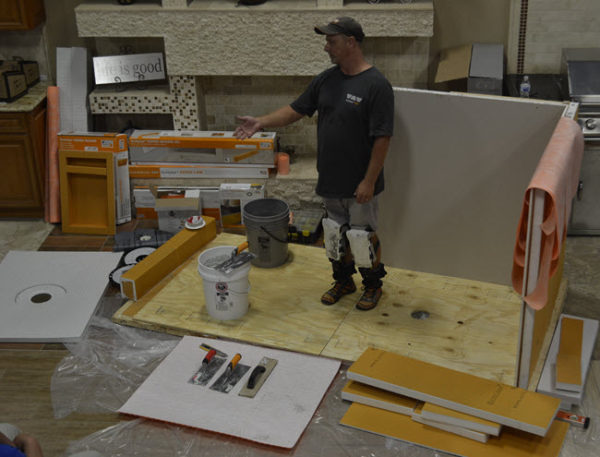 John recommends specific trowel sizes for working with Schluter products
John made the following trowel size recommendations for these type projects:
Use square notched trowels for both Kerdi and Ditra membranes

For Kerdi: 1/8"x 1/8" square notch trowel
For Ditra: 11/64" x 11/64" square notch trowel
For Ditra Heat / XL: 1/4'' x 1/4'' square notch trowel
As a reminder, small trowel notches spread small amounts of mortar whereas larger notches spread larger amounts to create proper bond and coverage.
In this application, the Kerdi membrane is lightweight so a small notch trowel is essential. The Ditra and Ditra XL are a larger (heavier) material which requires more mortar for installation. This is why the larger notch trowel is recommended.
>> See 9 Top Questions About Trowels
Building a Shower Bench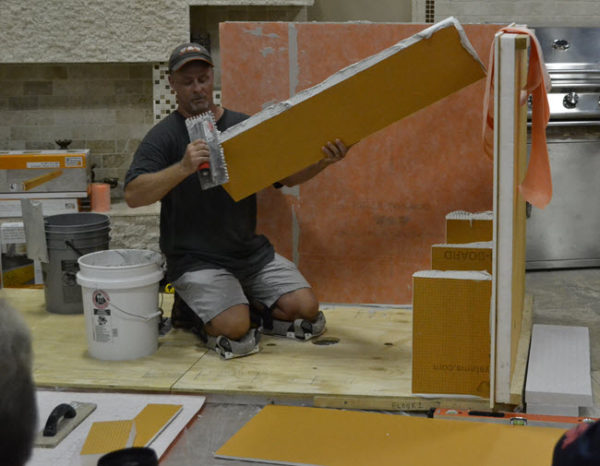 John demonstrates how to create a custom shower bench.
During the demonstration, John built a shower bench out of Kerdi board.
He used Kerdi Board Panel, a thicker board that he easily cut into smaller sizes. For the base of the shower bench, he installed pieces that he laid 16" on center.
He fastened these to the wall of the shower with Schluter All- Set thinset. This will provide a good base for the top of the seat to be fastened to.
He cut the top of the shower bench from the same material and laid it onto the top of the shower base with the same thinset.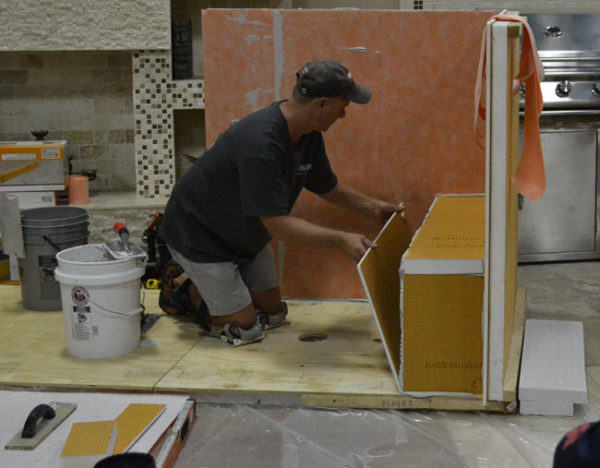 John adds finishing touches to this custom shower bench.
In addition to creating custom benches using Kerdi Board, Schluter also offers premade benches. The Kerdi Bench is easy to install but is limited in size options.
What's the Difference Between Schluter Ditra and Schluter Kerdi Products?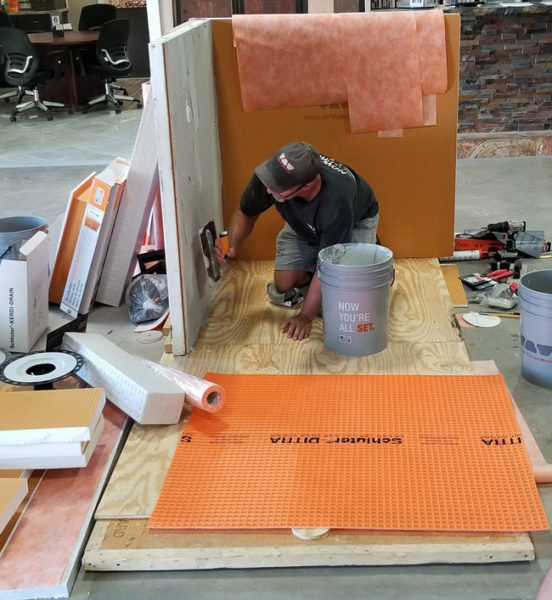 What's the Difference Between Schluter Ditra and Schluter Kerdi Products?
In his demonstrations, John focused on Kerdi to waterproof the walls, floors in wet areas.
Schluter Kerdi is an 8 mil-thick "pliable sheet-applied" polyethylene waterproofing membrane and vapor retarder. It is ideal for direct contact of tile in: Tubs, showers, residential steam showers, and other tile applications in wet areas.
The purpose of Ditra, on the other hand, is to eliminate the major cause of cracked tiles in addition to waterproofing.
Schluter Ditra is a polyethylene uncoupling membrane used over plywood and OSB subfloors. The patented rib structure allows "in-plane" movement that effectively neutralizes the differential movement stresses between the substrate and the tile. This essentially eliminates the major cause of cracking to the tiled surface.
Consequently, he used Kerdi throughout the shower enclosure - all areas that will be subjected to considerable water and vapor.
He installed Ditra immediately outside the shower enclosure.
Ditra also makes possible radiant heating.
Schluter Radiant Heating Products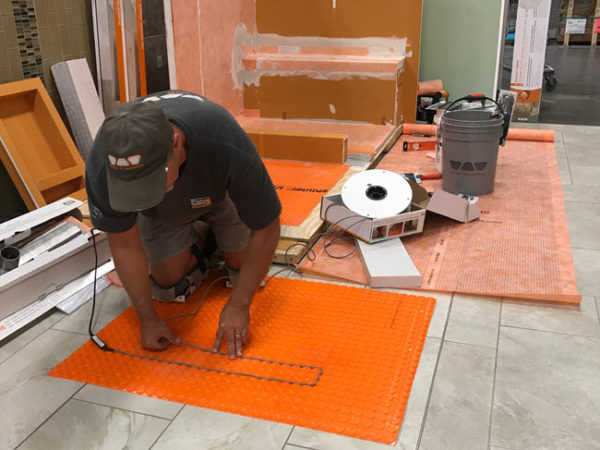 What makes the Schluter®-Ditra-Heat system particularly useful is how it integrates customizable, comfortable electric floor warming with the functions associated with uncoupling, vapor management, and waterproofing shower installations. It also helps distribute support/load.
As you can see in the image above, John easily installs heating cables within the Ditra stud structure.
The image below offers you another perspective.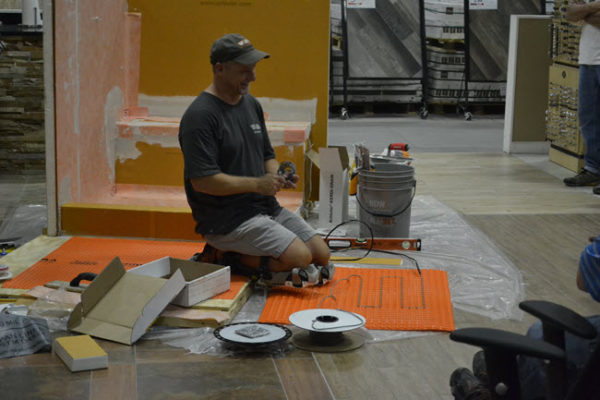 This can be placed anywhere on the floor where heat is desired.
Schluter Linear Drain Products: Kerdi-Line Drain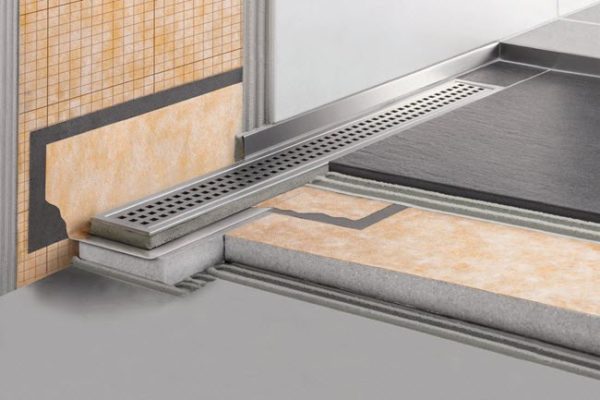 In addition to a traditional drain, Schluter offers a linear drain.
The Kerdi-Line Drain is available in both 20" and 48" nominal lengths. It is a low profile linear floor drain specifically designed for bonded waterproofing assemblies and can be installed adjacent to walls or at intermediate locations. Since the floor can be sloped on a single plane, you can use large format tiles to create interesting designs.
What's Next for Waterproof Shower Enclosures?
As you can tell from this article, Schluter products are ideal for ensuring waterproof tub or shower projects.
You can easily find all of the products described from Tile Outlets of America to build your own waterproof shower enclosure.
We invite you to visit Tile Outlets in Fort Myers, Sarasota, and Tampa and look forward to hearing about your successes with waterproof shower enclosures.
Special thanks to Gary Tuhro for sharing his wisdom for this article.