How to Manage Moisture in Tile Showers: Schluter Training Session
Posted by TOA's Blog Team on Aug 4th 2016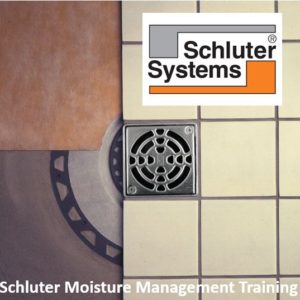 Do you know how to manage moisture in tile showers? If you don't, you should as Schluter explained during training sessions at all three Tile Outlets of America stores.
Prevent Water Damage in Homes by Managing Moisture in Tile Showers
At the heart of needing to know how to manage moisture is that showers represent the #1 source of water damage in homes.
Why? Because showers are inherently and intensely wet. When you install a tile shower, you need to figure out how to deal with all of that water.
Furthermore, bathrooms are evolving. The next generation bathrooms are spa-like:
Barrier free,
Wide open, often with no shower door,
They accommodate aging in place.
Homeowners want to use tile. Tile is not only hygienic, durable, and easy to clean, but also versatile and intensely beautiful and luxurious. And an elegant spa-like bathroom adds to a home's value.
>> See How to Use Pebbles and Penny Mosaics, Patterns and Ledger Panels in Your Home
>> See Tile Inspiration from the Fort Myers Parade of Homes 2016
The opportunity for professional tile contractors and installers is to ensure that the bathroom installation remains beautiful for years to come, with no moisture or mold-related issues. With a reliable waterproofing system in place, a tiled bathroom provides the ultimate in practical as well as aesthetic appeal.
>> See Universal Design and Designing With Tile.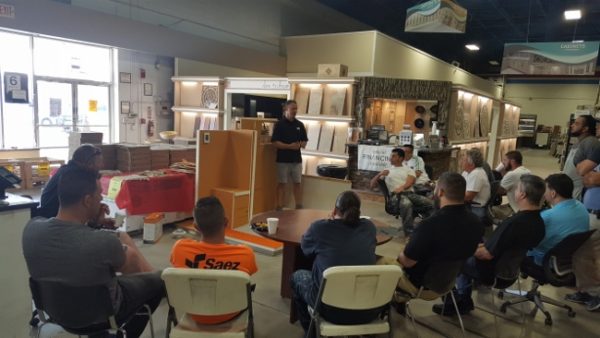 Schluter demonstrates how to manage moisture in a tile shower at the Tampa Tile Outlets store.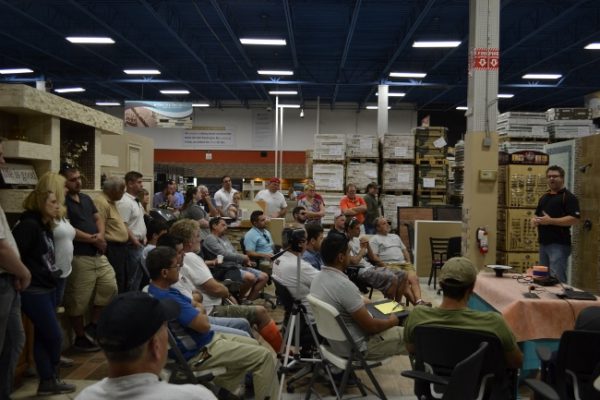 Schluter demonstrates how to manage moisture in a tile shower at the Fort Myers Tile Outlets store.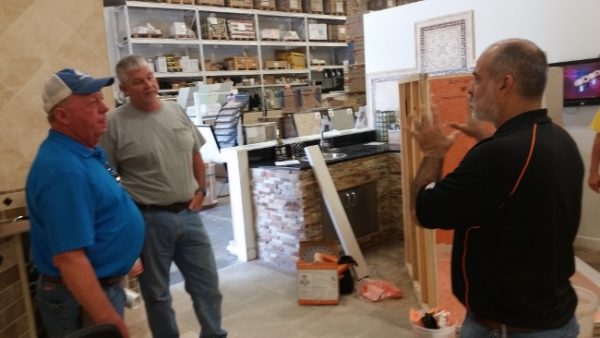 Schluter demonstrates how to manage moisture in a tile shower at the Sarasota Tile Outlets store.
One Shower is the Equivalent of 11 Rainforests! Managing that Moisture is Critical!
To help illustrate how wet a shower environment is, consider that a daily 15 minute shower represents 30 gallons of water per day. That is the equivalent of 3" of rainfall per day or 1100" of rainfall per year.
The average rainfall in Florida is about 60" per year.
A rainforest is the technical term for 100" of rain/liquid precipitation per year. That means that a shower represents a rainforest * 11. No wonder that showers are the #1 source of water damage in a home!
>> See Technical Report 11-29-02 titled "Rainfall Inside My House" The Shower Environment by Don Halvorson, Forensic Tile Consultant (downloadable three-page pdf document - unfortunately, no longer availabe :( ).
To make matters worse, containing water is tricky; building materials are moisture-sensitive and the code for windows and roofs are light years ahead of any waterproofing requirements for showers.
To Manage Moisture in a Tile Shower You Must Prevent Water and Vapor
Water has both a liquid and a vapor form. However, the industry Industry hasn't differentiated between the two. A waterproof membrane may not necessarily be vapor proof, so water will get in as a vapor.
Shower tile won't stop water or vapor which will penetrate through the grout.
Mold issues develop when water, at the right PH level and temperature, combines with an organic food source. If you can control moisture, you control mold.
Two Waterproof Shower Installation Methods: Water-in/Water-out and Sealed Systems
There are two types of systems typically used in shower construction:
The traditional shower system uses an unbonded water containment membrane. It is known as a water-in/water-out system
The sealed system uses a bonded waterproof membrane meeting ANSI 118.10 and lets no water in.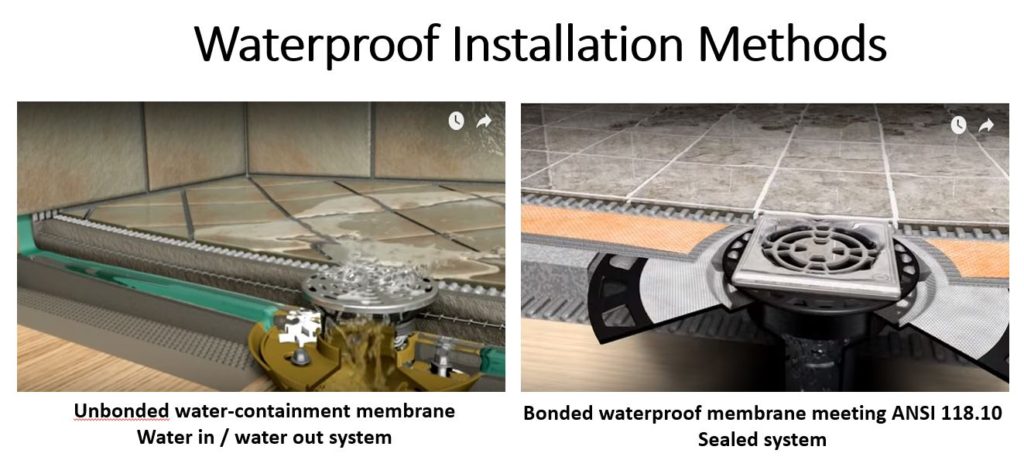 The first system for building showers originated in the 1920s before backerboard, thinset, and a way to bond tile to anything waterproof existed. This approach will fill with water and mold.
The second method represents a sealed system that integrates with a bonding flange (the Schluter-Kerdi drain). It is the better way to build a tile shower and manage moisture.
The Water-in/Water-Out System for Installing Tiled Showers
As Essential Water Management in Tiled Showers explains,
"The traditional method for installing tiled shower assemblies creates what can be described as a water in/ water out system. It begins with the installation of a mortar bed that is sloped to the weep holes in the drain. A waterproofing membrane, typically referred to as a pan liner, is subsequently placed over this "pre-slope" and clamped into the drain. Pan liners may consist of metals such as lead and copper or plastics such as polyvinyl chloride (PVC) and chlorinated polyethylene (CPE).

Some regions of the country also employ hot mop systems that involve applying layers of asphalt and roofing felt to build up a pan liner. Pan liners are carried up to a height of at least 3" above the finished height of the curb, and must not be penetrated by any fasteners. Pan liners are not designed to allow for the direct application of ceramic or stone tile. Thus, a mortar bed must be installed to provide load distribution and a bonding surface for the floor tile. Crushed stone or tile is placed around the weep holes of the drain to prevent blockage before installing the mortar bed. Most wall assemblies incorporate 4-mil polyethylene or roofing felt placed behind the tile substrate (i.e., floated mortar or backerboard panels) and lapped over the pan liner."
The Sealed System for Tiled Shower Installation
The article further explains,
"The availability of bonded waterproof membranes has revolutionized tiled shower installation. These products allow the installer to produce a sealed system, in contrast to the water in/ water out system described previously. In general, the process begins with the installation of a sloped mortar base on the subfloor and solid backing on the walls. The bonded waterproof membrane is installed on top of the mortar bed and solid backing and tied into the drain, with tile installed over the membrane using thin-set mortar. The resulting assembly does not permit moisture penetration into the solid backing or mortar bed, allowing the assembly to dry completely between uses and eliminating the potential for mold growth in the system."
Moisture Management in a Shower Calls for a Sealed System
To avoid the common challenges with the traditional water-in/water-out shower assemblies, Schluter recommends the Schluter®-Shower System which consists of an integrated family of products that creates a "sealed system".
The system includes an orange waterproofing membrane where the fuzz bonds with the thinset, creating a tenacious bond which breaks down any kind of capillary wicking action.
Check out the 5:25 minute video to see both options for waterproofing a tiled shower in action. You'll understand better how a sealed system makes possible effective moisture management. Notice how it eliminates leaks, reduces the potential for efflorescence and mold growth in the shower system, not to mention that it dramatically reduces installation time.
Schluter®-Shower System 5:25 minute video
Resources for Moisture-free Shower Installations
Schluter recommends the following resources to learn more about how to install moisture-free showers:
You will find a full line of Schluter products in all Tile Outlets of America stores, and we can easily special order any specialty items that we don't stock.
>> Also see Metals and Inserts for Installing Tile and Stone and Underlayments for Schluter products available in-stock.
How do you manage moisture in tile showers? Have you installed a sealed system? What would you add to this article?