Universal Design and Designing With Tile
Posted by Kate Spencer on Oct 20th 2022
How familiar are you with Universal Design? Are you aware that it can benefit you and everyone around you, especially when it comes to designing with tile?
As much as we help customers with tile design questions, we weren't fully immersed in Universal Design.
However, after being inspired by the Kohler presentation titled "Universal Design in a New Normal" at the ASID Florida West Chapter meeting which took place at Tile Outlets in Sarasota, we've been discussing the Principles of Universal Design and how tile design choices fit in.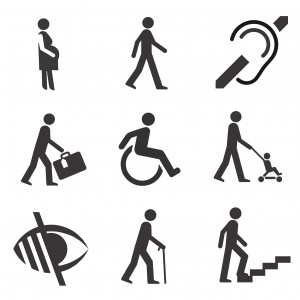 What is Universal Design?
Universal Design is often associated with the Americans With Disabilities Act.
That said, it really goes beyond that to take into account the needs of all, regardless of age, mobility and other issues. As you can see in the image above of a variety of symbols representing those who benefit from Universal Design, everyone is included.
Ultimately, Universal Design is about designing and creating digital and real-life spaces that are user-friendly to all - whether old or young, with physical issues or not.
Ultimately, "Universal Design is Good Design." It's also referred to as "inclusive" design.
The 7 Principles of Universal Design
Developed in 1997, the 7 Principles of Universal Design resulted from thoughtful practical guidelines that a working group of architects, product designers, engineers and environmental design researchers, led by Architect Ronald Mace at North Carolina State University agreed on.
According to the Center for Universal Design in NCSU, the Principles "may be applied to evaluate existing designs, guide the design process and educate both designers and consumers about the characteristics of more usable products and environments."
They consist of:
1. Equitable use
The design is useful to a wide range of people with varying abilities.
2. Flexibility in use
The design can accommodate a wide range of preferences and abilities.
3.Simple and intuitive use
The design is easy to understand regardless of experience, knowledge, language or ability to concentrate. It doesn't make you think.
4. Perceptible information
The design communicates information effectively, regardless of ambient conditions or sensory abilities. Good signage comes to mind.
5. Tolerance for error
The design minimizes hazards and negative consequences of untended actions. With tile, for example, that would mean non-slip surfaces for bathroom and shower floors, for example.
6. Low physical effort
The design can be used efficiently and comfortably with minimal fatigue. You don't have to fight against it to use it.
7. Size and space for approach and use
Regardless of your size, posture or mobility, you won't encounter issues using, approaching or manipulating the design. Essentially, there's adequate size and space for easy movement.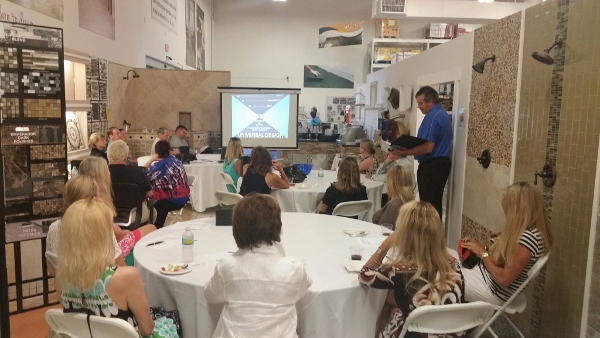 ASID Florida West Chapter members at the Kohler presentation titled "Universal Design in a New Normal" which took place at Tile Outlets in Sarasota
How Universal Design Translates Into Physical Spaces
The beauty of Universal Design is that it makes you think about physical spaces and how to make them useful for all those around you.
More specifically, it accommodates aging in place, affects the flow of space and how people travel through hallways and rooms. You start to think about the transitions from room to room and how they should be spacious. You become aware that surfaces should easily handle wheels, feet, walkers, and people, not to mention that they should also offer easy maintenance.
These are all considerations that tile designs can reflect assuming awareness of the principles of Universal Design.
How Universal Design Relates to Designing With Tile
Many of the spaces that Universal Design focuses on - kitchens, bathrooms, and outdoor spaces - are ones where tile shines.
Example: Walk-in and Curbless Showers
For example, walk-in showers with flush inline drain transition rather than a step reflect Universal Design.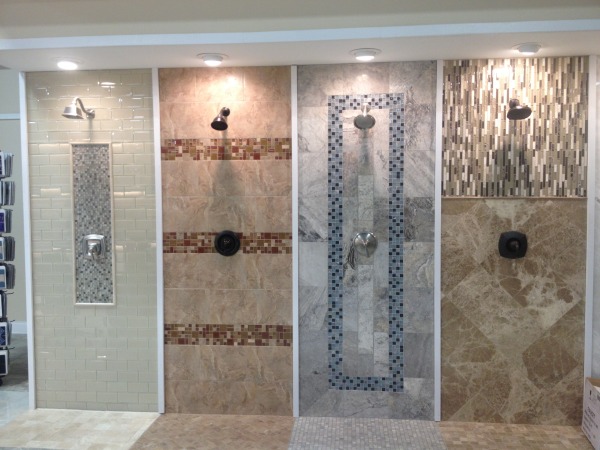 The shower displays at Tile Outlets of America flow smoothly from one design to the other. Not that you'd install several showers in your home like this. However, they make for an ideal Universal Design experience in-store.
Showers which include benches, shelving, and handles do so, too.
>> See TileWare Products Shower Accessories: No Rust, Permanently Attached, Beautiful!
You'll enjoy the bath and shower examples detailed in these resources:
>> See Houzz's Universal Design Shower Design examples
>> See Universal Design Features in the Bathroom from HGTV

Example: Outdoor Spaces
Especially in Southwest Florida, it's important to be able to enjoy your outdoor pool and spa spaces. Not only are slip-resistant products important, but also ones that can accommodate spaciousness.
>> See Find Tile For Your Pool and Spa at Tile Outlets of America!
After all, tile is flexible and versatile. It's practical yet allows for magnificent design possibilities whether in residential settings or in commercial ones as you see with the ramp pictured above.
>> See Alena Capra, Interior Designer, Talks Tile and Design
Tile is easy to maintain and care for, and can even be engineered to be slip-resistant.
>> See Large Format Porcelain Tile For Outdoor or Indoor Use: The Element Series
>> See Five New Porcelain and Ceramic Patio Tile Series From Ceramica Gomez
Ready to Consider Universal Design When Designing With Tile?
So, why not consider Universal Design when designing with tile? Doesn't it make sense for a space designed to allow you to live and flourish in place?
Let me know what your experience is with Universal Design and how you like to include tile as you design your space.
Here is another resource re Universal Design: What is Universal Design?
Thanks for reading!
Kate

Note: We originally published this article on August 6, 2015, and have updated it.