Find Tile For Your Pool and Spa at Tile Outlets of America!
Posted by Kate Spencer on Oct 13th 2022
If you're planning a swimming pool or spa, you should visit Tile Outlets of America where you'll find a beautiful selection of tile to choose from. If you need convincing, check out the pool and spa design ideas and tile products that I've gathered for you in this article.
The mosaic display racks for in-stock mosaics will indicate a POOL SAFE sticker to let you know this item can be installed in a pool environment. Please be sure to look for this sticker on the displays.
Each Tile Outlets store prominently features the Aquatica Pool & Spa Tile Collection display. It includes an extensive selection of different types of tile for your pool and spa - tile for water lines, spa applications and back pool walls. You'll even find glow-in-the-dark options! The display is sure to inspire you with pool design ideas and possibilities.
Note that this article was originally published on July 17, 2014, and updated on March 24, 2016. This update reflects some of the new pool and spa tile selections available.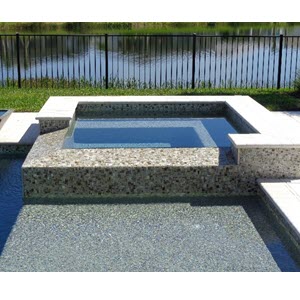 Each Tile Outlets store also features the pool glass mosaics and ceramic mosaics from Artistry in Mosaics. You'll find many items stocked at the stores; all others can be special ordered. Artistry in Mosaics also can prepare customer pool mosaics. Please inquire with your sales representative.
Different Types of Tile For Your Pool
According to Swimming Pool Tiles: 5 Types, you'll generally have five different types of pool tile to choose from: porcelain tile, mosaic tile, glass pool and spa tile and brick swimming pool tile. Not all tile can be used in a swimming pool. According to Installing Ceramic Tile in Swimming Pools, it's important to select the right tile for your pool and spa:
"While all ceramic tiles are suitable for wet areas like showers, not all ceramic tiles are suitable for pools because any cracks in the glaze can allow moisture to penetrate the tile body. Choose a tile for your pool installation that is either impervious or vitreous. This means the tile will not absorb water if the glaze were to craze or crack. Impervious tiles are best; they will only absorb 0.5 percent of any moisture they come in contact with. Vitreous tiles will absorb up to 3 percent."
Furthermore, according to Swimming Pool Tiles,
"Ceramic tiles designated for swimming pools are their own exclusive category. Because pools contain heavily treated water and are exposed to freezing temperatures, these tiles must be specially manufactured for this purpose."
Although we generally don't face freezing temperatures in Southwest Florida, it's still important to use tile designed for pools. Also, make sure your installer has experience installing tile in pools and spas:
"Failure is typically the result of cutting corners with grout. Heat during the day and cold nights with shrinking grout leaves cracks and crevices and water gets into the gaps. Eventually the water expands and the tile pops. You need epoxy grout which is much more expensive..."

What Kind of Tile Will You Find at Tile Outlets for Your Pool and Spa?
The Aquatica Pool & Spa Tile Collection display featured at all Tile Outlets of America locations focuses on tile for pools and spas. These pool tile products can be ordered to your specifications and delivered to the store within 3-5 business days based on availability.
Let's explore these pool and spa tile inspirations in more detail.
Glass Tile For Your Pool and Spa
Glass tile is ideal around water given how it reflects light and adds dimension to a pool or spa. You'll find many different colors and patterns to choose from as you can see from this image of glass tile options for pools.
This is just a small selection of what is available at the stores: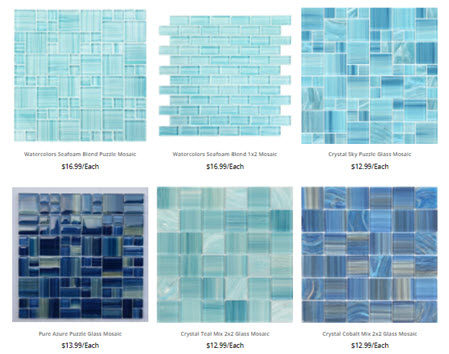 These glass tile options are all suitable for pool applications and can be submerged in water and subjected to pool chemicals.
Above, I mentioned glow-in-the-dark pool tile. Check out the Glow series which actually glows in the dark. Kids of all ages will love this idea!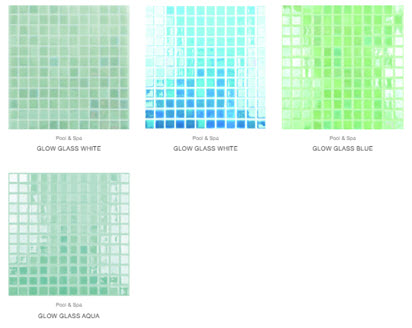 It brings a pool to life at night.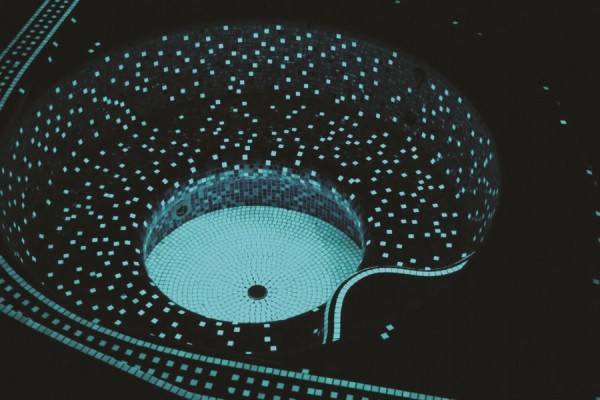 Glass tile can be used as a water line application or installed on the entire floor of the pool. The look of multiple uses of glass colors on the floor of a pool will make a beautiful statement.
The image below represents an entire pool done in 1x1 glass tile. Isn't the glimmer from the sun hitting the glass stunning?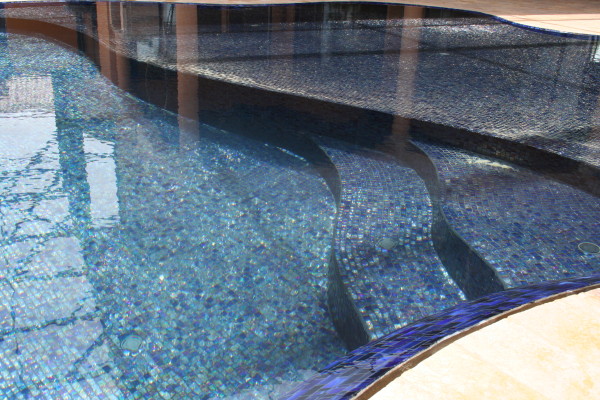 Reflections Provocative 1x1 Glass on pool floor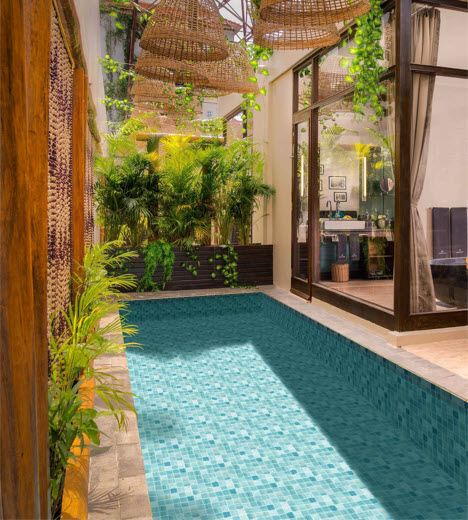 Crystal Sky Puzzle Glass Mosaic 12x12 – 152403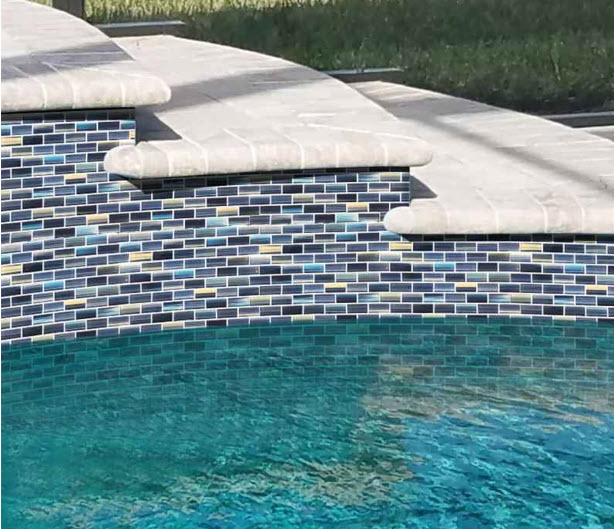 Pure Azure 1x2 Glass Mosaic 12x12 - 152409
Tile Ideas for Your Pool
For another look, explore the Ancient series below. Available in 6x6 tiles in cool pool colors, you can add decorative pieces that coordinate with the field tile to create a design for the pool water line and spa backsplash. These are available with the Aquatic Pool collection.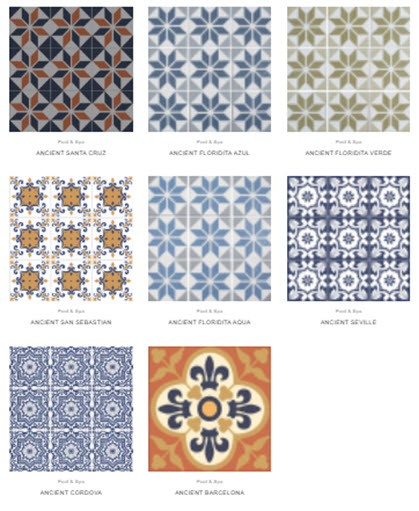 Glass Tile Design Ideas for your Pool
Stone and glass mosaics make a very nice water line in a pool. These items can be used against the waterline and also as a pool feature wall.
Here is a close up of that waterline glass pool tile:
Although I've mentioned the water line several times, you don't need to stop there! Make sure you take your pool design up the back wall and into the water features as you see in the image below where a 1x1 glass and stone mosaic outlines the spa area and creates a nice rustic warm feel.
Glass Pebbles for Your Pool
Have you considered using glass pebbles for your pool design? Here are a few items available at Tile Outlets of America.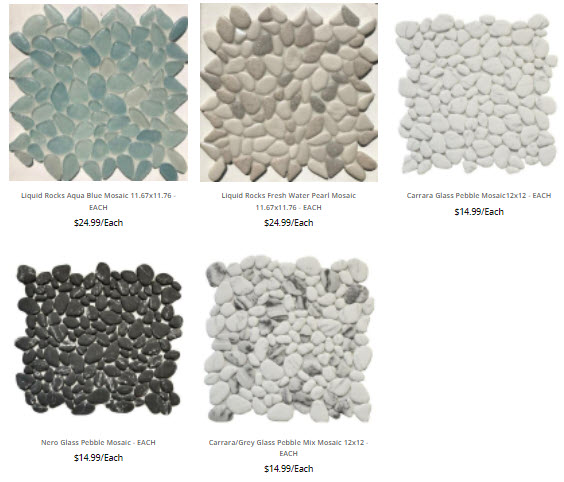 Pick From Many Colors of Tile For Your Outdoor Oasis
The color choices range from blues, greens, tans, and browns.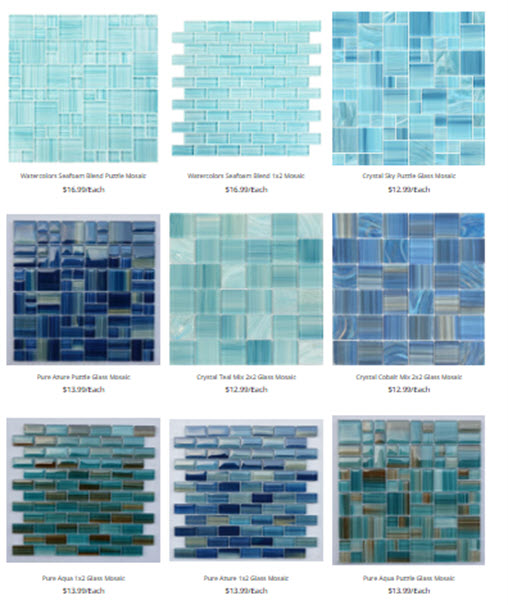 Although many people associate blues and aqua-greens with pool designs, the truth is you have a multitude of colors to choose from.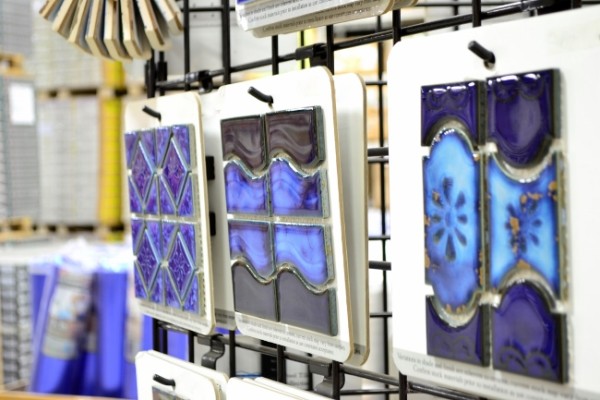 Explore them and pick colors that will enhance your entire backyard.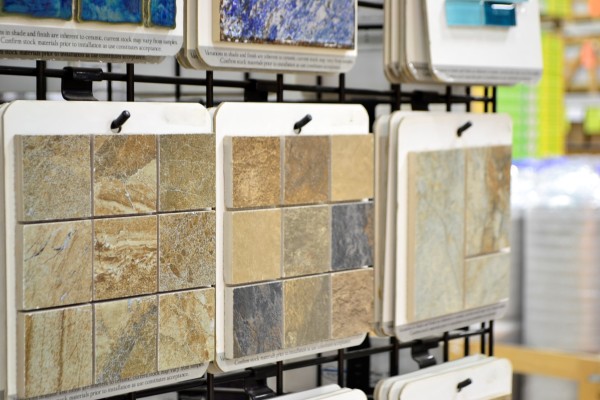 Ceramic Pool Mosaics
These items are stocked at the Tile Outlets of America, but there are many others that can be special ordered from Artistry in Mosaics.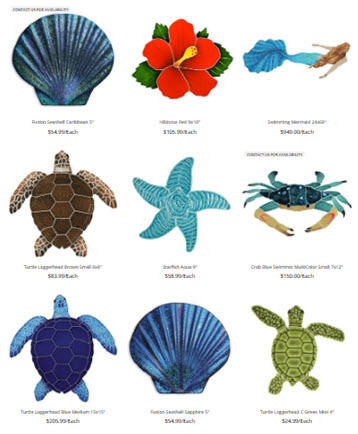 These are fun pieces to incorporate into your pool design. These items can be used in the bottom of the pool, on the waterline, on the steps or in the hot tub. Also, think about your pool bathroom and shower.
>> Read Looking for Pool Mosaics? Check out Artistry in Mosaics at Tile Outlets of America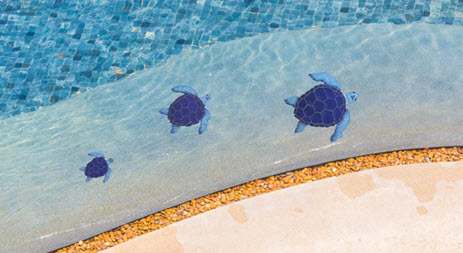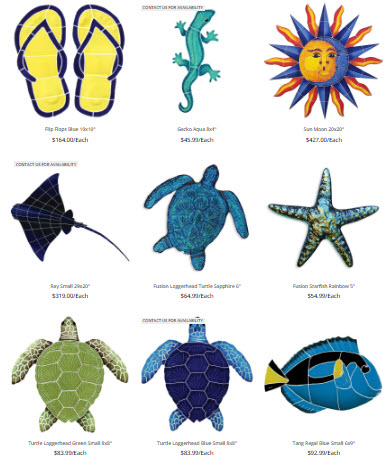 Natural Stone Ledgers and Interlocking Stone Tile For Pools and Spas
In addition to pool tile, Tile Outlets of America also offers a variety of natural stone ledger that can be used around a pool and patio application. These pieces will create a stone wall look to border a spa or a deck wall in any outdoor space.
Here is just a small piece of the ledgers that are available at Tile Outlets.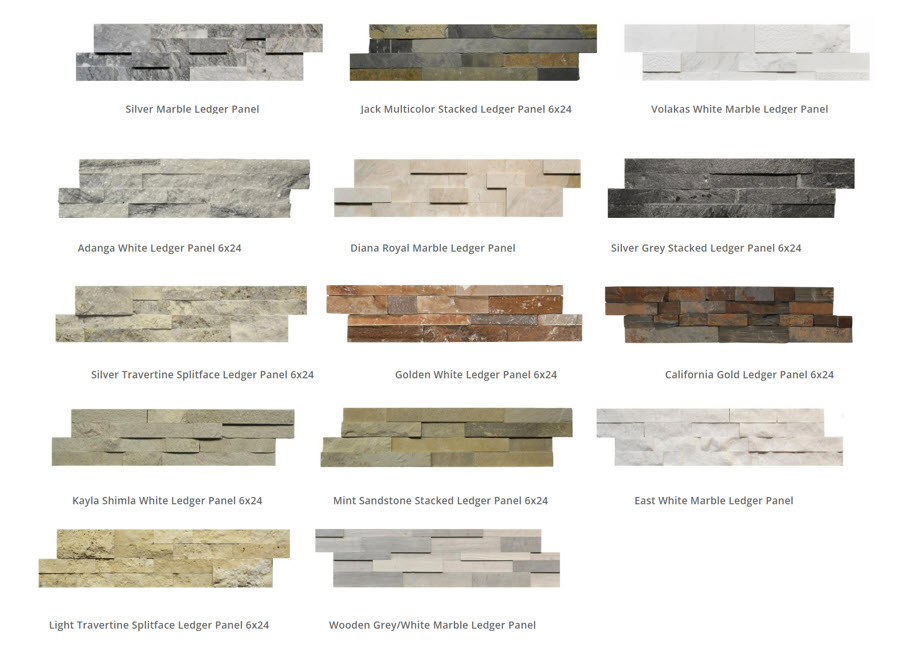 Be sure to explore the ledger stone displays available in all Tile Outlets stores; you'll notice several color options to use in your backyard design.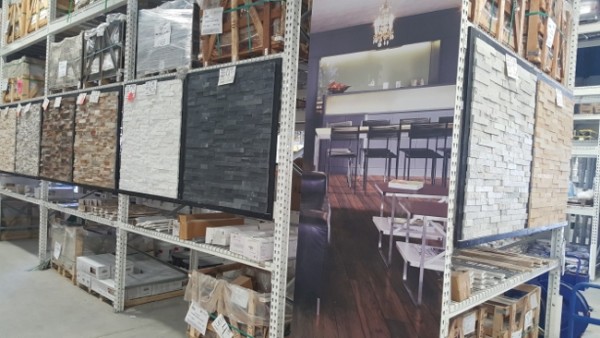 Water feature done in natural ledger stone
You can also find at Tile Outlets of America split face Travertine Ledgers:
The Silver Travertine splitface ledger is featured in the image below: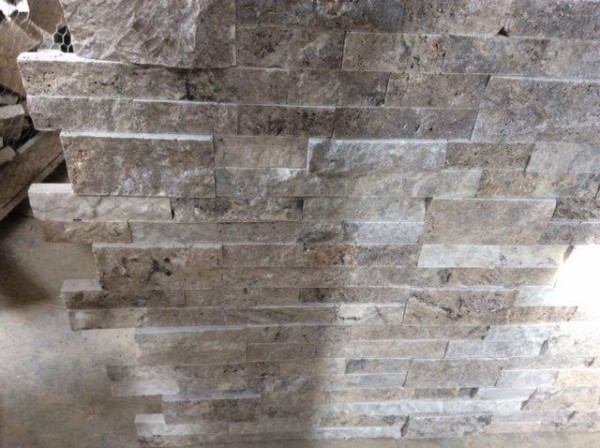 We like the ledgerstone look so much that we created an outdoor grill area using ledger stone in the Inspiration Area of the Fort Myers Tile Outlets location (see Four Patio Tile Trends from Coverings 2014).
>> See Consider Stacked Stone Ledger Panels For A Textural Wall Look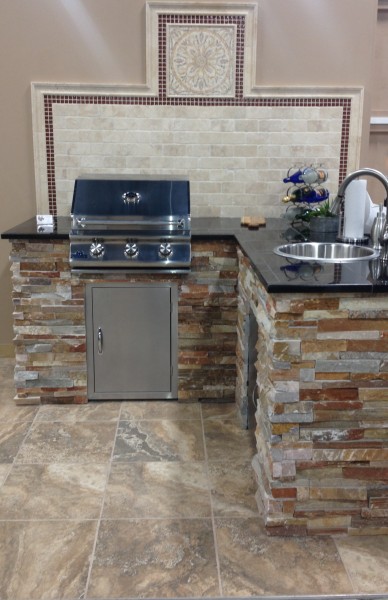 Fort Myers Inspiration Grill Area with Golden White Ledger Panel
Porcelain Pavers for Your Pool Deck
Tile Outlets of America has a selection of Porcelain Pavers available thru special order. These are available in 24x24 and 16x32 format. Along with the pool copings to finish the job.
Come explore all the options available.
>> See Versatile due2 Pavers from Del Conca USA at Tile Outlets of America
Here's how those pavers look installed.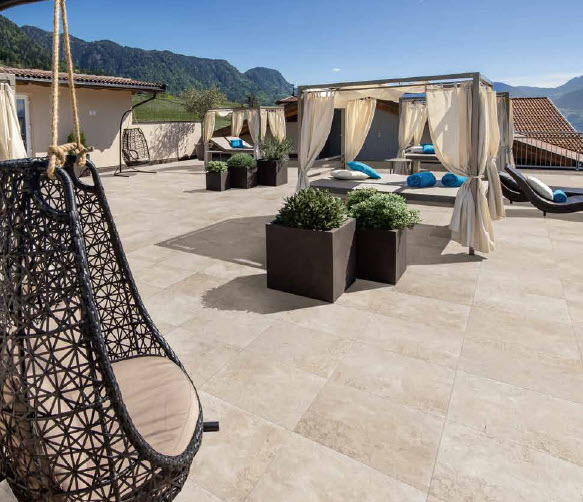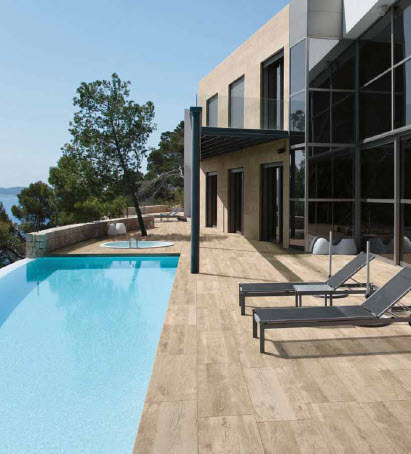 Ready to Find Tile For Your Pool and Spa at Tile Outlets of America?
What did you think of these different pool and spa tile ideas? Are you starting to see your pool dream come to life? If yes, come visit one of the Tile Outlets stores.
And go get some pool toys to use in your backyard oasis!
~ Kate
Note that we originally published this article on 7/17/14 and updated on 3/24/16 with additional updates in 2019.