What To Expect From a Pool Remodel: Gary Tuhro Explains
Posted by TOA's Blog Team on Apr 14th 2022
No surprise, pools matter in Southwest Florida. Beautiful pools make your home shimmer and shine whereas troublesome ones constantly nag at you. In this article, Gary Tuhro describes his pool remodel, what led to it, and what he did to correct its issues.
If you're in a similar situation, read on to learn more, and start planning for your own remodel.
Gary Tuhro Explains What to Expect From a Pool Remodel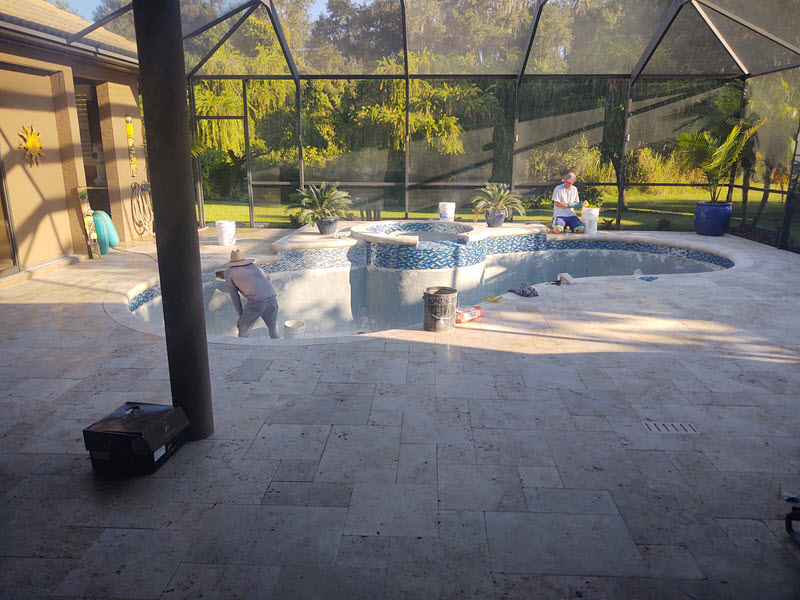 TOA: Gary, please describe your original pool. Why did you remodel it?
Our pool has a classic curvy type design with an attached hot tub & spillway.
The way our home is configured the pool is a visual focal point, and can be seen from many rooms inside the house. When we purchased the 13 year-old home all we wanted to do was drain the pool, clean the interior pool surface and tile. Once cleaned, the plan was to simply refill with fresh water and add new chemicals. Unfortunately I hired a pool contractor to do this without getting any references. This resulted in being told our pool finish was not good anymore, and he talked my wife and me into a new pool tile and pool finish.
Once we agreed to do the work, the individual took our deposit, installed the new tile we already purchased, and did a lousy job installing the pool tile. Then to make things worse he left us with an empty pool and never came back. Here we were with an empty pool, and 2 young children. This really was upsetting for so many reasons.
We luckily found another contractor who agreed to fix the pool tile and install a new pool finish at a reasonable price to try and help us out. This allowed us to get the pool back up and running.
We also opted to install a poly pebble finish over the cracked concrete pool deck. This was something I always wanted and thought it would really improve overall appearance of pool deck as well. Unfortunately, after only a few years we started to have issues with the pool tile, and the quality of the pool finish installed was not looking very good, and the poly pebble decking was starting to delaminate in many areas. This just did not make me feel very happy. Every time I used pool area, and saw how poorly things were looking I knew something needed to be done.
>> See How to Select a Tile Installation Contractor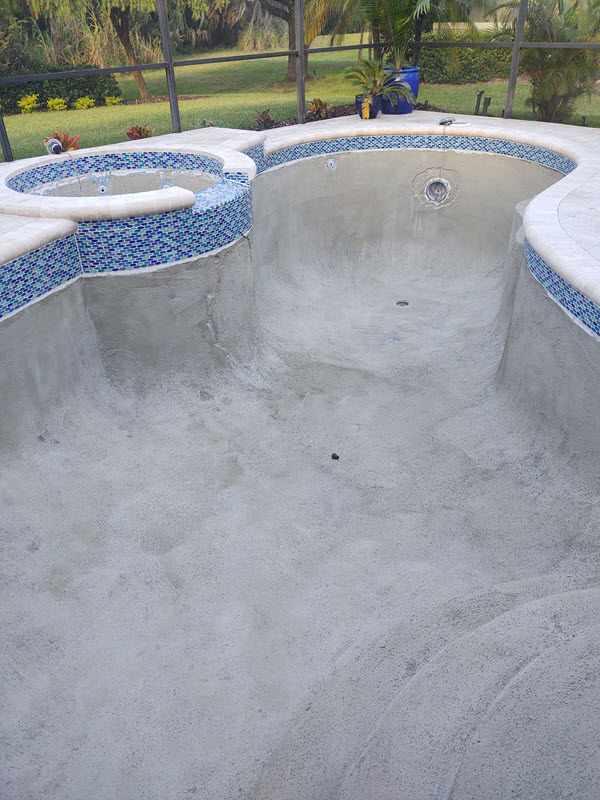 TOA: What were you looking for in this pool remodel?
Once we were able to financially recover, I knew the pool would need a complete makeover. This would include the following:
New material for the pool deck
Pool cage remodel
Reconfigure the spa spillway to create a dramatic look
New pool tile
A high quality pool finish
Custom lighting for the pool and enclosure.
Working for Tile Outlets of America, I get the opportunity to help customers pick out the proper pool type of pool tile or glass for their dream pool builds and remodels.
I have known for a while that when it came time to remodel our pool (once and for all) I wanted it to look and feel bright and "almost magical" for my family. The use of bright blue and turquoise colors both on the tile and pool finish would be essential in getting this accomplished.
TOA: What of the original pool installation did you keep?
We kept the original shape, depth of the pool and spa. Everything else was removed and replaced with much higher quality finishes.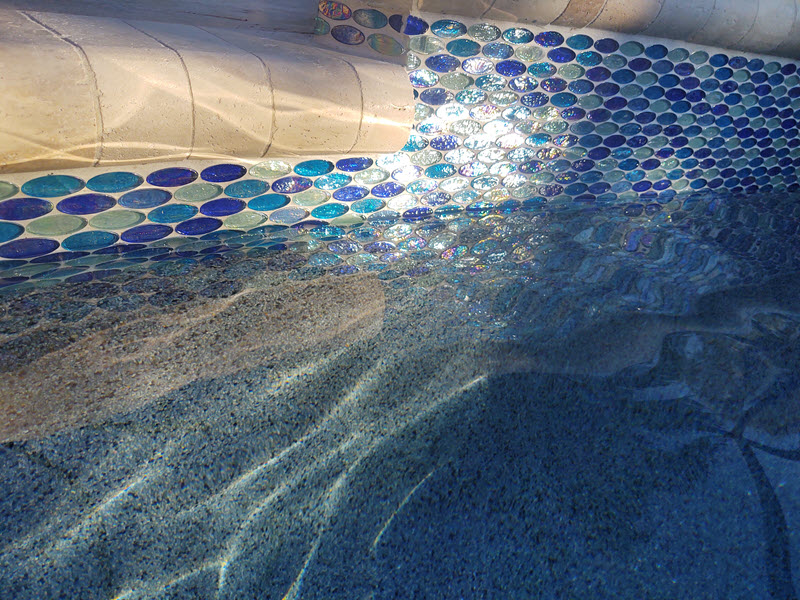 TOA: What did you choose? And why?
We chose Elysium Malibu Blue Iridescent Glass mosaic.
We chose the oval shape because we felt it was unique and different. The iridescent movements in the glass allow it to change color throughout the day when the sun is shining bright, and also at nighttime when we turn on the LED pool lighting.
The pool finish is Stone Scapes Tropics Blue with abalone shell. We love the abalone in the mixture. It really makes the pool sparkle and shimmer.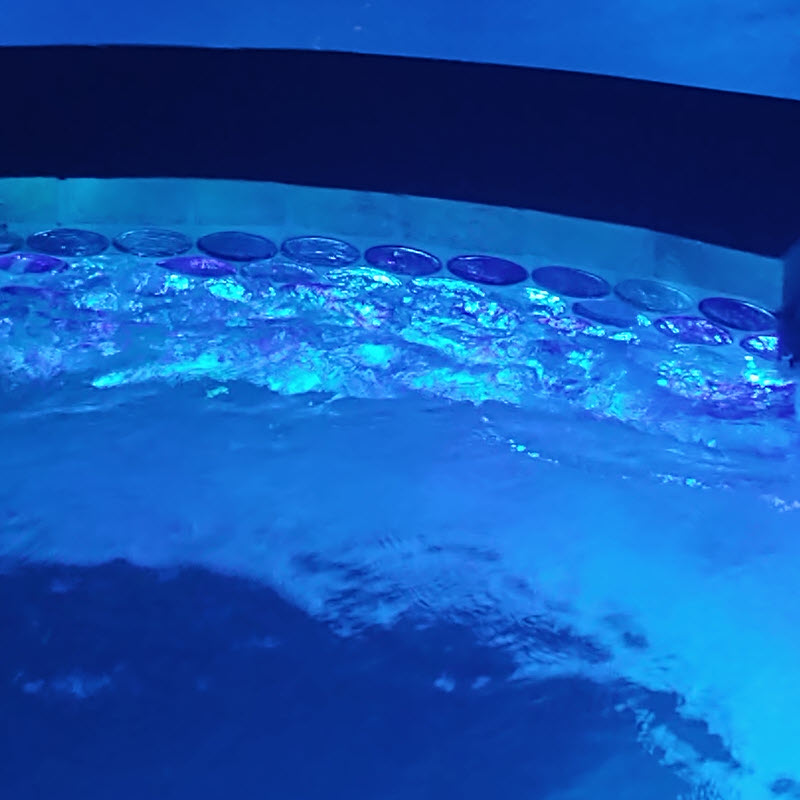 TOA: What options were you considering and why did you choose the ones you went with?
Beginning with the pool deck, we knew the poly pebble was really hard and rough on our feet, and concrete pavers can get hot. The travertine pavers and coping chosen create a very cool, and comfortable surface to walk on. The travertine does not get hot (unlike pavers) and creates a resort-style look to the backyard.
As for the pool, we wanted to have bright vibrant colors of blue to reflect off the pool water.
Prior to making our pool finish color selection we looked at the color chart to see what color the pool looked like with this particular color scheme. The Tropics Blue had the perfect hint of blue we were looking for.
The pool tile was our final decision. We chose the Malibu Blue iridescent oval glass mosaic from Elysium. The blue, and turquoise colors it reflects in the water are absolutely beautiful.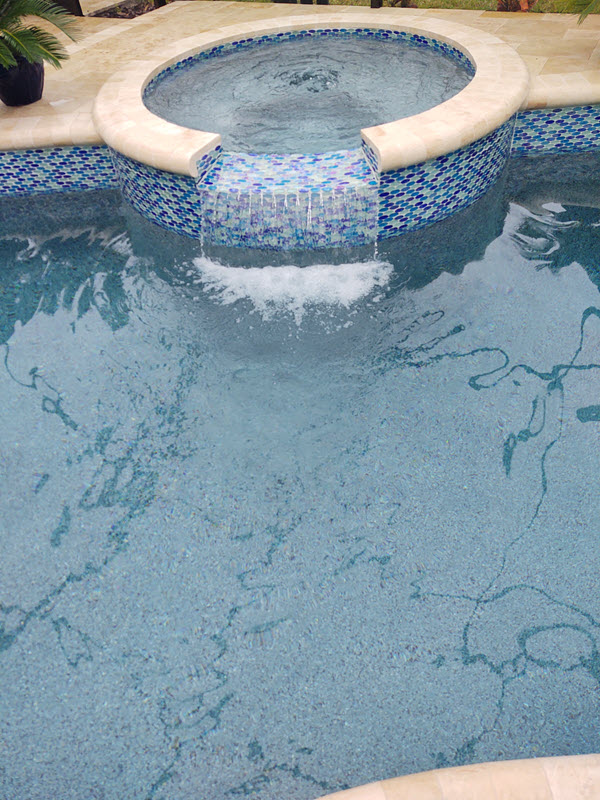 TOA: Gary, any concerns about ordering a special order product?
The only concern I had was that the material arrived to the store prior to the start date of the tile installation.
Thanks to our ability to call the vendor direct, they were able to let me know how long it would take the item to ship to the store.
It's important to make sure you're certain of your selection prior to purchasing. When you special order, product is non-refundable and non-returnable. Luckily for us we felt we made the right choice.
TOA: What should people keep in mind when doing a pool remodel?
It is very important to get a licensed, reputable pool contractor. It also does not hurt to get a list of references they did work for.
Otherwise you could end up paying more in the end like I did.
TOA: How long did your pool remodel project take?
The entire project took about 2 months to complete.
*It is important to remember projects can take longer to complete depending on the availability, and weather conditions.
TOA: Are you happy with the results?
Yes, I am very happy. I learned the importance of communicating my expectations with each contractor. This way they know that anything less than a wonderful job would be a disappointment after our previous experiences. To their credit, we were not disappointed.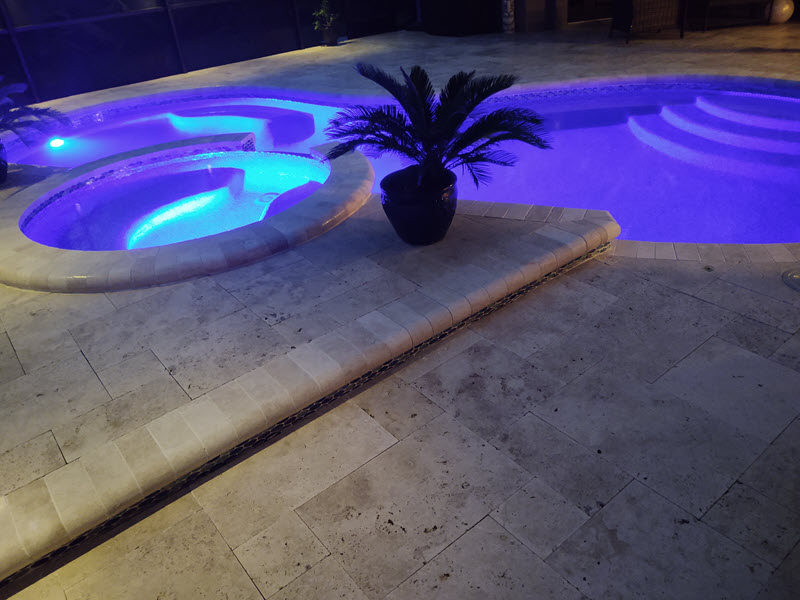 TOA: What are your next tile-related projects?
Most recently I retiled some wall niches in our living and dining room areas using Nacar Arena Brick Stone Glass Mosaic with TEC Birch un-sanded grout.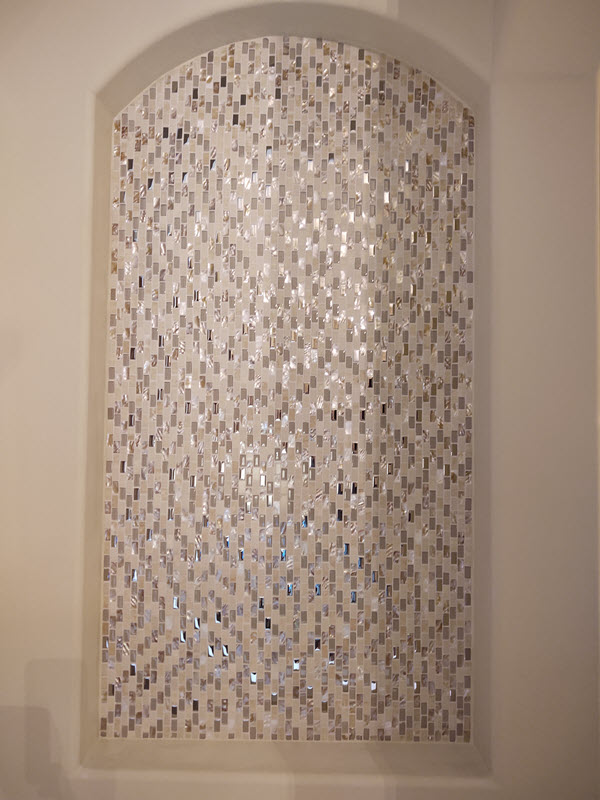 All of these wall were previously plain painted walls. They still looked nice but this material took it to another level. We are so pleased with these items purchased at Tile Outlets of America!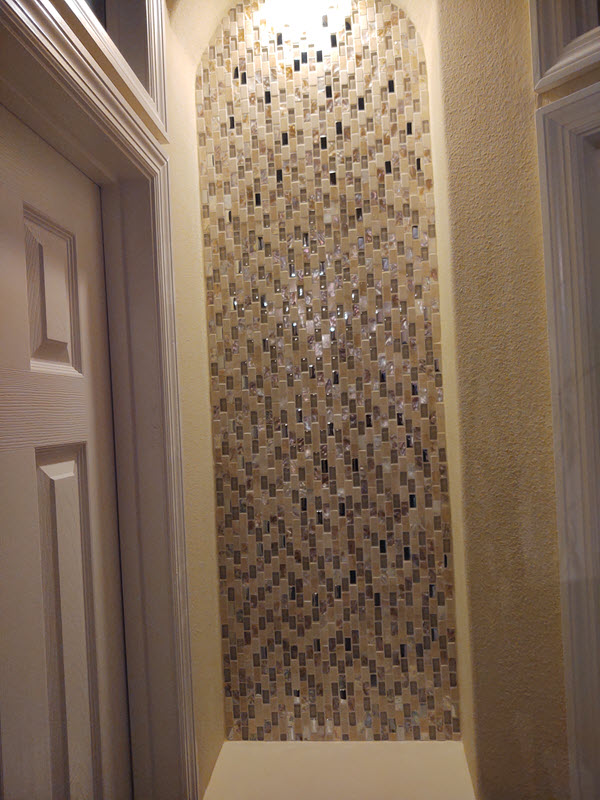 We also installed new ledger stone and fireplace in our living room SKU #304739 Golden White 6x24 Ledger Stone.
TOA: Gary, any final observations or words of wisdom based on your pool remodel experience?
Yes.
First, remodeling a pool is a very dusty and dirty process, and homeowners need to be aware of this. Many contractors will clean up the best they can. But once all the "dust has settled" a thorough cleaning over everything will probably be necessary.
Next, I highly recommend removing any patio furniture or breakable items from the pool area. We simply put ours in the backyard (beyond the pool cage area) having no idea about the amount of airborne dust during the entire project. I spent hours cleaning our furniture afterwards.
Finally, water chemistry is also very important when the pool project is complete. Once the water has been added back into the pool, you will want to have a professional check the water chemistry. This will preserve the pool finish and also prevent any harmful damage to your skin once you begin using the pool again.
TOA: Thank you Gary!
Considering a Pool Remodel? How Can Tile Outlets of America Help You?
When you visit any of the three Tile Outlets of America locations, you will find a vast selection of pool tile available for you to consider when you next remodel a pool. Look for the "Pool Safe" logo.
These pool-specific products are easy to order to your specifications - as Gary did. They will then be delivered to your Tile Outlets store.
>> You can explore pool design ideas on this website.
Let us know of any questions.