Why Underlayment Matters to a Tile Installation Project
Posted by TOA's Blog Team on Jul 22nd 2021
Are you planning a tile installation project? If yes, don't forget underlayment!
Underlayment in a tile project can mean the difference between a project that lasts for years and one you have to redo because an unexpected crack develops in your concrete slab.
Most tile installation experts consider that "underlayment is like an insurance policy."
Underlayment can also matter to an installation with LVT.
Here's Why Underlayment Matters to a Tile Installation Project
TOA: What is an underlayment and why use it?
Underlayment is any product that can be installed under a flooring system to solve a problem.
For example, to provide more rigidity for a tile installation, to prevent subfloor cracks from transferring to the tile installation, to provide soundproofing, as well as to protect from moisture from coming through the subfloor and affecting the finished floor.
You'll find that different types of underlayments accomplish different purposes.
Now, there are self-leveling underlayments that are Portland-based cement products that are mixed into a thin consistency and poured onto an area until it finds its own level. You would then add underlayment and install the tile.
In this article we're focusing on applying underlayment on top of a prepared flat substrate.
TOA: When would you not use an underlayment in a tile project?
There are times when you might not use an underlayment. For example, if you have carefully prepared the subfloor; it is completely clean and level and you can confirm that you have no moisture issues to deal with.
In South Florida, most homes are built on concrete slabs that you can technically install tile over. However, these slabs can crack over time and when and where is anyone's guess - especially on new floors. A crack in the slab can transfer to the tile you've just installed. An underlayment membrane helps prevent the transfer of cracks.
The decision not to use an underlayment can be a cost issue. A crack membrane - the most expensive kind of underlayment - can add ~$1/square foot to the average installation. However, when you do have a crack situation, you discover that it's a lot more expensive to have to redo the installation.
That's why underlayment is just like an insurance policy for a tile installation project.
TOA: How do you choose underlayment for a tile installation project?
You need to know which problem you want to take care of since there are many different types of underlayment available and they're available in different forms.
Uncoupling membrane - this un-couples or isolates the substrate from the tile. It also allows the tile and substrate to move independently of each other so movement in the substrate doesn't allow the ceramic, stone, or porcelain tile on top to crack
Liquid applied membrane – it is applied with a roller or trowel for crack prevention. It requires at least 4-6 hours drying time before you can walk on it and a minimum of 8-12 hours before you can install tile. It's less expensive than a peel/stick membrane and fairly simple to install. Just follow the instructions.
Peel and stick membrane – also addresses crack prevention. You can immediately apply tile right on top of it. It includes a lifetime warranty against cracks if applied correctly. The watch out with peel and stick membrane is that you must use a primer (preferably, the manufacturer's primer). This product with the application of primer costs approximately twice as much as the liquid applied membrane.
You can apply peel and stick membranes for sound absorption on a 2nd floor wood floor. The sound absorption membrane is very similar to crack prevention membrane, only thicker. It is meant to deaden sound that goes below a floor. On the ground level, there's really no sound to worry about.
Peel/stick membranes offer other benefits: you can safely cover asbestos flooring (for example, vinyl tile in older homes) and encapsulate it. You can use it as an effective barrier against radon as well as to prevent moisture vapor transmission through a concrete slab and into the home.
TOA: What are the differences between Fiberock and Durock?
Both are cement board products that you can use on walls and on floors where they help address deflection (i.e., up and down movement) in a subfloor.
Fiberock is fiber-based and not 100% cementitious (i.e., not completely made out of concrete). Fiber reinforces the concrete. This product is only suitable for indoor use. In a shower installation, you want to make sure that it is off the shower pan so the fiber doesn't rot with exposure to water.
Durock is a true concrete board and can be used outdoors as well as indoors. It is now available as Durock NextGen which weighs about 1/3 less than the standard concrete board. This product cuts easily - simply score and snap it, just like drywall.
TOA: How big a problem is moisture for tile in Florida?
Moisture can be a big problem for tile. In Florida, we have dry winters and wet summers. Most of our homes are built on concrete slabs.
When it's dry, the concrete slab contracts; when it's wet, it expands. As the slab contracts, it pushes together and forces tiles installed on it to buckle in the middle; that's called tenting.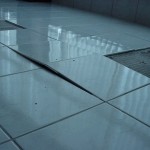 Floor tile tenting - image from JohnBridge.com
During winter, you'll hear a big noise if tenting happens.
Essentially, the weakest link in the installation goes. It can be the grout or the tile itself can pop loose if it's the weakest link of the installation. If that happens, you have to redo the entire floor because the movement of the slab is such that the tiles will no longer fit.
An underlayment membrane allows the slab to move without affecting the surface. (See Floor Tile Installation Problems – "Tenting" on JohnBridge.com.)
TOA: What are the biggest issues faced when using underlayment?
You want to make sure to use the right product for the right application.
For example, a crack membrane - meant for lateral or horizontal cracks in a concrete subfloor - will not protect a tile installation from cracks generated from the up/down movement generated by a flexing wood subfloor.
Next, you want to properly install the underlayment. In other words, completely and thoroughly follow the manufacturer's instructions so you know if the underlayment needs to be thinset down and a screw added every 8 inches. Read the instructions! You'd be surprised how many people don't pay attention to installation instructions.
TOA: Which products can customers find at Tile Outlets of America stores?
You'll find a full selection of underlayments in all Tile Outlets stores.
That includes Durock, and Fiberock concrete underlayment, as well as NAC Building Products, crack and sound membranes and TEC Products liquid applied membranes (e.g., HydraFlex available in 1 gallon and 3.5 gallons).
You'll also find Schluter Ditra, a polyethylene uncoupling membrane with a patented unique grid structure that provides for in-plane movement which neutralizes the differential movement stresses between the substrate and tile. This eliminates the major cause of cracking and delaminating of tile surface.
This product can be applied to a wood or concrete substrate with Schluter All-Set thinset mortar. Note that due to the lightweight design it can be easily carried and cut to fit any space with a utility knife, saving on both labor and time.
And don't hesitate to ask questions about underlayment and how it helps a tile installation project when you visit the stores.
Underlayment for Luxury Vinyl Tile Installations
TOA: For an LVT installation, what underlayment options would you consider?
This is an EVA-based underlayment specific for LVT floors, High Density, and 100% closed cell.
EVA - Ethylene Vinyl Acetate. Is an elastomeric polymer that produces materials that are "rubber-like" in softness and flexibility.
Closed Cell - Foam made up of cells that are completely closed. The cells are pressed together so air and moisture are unable to get inside the foam.
IIC Interior Impact Class - This measures a floor assembly's ability to absorb impact sound like footsteps. Typically found when reducing sound or noise between the floor and ceiling.
STC Sound Transmission Class - Measures airborne sound like voices or music.
This is a moisture barricade that protects finished floors from moisture over concrete slabs and subfloors.
*Not to be used with hardwood subfloors. This is made up of 6 mil. Polyethylene film for long life.
This product is a 90 mil sound control, waterproof, and crack isolation membrane. It can be used to protect a number of hard surface floors.
This underlayment is the ideal solution for interior applications of LVT, SPC, VCT and hardwood flooring that require protection from structural movements such as apartments,
condominiums, hotels and any residential installations that require crack protection.
Have You Added Underlayment to Your Tile Installation Project?
Have you recently installed tile and used an underlayment? What was your experience? Have you had a situation where you wished you had used it?
What about with LVT?
Let us know in the comments.
Thanks for reading!

Note: We originally published this article on November 20, 2014, updated it on September 26, 2019, and have further refreshed it.