Meet Bill Granger, Co-Store Manager, Tile Outlets of America, Tampa
Aug 14th 2014
Next in the Tile Outlets of America store manager series is Bill Granger from the Tampa store.
Update: effective January 1, 2017, Bill Granger is co-store manager of the Tampa store.
In this series, we introduce you to the leadership team for each Tile Outlets store so you have a face and a story to go with the name as well as confidence that the product knowledge and the design ideas shared with you when you visit any Tile Outlets of America store come from experience and passion.
So far, you've met:
Chris Martin, Sarasota Store General Manager
Michele Hoover, Vice President of Store Operations, Tile Outlets Fort Myers FL
We recently caught up with Bill Granger to ask him a few questions.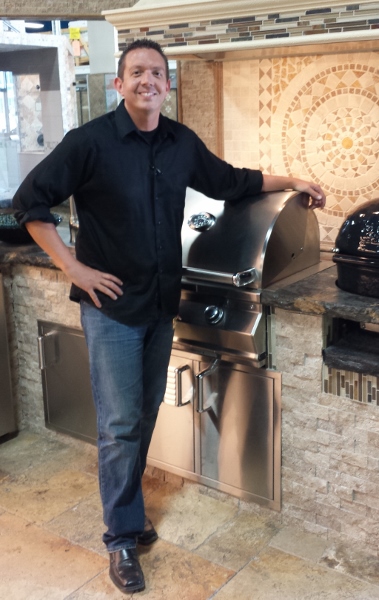 Meet Bill Granger, Assistant Store Manager of Tile Outlets of America, Tampa
TOA: Bill, tell us about yourself and your background.
I was born and raised in Ohio.
I grew up with a father who was a "jack of all trades" so I learned a lot about building and construction early in life, everything from concrete work, to roofing, to welding. Now that I look back the only thing I think my Dad didn't have a knack for was tile. I swear that was not planned!
I graduated from Youngstown State University in 2001 with a Bachelor's Degree in Exercise Physiology. I took my education to Maui, Hawaii in 2003 to manage Gold's Gym there and, shortly after, switched over to construction. That's where my experience with tile started.
I moved to Florida in 2005 as a Project Manager of a construction company here in Tampa, Florida. I became affiliated with Tile Outlets of America (TOA) in 2006 as a Project Manager on the interior build-out of one of the store locations at that time.
Soon after I was approached by the General Manager who offered me an outside sales position. I was hired in 2007 and since then have had assistant manager and general manager roles at Tile Outlets of America.
TOA: So, what is your current role at Tile Outlets of America?
My current "title" at Tile Outlets is Assistant Manager of the Tampa Store.
My role consists of wearing a variety of belts (just like the rest of the management team) at TOA. We see ourselves more as leaders than managers and want our associates to follow in our example, so you will see us all out on the floor running the register, writing tickets and pulling orders just like our fellow associates. There is not one task or job that I can't or won't do.
TOA: How did you get started with tile?
I actually started installing tile through my construction career before I could even tell you anything about the differences between tiles.
Once I started here at Tile Outlets, I submerged myself into the tile industry. I'm the kind of person who, once I get involved with something, wants to know everything I can. I learned from co-workers when I first started. If I didn't have the answer, I researched and found an answer and that has allowed me to gain a vast knowledge of the tile industry. I'm constantly learning, and now teaching and educating others.
Bathroom renovation project using the Stonefire Almond porcelain tile series.
TOA: Bill, what do you love most about tile and stone?
Tile manufacturers have evolved so much even since my start at Tile Outlets 7+ years ago!
It is so fascinating to see the advancement in the technology used in making tile. For example, a customer who wants a porcelain tile with a stone look can now buy a tile that looks almost identical to stone. Once installed most people would think it was a natural stone.
TOA: Which is your favorite product?
My favorite product would have to be the "wood look" porcelain or ceramic tile. Wood has such a warm feeling in a home and the wood look tile gives you the look without the maintenance. The ink jet technology has advanced so far in the past few years that you can get a wood look that, once installed, you would think it was real wood. I currently have real wood in my home and have refinished it once. The next step will be a complete tear out and I'll replace it with wood look tiles.
TOA: What product trends are most interesting for the Tampa market?
The "wood look" is definitely a growing trend. A few years ago we had only a few selections of the "wood look" tile and today we have well over 30 active SKUs that are constantly being reordered. Take a look at the porcelain wood plank look tiles and the ceramic wood plank look tiles available at Tile Outlets of America and you'll see what I mean. Wood floors are being torn out and replaced with wood look tile because of its longevity and the advanced inkjet technology that makes the tile look so authentic.
The subway look in every size and material is also very trendy, whether it is glass, tumbled stone or larger rectangular ceramic and porcelain floor and wall tiles.
TOA: What tips do you have for someone getting ready for a tile or stone project? Where should they go for ideas and advice?
Come to Tile Outlets of America of course ;).
Seriously, the most important thing customers can do is get educated on the materials available for the project they are working on. Here at Tile Outlets, we have a very knowledgeable, well-trained staff that can get any customer started in the right direction.
We have what we call a "Dream Sheet" or Tile Project Checklist available in our Inspiration Center and on the website that can be a big help as well. Just by answering a few questions, we can help narrow down options and selections for any customer. This can make the shopping experience more enjoyable because we are able to show them the products that will work for their project, and help with expectations for the final result.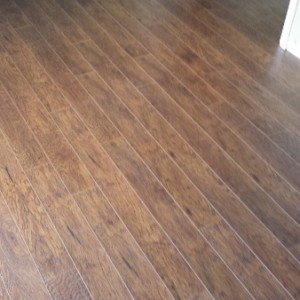 Embossed Whiskey 12mm laminate flooring installation
TOA: In your opinion, what's the best way to prepare for a visit to the store?
Definitely, download and print out the "Dream Sheet" I spoke about above. This will begin the process for the customer to help them realize what is involved to complete a project -- especially if this is a DIY (Do It Yourself) project.
What's also helpful is bringing with you to the store any additional materials already selected such as a piece of the granite countertop or a cabinet door that has or will be installed to coordinate with tile and stone selections. All of these things will help facilitate the selection process.
TOA: Bill, what do you do when you're not immersed in tile?
I consider myself a pretty active person. I like running, playing tennis, and socializing with my friends when I have free time.
I'm pretty handy and I have done the majority of my home renovations on my own. The bathroom photo above is a renovation project I did for a friend using the Stonefire Almond Series.
The other photo is of a laminate flooring installation using Embossed Whiskey 12mm laminate.
I guess you could say I'm sometimes immersed in tile when I am not working as well.
TOA: Any parting words of advice?
Here at Tile Outlets of America, we pride ourselves on having the lowest prices and the most knowledgeable staff around. That way, all customers have to do is come in prepared to ask questions and our staff will work closely with them to help make their dreams a reality.
TOA: Thanks, Bill!
If you haven't yet visited Tile Outlets of America in Tampa, we hope you'll come visit soon. When you do, be sure to say hi to Bill Granger and let all of us know how to help make your dream home become a reality!