Brick Floor Tile Collection Creates A Timeless Craftsman Look
Posted by Kate Spencer on Mar 15th 2018
If you are looking for a brick floor tile for your home, you will love the collections we describe in this article. They include London Brick, a 3x10 mosaic brick look, and the Every Brick collections.
Brick-shaped tile is hot for walls and backsplashes. We described this trend in Mad For Ceramic Subway Tile? 3 Types To Consider For Your Walls. and Subway Tile in Glass, Travertine, Marble, Brick, and More? Oh, My!
The look is hot for floors, too. There, a more durable tile is necessary not to mention a more practical surface. Enter London Bricks, a porcelain brick floor tile collection you can use on walls and floors for a timeless craftsman look.
London Bricks: An Ideal Floor Tile Collection
London Bricks is an ideal tile collection, ready to enliven the floors and walls of your home with an original urban, metropolitan allure. It is inspired by hand-made bricks fired in a London furnace and blends contemporary style with timeless appeal. This is a porcelain tile with an impressively accurate reproduction of the look and feel of brick on the surface; it is perfect for floor and wall installations.
The London Bricks tile collection is available from Rondine in Italy. It consists of the following porcelain products available in three colors – Fog, Multicolor, and Sunset (see image below):
5x10 porcelain brick tile
2x10 porcelain brick corner piece

London 3x10 bricks in colors Fog, Multicolor and Sunset
London Bricks Technical Specifications
Here are technical specifications for London Brick porcelain floor tiles:
PEI Rating of 5
This rating system developed by the Porcelain Enamel Institute is the most effective means to determine the suitability of a particular ceramic or porcelain tile for its intended use. The rating system indicates a tile's resistance to abrasion and likelihood to wear under use. PEI of 5 indicates that the tiles in this collection have the highest wear resistance and are suitable for all residential, commercial and industrial uses
Water Absorption of <.05%
A tile's water absorption percentage is important in determining whether the tile is suitable for installation in a particular room or area. Expressed as a percentage, the rating measures how much water the tile absorbs in relation to its total weight. The London Brick collection absorbs less than 0.5% of its weight which means that it is suitable for all indoor and outdoor uses.
Shade Variation of 4
The shade variation rating of a tile indicates the degree to which its color, tone and texture vary among individual tiles. Virtually every ceramic and porcelain tile, other than pure black or white tiles, has some degree of shade variation even in the same production run. According to the rating system developed by the Ceramic Tile Distributors Association the London Brick collection shows substantial variation (no surprise given that it is a brick look collection!) and you will notice random color differences from tile to tile, so that one tile may have totally different colors from that on other tiles. Thus, the final installation will be unique.
Please note: London porcelain tile is ideal for application to external insulation systems (this is usually called "thermal wall coating").
3x10 Brick Mosaic Brick Looks in Multicolor Tones
Back in the early 20th century, brick surfaces were shaded, with a variety of brick-toned colors. This was a function of unstable firing temperatures which created imperfections in the glazes. That traditional craftsmanship appeal is reflected in this porcelain stoneware tile collection.
The 3x10 bricks below, in particular, capture that genuine brick character obtained using leading edge inkjet technologies.

These bricks come mounted like a mosaic for easy installation. You can run them vertically or horizontally. They interlock to create the design.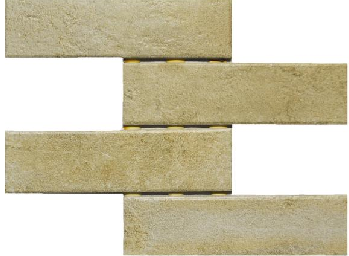 Cambridge Light 3x10 Mosaic Brick Look Tile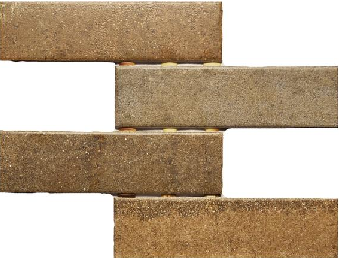 Georgian Blend 3x10 Mosaic Brick Look Tile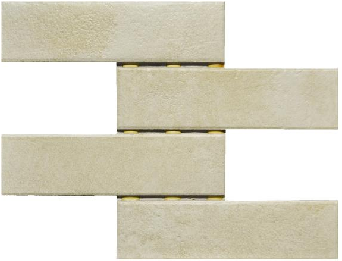 Yorkshire Light 3x10 Brick Look Tile Mosaic
You can learn more by reading Three Brick Look Tile Designs for Your Home.
Create Your Own Patterns With the Every Brick Collection
If you want to use individual bricks and create your patterns, whether it is an offset, soldier or herringbone, we have three items you can use for this application: The Every Brick collection are 3x9 individual bricks that can be used on the floors and walls.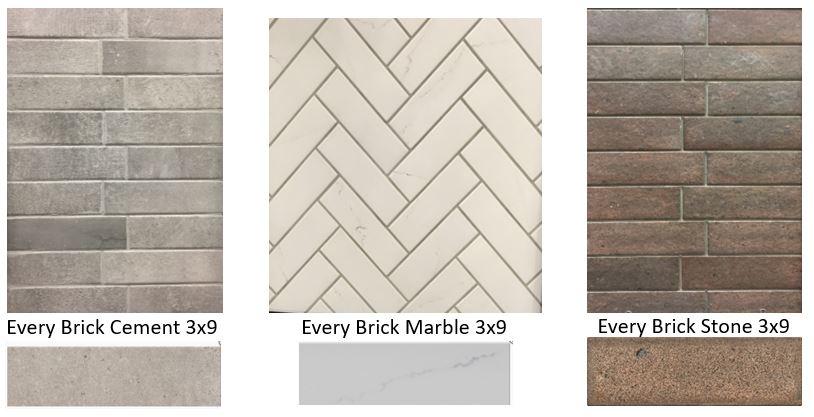 Different Installation Ideas for Brick Floor Tile
I think that the reason brick-sized tiles are so popular is because there are so many different possibilities for installation design patterns. That is certainly the case with the London Bricks. You can install them with a standard brick joint or a herringbone pattern as you can see above in the Sunset 5x10 image.
The image below shows you a floor design with Multicolor 5x10. The bricks are staggered on the floor with a 1 cm grout joint, which is recommended.
Brick floor tile 5x10 in Multicolor in a stagger installation pattern
In the Clearwater, Florida area, a pub installed London Bricks inside as well as on the outdoor ramp from the parking lot.
This is London in color Sunset. As the co-owner Josh Kaiser explains,
"It's not too busy; it doesn't scream look at me but when you do it looks like high quality. Some people use this tile on the wall but we wanted the brick road look. It matches our modern speakeasy theme well. It has some texture to it giving it an authentic look and a safer surface for customers to walk on."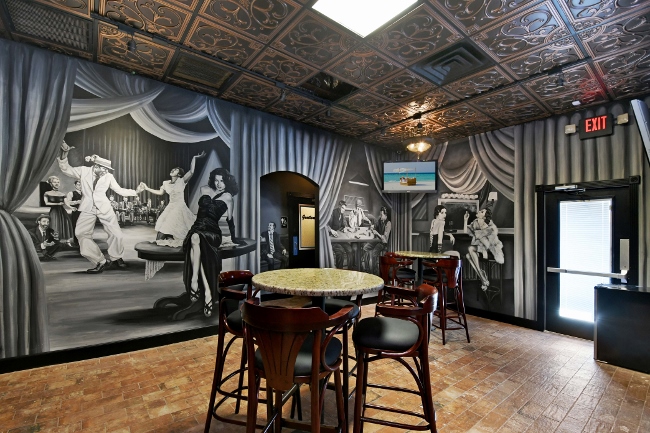 Check out the walkway in the image below where London Sunset bricks in both sizes were installed using two installation patterns to create a visually interesting feature for a yard. Remember that these are porcelain tiles and can be used outside for decking, driveways, walkways and the outside of the house.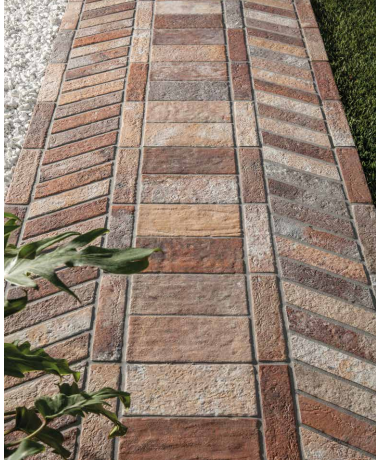 Outdoor walkway created with London Bricks in 2x10 and 3x10.
Brick Floor Tile Makes for Ideal Brick Wall Tile, Too!
Why limit yourself to floors when it comes to bricks!
The wall in the image below features brick tile, creating the look of real bricks for a restaurant environment, or even an accent wall in a bathroom or kitchen. Although it features color Beige, you can imagine the effect using Multicolor, Fog or Sunset.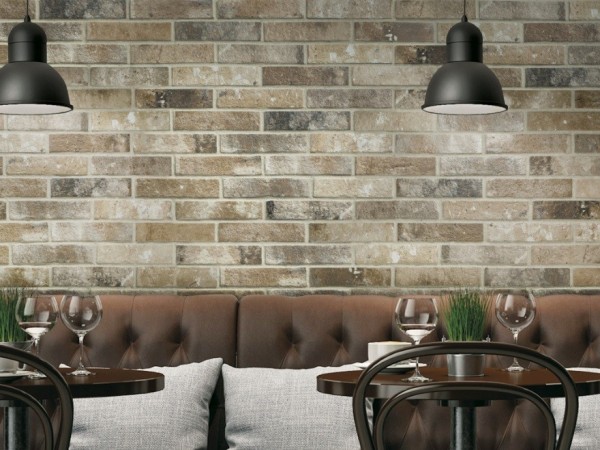 London Bricks create a warm an inviting feature wall.
And, in the image below. London Fog bricks are used to create a wall feature that looks like old classic bricks.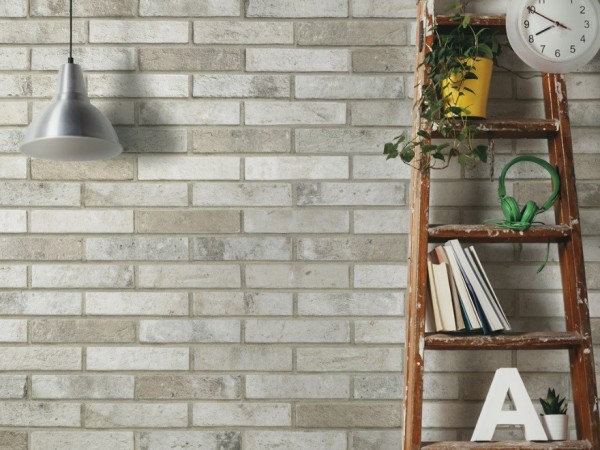 London Fog bricks create a feature wall.
Here are a few more brick tile wall ideas to inspire you.
Imagine a wine cellar with bricks on the wall! Below is the Georgian Blend mosaics used on the wall in a wine cellar. Makes you feel like you are down in a basement.
Notice that the floor has nothing to do with bricks.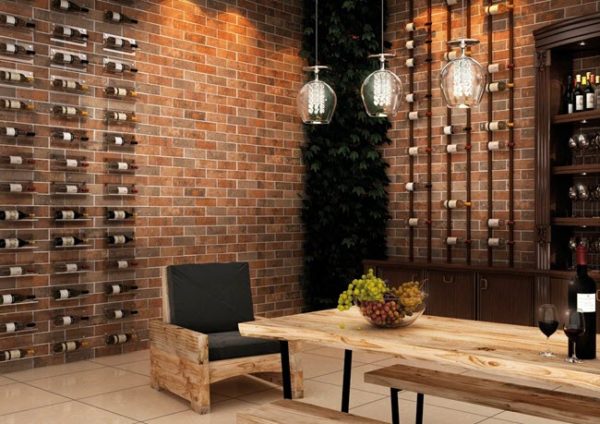 You aren't limited to the indoors with these porcelain bricks. Below you see the Yorkshire Light mosaics used on an outside wall along the pool area. Nice feature for a wall outside rather than looking at fencing.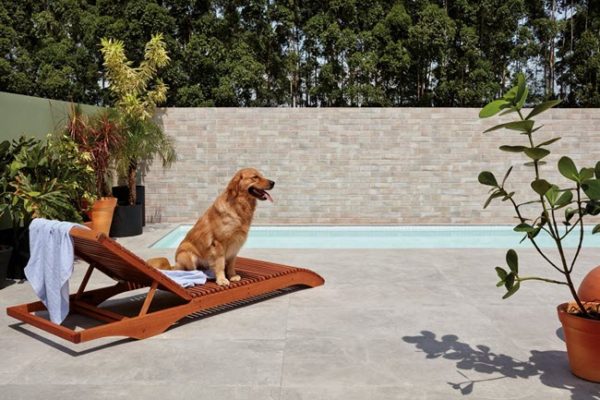 Returning indoors, here's how to add color to a room. Create a feature wall with brick tiles in warm earth tones for a welcoming effect.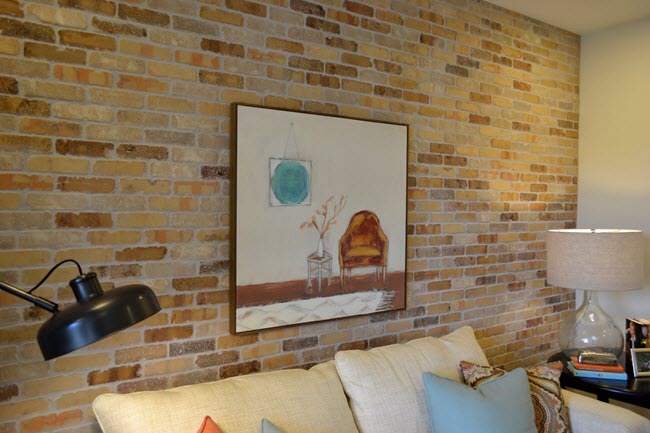 There are so many opportunities to create with this old time classic brick look. How might you install them?
Are you ready to explore Bricks? Let me know your reactions!
Kate
Note: We originally published this article on January 26, 2017 and have updated it.