Celebrating Sarasota Tile Contractors
Posted by TOA's Blog Team on Mar 12th 2015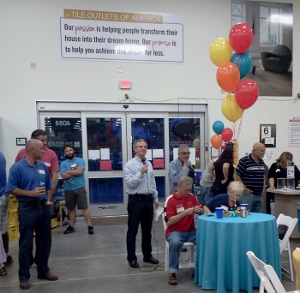 We thought you'd enjoy hearing how we celebrate Sarasota Tile Contractors!
As we described in Tile Outlets Appreciates Tile Contractors!, we hold a yearly event to celebrate the tile installation professionals, contractors and builders associated with our stores.
In Celebrating Tampa Tile Contractors, you read about the festivities in Tampa. In this article, we'll focus on Tile Outlets in Sarasota.
How Tile Outlets in Sarasota Celebrates Tile Contractors
The Contractor Event in Sarasota welcomed over 50 tile contractors in the store itself which we transformed into a festive party setting with balloons, fun prizes - including tickets to the Daytona 500 and a big screen TV, terrific BBQ and music. Tile Outlets of America management and vendors were on hand to interact and answer questions. We love listening to our contractors and participating in conversations to determine how to make doing business with Tile Outlets better for tile professionals.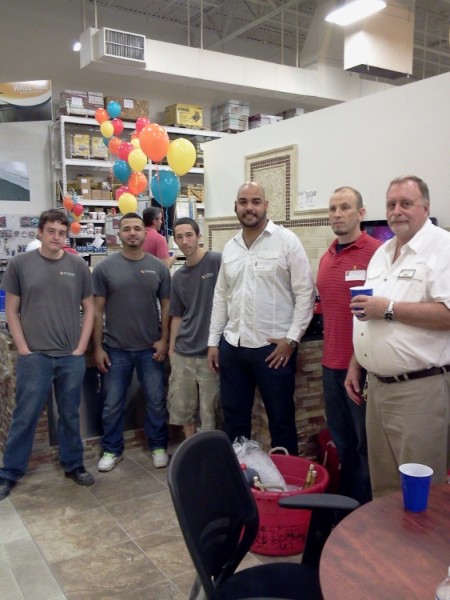 The Tile Outlets of America team in Sarasota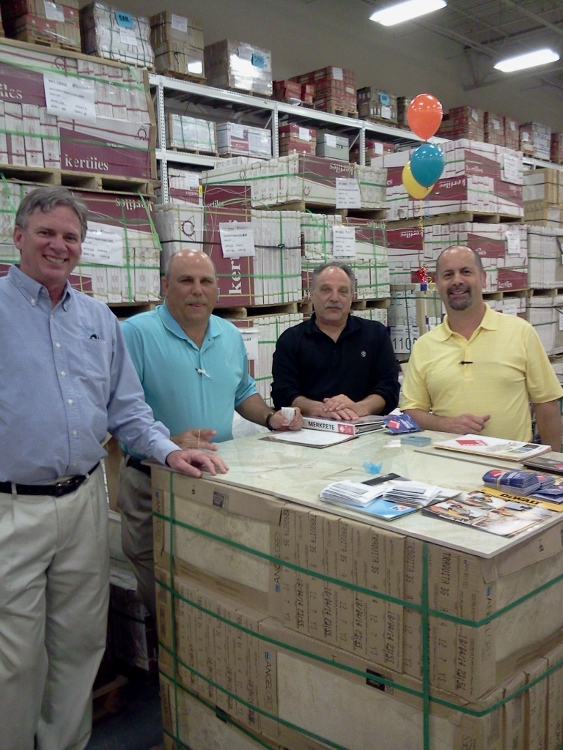 Many thanks to Tile Outlets' loyal vendors who are always ready to answer questions about their installation products!
Sarasota Tile Contractors Grand Prize Winners
As at the Tampa store, there were two grand prizes: tickets to the Daytona 500 and a big screen TV.
Pictured below is Ken Torres from Custom Floors and National Installations. He won the Daytona 500 tickets! On his left is Don Aronin, CEO and President of Tile Outlets of America. On his right is Yoanni Soria.
Don Aronin, Ken Torres and Yoanni Soria at Tile Outlets of America in Sarasota
Ken Torres is President, Custom Floors and National Installations. Custom Floors is a full-service retail store focusing on designers and mid to high-end flooring. National Installations is the contractor side of the business. Ken found Tile Outlets by accident. He walked in and has been a friend ever since. He regularly sends customers to Tile Outlets to pick out items. He also has items from Tile Outlets on display in his store.
Although he started his business 8 years ago, Ken says he was born into the business. His Mom and Dad owned a flooring store. When they retired in Florida, he decided to move to Florida to be closer to the family.
We asked him which tile products have been most popular lately. Ken says,
"Originally, the most popular tile in Florida was 12x12 or 13x13 with large grout. Now it's rectified edges vs. pillowed or beveled. Now, I'm seeing a lot of wood look tile in 6x36 and 12x24 with tight grout lines."
You can reach Ken via email at NationalInstallations2014@gmail.com or by calling him at 941-615-7229.
Below is Mark Weeks, owner of Destination Builders and Design. He won the big screen TV.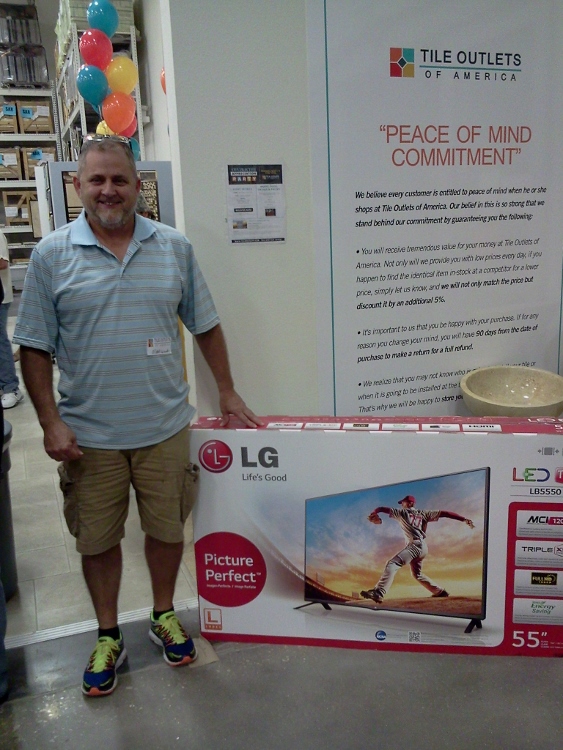 Mark has been in the contracting business for over 35 years. He specializes in remodeling, building, tile, plumbing, painting and more.
Thanks, Ken and Mark!
If you're a tile contractor or tile professional in the Sarasota area, we invite you to learn more about the Pro Services Program. For more information about participating in the contractor program at Tile Outlets, visit tile installation professionals services on the website.