Celebrating Tampa Tile Contractors
Posted by TOA's Blog Team on Feb 19th 2015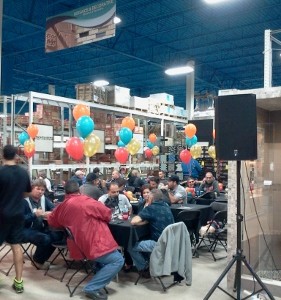 As we described in Tile Outlets Appreciates Tile Contractors!, we hold a yearly event to celebrate the tile installation professionals, contractors and builders associated with our stores. In this article, we'll focus on Tile Outlets in Tampa.
How Tile Outlets in Tampa Celebrates Tile Installation Professionals
The Contractor Event in Tampa welcomed over 100 tile contractors in the store itself which we transformed into a festive party setting with balloons, fun prizes - including tickets to the Daytona 500 and a big screen TV, terrific BBQ and music.
In the midst of the fun, Tile Outlets of America management is actively listening and participating to determine how to make doing business with Tile Outlets better for tile professionals.
The photos below capture some of the energy.
You'll also meet the Grand Prize winners!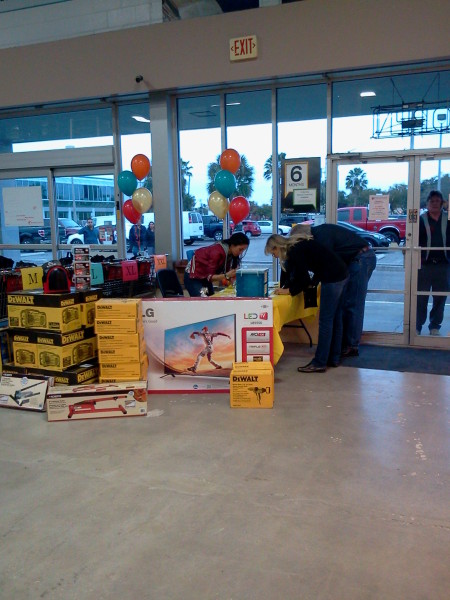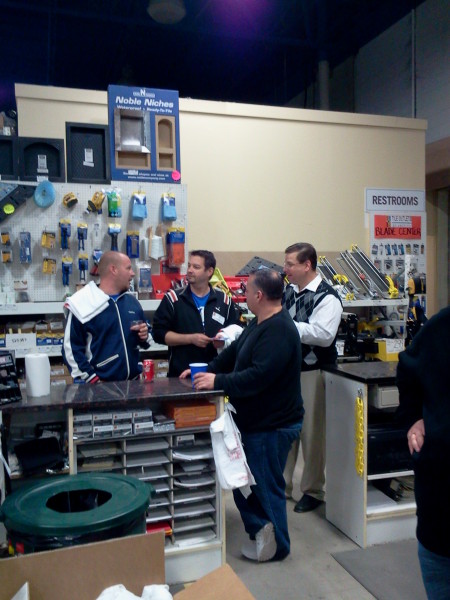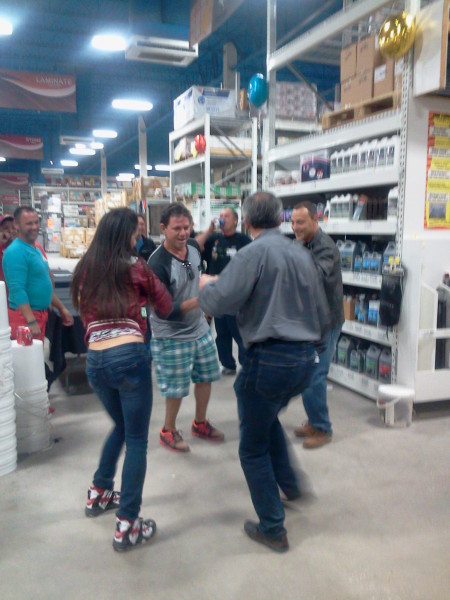 Tampa Tile Contractor Grand Prize Winners
There were two grand prizes: tickets to the Daytona 500 and a big screen TV.
Pictured below is Judy Ciccarello from Ciccarello & Son who won the Daytona 500 tickets. On her right is Don Aronin, CEO and President of Tile Outlets of America. On her left is Assistant Store Manager Bill Granger.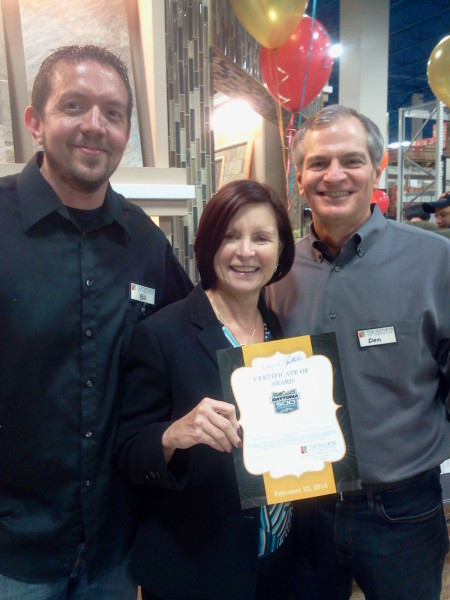 Judy Ciccarello with the Daytona 500 tickets. With her are Don Aronin on the right and Bill Granger on the left.
Ross Crosby from Absolute Countertops won the big screen TV.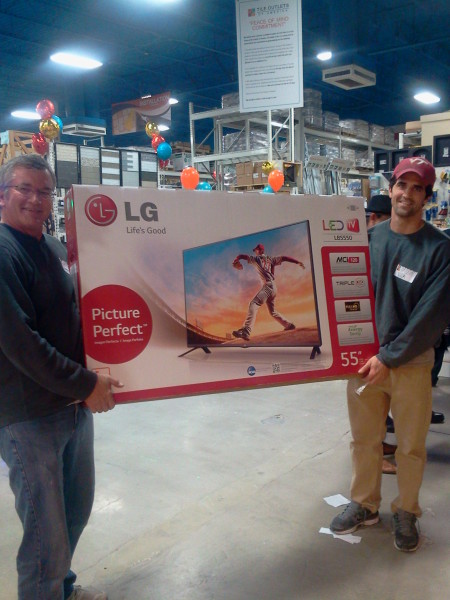 Ross Crosby and his son holding the Grand Prize Big Screen TV.
Here's some background on our two Tampa winners.
Ciccarello & Son
Judy and her husband Laurent Ciccarello founded Ciccarello & Son in 1984. The company serves the Tampa Bay area as a professional full service building and plumbing contractor specializing in kitchens and baths. Their current location includes a 4000 square foot showroom and a 2000 square foot storage facility.
As a family owned and operated company, Ciccarello & Son prides itself in providing quality personalized service and lasting relationships with clients. Judy's daughter Carissa creates kitchen and bath designs and works closely with her dad in developing client projects and picking out tile.
Absolute Countertops
Absolute Countertops specializes in granite and quartz countertops. Ross Crosby, the owner, has been focusing on specialty countertops for 10 years. He finds that when a homeowner engages him for a countertop project, s/he will often want to replace the backsplashes to coordinate with the countertops. That's when he suggests that they visit Tile Outlets of America where they's find the largest selection of tile he's ever seen!
"It's hard not to find something at Tile Outlets," says Ross.
He first came across Tile Outlets about four years ago when he went in to explore in more detail. He says that the store has grown tremendously since then and people are super helpful. He likes the staff longevity, too.
Absolute Countertops has been featured in Kitchen Crashers, in an episode about America's Worst Kitchen. He's seeing increased interest in quartz countertops because of its carefree maintenance.
Thanks, Judy and Ross!
If you're a tile contractor or tile professional in the Tampa area, we invite you to learn more about the Pro Services Program. For more information about participating in the contractor program at Tile Outlets, visit tile installation professionals services on the website.